No public transport bus tickets until at least April 30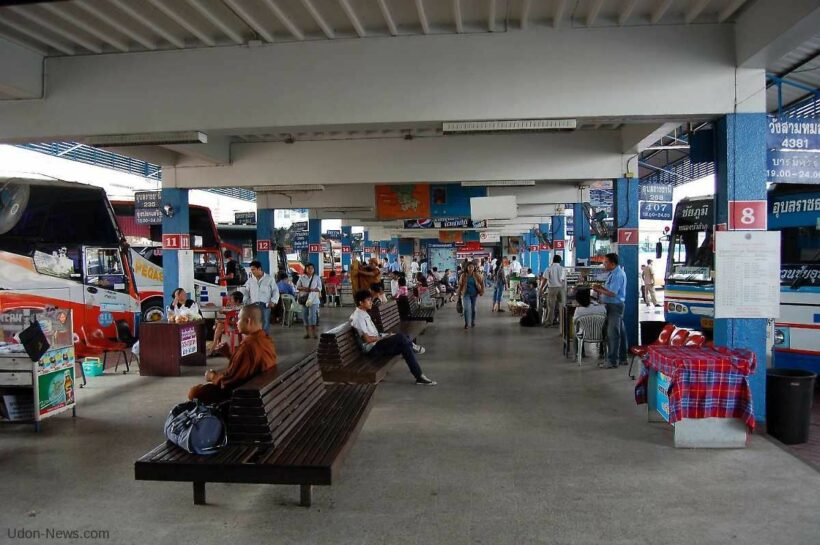 "We cannot provide additional buses and all available buses have been used. Complying with the social distancing policy halves the number of passengers per bus."
Due to the state of emergencydeclared by PM Prayut Chan-o-cha to fight the spread of the Covid-19 coronavirus, the president of state enterprise Transport Company, Jirasak Yaovatsakul, announced today that ticket sales for all public transport buses are suspended until April 30.
He says the company will also enforce social distancing by leaving empty alternate seats on buses and require a distance of at least one metre between persons at all bus terminals. When the state of emergency was announced on Tuesday, people rushed to buy bus tickets, and now all tickets have been sold out well beyond April 30.
"Those who haven't reserved tickets should refrain from coming to bus terminals hoping to get one, since all ticket booths will be closed until April 30. Those who bought tickets earlier can still travel as per schedule."
"You can also postpone or cancel your trip and apply for refund as per the conditions of Transport Company."
Jirasak says that some operators of private buses and vans have submitted appeals to suspend their service during the crisis.
"If you have already bought tickets from these operators, please contact them directly to ask for refund or postponement of your trip."
SOURCE: The Nation
Keep in contact with The Thaiger by following our
Facebook page
.
Stranded. Nearly 21,000 Russians struggling to get home.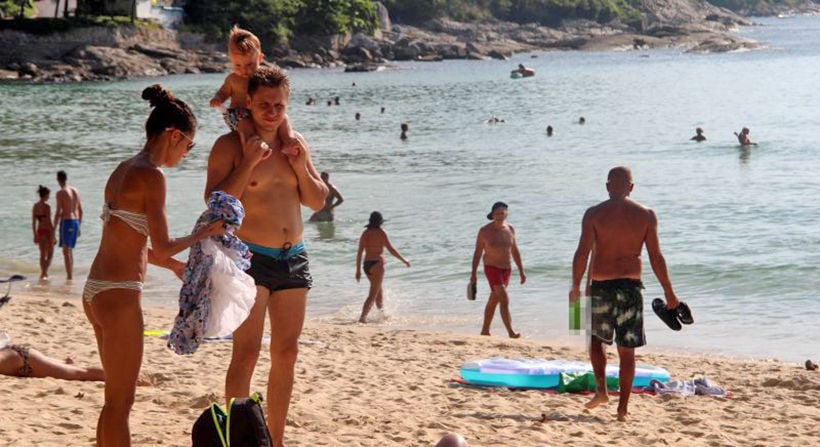 The Russian Ambassador to Thailand claims there are about 20,800 Russian citizens stranded in the Land of Smiles. Ambassador Tomikhin says they're desperate to get home.
He says that most of them are stuck in Phuket and neighbouring provinces (Phuket is in virtual lockdown with the airport being closed to all passenger flights on April 10). Another 8,000 in and around Pattaya, 5,00 around Bangkok and Hua Hin, 4,400 in and around Koh Samui and another 2,500 scattered around the country, according to Khaosod English.
"We have received some 20,800 requests from people who have found themselves in this situation. Less than half of them are those who have tickets to cancelled flights by third countries' air companies."
The Russian embassy stopped receiving requests from Russian nationals on March 30.
According to the Ambassador, there were about 70,000 Russians in Thailand by early March.
"About 40,000 of them were package-tour vacationers who came here by charter flights from various Russian cities. When the situation began to worsen, most of them returned home."
"According to Aeroflot reports, Thai Airways, which cancelled all of its international flights, has begun to direct its tickets to the Russian air company's flights. About 50 people have left Thailand this way."
"Some of our nationals who had no return tickets but who are trying to buy them are in a risk group since the duration of their stay in Thailand may be longer than their visa period. I hope our diplomatic mission will be able to help such people within days."
"We hope that a larger part of our compatriots will be able to return to Russia within this week."
SOURCE: Khaosod English
Keep in contact with The Thaiger by following our
Facebook page
.
Government says they won't allow Thai Airways to collapse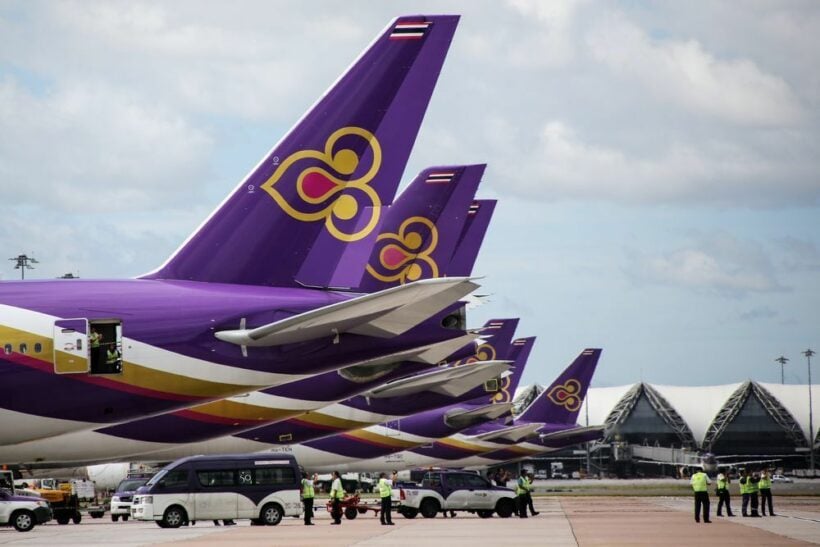 "All rumours about a lay-off aren't true. News involving Thai Airways that didn't come from the Finance Ministry should be considered false."
Thailand's deputy PM Somkid Jatusripitak says the government won't allow its struggling national airline Thai Airways to collapse. He dismissed rumours of impending lay-offs due to the virus outbreak.
Thai Airways has been a financial basket-case for the past decade as successive governments have had to pour money into the legacy airline to keep it afloat. Thai Airways employs about 20,000 staff. An offshoot company, Wingspan, woffering aviation-related services, has 4,900 workers on its payroll.
Somkid says the government will be ready to help the national airline. While insisting that the airline won't lay off employees, he again urged the Thai Airways board to come up with a business plan which would allow the company to grow and expand after the crisis.
The deputy premier said the Finance Ministry needs to see a proposal which "clearly outlines how Thai Airways plans to review its management structure and business strategies, so it can remain competitive in the aviation market once the pandemic subsides".
Thai Airways has temporarily suspended all international services (except charters and cargo flights) until May 31. Thai Smile, the national carrier's budget offshoot, has taken over domestic services to Chiang Mai, Phuket and Krabi in smaller aircraft.
The company has grounded 69 of its 82 jets until the coronavirus situation improves.
But air travel has not ground to a complete halt as the national continues to operate cargo flights and says it's ready to arrange special flights to repatriate Thais stranded abroad if requested, according to Bangkok Post.
Meanwhile, the State Enterprise Workers Relations Confederation and the Thai Labour Solidarity Committee yesterday says airlines should clearly specify when staff will be able to return to work and ensure that the crisis is not being used to trigger lay-offs.
SOURCE: Bangkok Post
Keep in contact with The Thaiger by following our
Facebook page
.
Some southern provinces stop interprovincial public transport
Thailand's Department of Land Transport announced today that four southern provinces – Pattani, Yala, Narathiwat and Phuket – are closed to all public transport, except essential goods vehicles, medical and government vehicles, after witnessing an increasing number of Covid-19 coronavirus patients. Director-general Jirut Wisanjit made the announcement and the closures began today (Monday, March 30) to help prevent the virus from spreading.
"All modes of public transport are now cancelled and passengers must contact relevant agencies to get a refund."
So no public transport, at all, can travel in or out of those four southern provinces.
The measure follows Phuket Governor Phakkhaphong Thawiphat's announcement yesterday that all modes of transport except air would be halted until April 30 in order to prevent the spread of Covid-19. Air travel will also be halted on April 10.
Meanwhile, the Department of Airports has suspended services at Narathiwat Airport due to the pandemic, according its director-general Tawee Gasisam-ang.
In response to the provincial governor closing some locations, the airport shut its doors from yesterday and will remain closed "until the virus situation is resolved."
Passengers who have booked Thai AirAsia or Thai Smile tickets have the following options :
Thai AirAsia
• Change to another domestic route and schedule travel within October 31 with no service charge;
• Register under Big ID for a new booking with the flight being in the next 365 days;
• Refund tickets via www.airasia.com (though according to the airline you might not receive a full refund).
Thai Smile
• Full refund HERE
• Change your route or schedule another flight without a fee.
In another development Deputy PM Wissanu Krea-ngam said today that Thailand Post will deliver 2.3 million face masks across the country, starting this evening.
He says that the 11 manufacturers nationwide can now produce 2.3 million masks a day. Of that total, 1.3 million will be given to the Public Health Ministry for healthcare workers while the Interior Ministry will take the balance of 1 million for distribution to village health volunteers and officials providing services to the public.
The distribution of masks will gradually expand to cover the general public, while exports will be banned without permission.
Wissanu added that the Finance Ministry is working out a plan to lower import taxes on medical equipment, after cutting the import tax on masks to zero. He denied a report that the government had prepared a plane to repatriate Thais stranded in Italy.
SOURCES: The Nation | The Nation | The Nation
Keep in contact with The Thaiger by following our
Facebook page
.