Covid-19 coronavirus UPDATE – Italian lockdown, US surge in cases, death rate up to 3.4%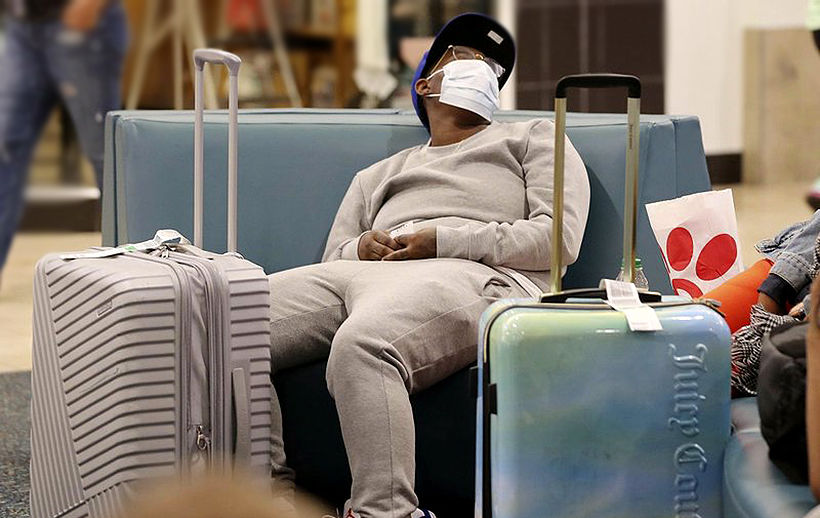 The cases of coronavirus in China continue to fall as Italy locks down entire cities to contain the virus. New York officials have announced a state of emergency. Around the world, the virus has now infected 95 countries. There is a total of 110,066 cases, 3,830 related deaths and 62,278 total recoveries.
The epidemic is moving west as new cases in China drop dramatically. Meanwhile Italy is imposing an unprecedented peacetime lockdown which directly affects 16 million people as new cases and deaths skyrocketed over the weekend. Italy's cases have nearly tripled from about 2,500 infections just last Wednesday to more than 7,300 yesterday, with deaths rising to more than 366.
In the Lombardy region of northern Italy, which has been locked down, schools, conferences, markets, tourist attractions, church congregations, and even funerals, are banned. People are now required by law to keep a distance of one metre from one another.
In the US cases have also risen to 538 with 22 deaths recorded, 3 in the past 24 hours. Californians remain on edge as a cruise ship starts disembarking today. The cruise ship, the Grand Princess, with nearly 3,000 stranded passengers, prepares to dock today in the Port of Oakland in San Francisco Bay.
The local Department of Health and Human Services say the Grand Princess docks today and outlined plans for the nearly 3,000 people aboard the ship, 1,000 of them local Californians. They stressed that no one on board would be released immediately to the general public.
"All of those passengers will be quarantined for 14 days at military installations."
Leading health officials warn that the US is now entering a new stage in dealing with Covid-19 coronavirus, saying that containment is no longer possible. Dr. Scott Gottlieb, commissioner of the Food and Drug Administration (FDA) during the first two years of the Trump administration says "we're past the point of containment."
"We have to implement broad mitigation strategies. The next two weeks are really going to change the complexion in this country. We'll get through this, but it's going to be a hard period. We're looking at two months, probably, of difficulty."
The World Health Organisation now estimates the death rate from Covid-19 at 3.4%, shocking experts following the progress and statistics of the current outbreak.
Speaking at a media briefing, the World Health Organisation's director-general, Tedros Adhanom Ghebreyesus, reported that the death rate was far higher than that of the seasonal flu, which kills about 0.1% of those infected.
But he clarified that the death rate is likely to change further as more cases are confirmed, though experts predict that the percentage of deaths will decrease in the longer term since milder cases of COVID-19 may be going undiagnosed.
But he warned that Covid-19 caused a "more severe disease" than the seasonal flu and explained that "while people around the world may have built up an immunity to the flu over time, the newness of the Covid-19 meant no one yet had immunity and more people were susceptible to infection."
"A patient's risk of dying from Covid-19 varies based on several factors, including where they are treated, their age, and any preexisting health conditions."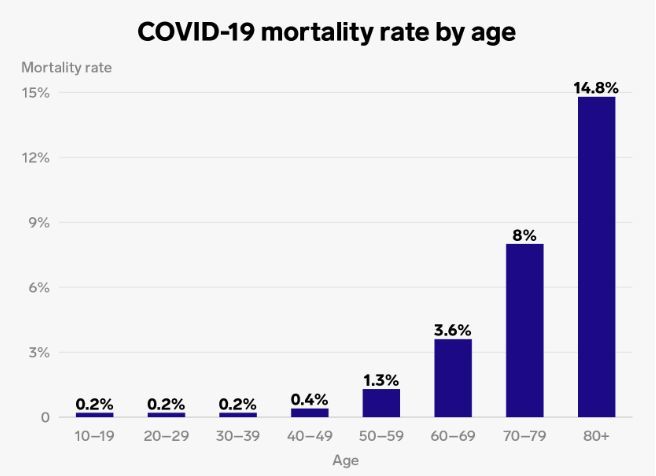 In other coronavirus news…
• In China, 10 people have died and dozens are still trapped after a hotel used as a quarantine building collapsed. The owner of the building is under police custody.
• New York officials declared a "state of emergency", as the state's caseload rose to 105 yesterday from 89 on Saturday. Oregon, with just 14 cases, also followed suit.
• In Iran, where dozens of senior officials are sick, a senior adviser to the supreme leader and a member of Parliament died after contracting the virus. State media reported that all flights to Europe would be suspended indefinitely.
• Saudi Arabia has cut off access to Shiite Muslim towns and villages in the east of the kingdom, cordoning off an area in Qatif Governorate where all 11 of the country's confirmed coronavirus cases have been identified. And local Saudi media reported that the country would temporarily close down all educational institutions and block travel to and from a number of countries in the region. The kingdom had already suspended pilgrimages to the Muslim holy cities of Mecca and Medina.
• The health minister in France, one of Europe's bigger trouble spots with 1,209 cases, has announced a ban on gatherings of more than 1,000 people.
• Israeli PM Benjamin Netanyahu says that Israel, with 39 cases (no recorded deaths yet), is considering requiring all Israelis and foreign nationals arriving from abroad to go into a 14 day self-quarantine.
Keep in contact with The Thaiger by following our
Facebook page
.
Confirmed Covid-19 infected Government House official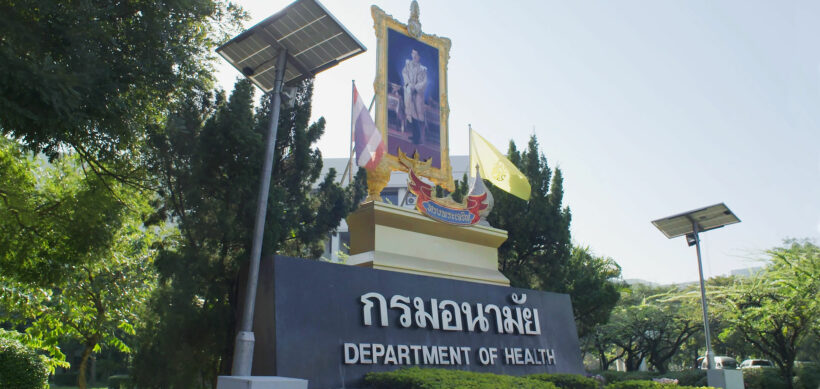 Yesterday, Dr Thaweesin Wissanuyothin, the spokesman for the centre announced that "a health official who coordinated between the Covid-19 response centre at Government House and the Public Health Ministry is confirmed to be infected with the virus."
Thaweesin, said that the official was only a coordinator and was not involved in the treatment of people infected with the virus.
"The official is a male, 46 years old, and is on record as having participated in several meetings. He fell sick on March 26, with mild symptoms like a runny nose with occasional coughing but without a fever. The man first thought he had an allergy."
"Three days after becoming sick he went for testing. There he was confirmed infected with Covid-19 on March 29," according to Bangkok Post.
"The official attended several meetings. As a coordinator who was not assigned to work permanently at Government House, he kept travelling in and out of buildings. Therefore, officials at the Covid-19 response centre are considered to be at low risk potentials, but are still required to self-quarantine."
"Those considered at-risk are officials at the Public Health Ministry and about 30 other officials who had close contact with the infected man. All must also go into self-quarantine at their homes."
SOURCE: Bangkok Post
Keep in contact with The Thaiger by following our
Facebook page
.
Pattaya all but deserted due to virus, travel restrictions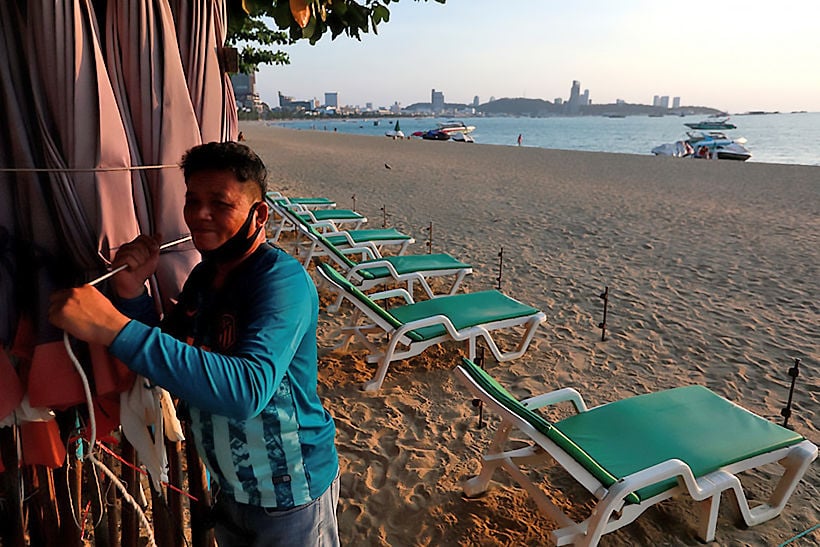 For years, Pattaya has struggled to shed its seedy image as a haven of sex tourism, which started in the 1970s when it became a rest and relaxation spot for US soldiers during the Vietnam War. It's continued to develop into a much more diverse city with world standard attractions offsetting the seedier bars and walking streets.
Now it faces a much bigger threat.
Pattaya's beaches are deserted, go-go bars sit empty and cabarets have shut their doors as business has ground to a standstill after worldwide travel restrictions due to the Covid-19 coronavirus pandemic.
As one of the world's most famous, perhaps infamous, tourist hotspots, the economic devastation is almost total. Business owners say haven't seen anything like it for four decades. One cabaret owner said…
"Our organisation has halted business 100%. Pattaya is a tourist city, we rely mostly on them. The whole city is affected by the virus."
In normal times, his theatre, featuring high-kicking dancing girls with elaborate feather headdresses and sequined dresses, sees more than a thousand tourists daily. Now there are literaly none. While the cabaret isn't planning on laying off its staff for now, the future seems grim. Thailand overall depends on tourism for around 12% of its GDP (some reports claim up to 17%), but in Pattaya, nearly the entire economy runs on visitors, either semi-permanent or on holiday.
Pattaya saw over 15 million visitors in 2018, according to a 2019 government report, already a 20% drop from the previous year.
"I would say that this is the worst that has ever hit Pattaya. And during the past two to three weeks, so many businesses have already folded, have already gone bankrupt, closed down due to the coronavirus."
SOURCE: Reuters
Keep in contact with The Thaiger by following our
Facebook page
.
Coca-Cola to suspend advertising, divert cash to fight Covid-19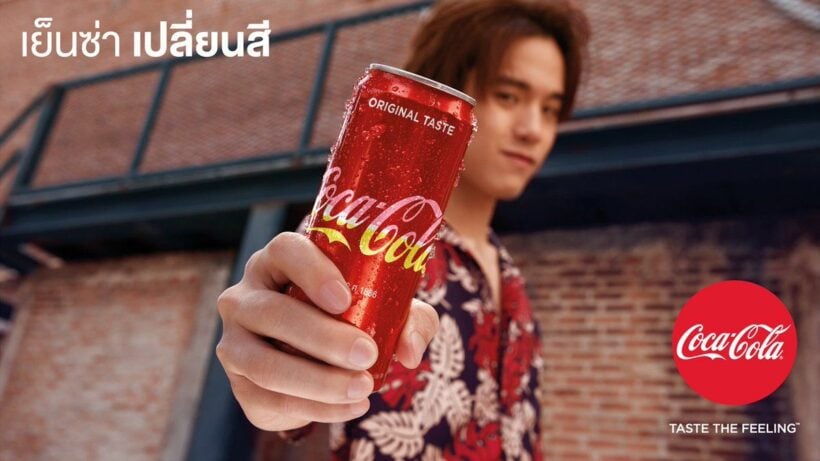 Today Coca-Cola Thailand announced on its official Facebook page "cocacolaTH" that they will suspend all digital and TV advertising campaigns of all the brands under its umbrella in Thailand and divert all the money to support the fight against Covid-19.
"We realise that the current situation is difficult for everyone, therefore we will continue to work hard to make sure that we overcome this obstacle together," the company said in its post.
They will cooperate with its partner organisations to support the work of medical staff and related officials to help protect Thais against Covid-19.
SOURCE: The Nation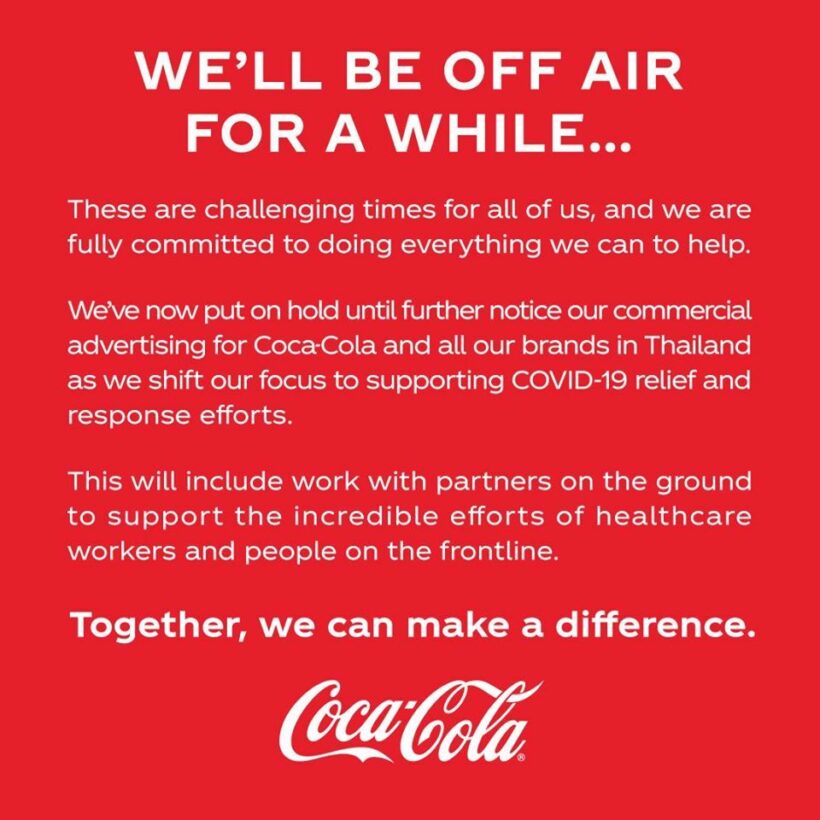 Keep in contact with The Thaiger by following our
Facebook page
.