Yala judge's suicide letter forces spotlight on independence of the Thai judiciary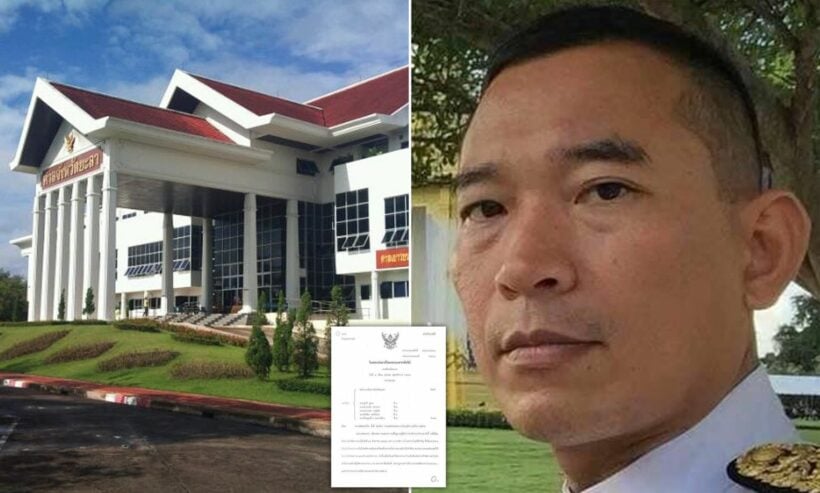 The suicide letter from a former Yala judge, who took his own life on Saturday, continued to raise many suspicions about the independence of the Thai judicial system.
Khanakorn Pianchana, previously the head of the trial court at Yala Provincial Court in southern Thailand, took his own life on Saturday in his Chiang Mai residence. He posted a 2 page letter dated March 6 titled "Khanakorn October" (translated) which he posted on his Facebook page.
The letter mentioned the incident last October when he shot himself in the Yala courtroom after begrudgingly reading a ruling. Before that incident he had already posted a 25 page statement claiming that a superior judge had been trying to influence his judgement in a criminal case.
Read more about the October 4 incident when the judge shot himself in a Yala Court HERE and HERE.
Khanakorn mentioned in his weekend suicide note that following the first suicide attempt he was "sure he would be dismissed as a judge". Instead he was investigated by the Thai Court of Justice and was charged as a suspect in a criminal case. He insisted that he had acted in the Yala courtroom out of sincerity "to return justice to the people".
"Being deprived of a job I love means a loss of one's true self. My body and mind cannot bear the consequences of my action and my life is now filled with misery." (as translated in The Nation)
"I do not regret it and I'm proud of being part of administering justice for the Thai people."
"In the past, we had the 1997 Constitution written by the Constitution Drafting Council. People and academics admit it was the most democratic charter the country had ever had. You may wonder why when the charter was in effect, reviewing a ruling at the first-court level is not allowed. Could it be that the drafters knew such a review could pave the way for interfering of a ruling by regional court presidents?"
"I want to ask friends, you fellow-Thais: Do you find an evil intention in what I had done, which led to disciplinary and criminal action against me? A reply in your heart is enough. As for me, I knew from the start. It's a pity you are not my judge."
I thought I would surely die on October 4 of 2019, but heaven decided to spare me and let me have extra time with my family. I have used it to fix and renovate my house, making sure that my wife and son can live here safely and comfortably."
"I have taught my son to be strong and be good. A good person is one who does good things for himself, others, and the general public under the framework of morality."
"March 6-7 is a suitable date for me to leave this world, since my son's summer vacation has already started. Before that I tried to meditate to calm my mind but it didn't work out so well, so I decided to calm it with force."
"Life is just a journey. This body is not our own. In the end everything will turn to dust and we inevitably have to leave our duties and loved ones. The only thing that remains is our good deeds in the memory of others. I wish you all good luck and happiness. Farewell."
Khanakorn also added a postscript that a donation for his son's scholarship is welcome by money transfer to his Siam Commercial Bank savings account Khanakorn Pianchana at account Number 714-236-9930.
The dead judge's letter has stirred up Thai netizens and attracted broad criticism of the judicial system, again. Pro-democracy netizens are also expressing their deep sorrow and sympathy with him and his family while some government supporters have added their lukewarm condolences.
Wan Muhamad Noor Matha, from the governing Prachachart Party called for an investigation into his death yesterday maintaining that the case be handled "immediately and with transparency".
"The government should also consider providing his family with financial aid as well as a pension package that is suitable for a judge who gave his life for the integrity of his career,"
Some responses uncluded the phrases… "return justice to the judge" and "return justice to the people".
After Khanakorn's first suicide attempt last year, Yala's senior judge identified by Khanakorn denied interfering with the judge's verdict. At the time the case related to national security matter involving a law enforcement agency fighting insurgency in the deep South.
Khanakorn's verdict acquitted those who were charged by the authorities. The case sparked an intense political debate with some blaming Khanakorn for making political points while pro-democracy activists demanded reform of the judicial system.
Piyabutr Saengkanokkul, the former secretary-general of the Future Forward Party, posted his response on Saturday…
"Khanakorn is not a criminal, he is a judge who tried to uphold justice. I would like to express my condolences to his family and his loved ones, hoping they will have the strength to bear this time of sadness and this unbearable incident."
If you or anyone you know is in emotional distress, please contact the Samaritans of Thailand 24-hour hotline: 02 713 6791 (English), 02 713 6793 (Thai) or the Thai Mental Health Hotline at 1323 (Thai).
SOURCE: The Nation
📱 Download our app on Android or iOS for instant updates on your mobile
📧 Subscribe to our daily email newsletter
👍 Like/Follow us on Facebook
🔔 Subscribe to or Join our YouTube channel for daily video updates
Officials in Chiang Mai and Hua Hin express concern amid rapid rise in infections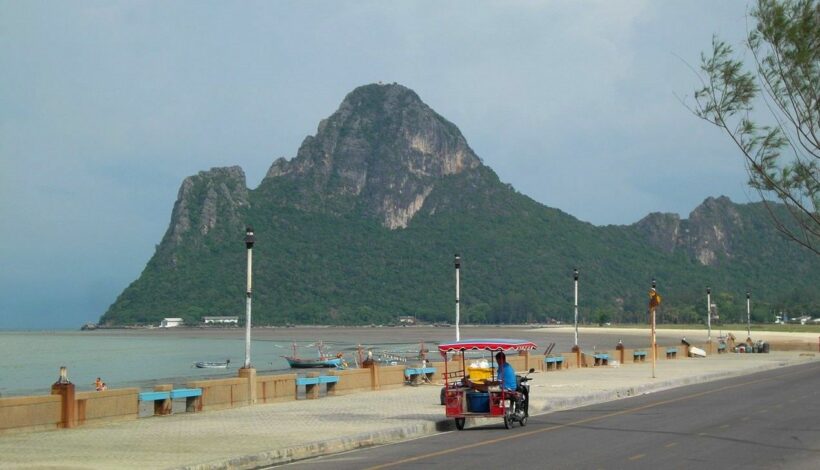 Health officials in the northern province of Chiang Mai and the western province of Prachuap Khiri Khan are on high alert amid a surge in Covid-19 cases. Prachuap Khiri Khan has now reported 334 cases, with infections rising by 141 yesterday. The outbreak is primarily centred around the Hua Hin district, with provincial health official Suriya Khuharat saying most people contracted the virus after attending a concert at the Maya Exclusive Pub on March 30.
Anyone who is concerned they may be infected can receive a free Covid-19 test at either Prachuap Khiri Khan or Hua Hin hospitals. The Bangkok Post reports that, in the last few days, around 500 people a day have visited Hua Hin Hospital for testing.
Hua Hin district and health officials have filed a police complaint against the owners of the Maya Pub, who are accused of violating the emergency decree and disease prevention measures. The March 30 concert is thought to be behind the surge in infections in the seaside district, with over 90% of cases linked to the pub. The chain of transmission is believed to have originated with 1 customer who attended the concert after travelling from Bangkok. The woman is an employee at the Krystal Club in Thong Lor, itself at the centre of a Covid cluster.
Meanwhile, in Chiang Mai, health officials say a surge in infections, now exceeding 200 a day, is causing great concern. Yesterday, the northern province reported 260 new cases, with public health chief Chatuchai Maneerat admitting the surge could lead to a shortage of hospital beds.
"Currently we have 1,000 beds in the province's field hospital and that may not be sufficient. So, the province's communicable disease control panel has decided to add another 1,000 beds."
Despite the rise in infections, the Department of Disease Control says there are currently no plans for a national lockdown, given that other provinces are not as severely affected. Opas Karnkawinpong from the DDC says the most important thing is for people to work from home and avoid social gatherings until at least the end of April.
"People are asking if there will be a lockdown. I'd say that a lockdown is the last resort if virus transmissions show no signs of letting-up. Activities that draw large crowds pose the greatest risk and should be avoided until the end of this month at least."
SOURCE: Bangkok Post
📱 Download our app on Android or iOS for instant updates on your mobile
📧 Subscribe to our daily email newsletter
👍 Like/Follow us on Facebook
🔔 Subscribe to or Join our YouTube channel for daily video updates
UPDATE: Field hospitals being established in Covid hot zones around Thailand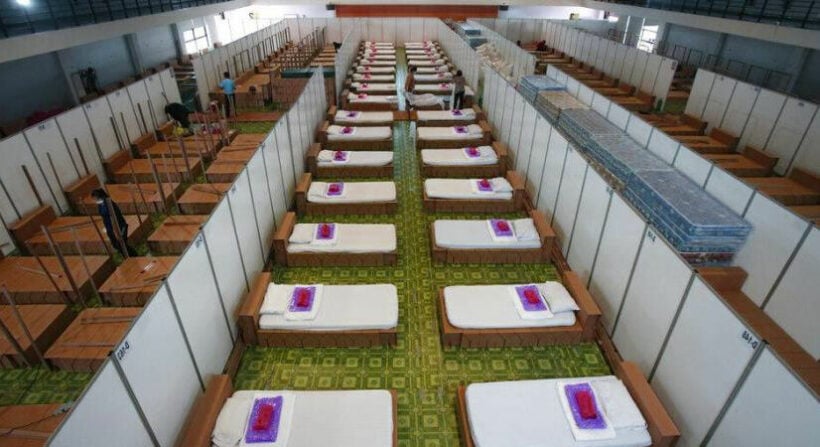 UPDATE: The field hospital in Bangkok's Bang Bon district, west of the Chao Phraya river, had its first 10 Covid patients today. The director of the medical services office of the Bangkok Metropolitan Administration says that the 10 patients into the makeshift hospital, located at the Chalerm Phra Kiat Stadium, will enable assessment of the performance by the medical team, before more patients arrive – Thai PBS World
ORIGINAL STORY: Despite the confident posture and Songkran going ahead, amid restrictions, there is a lot of background activity which suggest the authorities are getting ready for a surge of new infections at the end of the Songkran break, officially this Thursday (but in reality, next Sunday at the end of the weekend when most people who travelled home will return for a resumption of work).
The Thai lunar new year celebrations – Songkran – are the largest mass movement of Thais each year, a source for a huge leap in road deaths and accidents. And, this year, a potential super-spreader event.
Quietly, at least 3,000 extra beds have been prepared in 10 field hospitals around Bangkok. The government has also confirmed that additional field hospitals are being set up in other potential 'hot zones', including Phuket, Chiang Mai, Chonburi and Hua Hin. Some of them were set up last year, and since closed, and now being prepared for new positive infections.
One Thai person who had been in one of the field hospitals put together a check-list of things to take IF you end up as an invited 'guest' HERE.
The CCSA say they are looking for additional beds in hotels and previous state quarantine facilities (where repatriating Thais were housed for their free quarantine) to be used if needed.
This year's Songkran had bad timing, coming just a week after a number of major clusters were identified around some of Bangkok's popular nightlife areas in 3 key inner city districts. Even before Songkran these isolated clusters had already spread into the provinces. In the weekend before Songkran the government had already listed 37 provinces which had instigated some form of paperwork or restrictions for people who had been in any of the 3 Bangkok districts.
The government also leapt on the source of the new outbreaks – bars, clubs and entertainment venues – and promptly shut them down for at least 2 weeks. At this stage it looks likely that that ban will be extended beyond the 2 weeks and, depending on the extent of new infections following the Songkran holiday, additional restrictions will also be added.
Even today the Civil Aviation Authority published a number of new in-flight restrictions for passengers – another blow to the hard-hit domestic aviation sector.
📱 Download our app on Android or iOS for instant updates on your mobile
📧 Subscribe to our daily email newsletter
👍 Like/Follow us on Facebook
🔔 Subscribe to or Join our YouTube channel for daily video updates
Chiang Mai: Covid-19 cancels many Songkran events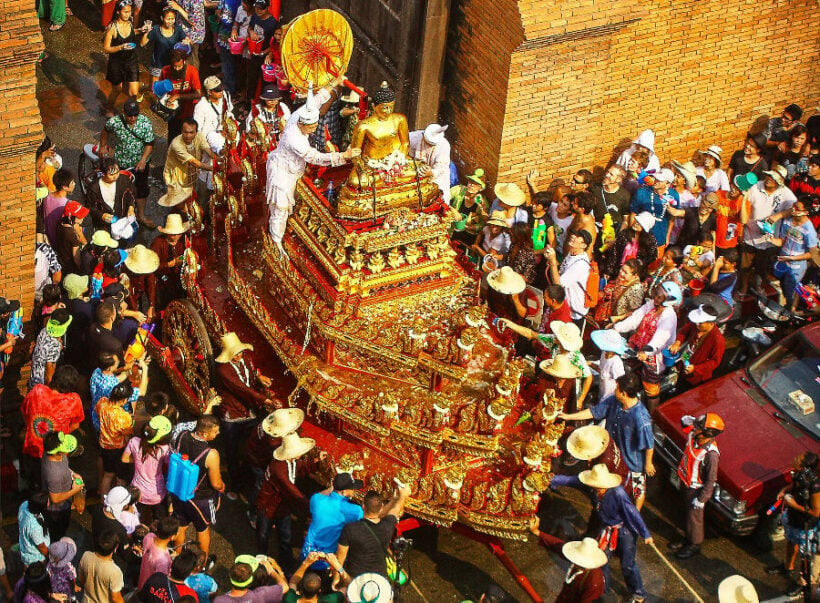 After a surge in new Covid-19 infections, Chiang Mai health officials decided to cancel Songkran celebrations and implement containment measures. As the virus spreads through Thailand, 281 new infections were just diagnosed on Sunday, reported in Monday's daily Covid-19 statistics. These infections bring the total for the month of April to 662 people. With this outbreak spreading wider and faster than the first 2 waves of Covid-19, authorities are taking actions to try and limit the spread of new cases in the area, including the difficult decision to cancel some of this week's scheduled Songkran festival celebrations.
Since the third wave of infections began last week, infection rates are growing and yesterday was the highest number of reported new cases yet. To combat the Covid-19 outbreak, Chiang Mai officials have closed all entertainment venues until April 23, cancelled many of the events planned for Songkran, and toned down the remaining activities. Even the traditional Songkran alms-offering ceremony at Tha Phae Gate had to be called off.
The cancellations due to Covid-19 outbreaks have hurt Chiang Mai, a popular tourist destination for Thais and international travellers alike, where Songkran is usually a booming holiday period. Many tourists have already cancelled their trip, and for those who do still come from Bangkok, Nakhon Pathom, Nonthaburi, Pathum Thani, and Samut Prakan, a 14-day self-quarantine has been ordered, as well as registration through the CM Chana mobile app.
For those already in Chiang Mai who have spent time in entertainment venues, health authorities issued a warning and asked people who attended several venues to get tested for Covid-19. The 10 venues currently identified as high risk are as follows:
DC Chiang Mai
Ground Consol's Garden
Infinity Club
Living Machine
Phor Jai Bar
Tawan Daeng
Tha Chang Cafe
Too Nice Nimman
Valentine's Karaoke
Warm Up Cafe Chiang Mai
SOURCE: Bangkok Post
📱 Download our app on Android or iOS for instant updates on your mobile
📧 Subscribe to our daily email newsletter
👍 Like/Follow us on Facebook
🔔 Subscribe to or Join our YouTube channel for daily video updates