Top 10 benefits of living at a beach house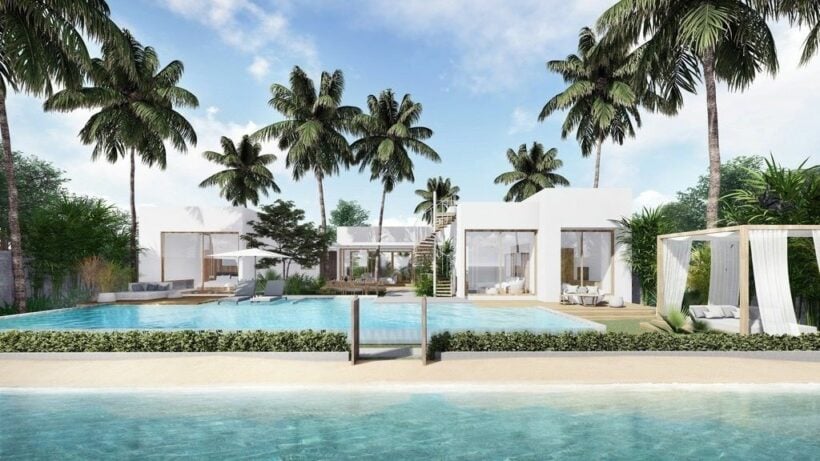 Living in a beach house is an ambition for many people, but the price is often too high in some counties. But in Thailand this dream remains affordable. Instead of 10 million Baht for a beach house in France or 7.6 million Baht for one in Spain, you can get a larger beach house on a tropical island for as low as 2.5 million Baht.

If the great low prices are not enough of a reason to get a beach house in Thailand, here are 10 more reasons to help you to make up your mind.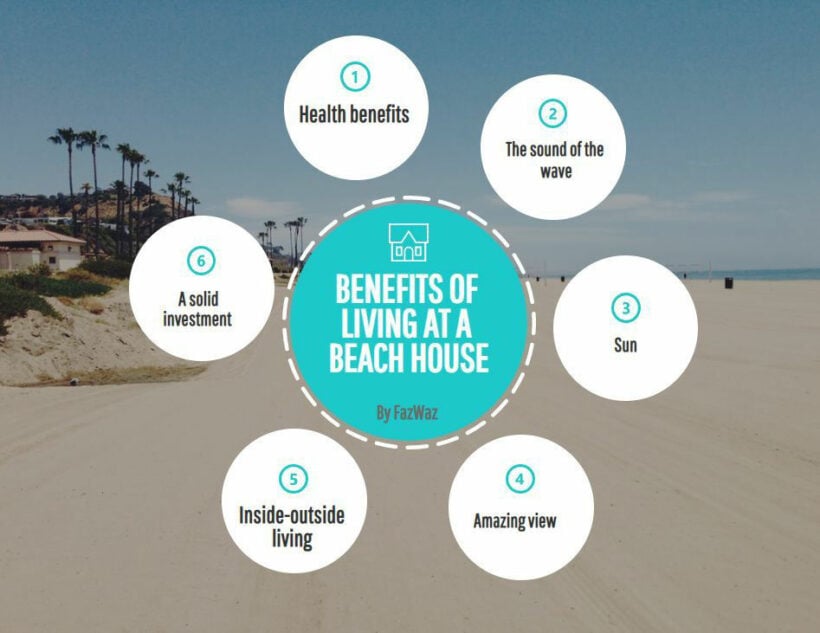 1. Health benefits
The environment of a beach house has a wide range of health benefits. This type of location provides great opportunities for exercising, from swimming in the ocean to your own private pool, taking a walk or running along the beach, volleyball or any other type of beach sport. Just walk out your door and have a swim if it's safe to do so – the water is yours to enjoy.
The unique air quality of a seaside house will make you feel healthy and invigorated. A good night's sleep is guaranteed due to the peaceful and relaxed atmosphere of a beachfront house and the sounds of the waves and the wind.
2. You're happier
It's been proven in studies that people who live by the water are happier. We need a break from the stress of school or work. The ocean is so relaxing that it seems to wash away all your worries and responsibilities. If you don't believe the studies just head to your nearest beach for an hour or and tell us if you're feeling better.
3. The sound of the waves
Speaking of which… research shows that the sound of waves stimulates the sound patterns of the brain which helps you to be calm and relaxed, enhancing faster and deeper sleep. You can load up an app to simulate the sound of waves to lull you to sleep, or enjoy the real thing in your very own beach-house.

4. Sunshine
When you are lying on the beach and enjoying exposure to the sun, there can be benefits to your body from the sun including Vitamin D and healthy blood cell levels.
The caveat on this is that too much exposure, or extended exposure to sunshine can be very dangerous. We'd recommend wearing a good 30+ or 50+ suncream to let the good rays in but keep the bad rays off your skin.
5. Romantic walks on the beach
Who said this can't be a reality? Have dinner by at one of Thailand's casual beachside restaurants with your feet in the sand. Then you and your soulmate can watch the sunset and take a long stroll along the shore. Take your phone for THAT sunset selfie and some protection from mosquitoes.
6. Amazing view
The obvious benefit of any beach house is the panoramic view of the blue ocean and developers know the value of a view, which is a reason why a lot of beachfront houses have big windows and wide frames looking across your million dollar view, for a few million baht.
You can start your day at your own pace with a cup of coffee pondering the world whilst enjoying your stunning view, or wind down at day's end while you enjoy Thailand's legendary sunsets.

7. Inside-outside living
When your house is surrounded by natural beauty, and depending on the landscape or the design of the property, inside-outside living is common among beach houses. Expansive glass and large beach-facing doors and windows are a feature of modern beach living. Open them up wide and let the beach living fill your house with fresh air and natural light.
8. Surfing
Thailand isn't famous for its surf but, certainly, the Andaman Coast has some surfable waves for 6 months of the year. It's relatively safe and you can often rent a board or get some quick and inexpensive classes at the popular beaches. Post a shot of you on a surfboard – you know you want to!
9. Go any time
No need to find a towel, dig your bathing outfit from the bottom of the draw and wonder about the traffic to get to the beach. You're already there. You've dreamt about living by the beach all your life and now you're there. Open the door, take a few steps and you're on the beach – anytime.
10. A solid investment
A beachfront house is good not only for your health but for your finances as well. The most obvious financial benefit is the potential for holiday rental. Besides all-year-round demand, a beachfront house will demand higher rates.
A beach house is a good holiday home investment too, as its main attraction cannot get ruined by other developments or construction projects. With the potential for a year-round income, and future-proofing as a valuable asset, it is not surprising that beachfront houses for sale do not stay on the market for long.
Often beach houses come with a private pool and some of them can even provide a private path to the beach. Most of the beach houses in Thailand come fully furnished and may already be beautifully decorated.
Here is a peek at three of the best beach houses deals in Thailand at the moment…
PHUKET
Beachfront Bliss
This project has got everything you are looking for in a beachfront house – A great investment (6% guaranteed return for 10 years), stunning uninterrupted views of the Andaman sea.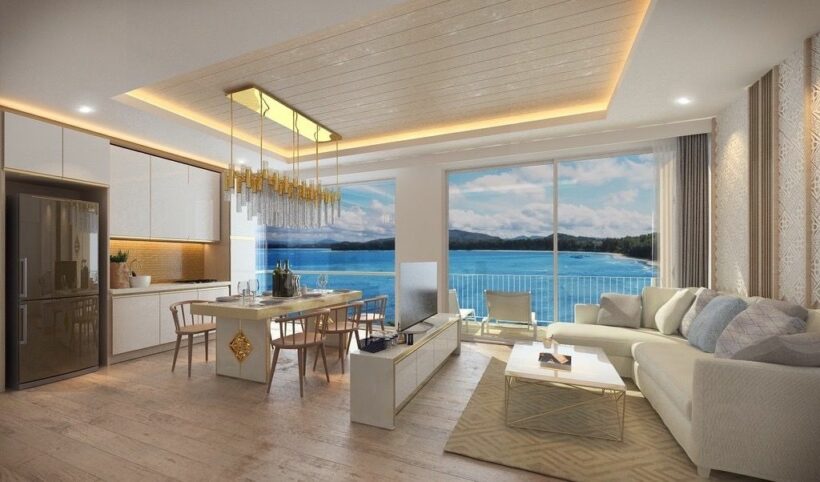 SAMUI
Anava
If you wish to enjoy walks on the beach and enjoy the rays of the sun, this is the right house for you. It is literally located on the beach.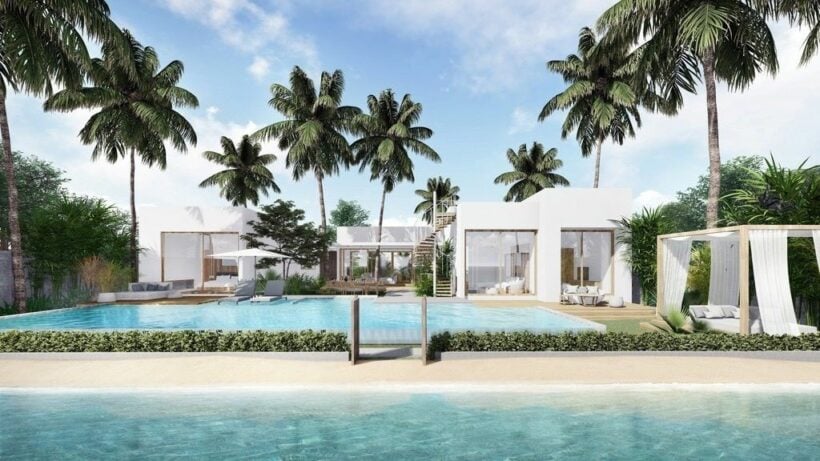 HUA HIN
La Habana
The incredible design of this house will make you feel at home, the pool area and easy excess to the beach will make you want to spend all your time outside enjoying the warm sun.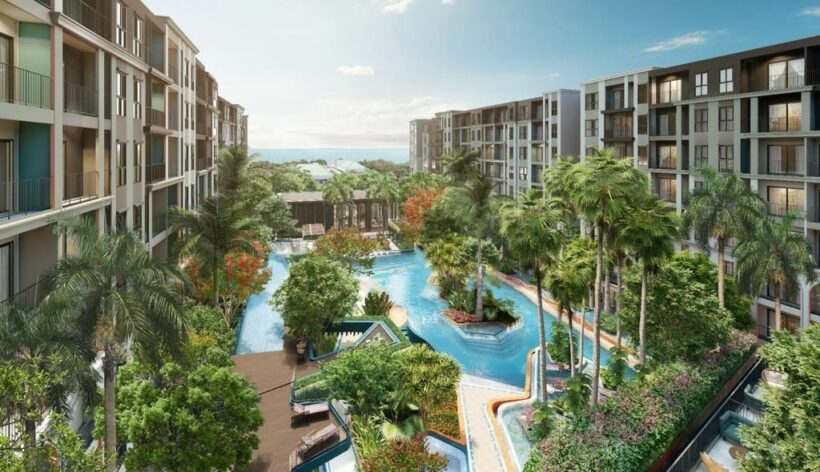 Keep in contact with Thaiger by following our Facebook page.
Never miss out on future posts by following Thaiger.


Read more headlines, reports & breaking news in Hua Hin. Or catch up on your Thailand news.

Find more Hua Hin top 10s and top 10s in Thailand on Thaiger.

Interested in more property news or buying property in Thailand - check out FazWaz today!

Thailand's most exclusive Beach Club | BaBa Beach Club Hua Hin | VIDEO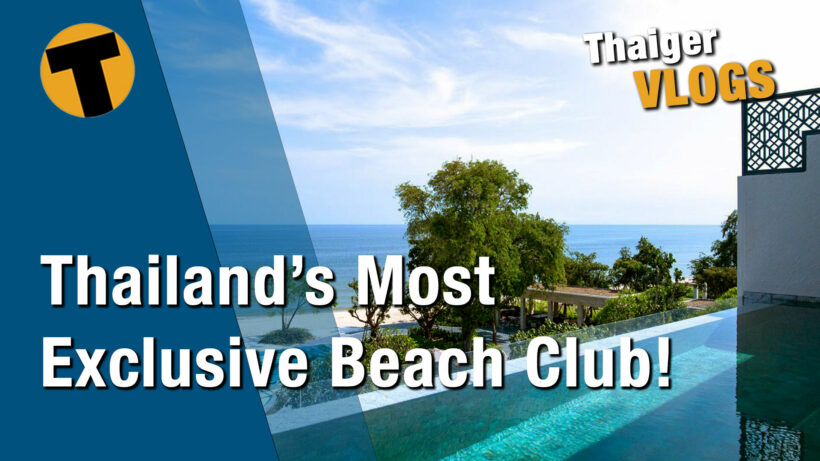 Nothing speaks more 'private' and 'vacation' than enjoying the beachfront view with a balcony pool and luxurious room. Follow Chris, as he (along with his family) takes you on a private get away in Hua Hin, one of Thailand's most popular beach destinations on the Gulf of Thailand coast, for both tourists and locals.
*our vlogger's stay at the BaBa Beach Club Hua Hin was complimentary*
Link to the Beachclub's website HERE.
Keep in contact with Thaiger by following our Facebook page.
Never miss out on future posts by following Thaiger.
Strong surf hits Prachuap Khiri Khan beach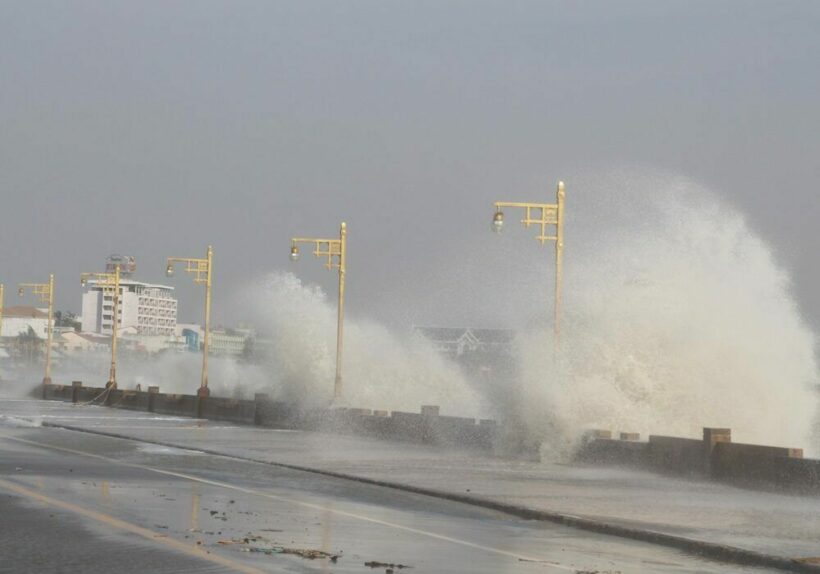 High waves, peaking at 2 to 4 metres, hit Prachuap Khiri Khan's coastal beaches, gushing over the breakwater and flooding some spots of the beachside road.
Beachfront shops and restaurants have been temporarily closed while all on-water activities are prohibited in the affected areas. Over 100 fishing boats and small boats have moored in the areas around the Khao Ta Mong Lai Mountains to shelter from the strong winds.
Swimming and other water activities are prohibited at Bang Saphan district's Ban Krut Beach, one of the province's most popular tourist destinations, due to the dangerous conditions.
The Prachuap Khiri Khan Governor recently warned coastal residents about the potentially dangerous strong winds.
The Thai Meteorological Department issued warnings yesterday that the strong northeast monsoon that prevailed in the Gulf of Thailand and the South might cause strong winds and high waves.
SOURCE: Matichon Online
Keep in contact with Thaiger by following our Facebook page.
Never miss out on future posts by following Thaiger.
Children injured on Hua Hin carnival ride, no safety certification submitted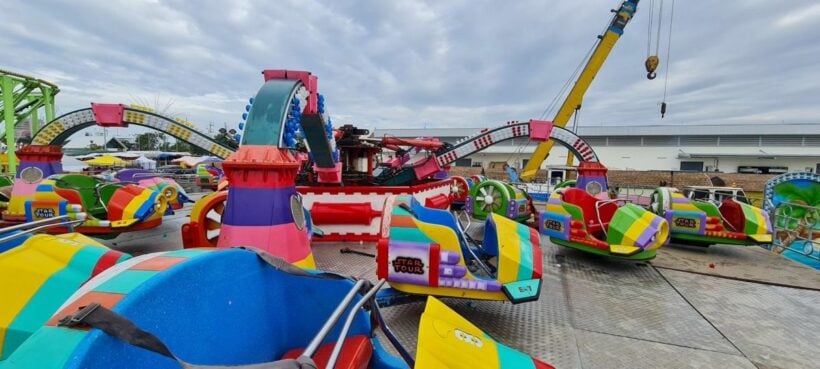 3 children were injured when a carnival ride malfunctioned at the Hua Hin Red Cross Festival in Prachuap Khiri Khan. The required safety certification was not submitted and local officials are investigating, according to Mayor Nopphon Wutthikul. Carnival rides now are closed for the duration of the festival.
"Preliminary inspection revealed that they had yet to submit safety certification signed by licensed engineers from related government agencies. We will further investigate this matter to find out if there was misconduct by any official."
The children were on an octopus amusement ride when the hydraulics system failed. Children rode in colourful cars attached to arms that arch and connect to a central axis, resembling the shape of an octopus. The central axis spins and goes up and down.
10 children were on the ride around 10pm Friday when the hydraulics system broke, according to the festival organiser Pannee Klomtheri. A Facebook user made a post saying she saw the ride collapse. Pannee says the injuries are not serious.
"Three children were injured and were sent to Bangkok Hua Hin Hospital with some bruises. Doctors said all the kids are now fine. There was no death caused by the incident."
Pannee says the octopus ride and other nearby rides will be closed while local officials inspect the site. The festival ends on December 6.
SOURCE: Nation Thailand
Keep in contact with Thaiger by following our Facebook page.
Never miss out on future posts by following Thaiger.