Pattaya officials warn residents about outbreak of Chikungunya virus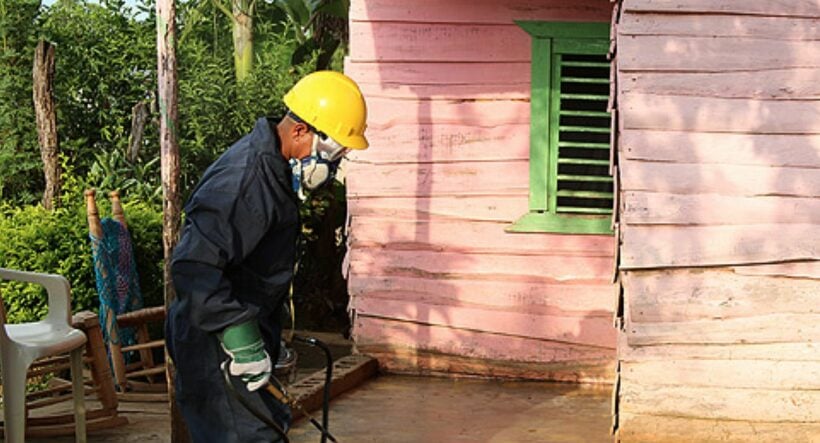 Health officials in the Bang Lamung area of Pattaya say that many cases of the Chikungunya virus have been reported this year. Most commonly, the infected mosquitoes involved are Aedes aegypti and Aedes albopictus, two species which can also transmit other mosquito-borne viruses, including dengue.
From January to the end of October there were 90 cases in Bang Lamung. The virus, usually most prevalent in the south of Thailand, has caused health officials to warn the public in the Pattaya area to take protective measures after an unusually high number of cases were reported on the eastern seaboard.
Key facts about Chikungunya…
Chikungunya is a viral disease transmitted to humans by infected mosquitoes. It causes fever and severe joint pain. Other symptoms include muscle pain, headache, nausea, fatigue and rash.
Joint pain is often debilitating and can vary in duration.
The disease shares some clinical signs with dengue and zika, and can be misdiagnosed in areas where they are common.
There is no cure for the disease. Treatment is focused on relieving the symptoms.
The proximity of mosquito breeding sites to human habitation is a significant risk factor for chikungunya.
The disease mostly occurs in Africa, Asia and the Indian subcontinent. However a major outbreak in 2015 affected several countries of the Region of the Americas. (www.who.int)
Across Thailand there have been 8,774 cases in the first 10 months of the year. The worst hit provinces were Pattani, Ranong, Tak, Phuket and Songkhla – four of which are in southern Thailand.
Chikungunya is sometimes confused with dengue and should be diagnosed separately to manage recovery. Chikungunya is generally not fatal but online it is said about the virus:
"It won't kill you, but it may make you wish you were dead".
SOURCE: The Pattaya News
Keep in contact with The Thaiger by following our
Facebook page
.
Never miss out on future posts by
following The Thaiger
.
Greenpeace Thailand names 5 local companies "top plastic polluters"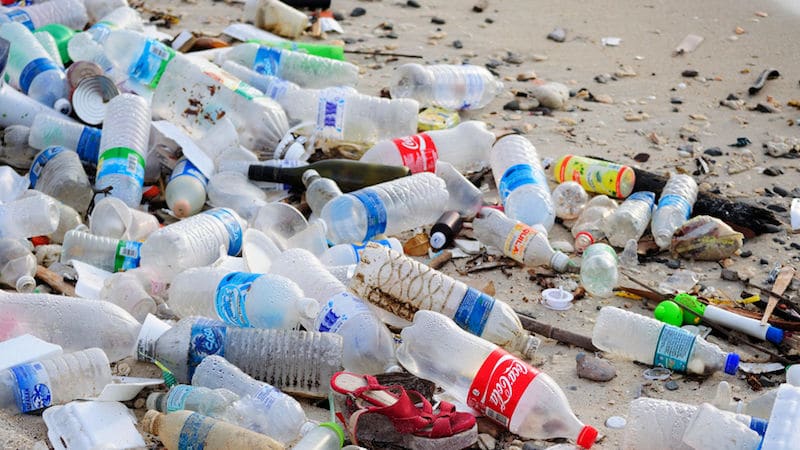 After collecting thousands of pieces of plastic waste, Greenpeace Thailand found that the majority of the trash comes from 5 Thai Companies, naming them the "top plastic polluters."
Volunteers from Greenpeace collected plastic waste from Doi Suthep in Chiang Mai and Wonnapa beach in Chon Buri. Out of the 13,001 pieces of plastic was collected, they say most of the waste traced back to 5 Thai companies: CP Group (which operates Thailand's 7-Eleven convenience stores), Dutch Mill Company, Osotspa (which produces M-150 drinks), TCP Group and Lactasoy.
This is the third year that Greenpeace Thailand and each year they find the same types of plastic from the same companies, according to leader of the organisation's "Plastic Project" Pichmol Rugrod. The CP Group was named the top polluter for the second year in a row.
"Single-use plastic has devastating effects not only to nature but to frontline communities as well. There will be no solutions to the plastic crisis unless there is a plan to urgently reduce plastic production and consumption."
"In addition, corporations must take full responsibility for the pollution they have caused, taking into account the externalised cost of their single-use plastic products- such as the cost of waste collection treatment, their continued contribution to greenhouse gas emissions and the irreparable environmental damage that will continue to harm people and biodiversity for years to come."
Director of Thailand's Ecological Alert and Recovery, Penchom Saetang, says the Thai government needs to step up plastic waste management and motivate companies to reduce single-use plastic products.
SOURCE: Greenpeace Thailand
Keep in contact with The Thaiger by following our
Facebook page
.
Never miss out on future posts by
following The Thaiger
.
Tigers and tiger body parts seized from Thai zoo investigated for alleged wildlife smuggling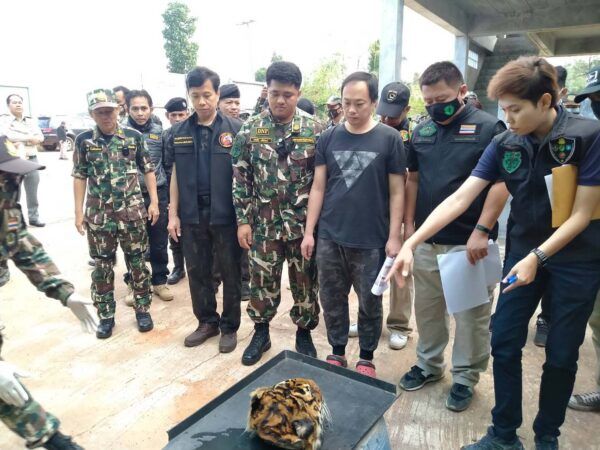 In a crackdown on suspected wildlife trafficking, the Department of National Parks, Wildlife and Plant Conservation seized 5 tigers from a private zoo in the Isaan province Mukdahan. DNA tests confirmed that at least 3 of the 5 tiger cubs are not related to the tigers in the Mudka Tiger Park & Farm, leading officials to believe the wildcats were smuggled in, according to DNP director general Prakit Wongsriwattanakul.
Thai media reports say that some of the tigers seized were not alive and photos of a severed tiger head apparently have been posted by various Thai news websites.
Apparently, this isn't the first time the Mukda Tiger Park & Farm has been investigated. In January 2018, DNP officials seized protected species from the park including red pandas, grey-shanked douc monkeys and elongated tortoises.
Officials are conducting DNA tests on another 20 tigers and the results will be released by the end of the month. If found guilty of wildlife smuggling, the park owner could face up to 5 years in prison.
SOURCE: Bangkok Post
Catch up with the latest daily "Thailand News Today" here on The Thaiger.
Keep in contact with The Thaiger by following our
Facebook page
.
Never miss out on future posts by
following The Thaiger
.
Protected hornbill dies from gunshot wound, 2 suspects in police custody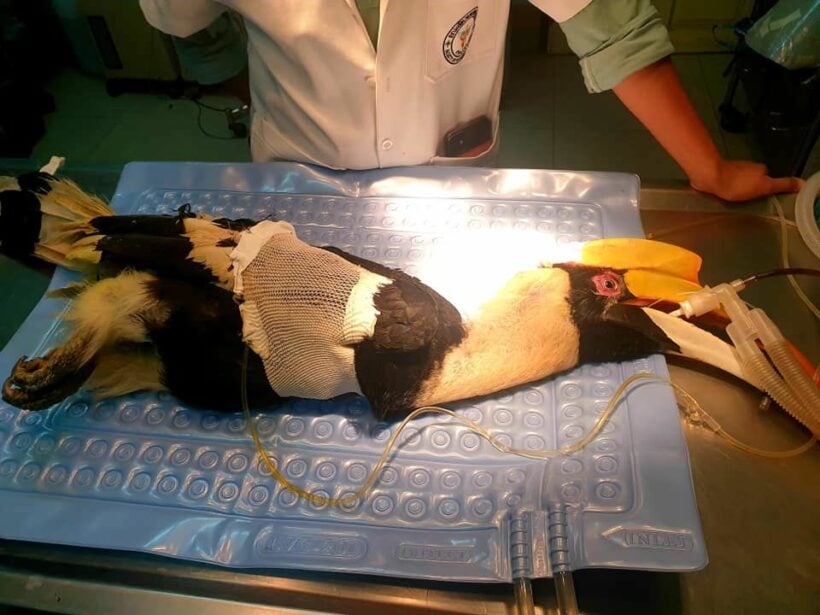 A protected great hornbill died after 5 days of medical treatment for a severe gunshot wound. 2 suspects are now in police custody and officers have seized a .22 calibre rifle, according to Thai PBS.
A tourist found the injured bird near the Khiriphet waterfall on Koh Chang. The hornbill, known in Thai as a nok nguek, was treated at the Nuern Plub Wan animal hospital in Chon Buri. The great hornbill's condition rapidly deteriorated and veterinarian Phadet Siriadmrong says the hornbill suffered brain stem death.
The great hornbill, Buceros Bicornis, is listed as a vulnerable species on the International Union for Conservation of Nature's Red List of Threatened Species. According to IUCN, hunting his substantial threat to the great hornbill.
Hunting poses a substantial threat to the species. Because of its predictable behaviour when regularly visiting the same feeding sites, it is easily targeted by local hunters.
Thailand's Wild Animal Reservation and Protection Act prohibits hunting preserved or protected wild animals. Those found guilty of violating the act could face up to 4 years in prison and a fine up 40,000 baht.
SOURCES: Thai PBS | Bangkok Post | IUCN
Keep in contact with The Thaiger by following our
Facebook page
.
Never miss out on future posts by
following The Thaiger
.