Phuket's low season growth produces record tourism numbers in 2017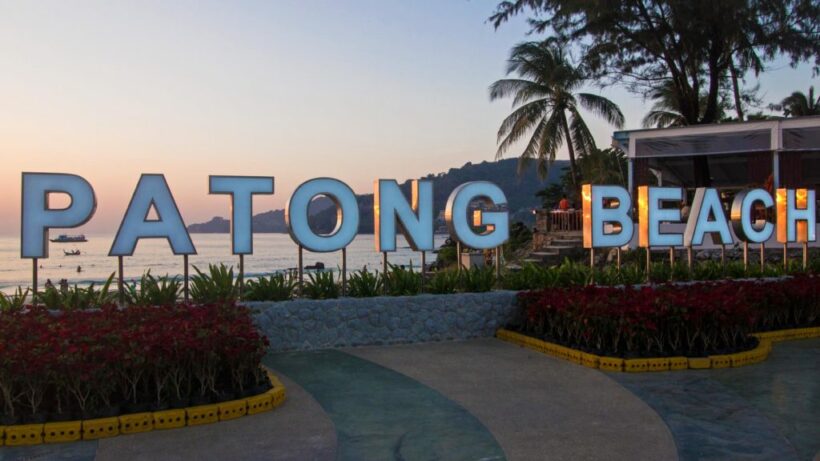 By Bill Barnett of c9Hotelworks.com
For 2017 the island's gateway airport posted 11.3% year-on-year growth to reach an estimated 8.4 million incoming passengers. This was mainly driven by a 20% surge in Mainland Chinese travelers to the island and a rising number visitors during low season of 11.2% compared to the same period in 2016.
Passenger arrivals remain the key catalyst for growth, according to consulting group C9 Hotelworks' newly released Phuket Hotel Market Update.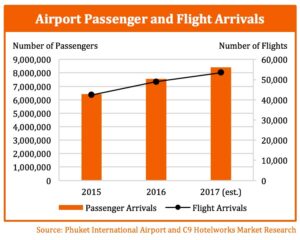 Hotel performance continued to see an uptick in occupancy at 77% last year based on data from STR, though there is a slight downward trend with a median room rate of 3,740 baht per room/per night.
Data in C9's report reveals there was an average of 641,863 passenger arrivals per month in 2017 during low season compared to 759,703 in the high season. This is a significantly smaller gap than in previous years. The statistics demonstrate how Phuket is evolving into a year-round destination.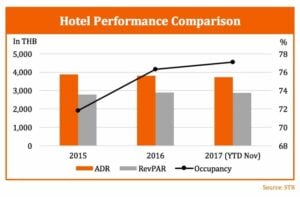 Another key trend is market-wide occupancy demonstrated by 54% of Chinese and 55% of Australians choosing to visit Phuket during the May – October low and shoulder seasons.
Analysing the market C9's Managing Director Bill Barnett is quick to point out that island hoteliers need to be pragmatic about the impact in shifting geographic segments.
"Phuket International Airport is the de facto entry point for tourists to Khao Lak which has nearly 9,000 hotel keys in its inventory. Lower priced accommodation and a large selection of beach front properties are benefitting from increasing Australian and Chinese numbers in July and August."
Two other key points from the report are that while arrival growth is prevailing, the average length of stay is shrinking due to increased regional Asian demographic shift. (eg. Chinese visitors tend to come for days rather than weeks). And secondly, the exponential growth of offerings such as Airbnb are becoming mainstream competitors to hotels.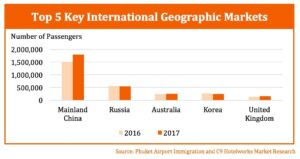 Soaring tourism numbers are not only driving hotel development but peripheral sectors such as attractions as well.
With its successful water park in Hua Hin, Proud Real Estate plans to start the development of Vana Nava Phuket by late 2018.
Coupled with a 255-room Holiday Inn Express, the project is valued at nearly 3 billion baht. Kata Water Park is another notable project that will begin construction in 2018. Developed by Kata Group on a 13-rai plot, replacing Kata Plaza, the plan includes a 300-room hotel and multiple dining outlets.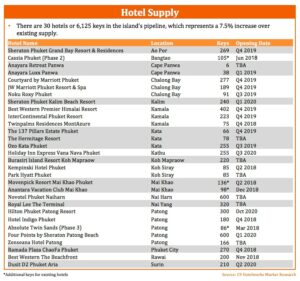 Summing up Phuket's continued growth trajectory Bill Barnett of C9 Hotelworks says "…while the recent upgrading of Phuket International Airport and new terminal has been a welcome change, the long-term reality is it's just a band aid to a macro issue. As Khao Lak continues growing along with the beach areas north of Phuket, the need to diversify Phang Nga's rising tourism market with its own airport is becoming more and more urgent by the day."
Download C9's new Phuket report HERE.
Keep in contact with The Thaiger by following our
Facebook page
.
Never miss out on future posts by
following The Thaiger
.


Read more headlines, reports & breaking news in Phuket. Or catch up on your Thailand news.

Interested in more property news or buying property in Thailand - check out FazWaz today!

Thailand News Today | Prayut acquitted, Chinese probe, Speed limit 120 kph | December 2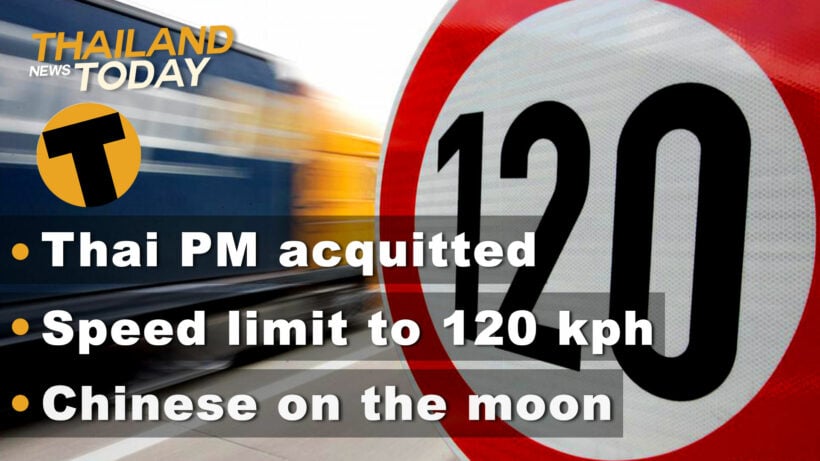 The Thai Prime Minister, Prayut Chan-o-cha has been acquitted by the Constitutional Court. Full story HERE.
Thai Airways to resume flights from Bangkok to Chiang Mai and Phuket
After nearly 9 months on the ground due to the coronavirus pandemic, along with problems balancing their accounts, Thai Airways will resume flights between Bangkok and Chiang Mai as well as Bangkok and Phuket later this month.
The flights will start back up on Christmas day. Flights from Bangkok to the 2 key tourist provinces, well just about everywhere for that matter, have been grounded since April 1. Starting December 25, the airline will run 3 flights a week on both routes.
Thai Lion Air, Thai Air Asia, Nok Air, Thai Smile, VietJet Air and Bangkok Airways have returned to the domestic skies since July and slowly adding frequency to their routes.
In addition to resuming the domestic flights, the Thai Airways is relaunching some international flights from January 1 to March 27 including weekly flights to Frankfurt, London, Copenhagen, Sydney, Seoul, Manila, Taipei and Osaka. Flights from Bangkok to Tokyo will be available 3 times a week and flights from Bangkok to Hong Kong will be available every day.
97 police officers investigated for fiddling Covid-19 payments
97 police officers, from 41 police stations, are currently being investigated for an alleged scam involving Covid-19 payments meant for officers.
The money was meant to be paid to police who worked extra shifts during the lockdowns. The case was assigned by national police chief last month, when it came to light that some officers may have fraudulently claimed allowances meant for others.
In one incident, an officer responsible for transferring extra payments to police in Phuket transferred the money to his own accountant instead. At the time, the transfer was dismissed as a misunderstanding, with the officer in question receiving a warning.
The rest of the investigations will be completed within 10 days.
Speed limit on Thailand's highways to be increased to 120 kilometres an hour
The government has approved an official increase in the upper speed limit on Thailand's national and rural highways, with the aim of improving traffic flow.
The new maximum speed limit of 120 kilometres per hour has been confirmed after the Thai Cabinet approved a draft regulation proposed by the Transport Ministry.
If you've ever driven on a Thai freeway or motorway you'd already know that much of Thai traffic already drives well in excess of 100 kilometres an hour and sometimes even more than the new 120 kph limit.
The new speed limit will be applicable only to highways with at least 2 lanes travelling in the same direction and traffic islands that have barriers. But the new speed limit won't apply to buses and trucks.
"ASQ… Paradise?" TAT launches search website to find hotels for a "happy quarantine"
From 'army intelligence' to 'fun run' and 'unbiased opinion' we now have a new oxymoron to add to the English language, courtesy of the Tourism Authority of Thailand… 'ASQ Paradise'.
The Tourism Authority of Thailand has put the two contradictory words together in its new promotion called "ASQ Paradise." A new website was launched allowing users to search for alternative state quarantine hotels in Thailand for a "happy quarantine."
The website features 107 ASQ hotels offering 2 week quarantine packages ranging from 27,000 baht to 220,000 baht. The website is available in English and Chinese languages.
Chinese probe collects rock samples from surface of the Moon
The Chinese, like the rest of us, are mostly prohibited from travelling at the moment, but it hasn't stopped them travelling to the Moon.
A Chinese space probe has landed on the surface of the Moon to bring back the first lunar samples in nearly 5 decades. Since the US dropped its Apollo missions to the Moon in 1972, the Earth's only natural satellite has been a bit lonely.
The Chinese space programhas poured billions into its space program, with hopes of having a crewed space station by 2022 and of eventually sending humans to the Moon to establish an ongoing lunar base.
Chang'e 5 touched down on the near side of the Moon yesterday. It will spend a total of 48 hours on the surface of the moon before re-uniting with it's mother-ship which will then bring the lunar probe back to Earth.
Keep in contact with The Thaiger by following our
Facebook page
.
Never miss out on future posts by
following The Thaiger
.
Court acquits PM Prayut Chan-o-cha, allowing him to stay on at military residence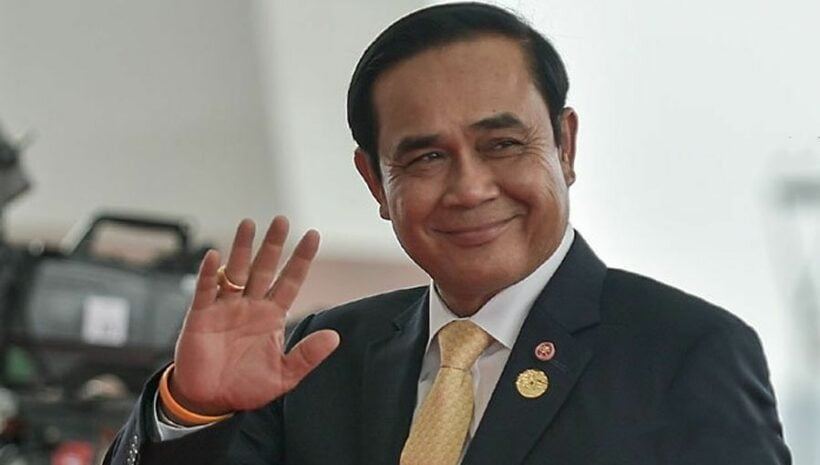 PM Prayut Chan-o-cha will be staying in office and at his military residence. Bangkok's Constitutional Court ruled today that the prime minister and former Thai general and commander of the Thai Army has not violated the charter by occupying a military-owned residence. The court says under military regulations, former officers can remain at their Army residence after their retirement at the discretion of the Thai Army commander.
Pro-democracy protesters have been pushing on Prayut to resign since July, along with calling for a rewrite of the 2017 Constitution together with reform of the government and role of the monarchy. Recently, Prayut was accused of violating the Constitution by staying at an official Army residence, rent-free, after his 'retirement' as General Prayut in 2014. Some say the tenancy represents a conflict of interest and the prime minister was abusing his power. A guilty ruling would've potentially put an end to his premiership.
Sections 184 and 186 of the Thai Constitution forbid a government minister from "receiving any special money or benefit from a government agency, state agency or state enterprise apart from that given by the government agency, state agency or state enterprise to other persons in the ordinary course of business."
Prayut told the court that he was staying at the residence at the First Infantry Battalion of Royal Guards because his home in Baan Phitsanulok was being renovated and that his security team suggested he live at the Army residence for safety, a source told Nation Thailand.
Similar housing has been provided to former Army chiefs who are now members of the Cabinet, Privy Council and Parliament, according to the Royal Thai Army. They add that the residence was provided to Prayut because the prime minister "deserves the honour and security it provides."
SOURCE: Nation Thailand
Keep in contact with The Thaiger by following our
Facebook page
.
Never miss out on future posts by
following The Thaiger
.
United Kingdom approves new Covid-19 vaccine, first jabs start next week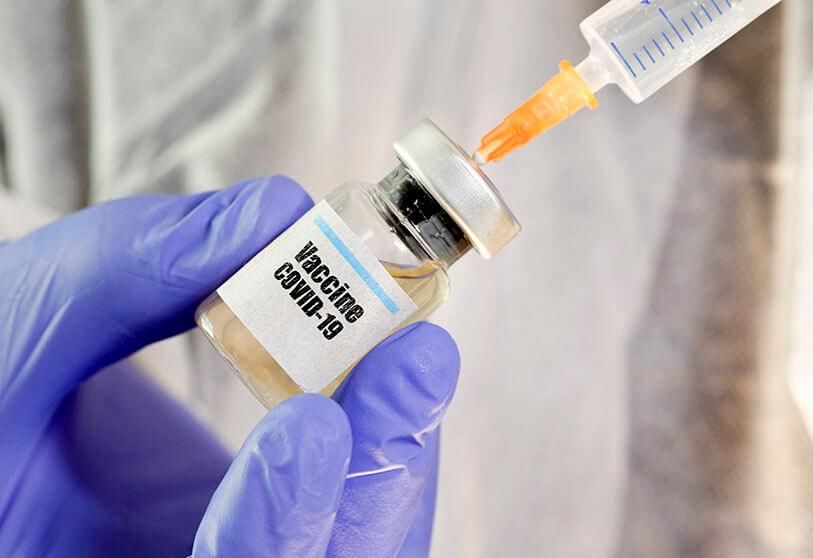 The United Kingdom approved the new Covid-19 vaccine by Pfizer-BioNTech for emergency use and will start injections next week. The UK became the first country in the world to license the Pfizer-BioNTech vaccine, which Pfizer says marks a historic moment in the fight against the coronavirus.
The UK purchased 40 million doses of the vaccine and 800,000 doses will be available next week, according to Health Secretary Matt Hancock. He says the most vulnerable people will get the first jabs. 50 hospitals are ready to receive the vaccine, he says.
"From early next week we will start the programme of vaccinating people against Covid-19 here in this country… It's very good news."
The new Covid-19 vaccine was authorised for emergency use by the private Medicines and Healthcare Products Regulatory Agency. Pfizer CEO Albert Bourla says the company applauds the agency for conducting a careful, yet timely, assessment of the vaccine.
"As we anticipate further authorizations and approvals, we are focused on moving with the same level of urgency to safely supply a high-quality vaccine around the world."
The vaccine has been shown to have a 95% efficacy in its final trials. A Department of Health and Social Care spokesperson says the approval of the vaccine follows months of rigorous clinical trials and experts have concluded that the vaccine meets strict safety, quality and effectiveness standards.
Catch up with the latest daily "Thailand News Today" here on The Thaiger.
Keep in contact with The Thaiger by following our
Facebook page
.
Never miss out on future posts by
following The Thaiger
.