Profile: Wild ride on hippocampus [video]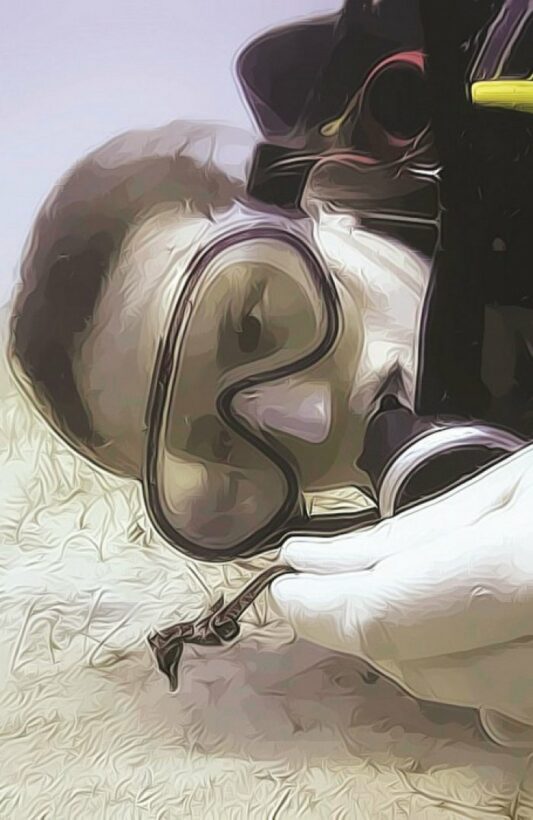 PHUKET: Etymological failures rarely re-direct a person's life as drastically as a simple false assumption did for topflight seahorse expert and marine biologist Lindsay Aylesworth.
Lindsay was ushered into the upper echelons of seahorse research while working on her doctorate with her adviser Amanda Vincent – recognized as the leading expert in the field – and Project Seahorse at the University of British Columbia. Lindsay looks to finish her PhD by the end of the year. However, her fateful 'mistake' was made about eleven years prior, when she was an undergraduate studying abroad at James Cook University in Australia.
For the final project of a marine conservation course, students had to sign up to write a conservation status report about a specific marine animal. The options were listed under scientific pseudonyms on the professor's door. Enter the hippocampus.
"So you had to go and sign up for this random Latin name, and who knows the Latin names of fish as an undergraduate? I would argue nobody. Okay, maybe some people do, but not me," Lindsay says.
"So there were some obvious ones, Delphinus delphis – oh, it's a dolphin. All those were taken, but I saw hippocampus. It kind of sounds like hippopotamus. I wonder if there are hippos that live in the ocean?"
Lindsay can now confirm that hippos do not live in the ocean.
However, Lindsay wasn't far off, at least when it comes to the scientific names. For both hippopotamus and and hippocampus, 'hippos' means horse in Ancient Greek. However, 'potamos' means river, and 'kampos'? Well, that's 'sea monster'. Given her knack for marine adventures, it is probably more appropriate that Lindsay ended up with the sea monster.
"I just realized, that happened in 2004. I've been on this seahorse kick for 11 years now."
Lindsay first came to Phuket after her friends survived the 2004 tsunami. They had been diving off Phi Phi when the wave washed over the island. She arrived with supplies and then became one of the first in a group of divers that were certified by PADI as instructors following the disaster.
Two years later, Lindsay made contact with Dr Vincent. However, she didn't join Project Seahorse, recognized as the global leader on seahorse research, until 2012. Then, in 2013, Project Seahorse was asked by International Union for Conservation of Nature and Natural Resources (IUCN) to form a specialist group to advise on seahorses. Lindsay made the cut.
The group has a sweeping mission statement: "To promote the long-term conservation of the world's syngnathiform [seahorses, pipefishes and their relatives] and gasterosteiform [sticklebacks and their relatives] fishes through the illumination and alleviation of threats to wild populations and their ocean habitat."
Also in 2013, Lindsay joined a team from Project Seahorse which served as consultants to the Hong Kong government to do an assessment of the impact a controversial beach re-nutriment project might have on seahorse populations in the area. Final assessment: there would be minimal impact, despite the environmentalists' concerns.
"We also came up with a mitigation plan to try and find all the seahorses in the area that was going to be developed and then move them to a similar habitat and monitor them. It would be a good chance for some scientific research about moving seahorses from one habitat to another and also allow the beach to be developed," Lindsay says.
Finding the seahorses – renown for their camouflaging abilities – would need to be sorted out by the government at a later date. However, Lindsay's most recent adventure brought her face to face with a man who has a sixth sense for seahorses – Paul Ferber.
"He kind of has this premonition of where to find seahorses. You jump in the water with him and literally within seconds or minutes find seahorses, which compared to some of the research we've done in Thailand is amazing," Lindsay says.
"Paul runs a group called Marine Conservation Cambodia and they have been working in Cambodia for I believe the last five or ten years monitoring seahorses at some of the coastal islands. They have been asked to do so by the government."
Lindsay was there last week to train Paul and his team about how to give seahorses fluorescent 'tattoos' in hopes of tracking their numbers and curbing illegal fishing.
In Paul's tow to 'base camp' on Koh Sep, off the coast of Kep and within swimming distance of Vietnam, Lindsay saw how serious the team was about protecting the thick, vulnerable seagrass beds in the area.
"They are working with the local fisheries staff to help them increase local enforcement and patrols of the area. There are lots of Vietnamese boats that come in and illegally fish in these areas in Cambodia.
"I wasn't quite expecting to be part of any of these patrols on my trip out there. One minute there was a Cambodian guy chilling out in his board shorts and tank top, the next minute he's putting on his official Fisheries Department uniform and unwrapping this super rusty AK-47, because they saw an illegal fishing boat and wanted to stop the boat and ask them to leave."
Rough monsoon seas added to the wild nature of the events as they unfolded before Lindsay and a group of British undergraduate students joining Paul for some terrestrial research.
"There was a lot going on and at one point they were like 'keep your hands inside the boat, stay low guys, stay low'. Eventually, the fishermen pulled up the net and dumped the fish back into the ocean."
It hasn't been all seahorses for Lindsay. She's done the turtle rodeo, hand released 1-meter-long juvenile lemon sharks, jumped for dugongs… the list goes on. Here in Thailand though, Lindsay is entering the final stages of a three-pronged seahorse sustainability project, which included on-location diving for seahorses, interviewing fishers and researching the seahorse export business (story here).
"Project Seahorse and I are wrapping up a project with the Fisheries Department to help them assess the sustainability of their seahorse exports.
"We are now at the final analysis stage and reporting back to stakeholders and colleagues phase, which is why I'm back in Phuket, where I based myself for the initial research phases of the project."
— Isaac Stone Simonelli
Keep in contact with The Thaiger by following our
Facebook page
.
Never miss out on future posts by
following The Thaiger
.
Tracking down "The Beach" – the inspiration for the 2000 Hollywood movie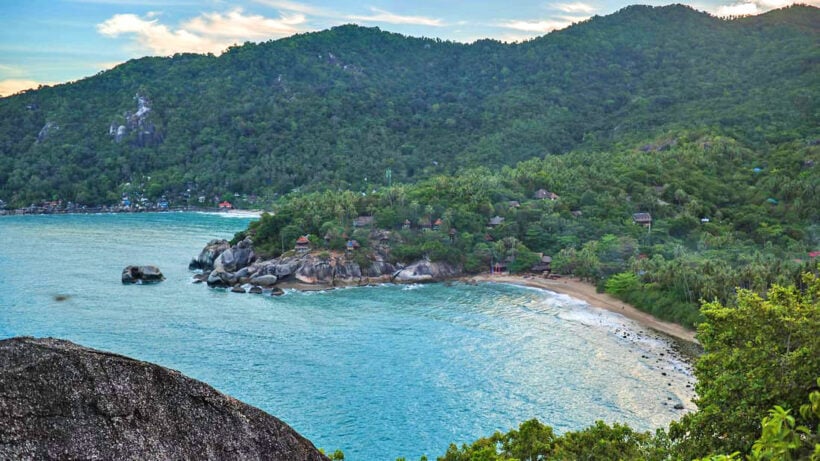 Tourists flocked to Maya Bay, you know 'The Beach' featured in the 2000 movie starring Leonardo de Caprio and directed by Danny Boyle. Since 2000, the tourist magnet on Koh Phi Phi Ley became a Mecca for the back-packer crowd followed by a mass tourist flock, bringing some 5,000+ tourists to the small bay every day at its peak.
In June 2018 Thai marine officials and the management of the national park controlling the Phi Phi islands banned visits to Maya Bay. The pilgrimage to The Beach was over and the environmentally abused bay got a chance to recover.
But Maya Bay, used in the film, wasn't even the inspiration for the original novel that spawned the film. The 'actual' beach was, probably, a secluded little stretch of sand on Koh Pha Ngan, on the other side of the Malay Peninsula from Koh Phi Phi Ley, in the Gulf of Thailand near Koh Samui.
Michael Doyle started visiting Koh Pha Ngan in the mid 1980s, chilling in rustic beach bungalows as a break from being a psychiatric nurse in Australia.
Speaking to CNN, he said that he moved to Haad Rin at the southern tip of the island, at the time nurturing an international hippie scene fusing raves with tai chi, yoga with mind-opening drugs. By the end of the decade Haad Rin had started attracting a regular, well monthly, visit to the Full Moon Party. The spiritual awakening of the Full Moon Party eventual became mind-expanding for a host of other reasons and then became commercialised into one of the world's best-know beach raves.
It was time for Michael to find another spot on the island.
Further up the coast he was invited to "The Sanctuary". It could only be reached by boat or a hike through the rocky headlands of the Koh Pha Ngan coastline.
"As we came over the first hill, the sight of a crystal-white beach below, without anyone on it, was pure magic."
But they hadn't even reached The Beach at that stage. They had to hike further.
"We glimpsed the second bay just before sunset. Walking down from there, I felt as if I were passing through some kind of invisible membrane and I realised, well, my life has changed.'"
The Sanctuary was just a dormitory, a few bungalows and an open-air cafe. Michael stayed on for 3 months along with a handful others who helped build more beach bungalows.
Two other 'locals', Gill Beddows and Steve Sanders, decided to establish The Sanctuary after becoming disillusioned with the commercialisation at Haad Rin.
Their tropical beach paradise is actually Haad Thian (Mangrove Beach). The bay was under the control of a single Thai family, making it easier to negotiate a lease of the land to build The Sanctuary. They started building it in 1990.
"From the very beginning, we were focused on wellness and spirituality, offering an alternative to the party scenes on other beaches. We wanted it to be a centre for like-minded people to practice yoga and detox."
Mostly mainstream now, Steve recalled that their practices were seen as 'witch craft' 30 years ago.
When the book 'The Beach', by Alex Garland, came out in 1996, Gill and Steve knew it was based around their hidden Koh Pha Ngan commune. The novel traces the fate of a small, loose-knit international commune who establish their own utopian community on a remote Thai beach… sort of 'Lord of the Flies' for Gen X. 'The Beach' would be reprinted 25 times in less than a year. in 2000 the novel was transformed into a $40 million film.
But director Danny Boyle, probably unaware of The Sanctuary, picked Maya Bay as the picturesque 'Beach' for the film.
In the book, Richard, a British traveller, encounters a deranged Scottish backpacker at a guesthouse on Bangkok's Khao San Road (was actually filmed in Phuket at the On On Hotel). He tapes a hand-drawn map to Richard's hotel door before killing himself.
Richard and a French couple trace the map to a hidden lagoon on a beautiful island. They find a utopian colony of hedonistic idealists struggling to keep their idyll a secret. The shots of the 'beautiful hidden lagoon' were filmed at Maya Bay, little known at the time, on Koh Phi Phi Ley. It became a popular day trip out of Phuket or Krabi until it was closed to tourists for rehabilitation in 2018.
In the novel, the building of the hidden beach retreat is supervised by Sal, an American woman with a carpenter boyfriend.
"Of course, this is more than a beach resort. But at the same time, it is just a beach resort. We come here to relax by a beautiful beach, but it isn't a beach resort because we're trying to get away from beach resorts. Or we're trying to make a place that won't turn into a beach resort."
Richard, the fictional character played by de Caprio in the film, says…
"I still believe in paradise. But now at least I know it's not some place you can look for. Because it's not where you go. It's how you feel for a moment in your life when you're a part of something. And if you find that moment, it lasts forever."
When asked if The Sanctuary was the inspiration for 'The Beach' Michael Doyle said he had"fuzzy memories of a guy hanging out in a hammock and just watching the flow of life for a couple of weeks in the mid-'90s".
"And I can put names to a few of the characters in the story, so there's that. It didn't click so much with the book as with the film."
But Gill Beddows said the comparisons were quite obvious.
"As soon as the book came out, I knew. There were just too many coincidences."
And the same problems that beset the community in the film were also happening at The Sanctuary.
"We were living in the hippie belief that everyone could live together, and we didn't need to let the outside world in and let money spoil everything. Gradually reality came in, knowing this wasn't sustainable without income."
Michael Doyle started to manage The Sanctuary in 1998 so that Gill and Steve could look after their other business interests. It already had an excellent reputation as a wellness retreat.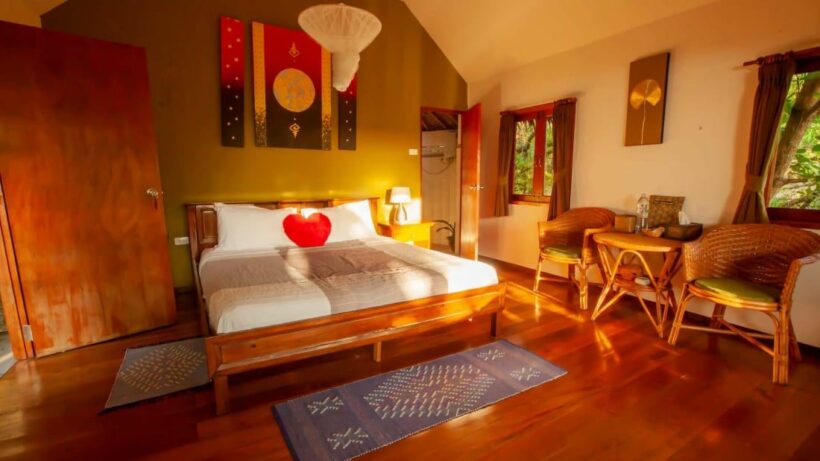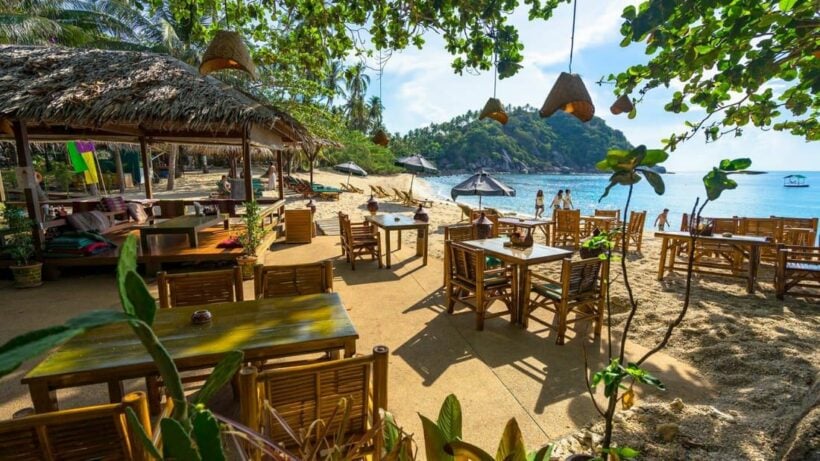 By 2013, The Sanctuary was booked out most of the time and the staff were turning away hundreds of requests for stays over the Christmas and New Year holidays. It's success continued as Koh Pha Ngan grew in popularity as tourists discovered there was more to the little Gulf island beyond the Full Moon Party.
Once Thailand's borders were closed in March this year, The Sanctuary was wrapping up another successful high season. Some gusts promptly left whilst they could. Future bookings were cancelled but others stayed on.
Michael says they had to make a lot of decisions quickly, with the threat of borders closing and people still in-house. They got all the remaining guests and staff in to the main restaurant for a chat.
"We let them know that during the island lockdown, they might not even be allowed on the beach, and that food supplies might get thin. In the end, everyone left except for a couple to whom we gave favourable rates for as long as they stuck it out."
Although many employees headed back to their homes from mid-March the resort continued to operate. The Sanctuary successfully maintained its record of never closing down since its original opening, even in the midst of Thailand's tourist drought.
The Sanctuary now has its own TV channel, streaming both live and taped events and a web page, Sanctuary Wellness Live.
As for the actual 'Beach', the secluded resort maintains aa steady stream of Thais and expatriates living in Thailand. There are still yoga classes, spa services, meditation, healthy dining and detox programs, plus the beautiful bay, and The Beach.
You can find out more about The Sanctuary Thailand HERE.
The last words are from the protagonist Richard from the novel The Beach…
"This is where the hungry come to feed. For mine is a generation that circles the globe and searches for something we haven't tried before. So never refuse an invitation, never resist the unfamiliar, never fail to be polite and never outstay the welcome. Just keep your mind open and suck in the experience. And if it hurts, you know what? It's probably worth it."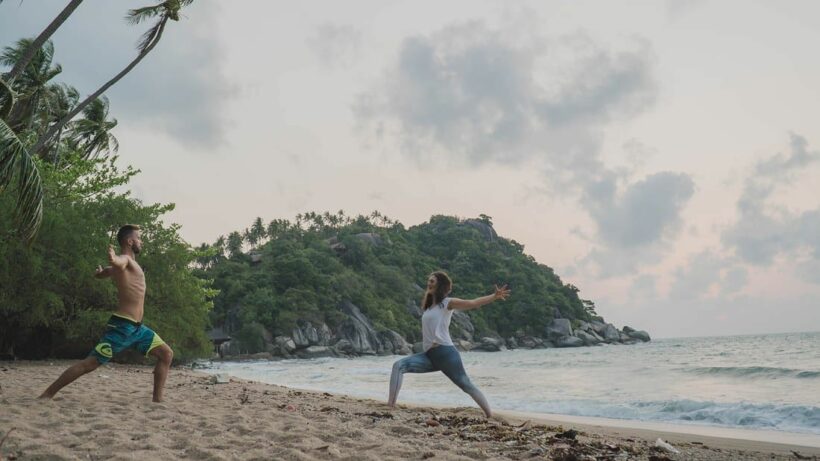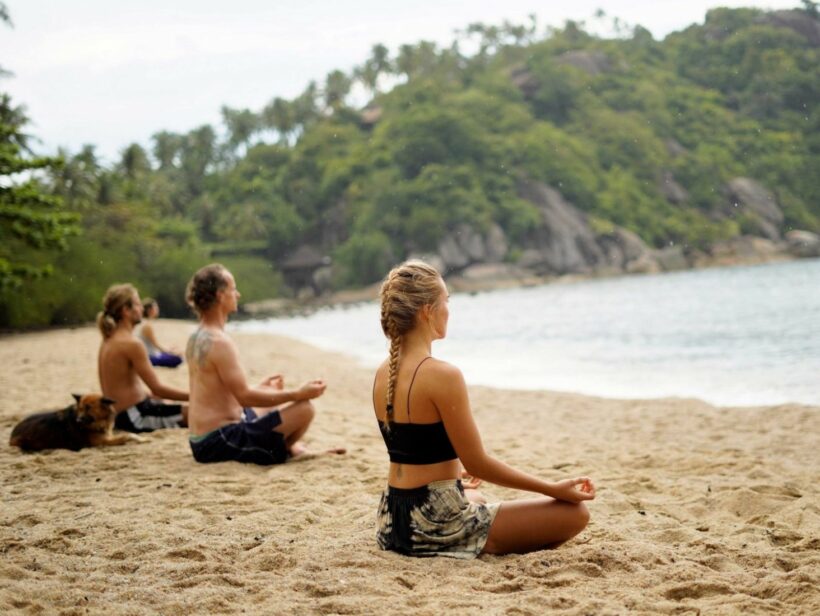 The story originally reported on CNN.
Keep in contact with The Thaiger by following our
Facebook page
.
Never miss out on future posts by
following The Thaiger
.
The Isan Project honours a hero of Tham Luang cave rescue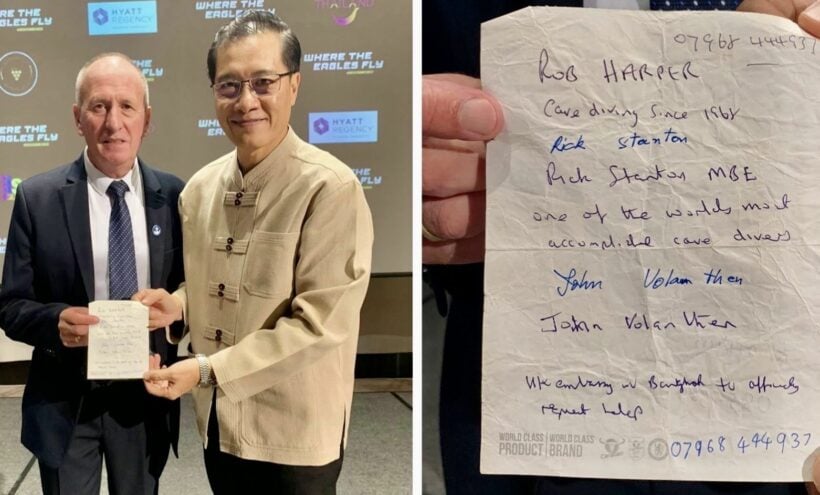 The Isan Project has collaborated with the TAT on new marketing campaign featuring music commemorating the Tham Luang cave rescue.
The story of how 13 young men, members of the Mu Pa (Wild Boar) football team, were saved in the caves of Chiang Rai continues to ignites interest in the miraculous internationally-followed rescue in July 2018 from the flooded Tham Luang cave
To honour the safe rescue music video company The Isan Projectrecently launched "Where the Eagles Fly", video to pay tribute to the British hero of the dramatic saga, Vern Unsworth MBE.
The release of a movie and Netflix mini series shortly will also boost interest globally in Thailand. The series includes the first individual interviews with the boys and they coach.
The launch, in collaboration with the Tourism Authority of Thailand, and supported by the Hyatt Regency Bangkok Sukhumvit and Serenity Wines, was attended by several key persons involved in the rescue mission two years ago, including former Tourism & Sports Minister, Weerasak Kowsurat, who played a major role in flying in special cave divers from the UK as requested by Vernon Unsworth, a recognised cave explorer, who knows virtually every inch of the Tham Luang cave.
"It is absolutely true that without Vernon's persistence in obtaining the help from the UK cave diving experts to initially spearhead the rescue mission, the boys and their coach would not be alive today."
"Needless to say, assistance from experienced and skilled cave divers from around the world, who later volunteered to join as well as our own Navy Seals, all contributed to the mission's ultimate success."
Vernon Unsworth MBE, his partner Woranan Ratrawiphakkun, and his caving buddy Kamon Kunngamkwamdee, all starred in the "Where the Eagles Fly" fantasy music video, which was set in deep jungle and caves in the mountain of Doi Nang Non in Chiang Rai, Thailand.
"I'm truly honoured to have this song written about me. It was very moving to relive parts of the rescue while making the music video, especially when I think back on how Kamon and I covered over 16 km. on the first day after we knew the boys were missing. We virtually lived in the cave for the first 4 days prior to the arrival of my cave diving colleagues from the UK".
The story of how the football team were saved in the caves is a heart warming one. For many attending the event it was a privilege and an honour to meet 63 year old Vernon Unsworth in person. An event filled with stories of bravery, emotion and moving music.
Vernon, who has mapped the cave system for 8 years, was the first professional cave diver at the site and realising the enormous danger the boys were in, played a significant rôle in the rescue and earned him the UK's high honour, an MBE medal.
As the rescue became a race against time ahead of impending monsoon rains, Vernon undertook reconnaissance dives upstream through flooded passages against strong currents.
Weerasak Kowsurat, the former Minister of Tourism and Sports, recalled how a message written on a piece of paper by Vernon and handed to his colleague for safe keeping with instructions that it was to be handed over in case Vernon, fearing the worst, didn't make it out on an exploratory dive. It was very dangerous work and one Thai diver died during the course of the rescue.
Although Vernon was safe, the message was handed to the Minister who was at the cave site. The message was to contact the British Dive Caving Association and gave names of expert divers and telephone numbers. Within 24 hours the Tourism Minister had managed to get the UK divers on a hastily arranged flight to Thailand to assist in the rescue effort.
The team of UK divers, working under appalling conditions and with time running out, in poor visibility located the team marooned on a ledge above the water about 4 kilometres inside the cave complex.
Writer and executive producer of The Isan Project, Will Robinson says… "Although I had penned and produced "Heroes of Thailand" honouring all those involved in the Tham Luang cave rescue, I felt it was time to pay a special tribute directly to the mastermind of the extremely complex mission."
"Vernon is such a humble man, I wanted to create a song not only to honour him, but also to establish Tham Luang and what is now known as the 'Wild Boar Cave', where the boys were found, as a new tourist attraction for those who love to explore caves."
At the beginning of the video it reads…
"On June 23, 2018, 12 boys from the Wild Boar football team went exploring the Tham Luang cave with their coach in Chiang Rai. They never returned home that night, next day locals contacted cave explorer Vern Unsworth in nearby Mae Fah Luang. Over the course of the next two weeks Vern put his life on the line for the young football team with a daring rescue engineered by Vern and Elite British cave divers. This song was written in honour of Vern Unsworth M.B.E. and inspired by the above events."
You can watch the video HERE.
Commenting on the Isan Project Tanes Petsuwan, TAT's Deputy Governor of Marketing Communications said, "TAT appreciates Will's love of Thailand, and we are delighted to be supporting this launch. We also believe that this song combined with the newly-published children's book, "All Thirteen" and the soon-to-be released Hollywood movie, "Thirteen Lives", will help to dramatically boost tourism in and around Chiang Rai even though we will need to rely mainly on domestic tourists until the end of the year while international travel is still restricted."
"Where the Eagles Fly", co-written by Will Robinson and Daniel Ryan, and performed by Daniel himself, is tipped to top the charts when the MGM blockbuster movie, "Thirteen Lives" and the Netflix mini-series about the epic story of the Tham Luang cave rescue are released. The song is now available from all digital music stores including iTunes, Spotify, Apple and Amazon.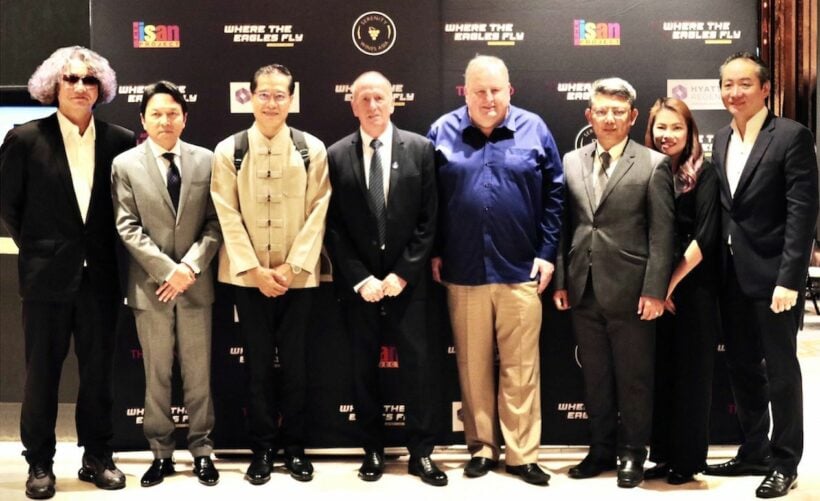 From left: Mr. Sobchai (Ford) Kraiyoonsen Singer/composer, Mr. Tanes Petsuwan TAT's Deputy Governor of Marketing Communications, Senator Weerasak Kowsurat former Minister of Tourism and Sports, Mr. Vern Unsworth British cave explorer, Mr. Will Robinson Writer and Executive Producer of The Isan Project, Mr. Nithee Seeprae TAT's Executive Director of Advertising & PR Department, Ms. Woranan Ratrawiphakkun Vern's partner, Mr. Sammy Carolus GM of the Hyatt Regency Bangkok Sukhumvit
Keep in contact with The Thaiger by following our
Facebook page
.
Never miss out on future posts by
following The Thaiger
.
King Bhumibol Adulyadej – in remembrance of the "Father of Thailand"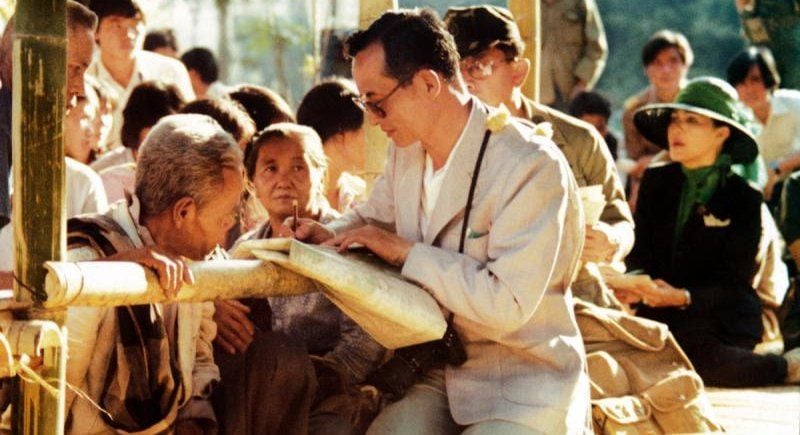 His Majesty King Bhumibol Adulyadej was Thailand's monarch for just over 70 years. At the time of his passing in October 2016, King Bhumibol was the world's longest-serving head of state and the longest-reigning monarch in Thai history. Amongst his many other gifts, he was was revered as a calming and compassionate influence, overseeing Thailand's stormy political history in the second half of the 20th century.
Four years later his enduring legacy casts a wide shadow over the Kingdom of Thailand with his influence shaping, not only Thai culture in the second half of the 20th century, but also Thailand's standing in the region with a deft avoidance of some of the more debilitating conflicts around South East Asia.
His Majesty King Bhumibol, Rama 9, the ninth king of the Chakri Dynasty, was born on December 5, 1927 and passed away on October 13, 2016 at the Siriraj Piyamaharajkarun Hospital in Bangkok. He had been living in and out of the hospital in the years before his passing.
Bhumibol's early days
It's a surprise to some, but Bhumibol Adulyadej was born on December 5, 1927, in Massachusetts, USA, not in Thailand. As the second son born to his parents, and because his birth took place outside of Thailand, young Bhumibol was never expected to ascend Thailand's throne. His reign came about through his older brother's mysterious death.
His father, Prince Mahidol Adulyadej, was studying for a public health certificate at Harvard University. His mother, Princess Srinagarindra, was studying nursing at the same time.
When Bhumibol was a one year old the family returned to Thailand, where his father took up an internship in a hospital in Chiang Mai. Prince Mahidol died of kidney and liver failure in September 1929.
Thailand's democratic revolution
In 1932, a coalition of military officers and civil servants staged a bloodless coup against King Rama VII. The Revolution of 1932 ended the Chakri dynasty's absolute rule and created a Thai constitutional monarchy, with an elected parliament. Princess Srinagarindra took her two young sons and daughter to Switzerland a year later where the children were placed in Swiss schools for their early education.
In March 1935, King Rama VII abdicated leaving his 9 year old nephew, Bhumibol Adulyadej's older brother Ananda Mahidol as Thailand's new monarch. But the child-king and his siblings remained in Switzerland due to his young age and nascent political developments in Thailand. Two regents ruled the kingdom in his name. Ananda returned to Thailand in 1938 but his brother Bhumibol continued his schooling in Switzerland until 1945 .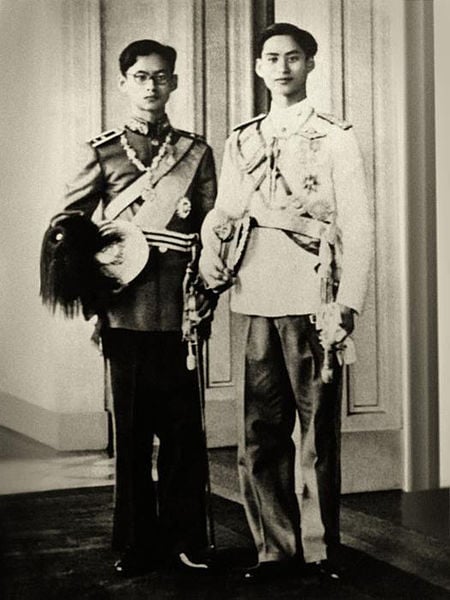 PHOTO: King Mahidol Adulyadej and his younger brother Bhumibol Adulyadej
On June 9, 1946, the young King Mahidol was killed in his palace bedroom from a single gunshot wound to the head. Two royal pages and the king's personal secretary were convicted of assassination and executed, although controversy still swirls around the incident. The young Bhumibol returned to the University of Lausanne in Switzerland to complete his degree and his uncle was appointed Regent, ruling in his place, back in Thailand.
Marriage to Queen Sirikit
The young King Bhumibol met the daughter of the Thai ambassador to France, a student named Mom Rajawongse Sirikit Kiriyakara, during a visit to Paris. Adulyadej and Sirikit began a courtship some time in 1946.
In October 1948, Adulyadej crashed into a truck and was seriously injured, losing his right eye and suffering back injuries. Sirikit spent a lot of time nursing and entertaining the convalescing king. King Bhumibol's mother encouraged Sirikit to transfer to a school in Lausanne so that she could continue her studies and spend more time with the young King.
Adulyadej and Sirikit were married in Bangkok on April 28, 1950. She was 17 and he was 22 years old. Bhumibol was officially crowned a week later to becmme King Bhumibol Adulyadej. Queen Mother Sirikit is still living in Bangkok and is frequently visited by members of the Royal Family.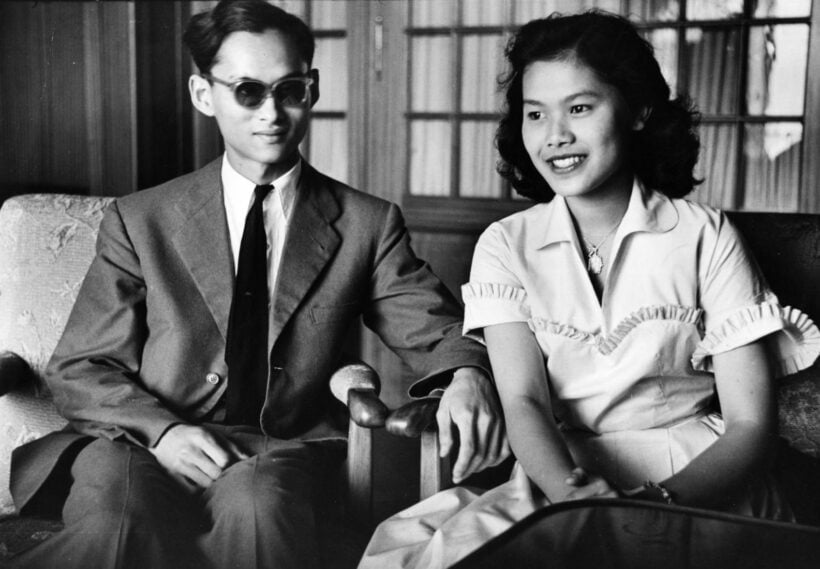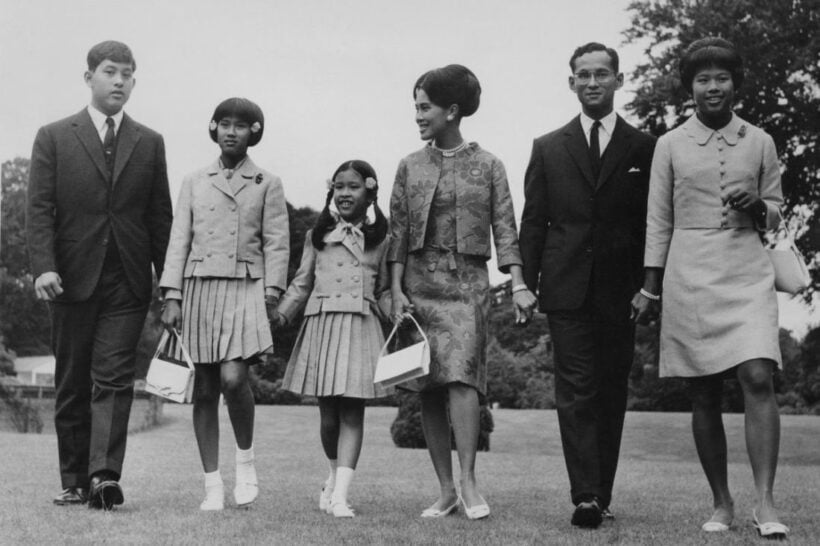 PHOTO: King Bhumibol Adulyadej, Queen Sirikit and his four children (a young Prince Maha Vajiralongkorn on the left)
Half a century of military dictatorships
In the early days of his reign, Thailand was ruled by a military dictator, Plaek Pibulsonggram, until 1957. Then the first of a series of coups, which would dog the Kingdom for the second half of the 20th century, removed him from office. The King declared martial law ending with a new military dictatorship formed under a trusted ally of King Bhumibol, Sarit Dhanarajata.
During the next phase of his rule the young King would revive many abandoned Chakri traditions, including the need for subjects and staff to kowtow – bowing and keeping their head below the monarch. He also started to make public appearances around the Kingdom – an activity which would become a hallmark of his reign, significantly reviving the prestige of the Thai monarchy and standing of the royal family.
Coups took place in 1963, 1977, 1980, 1981, 1985, and 1991 (and more in the 21st century). Although King Bhumibol worked hard to remain above politics, he refused to support the 1981 and 1985 coups, and was seen as a settling influence in the swirling political events, stepping in only when the situation needed to be diplomatically diffused.
Democratic governments
When a military coup leader was selected as PM in May 1992, huge protests broke out around Thailand. Known as 'Black May', the demonstrations turned into riots. Fearing a civil war, Kong Bhumibol called the coup and opposition leaders to a televised audience at the palace.
Adulyadej pressured the coup leader to resign. New elections were called and a civilian government was elected. This intervention was the beginning of civilian-led democracy that has continued, with a few military "interruptions", to this day, most notably the intervention of the military in a coup in 2014 when the National Committee for Peace and Order seized power. A quasi-democratic government, mostly made up of leadership from the 2014 Army coup, was elected in 2019.
King Bhumibol's image as an advocate for the Thai people, reluctantly intervening in the political fray to protect his subjects, became an enduring legacy.
Death
Since 2006, King Bhumibol suffered a number of health issues and was hospitalised frequently. He died at the Siriraj Hospital in Bangkok on October 16, 2016. Crown prince Maha Vajiralongkorn became the 10th King of the Chakri Dynasty, and his official coronation was held between May 4 – 6, 2019 in a grand spectacle watched on by millions of Thais.
Although Bhumibol was never intended to be Thailand's king, he is lovingly remembered as a successful and beloved Thai monarch, who helped calm successive political turbulence over the seven decades of his reign. Indeed, he is fondly referred to as the Father of Thailand, reigning for more than 70 years.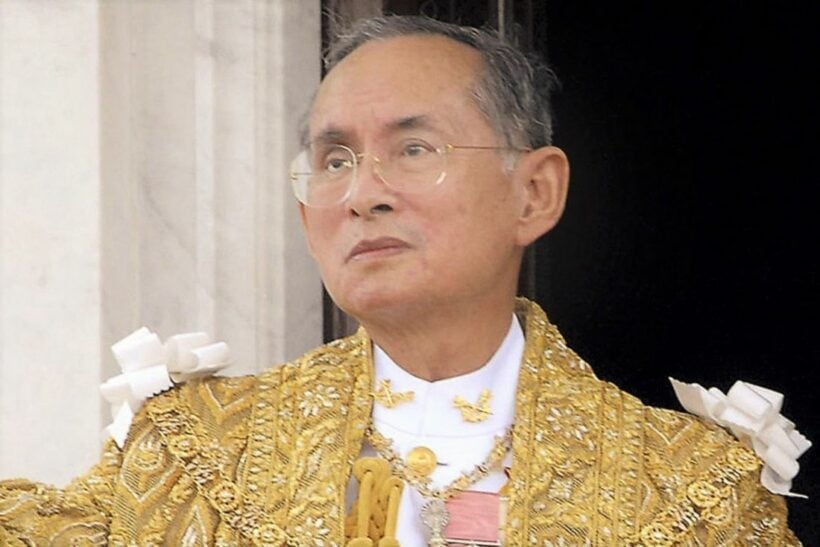 Keep in contact with The Thaiger by following our
Facebook page
.
Never miss out on future posts by
following The Thaiger
.