Profile: Building high-end healthcare from grass roots beginnings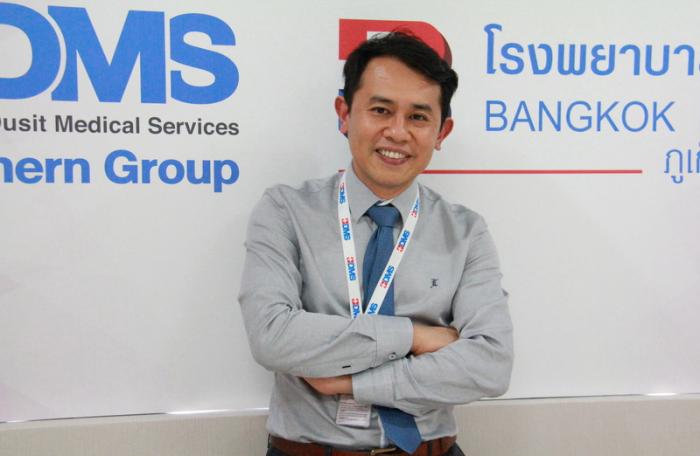 PHUKET: Dr Somrit Jantarapratin (MD, MBA) recently took on a new role as director of Bangkok Hospital Phuket. One might expect a position of such prestige to require extensive study and experience from foreign medical institutions, but this is not the case with Dr Somrit, who is an example of the world-class advancements that Thailand's grass-roots medical institutions can help doctors achieve.
Dr Somrit grew up in Songkhla and studied medicine at Prince of Songkhla University (PSU). He undertook postgraduate training at Songklanagarind Hospital, then studied for two years at Chulalongkorn University to specialize in pediatric cardiology.
Dr Somrit's arrival in Phuket comes after a five-year stint as director of Bangkok Hospital Hat Yai, which works closely with the medical training facilities and professionals at PSU.
Dr Somrit aims to oversee developments that will firmly establish the hospital as an international hub of medical innovation, making the entire facility a 'center of excellence' recognized worldwide.
Bangkok Hospital Phuket on Yaowarat Road in Phuket Town opened in 1995 and now boasts 24 medical 'centers of excellence', including the Heart Center, Bone & Joint Center and Oncology Center, each staffed with medical professionals in those specific fields.
Recent additions to the hospital's centers of excellence include the Colorectal Disease Institute, the Neurology Science Center, the Brain Health Institute, the Spine Center and a new Sports Med facility.
More recently, the hospital has developed satellite medical facilities, each specializing in a specific area of practices and treatments, allowing the original Bangkok Hospital Phuket to return to its roots as a community hospital.
This is something Dr Somrit is keen to oversee, making the hospital's facilities and services more accessible to the local community.
The point is not necessarily to make the services cheaper, but more efficient for 'optimum outcome', so that patients are spending less time convalescing and therefore saving on medical bills in the long run.
Dr Somrit is at the heart of Thailand's own home-grown developments in keyhole cardiac and colonoscopic surgical procedures, which allows patients to return home very soon after an operation.
Dr Somrit's vision is to build alliances with other medical institutions rather than being in competition with them. An online patient portal is one of the advancements in patient care that Dr Somrit plans to develop over the next few years.
The portal will give patients and doctors anywhere easy access to medical records. It is part of the 'constant care' mantra adopted by Dr Somrit that helps patients keep tabs on their own health and the advice they need.
When asked what are the most pressing health problems in today's society, Dr Somrit listed lack of sleep, stress and diet (too much sugar) as the three most significant factors that are detrimental to good health.
Dr Somrit aims to see patients getting good medical advice so that they can take their own preventative measures before the need for surgery or other treatments arises.
Promoting prevention of disease with regular clinics for locals is another way that patients can stay healthy and save on the costs involved with complex treatments needed for conditions left undiagnosed and untreated.
— Nick Davies


Have something to say? Scroll down to leave a comment, or visit our Thaiger Thailand Q&A Forum to discuss people, events, to-do and more with the local community.
Wai Khru – setting a bad example for the future. Thailand's demand for respect from its young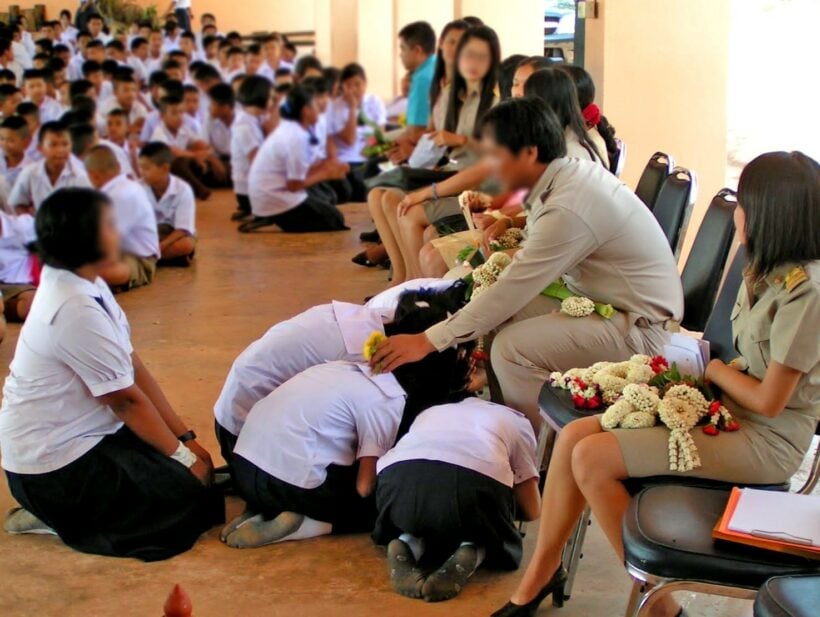 Hazing (US English), initiation ceremonies (British English), bastardisation (Australian English), ragging (South Asia), or deposition, refers to the practice of rituals, challenges, and other activities involving harassment, abuse or humiliation used as a way of initiating a person into a group including a new fraternity, sorority, team or club.
In Thailand, hazing is not only rife, it's seen as a rite of passage for young Thais as part of their cultural inculcation into the subservience they're expected to display elders or people with more money or higher positions than them. What's mistaken for 'respect' is actually a cultural party trick where children and young adults are 'trained' to be deferential from an early age.
In recent years there have a been a few high-profile deaths of army trainees, in the care of their Academy leaders, but allegedly subjected to initiations and bastardisation that is just 'par for the course' for the education of young Thais.
In a response to the recent death of Phakhapong Tanyakan at the Armed Forces Academies Preparatory School on October 17 last year, the Thai Deputy PM and Defence Minister Prawit Wongsuwan claimed that he "was not beaten to death, but just too weak to withstand tough training."
He went further saying "I was once beaten more than I could take and I fainted too. I didn't die. For this, before the school accepts kids for entry, they must give them a proper physical check-up."
When you get you get such official, public, responses from the top you can see how this hazing culture continues to thrive in the, otherwise, Land of Smiles.
We spoke to three foreign teachers in Thailand, all speaking on condition of anonymity, about the culture of hazing in their schools and the benign version of that in primary schools, 'wai khru'.
"Hazing is seen in many different types of social groups, including gangs, sports teams, schools, military units, fraternities and sororities. The initiation rites can range from relatively benign pranks and was khru, to protracted patterns of behavior that rise to the level of abuse or criminal misconduct."
For the families of hazing victims these ceremonies can be catastrophic, as in the tragic case of Phakhapong Tanyakan.
A 19 year old armed forces cadet, previously subjected to harsh physical discipline, suddenly died a day after returning to school from a break. His parents were told he suffered from a sudden cardiac arrest but became suspicious of possible foul play after a detailed autopsy report never came. – Khaosod English
But he's not the only one. Hazing and cruel or unusual initiations are conducted every day around the Kingdom but with a growing concern about the practices, both from the young students themselves and concerned older Thais, who realise the dangers of 'persuading' youngsters to respect elders needs examination in a modern 21st century Thailand.
We spoke to a respected senior Thai businessperson, again on the condition of anonymity, who said he had seen too much hazing going on during his time at school and then whilst training in the military.
"I was a victim of this type of bullying. I was told to 'be a man' and that all Thai men have to go through this. I think it is degrading and breaks human spirits. It teaches fear of those we are meant to respect. It has to change."
It all starts when young Thais are subjected to the Wai Khru or 'Teacher Wai' where students are expected to prostrate themselves in front of their teachers in a show of respect. But a broad spectrum of foreign teachers not only feel uncomfortable with this faux-deference, some of them go out of their way to be away for that day or, sometimes, even speak out about their concern with this tradition.
"I made the mistake of speaking out about the Wai Khru in our school. I just found it demeaning for the poor students who had to rehearse all week for this totally meaningless show of respect. I didn't feel respected, I felt sick. I ended up being ostracised and had to leave that school."
Whilst many Thais continue to wonder why westerners might find all this kowtowing and prostrating could cause concern, you just need to examine the deaths in the Army preparatory schools as the end result of 'demanding' obedience and deference to elders. In western culture, I have learned, respect is something that is earned, not demanded.
"Hazing is undignified, humiliating and cruel… not my words, but the words of students who are made go through this horrible experience. It's meant to be a sign of showing respect to your seniors but it's nothing more than a shameful indulgence at the expense of the students," said a long-term foreign teacher.
"Making students crawl around on the ground acting like animals in front of their peers, does nothing for either senior or freshie students. I have stopped attending Wai Khru day as I find it terribly uncomfortable for myself and for the students. You can see the look in their eyes as they approach you and are ordered to bow before the teacher. Teachers, like everyone else, should learn how to earn the respect of their students."
A young female foreign teacher first thought that the Wai Khru was 'cute' but has changed her tune over the years.
"Wai khru was the highlight of my first year teaching in Thailand. I was, and still am, extremely humbled and deeply touched by this beautiful tradition intended to recognise a teachers' role in children's life and to give said children the opportunity to express their gratitude to their teachers.
"But throughout the years I have started to look at this event with a more critical eye and I wish it weren't as rehearsed and staged as it unfortunately is. At our school, rehearsals for Wai Kru start a week prior to the event. During this week, children are drilled incessantly until they have mastered the walk, the bow and the wai leading up to the offering of the flowers that they are eager to free their sweaty little palms of."
Wai Khru continues to be practiced in all Thai schools as a long standing tradition and show of respect for teachers.
"Although I understand and commend the wonderful intentions behind such practices, I feel that much like other sorts of drilling that these students endure, this sadly takes away from the true purpose of it all. For want of a picture perfect event, meaning is lost and a demonstration of gratitude is transformed into a dreaded labour," she said.
An investigation into the death of Army cadet Phakhapong Tanyakan, by military investigators, found no wrongdoing by the Preparatory School. The parents have consistently called for a probe into their son's death and are still pursuing legal action.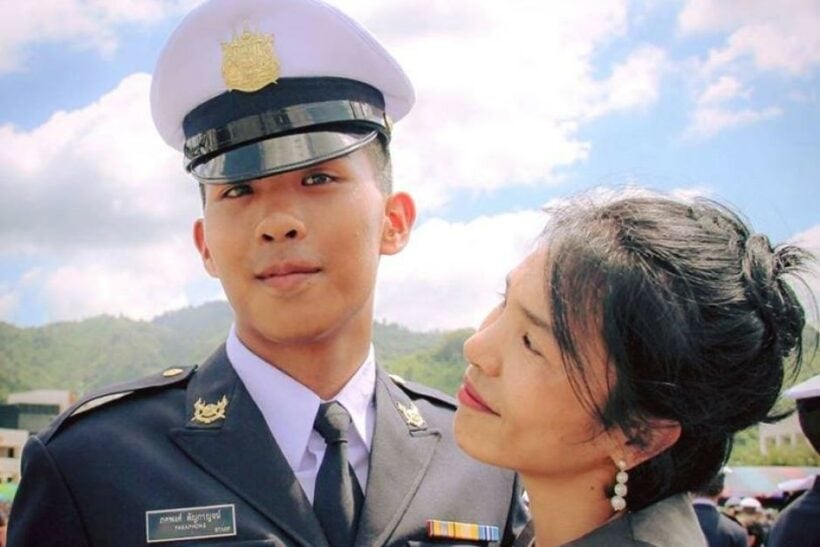 PHOTO: Army cadet Phakhapong Tanyakan, who died at the Armed Forces Academies Preparatory School on October 17 last year.
Phuket expat re-invents the way sewing machines work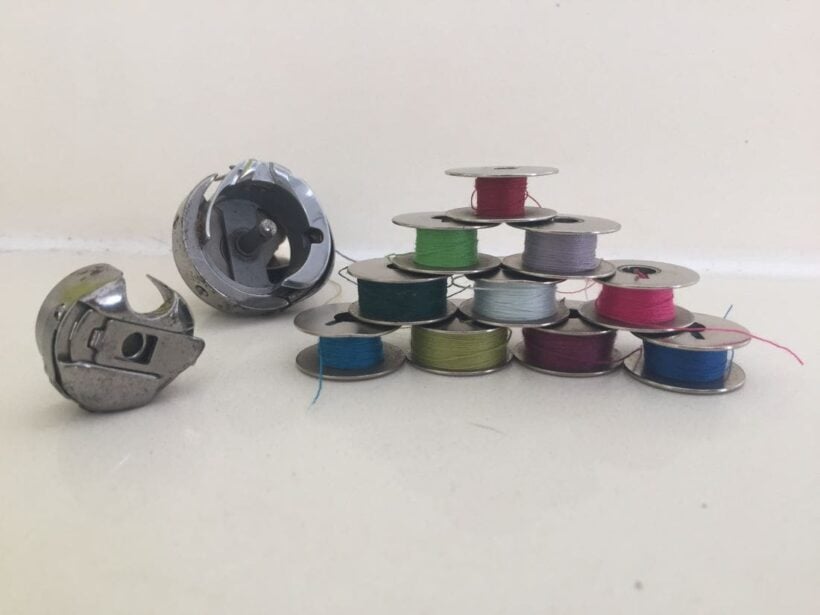 British inventor creates a new sewing system that eliminates the bobbin.
When you list the worlds top inventions the sewing machine is rarely included, it's lucky if it makes it into the top 50!
But there are very few moments in our daily life when we are not close to something that's been produced using a sewing machine.
Now a recent patent, developed by a Phuket expat, is set to bring the sewing machine back into the forefront. Templeton Hancock, a British sewing machine mechanic and former sewing machine demonstrator living in Rawai, has created a new Everlasting Bobbin Sewing (EBS) System that eliminates the need for constantly changing thread bobbins.
A bobbin is a spindle or cylinder, with or without flanges, on which wire, yarn, thread or film is wound. Bobbins are typically found in sewing machines, cameras, and within electronic equipment. In non-electrical applications the bobbin is used for tidy storage without tangles – Wikipedia
"The inception to create the EBS System came to me after a conversation I had with a customer who voiced her frustration with having to continually change the bobbin.  It made me question why no one had come up with a satisfactory solution to discard it."
"The EBS System offers huge benefits not just to manufactures but to everyone who regularly uses a sewing machine; it saves time, improves the quality and finish of garments, reduces waste and make the sewing machine more user-friendly and lessens the impact on the environment."
The first patented sewing machine was in 1790 to an Englishman, Thomas Saint. Over the next 60 years, the machine was modified and improved to something that is still mechanically recognisable in comparison to today's machines.
Since the 1980's there have been significant electronic advancements to the sewing machine, but the need for a refillable bobbin has always harkened back to its introduction in 1853.  Over the years, there have been many who have tried to solve this bobbin dilemma. The simple EBS System provides the solution.

So, how does it work?
With current technology, the needle and upper thread pass down into the machine bed.  As the needle draws back up, the upper thread is left behind, just slightly, but it is enough that a loop is formed.  Machines are timed so that a rotating hook underneath the machine, spinning off a centrally placed drive shaft, can catch this loop and pass it over the bobbin and bobbin case to create a locking stitch.
The EBS System is different.  The drive shaft is moved to one side and the hook is placed within a bearing which has drive teeth on its circumference. A void is now created within the bearing which allows for a thread feed tube to supply endless amounts of thread to freely pass without interruption from the rotating hook, eliminating the need for a bobbin.
The bobbin holds, on average for #40 weight thread, around 34.3m of thread.  In manufacturing this can equate to the bobbin running out on average, every 9-11 minutes. Methods of turn around to get the machine operational again can vary from 22 seconds to 3 minutes, cutting into the amount of hourly units produced and also increasing wastage/seconds garments for the item in production when the thread ran out. 
Analysis of Operation in manufacturing puts aside an average 20% of Standard Allocated Hours (SAH) for changing the bobbin, adjustments and staff rest breaks. By removing the need to refill the bobbin and using the EBS System, manufacturing can be increased by as much as 19%.
Realising the problem with the bobbin, many manufacturers have opted for using a chain stitch instead of a locking thread for seaming. The downside being that the chain stitch uses more thread, creates a bulkier seam and is not as strong as the lock stitch. 
By using the EBS System instead of a chain stitch, a factory making jeans (for example) could save an average of 8.9m of thread per unit produced (depending on method of manufacture), and at the same time produce a better quality garment with stronger and less bulky seams.  8.9 metres multiplied by the amount of units produced each day, week and month, equates to being considerable saving even before you add back in the garments that would usually be discarded as wastage/seconds which have now been mostly eliminated.
The EBS System is not just limited to clothing. Footwear, upholstery, luggage and automotive manufacturers are also to benefit from the lack of a bobbin.  When the bobbin thread runs out, holes have been made in the material and it takes a short time before the machine operator notices.
The precision of the fit and strength of the material has been compromised and a labour intensive task now begins to reinforce the stitch and try to match the holes already created in the material. 
A continuous stream of thread will reduce the amount of wastage of leather and vinyl products in the pursuit of perfection that is expected and demanded by consumers.
The EBS System is not just for industrial use.
The simplicity of the design makes it versatile to be used in the domestic market. The EBS System is a relief to home sewing enthusiasts whose interests are within home decor and quilting. No more will they suffer the frustration when the thread runs out in the middle of a project. 
The versatility of the EBS System is that it can also be used with the current refillable bobbin for those small repairs and quick fixes that would require a variety of short lengths of different coloured thread.
The EBS System also looks to the future. A.I. and automation is making advances into the sewing industry, but these machines still need to be carefully monitored as they still rely on the need for a refillable bobbin.  Using the EBS System machines will enable manufactures to run for 24 hours with very little supervision, with an endless flow of lower lockstitch thread.
US Patent #10156034  PCT#IB2019/050843
For further information contact Templeton Dean Hancock… [email protected]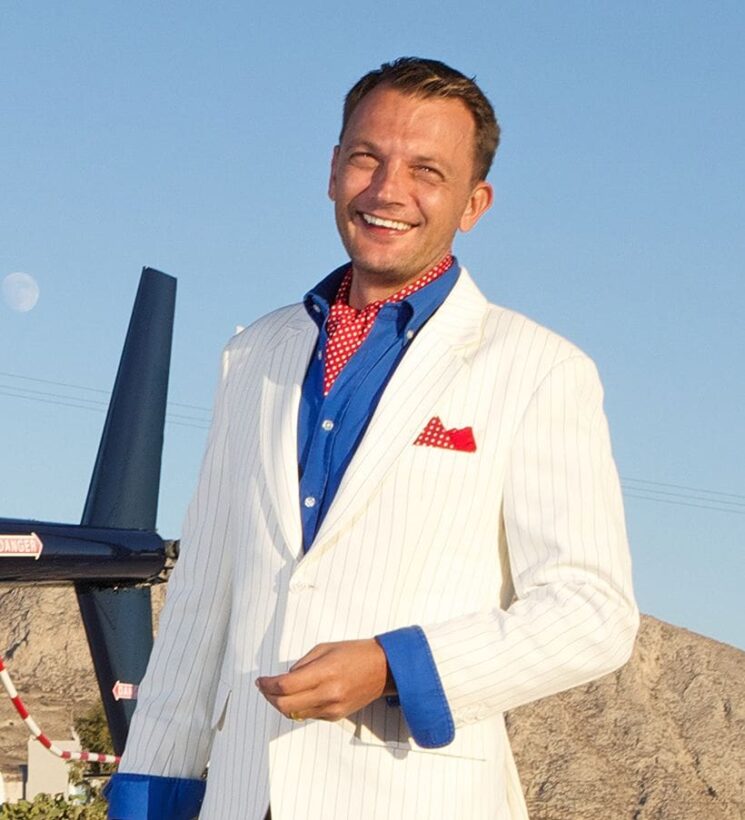 Templeton Hancock, Phuket-based seining machine mechanic and inventor
VIDEO: British pianist performs at Thai Elephant Sanctuary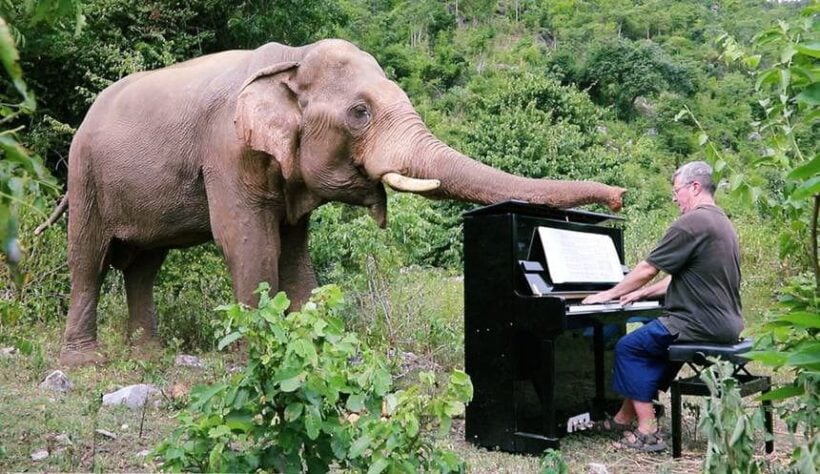 PHOTO: Tree Hugger
Paul Barton is a British classical pianist who seems to have made some new friends. At the Elephants World Retirement Sanctuary in Kanchanaburi province in Thailand, Barton has gotten himself a rather 'big' fanclub.
A frequent visitor to the sanctuary, the musician enjoys taking his piano out in front of a herd of elephants and serenades these mighty pachyderms. In the video below watch as Mr. Barton's music sweeps you away and the surreal image of his audience, trying to quietly eat at the same time, appreciating the finger work.
Having studied at London's Royal Academy of Arts, Barton hopes that these gentle creatures can find some solace in his renditions.
There has been much criticism on social media regarding the treatment of elephants in the tourist trade, with Thailand often being a topic of conversation. Many elephants who come to the sanctuary come from overworked backgrounds which sometimes leaves them disabled.
In this second video (below) watch as Barton plays for a very special elephant, Ampan, who is 80 years old and considered 10 years over the average elephant lifespan. Blind in one eye and barely being able to see with the other, its mesmerising to see a creature of such size have a appreciation for french classical composers.
SOURCE: EuroNews