Profile: Building high-end healthcare from grass roots beginnings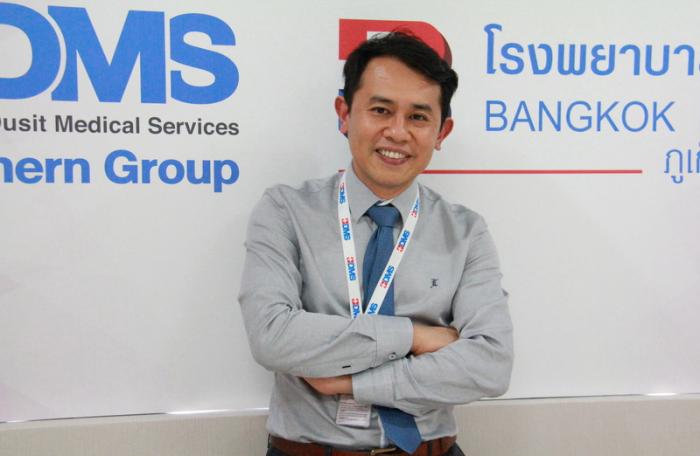 PHUKET: Dr Somrit Jantarapratin (MD, MBA) recently took on a new role as director of Bangkok Hospital Phuket. One might expect a position of such prestige to require extensive study and experience from foreign medical institutions, but this is not the case with Dr Somrit, who is an example of the world-class advancements that Thailand's grass-roots medical institutions can help doctors achieve.
Dr Somrit grew up in Songkhla and studied medicine at Prince of Songkhla University (PSU). He undertook postgraduate training at Songklanagarind Hospital, then studied for two years at Chulalongkorn University to specialize in pediatric cardiology.
Dr Somrit's arrival in Phuket comes after a five-year stint as director of Bangkok Hospital Hat Yai, which works closely with the medical training facilities and professionals at PSU.
Dr Somrit aims to oversee developments that will firmly establish the hospital as an international hub of medical innovation, making the entire facility a 'center of excellence' recognized worldwide.
Bangkok Hospital Phuket on Yaowarat Road in Phuket Town opened in 1995 and now boasts 24 medical 'centers of excellence', including the Heart Center, Bone & Joint Center and Oncology Center, each staffed with medical professionals in those specific fields.
Recent additions to the hospital's centers of excellence include the Colorectal Disease Institute, the Neurology Science Center, the Brain Health Institute, the Spine Center and a new Sports Med facility.
More recently, the hospital has developed satellite medical facilities, each specializing in a specific area of practices and treatments, allowing the original Bangkok Hospital Phuket to return to its roots as a community hospital.
This is something Dr Somrit is keen to oversee, making the hospital's facilities and services more accessible to the local community.
The point is not necessarily to make the services cheaper, but more efficient for 'optimum outcome', so that patients are spending less time convalescing and therefore saving on medical bills in the long run.
Dr Somrit is at the heart of Thailand's own home-grown developments in keyhole cardiac and colonoscopic surgical procedures, which allows patients to return home very soon after an operation.
Dr Somrit's vision is to build alliances with other medical institutions rather than being in competition with them. An online patient portal is one of the advancements in patient care that Dr Somrit plans to develop over the next few years.
The portal will give patients and doctors anywhere easy access to medical records. It is part of the 'constant care' mantra adopted by Dr Somrit that helps patients keep tabs on their own health and the advice they need.
When asked what are the most pressing health problems in today's society, Dr Somrit listed lack of sleep, stress and diet (too much sugar) as the three most significant factors that are detrimental to good health.
Dr Somrit aims to see patients getting good medical advice so that they can take their own preventative measures before the need for surgery or other treatments arises.
Promoting prevention of disease with regular clinics for locals is another way that patients can stay healthy and save on the costs involved with complex treatments needed for conditions left undiagnosed and untreated.
— Nick Davies


Have something to say? Scroll down to leave a comment, or visit our Thaiger Thailand Q&A Forum to discuss people, events, to-do and more with the local community.
Leo returns to 'The Beach'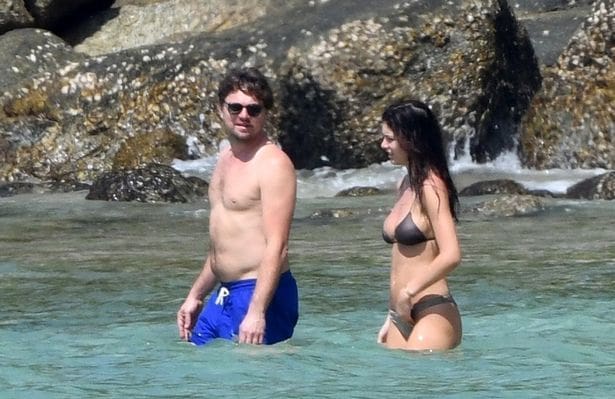 … well, a beach in Phuket anyway.
PHOTO: BACKGRID
It's 19 years since Leo DiCaprio starred in 'The Beach'. The film made both Leornado and Maya Bay famous. Maya Bay on Koh Phi Phi is now closed but Leo has made a return to Phuket island where he shot many of the scenes for the film (including at the On On Hotel in Phuket Town).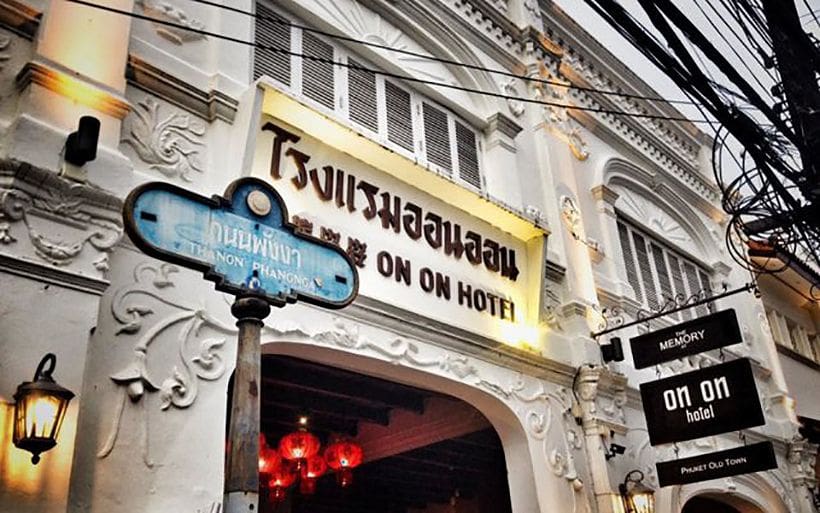 Now the Mirror Online reports that Leornardo has returned to Thailand with his 21 year old model girlfriend Camila Morrone for a break at the luxury resort Amanpuri in Phuket.

Leonardo DiCaprio in the 2000 film shot in Thailand 'The Beach'
The Mirror suggests that the 44 year old is a little out of shape compared to his bronzed boy bod in 'The Beach'.
"But despite a heavy workout regime of volleyball and kissing, it looks like even Leo can't hold back the sands of time."
Leo and his current gf Camila (whose stepfather is Al Pacino) first sparked romance rumours in December 2017, according to the Mirror report, when they were seen shopping together in Los Angeles, where the Morrones lives.
ORIGINAL ARTICLE: Mirror Online
Hua Hin expat postpones attempt to cross the Gulf. On a paddle board!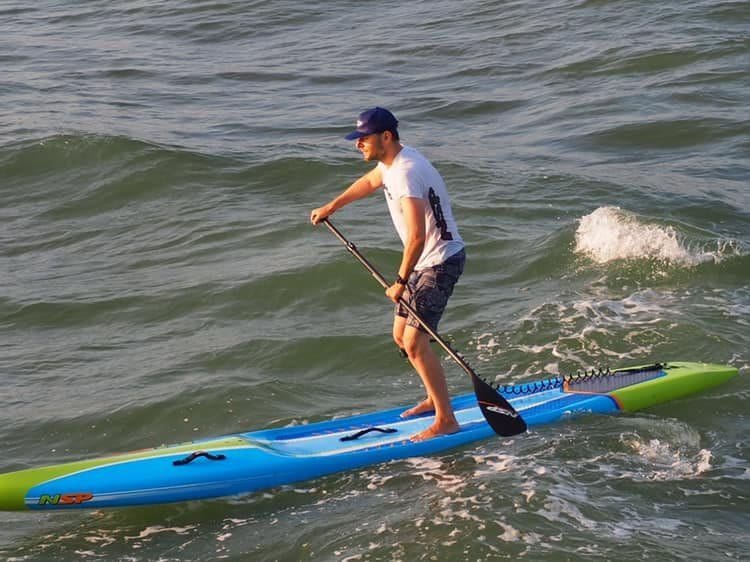 A Russian living in Hua Hin is attempting to cross the Gulf of Thailand. And he's not going on the daily ferry. His mode of transport is just a paddle board.
Vladimir Kruchinin was scheduled to depart on Monday from the shores of Pattaya, according to his Facebook page.
"Exciting times at 4am for the start of our Pattaya to Hua Hin crossing… but it was not to be with technical difficulties with the support boat… back for another attempt soon!"
37 year old Vladimir will navigate the 110 kilometres across the Gulf of Thailand from Pattaya to Hua Hin using just his stand up paddle board. Bad weather on Monday forced him to postpone his initial departure date. He says he first started paddle boarding in 2016 and became hooked after renting a board from a resort at Sam Roi Yot beach.
"At that moment, I fell in love with stand up paddle boarding and within a week I had my own first board", Vladimir told Thaivisa.
He told Thaivisa how he has lived in Hua Hin with his wife and son since 2012.
"Since that time, the sport plays a major role in my life. Thanks to SUP, I have improved my physique, have discovered many interesting places and have found new friends".
"Usually in the daytime, I travel around 20 to 40 kms. When you are surrounded by such beautiful scenery in Thailand, a long way doesn't seem so far. The first time I paddled over 70 km in one day, I realised that much greater lengths were possible.
"I had a dream of crossing the Gulf of Thailand from Pattaya to Hua Hin. At first, I was scared at the thought, but now I am determined to do it. The path will take me across about 110 km. I'm yet to achieve such distances in a day but I believe I am capable".
You can follow Vladimir's progress HERE.
SOURCE: ThaiVisa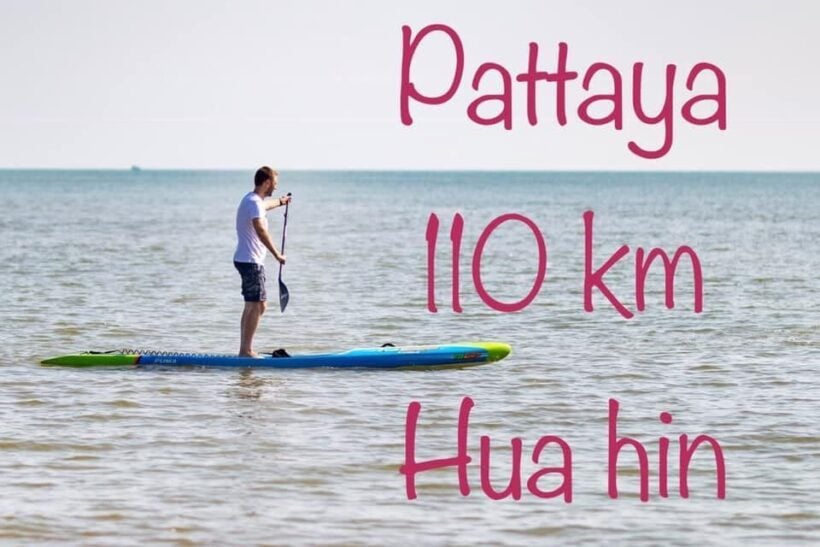 VIDEO: British pianist performs at Thai Elephant Sanctuary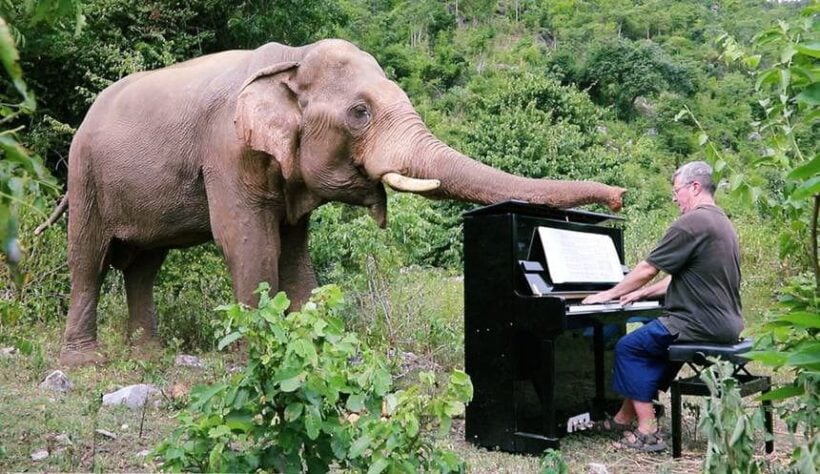 PHOTO: Tree Hugger
Paul Barton is a British classical pianist who seems to have made some new friends. At the Elephants World Retirement Sanctuary in Kanchanaburi province in Thailand, Barton has gotten himself a rather 'big' fanclub.
A frequent visitor to the sanctuary, the musician enjoys taking his piano out in front of a herd of elephants and serenades these mighty pachyderms. In the video below watch as Mr. Barton's music sweeps you away and the surreal image of his audience, trying to quietly eat at the same time, appreciating the finger work.
Having studied at London's Royal Academy of Arts, Barton hopes that these gentle creatures can find some solace in his renditions.
There has been much criticism on social media regarding the treatment of elephants in the tourist trade, with Thailand often being a topic of conversation. Many elephants who come to the sanctuary come from overworked backgrounds which sometimes leaves them disabled.
In this second video (below) watch as Barton plays for a very special elephant, Ampan, who is 80 years old and considered 10 years over the average elephant lifespan. Blind in one eye and barely being able to see with the other, its mesmerising to see a creature of such size have a appreciation for french classical composers.
SOURCE: EuroNews