Elephant shows and rides under siege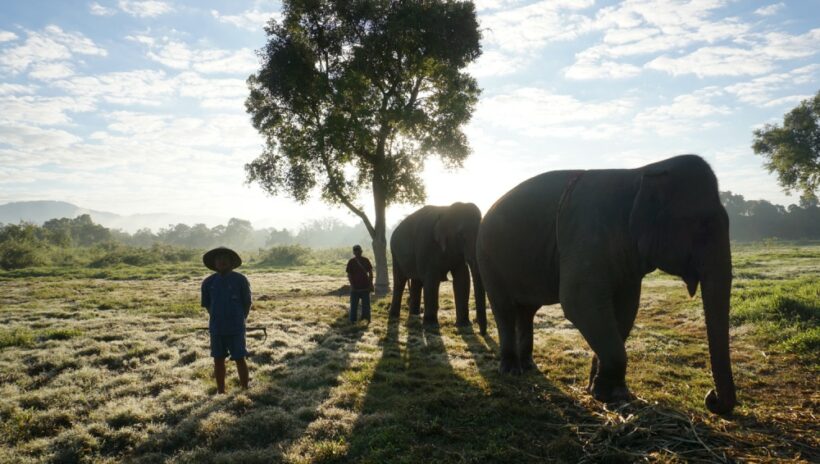 PHOTO: (The Nation) Elephants and mahouts wait for the next group of tourists to take them for a ride.
Twenty or thirty years ago many western tourists would have thought nothing about hopping on the back of an elephant and taking a ride astride one of these mighty Thai beasts. Tourists would clap in delight at the cute baby elephants 'painting' on easels or balancing on tiny platforms doing a faux wai.
In 2017 the situation is quite different which a surge of press telling a very different story about the training these poor animals have to endure just so that tourists can be amused and their owners profit – a vicious circle of supply and demand.

'Ethical' elephant attractions are now the trend with tourists heading further out of town to walk, feed and get up-close-and-personal with a pachyderm in a more natural environment. In this case people are still profiting from elephant tourism, just a modern day version of it. The tourists also say they leave these elephant 'sanctuaries' with a clear conscience.
Elephants have been working for their food for hundreds of years in Siam and Thailand. They used to be ridden on as Princes and Generals went to war in what must have been like watching a battle in slow motion (elephants aren't the fastest land mammals). Then they were used to help fell and transport timber from Thailand's massive timber reserves in rain forests until that industry also became unpopular and logging was virtually banned.
It wasn't as if you could just set them free to roam around the plains of Thailand. Elephants, usually quite placid, are also very large and heavy and, when angered, can be extremely dangerous and destructive. So what to do with all these elephants – the Asian elephant can live up to 50 years or more.
The mahouts put them to work as tourist attractions – taking paying tourists for rides (it has to be said that a ride on an elephant is probably uncomfortable for the elephant and most certainly uncomfortable for the person on the ride). Then they figured they could teach the younger elephants tricks – elephants are reasonably smart mammals – for the further amusement of the eager tourists.
But the situation wasn't a win-win. Certainly not for the elephants anyway. In the last decade it's come to light about the training and torture some elephants suffer to be encouraged to provide these entertainments for paying tourists.
As usual, the material posted by some of the activists was very one-sided and focussed on some selective training from a minority of cruel mahouts. Elephant camps maintain that their animals are well cared for and that the elephants actually enjoy the interaction and physical activity. The truth is probably somewhere in the middle.
But elephant rides and exhibitions of painting and doing other tricks persists because some tourists still love this type of attraction and see nothing wrong with it – ignorant of some of the more recent publicity showing the other side of elephant training. The same tourists see nothing wrong with going to the dolphin and reptile shows – it's just a cultural differences mixed in with some ignorance of the flip side of the animals-for-tourism debate.

The debate will continue and, for the meantime, there are still plenty of venues in Phuket where you go elephant trekking (well, the elephant's do all the trekking – you're just going along for the ride) and see elephants doing cute tricks for applauding tourist groups.
We would urge tourists to seek out one of the elephant 'sanctuaries' where the elephants are given room to move, not chained up, and where tourists can see these magnificent beasts in a more natural environment.
This article certainly makes its point graphically and in no uncertain terms. Read it HERE.

Join the conversation and have your say on Thailand news published on The Thaiger.
Thaiger Talk is our new Thaiger Community where you can join the discussion on everything happening in Thailand right now.
Please note that articles are not posted to the forum instantly and can take up to 20 min before being visible. Click for more information and the Thaiger Talk Guidelines.