Thai Life
Diving: Phuket's Loy Krathong from below the surface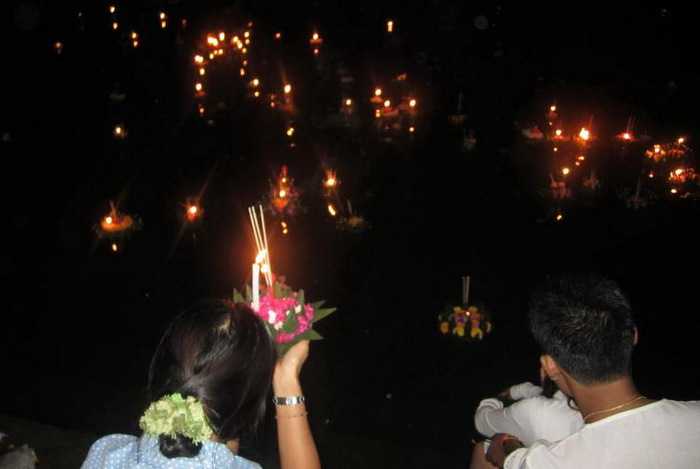 PHUKET: HIGH season officially got underway for divers two weeks ago with parties at AquaMaster and Dive Supply, but the real party this week is more of a cultural thing – Loy Krathong.
Having always been a strong supporter of night dives, which I fully understand are most instructors' nemesis, it appears that Loy Krathong could offer a truly unique night-diving experience – if you can talk someone into taking you.
While thousands stand on the banks of klongs, lakes and quarries, as well as the shores of Phuket's beaches, divers wanting something different should strap on a tank.
Staying close to shore and shallow could – I know of no one who has done it – offer some spectacular visuals as hundreds of krathong glowing with candle light drift above you.
Krathong are lotus-shaped floats traditionally made of banana leaves, with a small offerings of food, flowers, joss sticks and/or candles. The idea behind releasing them into the water is to worship the water goddess and at the same time to float away any bad luck.
Phuket's klongs might not be the most sanitary dive locations, and even Nai Harn lagoon in its glowing glory on Loy Krathong might be worth giving a miss. However, Patong Bay – yes, I know it's also not the cleanest – could be the choice location to give the exploratory dive a try.
The bay, situated on the northern side of the headlands, is mostly protected from shoreward winds, which have the tendency to beach krathongs by the scores.
Sitting in two meters of water in the dark, while all the glowing banana-leaf crowns remain ashore might not be the best to spend the romantic holiday. However, in Patong Bay, at least there is the chance you'll get to watch people's tributes to the water goddess drift slowly overhead. And perhaps from below you can subtly help push people's worries to sea.
Oh, and if it turns out to be a completely rubbish dive shoot me an email (click here), I'd love to hear about it.
— Isaac Stone Simonelli