UPDATE: George Floyd protests spread across the US – curfews imposed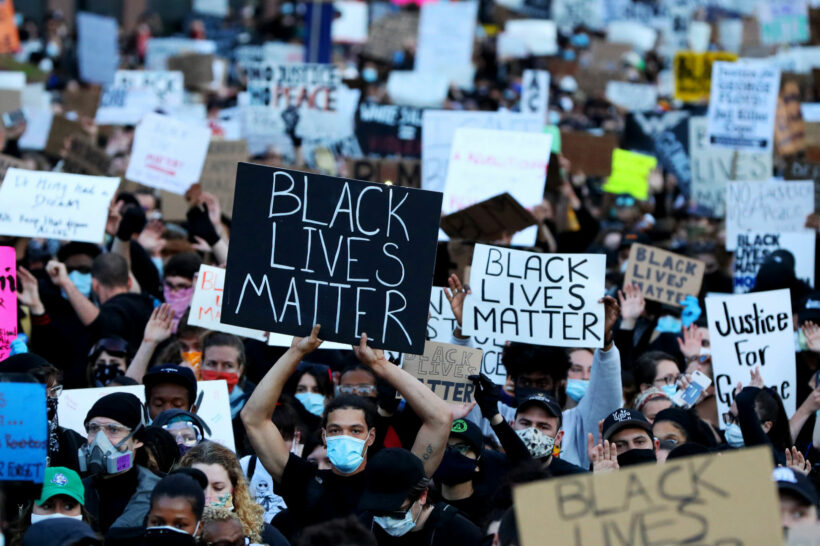 Violence continues to erupt across cities in the US, the 6th night of protests that were sparked by the death in police custody of an African-American, George Floyd. Riot police have clashed with protesters in New York, Chicago, Los Angeles, Philadelphia, Minneapolis, Washington and firing tear gas and pepper bullets trying to disperse the crowds. There have been more peaceful protests staged in other US cities.
At least 40 cities have now imposed curfews and 5,000 members of the National Guard have been activated in 15 states, as well as Washington, DC in streets and outside the White House. But protesters are defying the curfews, leading to tense stand-offs.
There have been multiple instances of police vehicles being attacked and vandalised, some even set alight . Riot officials are responding with tear gas and flash grenades. Looters are taking advantage of the situation and raiding stores.
A large group of protesters crossed over Brooklyn Bridge into Manhattan, New York yesterday, moving north through the Soho district, where several arrests were made. Protesters are facing off with riot police in full gear. Tensions remain high in New York with protesters shouting "Shame" at the police.
In Minneapolis, where George Floyd was killed, a truck driver was arrested after reportedly crashing through a road barrier before heading towards a crowd of protesters marching along a highway. Footage, posted on social media, shows dozens of people surrounding the vehicle and dragging the driver out of the truck after it was stopped.
Bogdan Vechirko, the man who was at the wheel of the truck that drove into the crowd of protesters has been charged with assault and will appear in court at a later date.
In Denver, thousands of people protested peacefully in Colorado State Capitol by lying face down with their hands behind their backs and chanting: "I can't breathe." There have also been largely-peaceful protests in Atlanta, Boston, Miami and Oklahoma City.
In the Atlanta protests, two officers were sacked yesterday for using excessive force, including firing a taser on two college students. In a statement last night the Boston Mayor Marty Walsh thanked peaceful protesters in the city whilst criticising "those who committed destruction and violence". Cleveland's Mayor Frank Jackson has extend the city's curfew until at least tomorrow… "people can only travel for essential activities, and businesses are urged to close".
The George Floyd case has reignited simmering tensions over police killings of black Americans. The outrage is also reflective of years of frustration over socio-economic inequality and segregation. When added to the statistical imbalance of black Americans in Covid-19 cases, and the difficulty many of them are having accessing proper health care during the pandemic, last weeks are seen to be a tipping point.
At a time when the public are seeking reassurance from the country's leadership, US President Trump is taking to Twitter to, in almost real time, accuse his political opponents and far-left organisations for being responsible for the unrest, peppered with name-calling and bellicosity. He has also accused the protests of being "professionally managed".
Just a week ago, on the evening of Monday, May 25, Minneapolis police received a phone call from a grocery store alleging that George Floyd had used a counterfeit $20 note when paying for groceries. Police officers were trying to get him into a police truck when he collapsed onto the ground, explaining to them he was "claustrophobic".
Police maintain that he physically resisted officers and was handcuffed. Video of the incident does not show how the confrontation started.
With police officer Derek Chauvin's knee on his neck, George Floyd can be heard on video saying "please, I can't breathe… don't kill me". Derek Chauvin had his knee on GeorgeFloyd's neck for 8 minutes and 46 seconds, according to a preliminary autopsy by the county medical examiner who also used several videos of the incident in their investigation. Three minutes of the nearly 9 minutes the autopsy report says that "Mr Floyd became non-responsive".
Nearly 2 minutes before Derek Chauvin removed his knee the other attending police officers checked George Floyd's pulse and were unable to find one. He was taken to hospital and pronounced dead.
44 year old Derek Chauvin was arrested Friday on charges of 3rd-degree murder and manslaughter for the death of George Floyd. He was meant to make his first court appearance today, but with Minneapolis still gripped by unrest, the appearance has now been pushed back until June 8. Minnesota's Attorney General Keith Ellison says he expects Chauvin to face additional charges.
Keep in contact with The Thaiger by following our
Facebook page
.


Find more SE Asian News courtesy of The Thaiger.

Broke? Find employment in Southeast Asia with JobCute Thailand. Rich? Invest in real estate across Asia with FazWaz Property Group. Even book medical procedures worldwide with MyMediTravel, all powered by DB Ventures.

Thailand gets quarantine "red light" from UK, "green light" from EU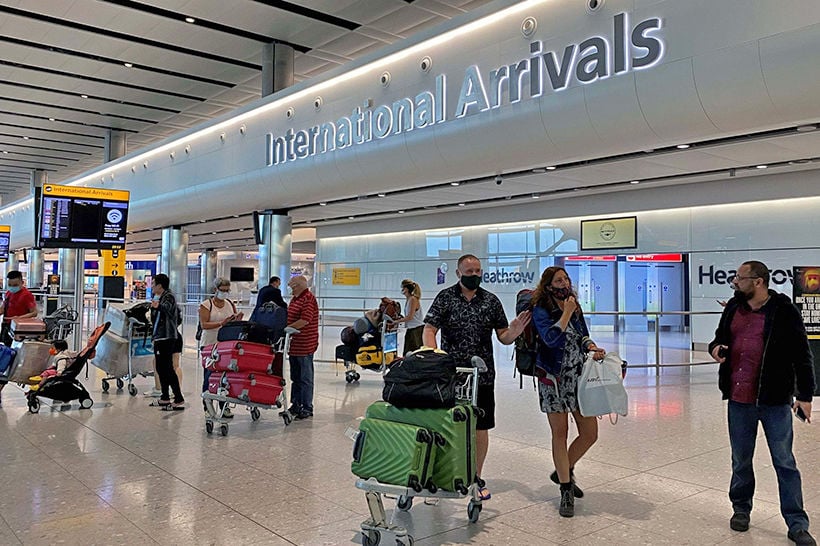 Despite reaching 41 days without a locally transmitted case of Covid-19, Thailand is still designated as a "red light" country and Thais arriving in England will still be required to self-isolate for 14 days. Updated guidelines published on the UK Government website on Friday list 59 countries and territories for which no quarantine will apply, starting July 10. Thailand, earlier included in the list, has now been deleted.
"If you have been to or stopped in a country that is not on the travel corridors exemption list you will have to self-isolate until 14 days have passed since you left that country."
Scotland, Wales and Northern Ireland will each announce their own separate rules depending on how the new regulations work in England.
Unsurprisingly, the US, Brazil and India are not on the "travel corridors exemption list," but neither is Thailand, despite earlier reports it would be, and despite its success in eliminating local transmission of the virus. The list will be subject to regular reviews.
Thailand is one of just 15 countries to which the EU has agreed to open its borders. The UK government has put Thailand on a separate list of countries deemed "safe for citizens to visit", but anyone returning from a trip to Thailand will still have to endure the 14 day quarantine.
Asian nations on the UK exemption list include Vietnam, Japan, Taiwan, South Korea and Hong Kong, who have all brought Covid-19 transmission under control, though there have been some scattered outbreaks of new cases in Japan and Korea.
Under the new rules, a "traffic-light system" – red, orange and green – will be used for different countries depending on their coronavirus contagion levels.
'Orange' countries will have reciprocal arrangements in place with England, while green countries, such as New Zealand, are deemed safer than England. Orange countries include France, Italy and Spain, which are among the most popular holiday destinations for Britons.
But the US, with over a quarter of the world's infections, and Greece, another popular travel destination, will be designated with a red light, requiring 14 days of self-isolation.
SOURCES: Bangkok Post | Thai Examiner
Keep in contact with The Thaiger by following our
Facebook page
.
India aims to have Covid-19 vaccine by mid-August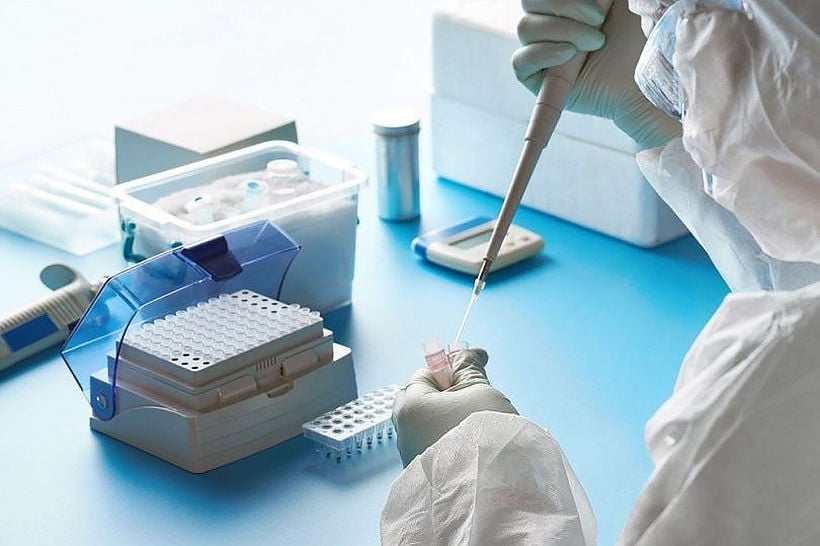 But scientists are skeptical at the speed of the development. India has announced its plan to take its first Covid-19 vaccine from human trials to general use by mid-August, just 6 weeks from now. Bharat Biotech International, an unlisted vaccine maker, received regulatory approval to start human clinical trials for its experimental vaccine earlier this week, but it's already got India's top medical research body expediting the process.
Bloomberg reports that a July 2 letter from the Indian Council of Medical Research to clinical trial sites said the vaccine is "envisaged to be rolled out for public health use by August 15, after completion of all clinical trials," and that it's "one of the top priority projects which is being monitored at the topmost level of the government."
There is no evidence that Bharat Biotech's vaccine is safe for human use, not to mention effective at providing any protection, short or long term. The "envisioned" timeline is far shorter than other front-runner vaccine efforts from American and Chinese drug makers, most of whom started human clinical trials months ago, and are now entering the last of 3 stages of testing.
There has never been an effective vaccine developed for any of the coronavirus family of diseases – SARS, MERS, the 'common cold' – 229E (alpha coronavirus), NL63 (alpha coronavirus), OC43 (beta coronavirus), HKU1 (beta coronavirus) – or Covid-19 (SARS-CoV-2). Influenza (Flu) is NOT a coronavirus.
The announcement of a potential vaccine underlines India's desperate need to find a way to stem the coronavirus, which has infected nearly 650,000 people and killed over 18,600 in the country, making it Asia's new epicentre with the world's fourth-largest outbreak. In its letter, the ICMR urged the trial sites to enroll volunteers by Tuesday.
The proposed speed has alarmed many in the medical fraternity. According to a tweet from a medical researcher at India's Manipal University…
"Such an accelerated development pathway has not been done EVER for any kind of vaccine, even the ones being tried out in other countries. Even with accelerated timelines, this seems rushed and hence, has potential risks."
The government of Indian PM Narendra Modi is anxious to create the impression it has gained control over the outbreak, after abandoning a costly lockdown that caused tremendous economic suffering without slowing the spread of the virus. The August 15 deadline for the Bharat vaccine may reflect that political pressure: that's the day India celebrates its Independence from the British.
SOURCE: Bloomberg | Bangkok Post
Keep in contact with The Thaiger by following our
Facebook page
.
Global Covid-19 cases exceed 11 million people. Deaths over 529,000.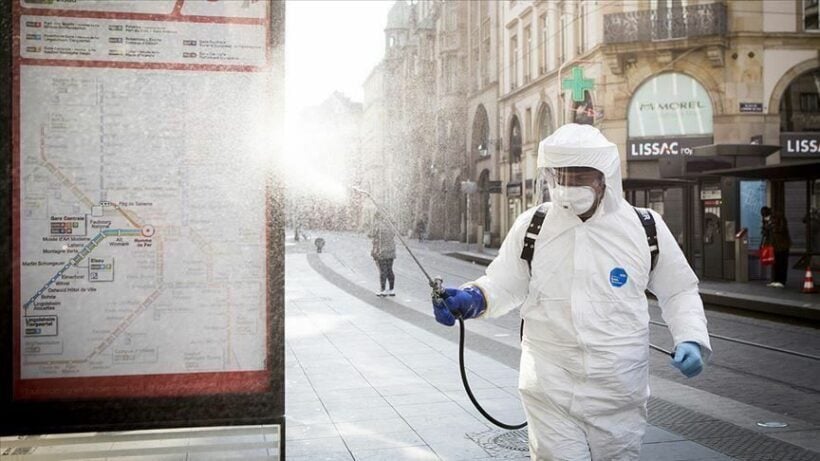 Covid-19 infections around the globe surpassed 11 million yesterday, another grim milestone in the spread of the virus that's has killed more than half a million people since the outbreak began just over 6 months ago. According to the World Health Organisation, the number of cases is now more than double the figure for severe influenza illnesses recorded annually.
1 million new infections has been added to the total in less than 1 week, with the world infection rate starting to accelerate.
Some hard-hit countries are now starting to ease earlier lockdowns introduced to slow the spread of the virus, and making extensive changes to work and social life that could last until a vaccine is available. Other countries are experiencing a resurgence in contagion, prompting authorities to reinstate lockdowns, in what experts say could be a recurring pattern into 2021.
In a new global record, the US reported more than 55,400 new cases on Thursday, as infections rose in a majority of states. Nearly a quarter of the known global deaths have occurred in the US… over 132,000 as of today. The recent surge has put US President Donald Trump's handling of the crisis in the spotlight and led several US state governors to halt plans to reopen their states after strict lockdowns.
Latin America, where Brazil has 1.5 million cases, makes up 23% of the global total of people infected. India is now the epicentre in Asia, rising to nearly 650,000 cases.
Asia and the Middle East have around 12% and 9% respectively, according to the worldometers tally, which uses verified government reports.
In third world and developing countries with limited testing capabilities, case numbers are likely to reflect a small proportion of the total infections. Experts caution that official data doesn't tell the full story, with many believing that both cases and deaths have likely been underreported in some countries. But the data, following the most scrutinised and tracked virus in history, certainly shows developing trends and provides health professionals with critical information.
The first death linked to the new coronavirus was reported on January 10 in Wuhan, China, before infections and fatalities surged in other parts of China, then Europe, then in the US, Russia and now South America. The pandemic is now entering a new phase, with India and Brazil battling over 10,000 cases a day, putting a major strain on medical resources.
Countries including China, New Zealand and Australia have experienced new outbreaks in the past month, despite largely eliminating local transmission.
Thailand has had no local transmissions of Covid-19 for 40 days.
SOURCE: Reuters
Keep in contact with The Thaiger by following our
Facebook page
.