"An emergency in China" but not an internal epidemic – Coronavirus update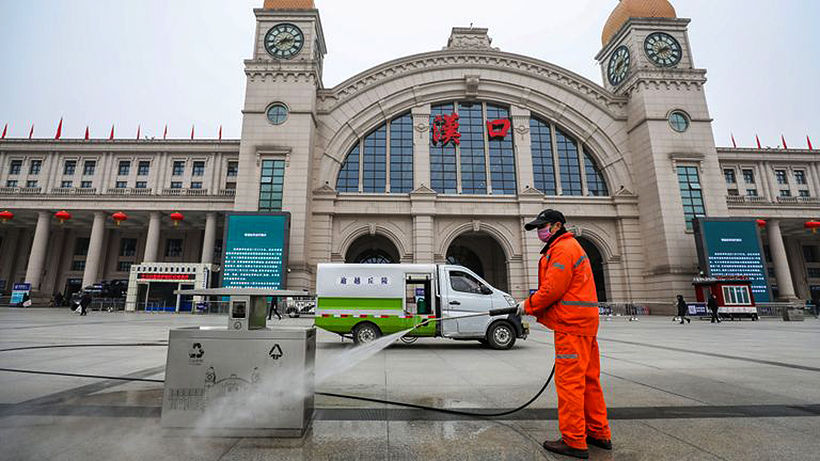 The World Health Organisation has labelled the Novel Coronavirus "an emergency in China" but hasn't declared the situation as an international epidemic at this stage. 634 cases have now been confirmed in China with health officials confirming the first death outside of Wuhan, whilst seven other countries have reported non-fatal cases. 18 people are now confirmed dead as a result of the virus, many who had underlying health issues before contracting the virus.
But the looming Chinese New Year celebrations and the annual exodus of Chinese from cities to their homes, is causing fears that the transmission rates of the flu-like virus could undergo a quick evolution. Chinese New Year celebrations start tomorrow, January 25, and last a week.
The World Health Organisation chief Tedros Ghebreyesus says that whilst the few known cases outside China remain under control, the WHO are warning that the pandemic could spread.
"It has not yet become a global health emergency. It may yet become one."
Meanwhile the main cities of the Hubei province in central China have locked down transport in and out. Wuhan, a city of 11 million people, and the epicentre of the new virus, has suspended transport, including outgoing flights while residents were ordered not to leave. The neighbouring city of Huanggang, with 7 million residents, has also gone into a transportation lockdown.
Railways stations are now all but deserted, highway toll booths are now closed, effectively sealing road exits, and public transport and ride-hailing services are now cancelled. Guards are patrolling the city's highways to prevent residents from sneaking out of the city.
Wuhan's residents are packing hospitals and clinics for medical checks, stripping supermarkets of supplies and queuing for petrol as panic of the isolation sets in. But the transport of goods and general trade in and out of the cities is still going ahead, under supervision.
In Beijing officials have cancelled two major Chinese New Year temple events and closed the Forbidden City, Beijing's most famous tourist attraction, adjacent to Tiananmen Square, to tourists.
The new virus, currently described as the Novel Coronavirus, is still under intense scrutiny as multiple strands of the world health community scramble to get a better understanding of the virus. It is thought have emerged during December 2019 from illegally traded wildlife at a popular animal market in Wuhan. That market has since been closed down and cordoned off. At this stage there is no vaccine for the virus, and its mode of transmission is not fully understood. Symptoms of the Novel Coronavirus include fever, coughing and difficulty breathing. It is also unknown how easily it spreads human-to-human.
Almost three-quarters of the cases are people aged 40+, and 40% already had some underlying health issues. At this stage there had been human-to-human transmission of the virus within China but limited to family groups and health workers.
Cases have been reported in Thailand, Vietnam, Singapore, Japan, South Korea, Taiwan and the US but authorities in those countries say the cases have been quarantined and treated. Meanwhile the BBC reports that 5 people are being tested for the virus in Scotland. All reported respiratory symptoms and recently returned from Wuhan.
SOURCE: Reuters

MAP: Science Alert
Keep in contact with The Thaiger by following our
Facebook page
.


Find more SE Asian News courtesy of The Thaiger.

Broke? Find employment in Southeast Asia with JobCute Thailand and SmartJob Indonesia. Rich? Invest in real estate across Asia with FazWaz Property Group or get out on a yacht anywhere with Boatcrowd. Even book medical procedures worldwide with MyMediTravel, all powered by DB Ventures.

Coronavirus UPDATE: World cases exceed 80,000, Italy tries to contain outbreak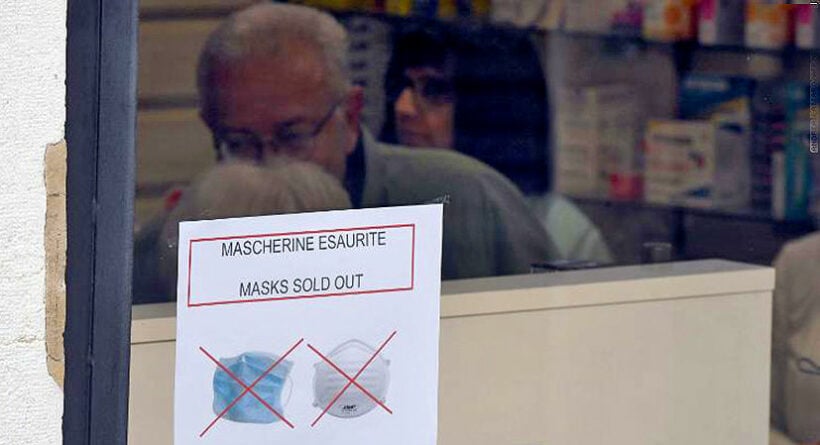 The number of reported cases from the novel coronavirus (Covid-19) has risen to 80,150 across the world, resulting in 2,701 deaths. 27,595 people have recovered from the virus, the death rate is still hovering below 2%. The rate of new cases in China is starting to flatten while there are some new global hotspots outside of China, principally central South Korea and isolated areas in northern Italy. Iran has also registered 12 deaths out of a total of 60 cases.
Cases in Thailand remain at 35.
Europe's biggest outbreak is now entered around northern Italy, where seven people have died and quarantine situations are being imposed on some municipalities in the cities of Veneto and Lombardy.
South Korea has announced 60 new cases in the past 24 hours, pushing the nationwide total to 893. More than 50% of the cases are associated with a religious Christian cult.
---
• US stocks have plunged today on mounting worries about the spread of the coronavirus outside China. The Dow Jones index finished down more than 1,000 points at Monday's closing bell.
The Dow finished down 1,032 points, or 3.6%, its worst day in two years. It was only the third time in history that the index closed down by more than 1,000 points. The S&P500 followed suit. The Nasdaq Composite fell 3.7%, its worst performance since December 2018.
---
• In northern Italy there are now 231 confirmed cases of coronavirus. There are 101 hospitalised patients with symptoms and another 27 are in intensive care. At least 94 have been isolated in their homes. Seven people have died from coronavirus in Italy. The state of Lombardy, where most of the cases have appeared, borders Switzerland.
Tourist attractions in these areas have been closed, including festivities in the tourist hotspot Venice. Private meetings have been banned and schools have been shut. People inside some of these regions are being confined to their homes and told to avoid contact with others. The measures also include transport restrictions in some places and the surveillance and quarantine of individuals who may have been exposed to the virus.
---
• Canada has now confirmed its 11th case of the coronavirus. The national health minister and health officer for British Columbia say the affected person, a man in his 40s, was in close contact with a previously reported confirmed case.
"Both cases remain in isolation at home with support and monitoring from public health teams. The risk of spread of this virus within British Columbia continues to remain low at this time."
In total, Canada has 11 total cases of confirmed coronavirus; four in Ontario and seven in British Columbia.
---
• The US and South Korea say they are considering scaling back joint military exercises due to a coronavirus outbreak in the central Korean peninsula.
The US Secretary of Defense Mark Esper says military commanders in South Korea are looking at scaling back the annual training exercises due to concerns about the coronavirus."
He says that both countries remain confident and that South Korea will "remain fully ready to deal with any threats that we might face together."
---
• The Chinese territory of Hong Kong and the island of Taiwan have reported new cases of novel coronavirus.
Hong Kong has reported two new cases of passengers evacuated from the Diamond Princess cruise ship (still moored in Yokohama Bay), bringing the total to 81 in the territory. The two cases involve a man and a woman, both aged 57, who recently returned from the Diamond Princess cruise ship.
The Diamond Princess cruise ship went from having 10 cases to more than 690 over the course of its two-week quarantine and the testing that followed. Experts and officials have criticised the decision to keep people on the ship and many poor hygiene practices on board.
Meanwhile in Taiwan, officials confirmed two new cases of the virus, bringing the total to 30. The cases involve a man in his 40s and a woman in her 70s. They are both relatives of patients who contracted the virus earlier. The man also had a prior travel history to Guangzhou, southern China, in late January.

Keep in contact with The Thaiger by following our
Facebook page
.
World's biggest band launch their new album "Map of the Soul: 7" BTS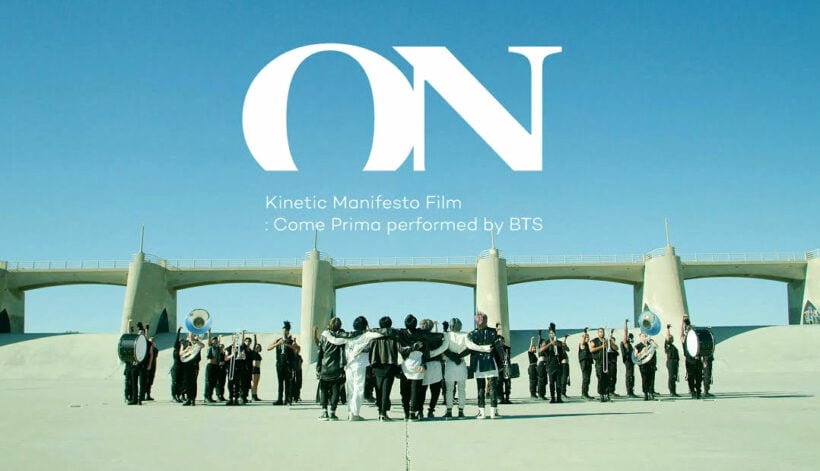 From the first determined drum stroke in the new BTS music video (below) you get the sense that these guys mean business for their new album. The music video for their first official single ON kicked over more than 70 million views in its first 2 days since launch.
The world's biggest band BTS – in terms of album sales, stadium tickets sold, and sheer internet presence – has launched their latest studio album, their seventh, Map of the Soul:7. And they're spending their time launching it in the US, seen as the holy grail of pop for bands around the world.
The seven-member South Korean band has boldly gone where few 'foreign' language bands have gone before. Last year they notched up a major milestone becoming only the second band to have three consecutive No. 1 albums in the Billboard Chart in a 12 month period. The last band to do that was a British quartet called The Beatles… you may have heard of them.
But the white-washed world of American pop has been slow to come around to the invasion of the South Korean band that cut its teeth in the ultra-competitive world of K-pop before making headway in the international market. Indeed they've done just about everything differently than bands before and, somehow, etched out a brave new world of pop success, on their own terms.
Launching in June 2013, BTS (aka. Bangtan Boys, Bangtan Seoyondan, which translates as Bulletproof Boy Scouts), the seven members have played with hip hop, R&B, power ballads, pure pop and edgy rap styles. Seven years later their music is much more difficult to define as it crosses multiple genres and emerges as something new and distinct. 
But BTS is a lot more than its three letter acronym. BTS is RM, Jin, Suga, J-Hope, Jimin, V and Jungkook.
Much of their success is rooted in a few points-of-difference, all of them taken to new levels of professionalism and art.
• Every BTS music video is almost a piece of art, sometimes filmic and always beautifully crafted.
• BTS write, produce and perform. They act, sing, dance and rap. They are the total pop-package.
• BTS lean heavily on their authentic messages of loving yourself, acknowledging your shadows, accepting your frailties and, well, a lot of other 'young people' issues. Apart from the occasionally dark and 'real' messages in their music, all seven members appear humble and intelligent, and willing to share their ups and downs with fans (Band leader 'RM' has an IQ of 148).
• BTS have weaponised social media in a way never before attempted or achieved. YouTube, Facebook, Twitter, TikTok… they have accumulated a vast online fandom, called ARMY. It's easy to say that there has NEVER been such a motivated, dedicated fandom in music history, across borders, across languages.
• They have a well-catalogued rags-to-riches backstory, complete with hundreds of videos following their early days, failures and apprehension. From living together in a tiny dorm and cooking their own meals together, all the way to their world-wide popularity and chartered jets, it's a fascinating journey that adds to their appeal.
• They are genuinely likeable and have always, ALWAYS, thanked their legion of fans, first and foremost, for their success.
'7' has held its position at No. 1 on Amazon's bestsellers chart for nearly a month, and the upcoming US stadium tour (then to Europe and Asia) has already sold out. Even before its release, Map of the Soul: 7 was the fastest-selling album this year (4 million sales), selling four times the numbers of pre-release sales for Taylor Swift's Lover.
There's little doubt BTS will earn their fourth consecutive No. 1 debut on the Billboard 200.
Why '7'? The band says it's a salute to their seven years together as a band and, well, there's seven of them.
Their launch single (which follows two YouTube teaser music videos of the songs Shadow and Ego, plus a hugely popular performance of Black Swan on James Corden's Late Late Show – 39 million views), is ON.
The music video released yesterday is an alternative version of the collaboration featuring Sia on the album. ON is a catchy anthem starting out with a stripped back church-like organ breaking into a precision drum-band punching out the rhythms for the track.
As with most of their work, all BTS members get their chance to shine. Just when you think you're getting into the track (it's in Korean and English), it changes direction and surprises. Wait until you get to the dance break in the middle!
The new album has 20 tracks including some from the previous Map of the Soul: Persona. But this is certainly taking a darker and edgier turn for the band which, seven years on, has a rich tapestry of styles in their extensive repertoire.
Full Track List for Map of the Soul: 7
Intro: Persona
작은 것들을 위한 시 Boy With Luv (Feat. Halsey)
Make It Right
Jamais Vu
Dionysus
Interlude : Shadow
Black Swan
Filter 시차
Louder than bombs
ON
욱 UGH!
00:00 (Zero O'Clock)
Inner Child
친구 Moon Respect
We are Bulletproof : the Eternal
Outro : Ego
ON (Feat. Sia)
But there's stormy weather ahead for the band and ARMY with South Korea's compulsory military conscripton looming over the seven 20-something members. The oldest member, Jin, reaches 28 years of age in December this year which will force him to enter the mandatory 2 year military service. And that will be followed over the following four years by the other band members – Suga, J-Hope, RM, Jimin, V and Jungkook. Although there's been a strong media and online push to get an exemption for the group, (in 2019 BTS contributed $4.65 billion to the South Korean GDP), the members have all said they look forward to serving their country.
For now BTS are switched ON with their new album and their reshaping of the world pop industry will continue, for at least the rest of 2020.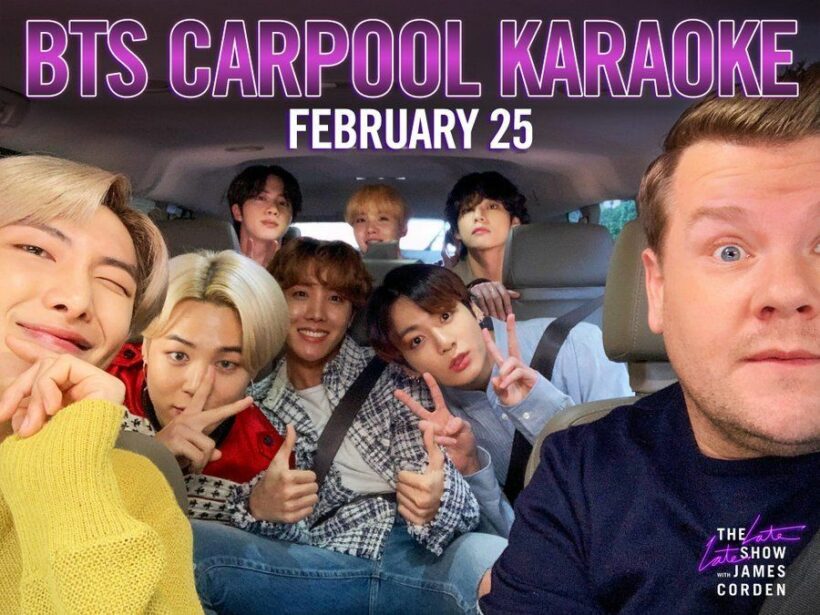 You know you've made it in the pop music world when you end up on Carpool Karaoke
Keep in contact with The Thaiger by following our
Facebook page
.
Coronavirus UPDATE: Spark in cases in Italy and South Korea, Air Asia cancels flights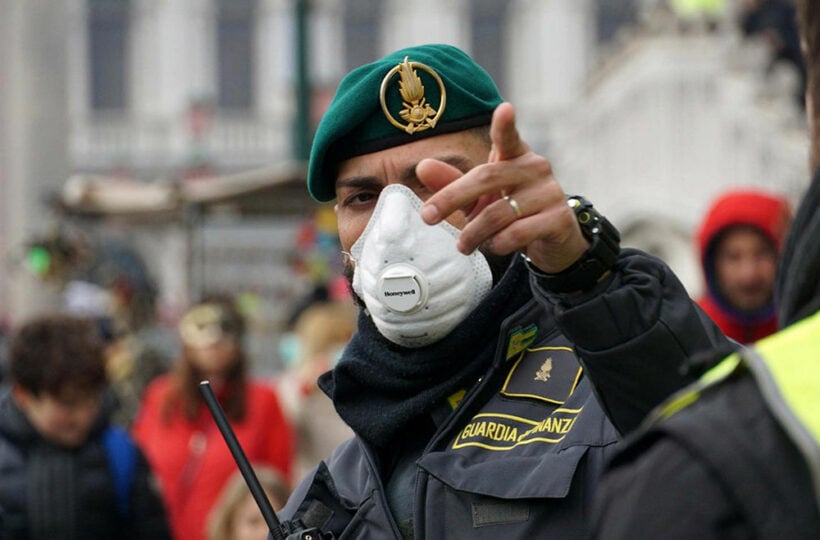 Coronavirus (Covid-19) cases have now reached 79,561 around the world, with 77,345 of the cases confined to China. The rise in cases has been principally in China with 409 new cases and South Korea with 161 new cases. 2,619 people have died from the infection.
The major outbreaks, outside China, have been in South Korea, aboard the Diamond Princess (still moored in Yokohama Bay, Japan) and now also in Italy.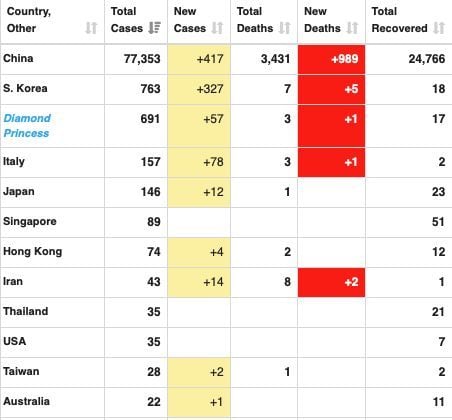 Here's some of the key coronavirus updates from around the world…
Italian officials cancelled the annual Venice Carnival, cutting short the event by two days. The situation in Italy is the worst outbreak of the coronavirus in Europe. There are now a57 confirmed cases in Italy with 78 confirmed in the past 24 hours.
Three people have died in Italy. Now Italian officials have imposed strict quarantine restrictions in two northern "hotspot" regions close to Milan and Venice. The cities of Veneto (5 million) and Lombardy (10 million) have virtually quarantined about 55,000 people in sections of the cities for the next two weeks. They will be confined to their homes and prevented from travelling.
Even outside the zone, many businesses and schools have suspended activities, and sporting events have been cancelled.
---
Thai AirAsia X, the international brand of Air Asia, announced the cancellation of some flights operating to and from South Korea from March 6-27. Passengers are being offered a range of options.
• Passengers can postpone the travel date on the same route for one time within 30 days from the original schedule without additional costs. However, it will depend on seat availability on the flight and the conditions specified.
• Passengers can keep their points in the AirAsia BIG point reward account for travel in future, which must be booked within 90 calendar days from the original schedule. However, passengers can schedule the new travel date after the expiry date if the flight schedule is still available.
• Passengers can request a full refund for all flights to and from South Korea. The airline will inform concerned passengers about the cancellation via email or SMS. Meanwhile, passengers can request offers via Ava Live Chat at support.airasia.com. In case of booking through a dealer or online travel agent, passengers must proceed with the agent that they had booked with. However, the airline will monitor the situation closely and update information periodically.
Passengers can find the latest updates via Twitter: @AirAsia_Thai and Facebook: facebook.com/airasia.
---
Thai education minister Nataphol Teepsuwan says that the ministry has asked teachers and students who had travelled to six countries, including China, Japan, Hong Kong, South Korea, Taiwan and Singapore, to voluntarily remain confined to their homes for 14 days.
"The measure is in line with the Public Health Ministry's guidelines to prevent the spread of coronavirus. Parents of students who travelled to those six countries should also stay at home in order to make sure that they were not infected by the coronavirus."
The number of virus cases in Thailand remains at 35. Epidemiologists earlier believed that the virus could be transmitted to other people even though those infected may not have fallen ill yet. Recently scientists studying virus cases in China said that the virus incubation period may be longer than 14 days, and perhaps up to 20 days.
---
South Korean health officials say they've decided to raise the alert level over the COVID-19 virus to "highest" in response to the confirmation of hundreds of additional cases over the weekend.
President Moon Jae-in says that the next few days are critical in official efforts to contain the virus.
"The COVID-19 incident has been confronted by a grave watershed. A few days from now is a very important moment."
It's the first time that the country, traditionally known for tight quarantine measures, has raised the virus alert level to "serious," the highest in the four-tier system, in 11 years since its previous step against Influenza A (H1N1).
The president said the government and the local authorities should not hesitate to take "unprecedented powerful" measures to contain the viral disease without being limited by "regulations."
The President mentioned a minor Christian sect, known as Shincheonji. Its church in Daegu, 300 kilometres southeast of Seoul, is viewed as an epicenter of many infections reported over the past few days. The 31st reported patient infected with the virus, a woman in her 60s, is presumed to have attended lengthy crowded worship services at the church in Daegu before testing positive for the virus last week.
The number of confirmed cases in South Korea, mostly in Daegu and the nearby town of Cheongdo, have since shot up to over 556 as of Sunday morning. Moon pointed out that health authorities are taking "special" steps in connection with the followers of Shincheonji, meaning "new world" in Korean.

Keep in contact with The Thaiger by following our
Facebook page
.