World
Virgin Galactic appears to have broken apart in flight – NTSB chief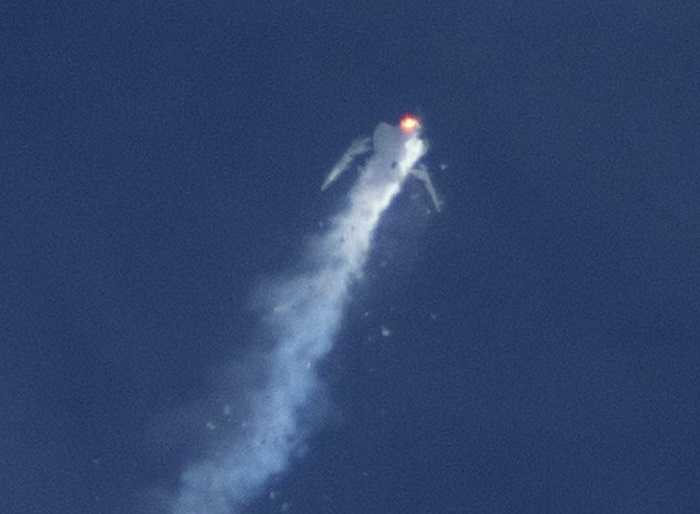 PHUKET MEDIA WATCH
– World news selected by Gazette editors for Phuket's international community
Virgin Galactic appears to have broken apart in flight – NTSB chief
Reuters / Phuket Gazette
PHUKET: The head of the federal agency examining last week's fatal crash of a Virgin Galactic passenger spaceship during a test flight in California's Mojave Desert said on Sunday the vehicle appears to have broken apart in flight.
"The debris field indicates an in-flight breakup," Christopher Hart, acting chairman of the National Transportation Safety Board, told Reuters during a interview.
"We'll know that for certainty when we look at all the sources we have," he said.
The NTSB is leading the investigation into Friday's crash of SpaceShipTwo, which was undergoing its first powered test flight since January when it crashed, spreading debris over a 5-mile (8 km) swath of the Mojave Desert north of Los Angeles.
One pilot was killed and another was badly injured.
Preliminary data gathered in the Virgin accident indicates that a structural failure, and not an engine explosion, led to the crash, according to a report published Sunday in the Wall Street Journal.
Citing a source familiar with the nascent investigation, the report said video and early data was focusing on "aerodynamic forces" that could have led to its downing.
Virgin Galactic's owner, British billionaire and entrepreneur Richard Branson, traveled to Mojave on Saturday to meet with his team and NTSB investigators.
He said he was determined to uncover the cause of the crash and said he believed the dream of space tourism for everyday passengers would live on.
NEW SPACESHIP
George Whitesides, Virgin Galactic's chief executive, told the Financial Times in an interview published on Sunday that the company could have a new spacecraft ready to fly by next year.
"The second spaceship is getting close to readiness," he said, sounding a note of optimism about the program even as the NTSB began what it is likely to be a year-long investigation into the accident.
Depending on what accident investigators find, Virgin Galactic may be required to make changes to its spaceship well before the final NTSB report is issued.
"We would report on anything that required immediate response and should not wait until the completion of our report," NTSB chairman Hart said.
"We have done that many times," he added.
SpaceShipTwo was in the midst of test flights and was not yet certified for commercial operations when the crash occurred, delaying indefinitely the start of passenger service.
Branson and his son plan to fly on the first commercial flight. About 800 people already have paid or put down deposits for the ride, which costs $250,000.
The craft is intended to fly people to an altitude of just over 60 miles (100 km) so they can experience a few minutes of weightlessness and see the Earth against the blackness of space.
"We really thought by March of next year, we'd be there," the billionaire entrepreneur told the BBC after arriving in Mojave on Saturday. "Something went wrong. We need to find out what went wrong and fix it."
U.S. investigators say the powered test flight of Virgin's SpaceShipTwo on Friday was well recorded, giving them an abundance of information to help determine what caused the rupture.
The two pilots involved were employees of Scaled Composites, a Northrop Grumman Corp subsidiary that designed and built the six-passenger, two-pilot craft for Virgin Galactic.
Michael Alsbury, 39, was identified as the pilot who died. Co-pilot Peter Siebold, 43, who was riding in the right-hand seat, parachuted to the ground and was recovering at a nearby hospital, Scaled Composites said in a statement.
Friday's crash was the second disaster in less than a week suffered by a private space company.
On Tuesday, an Antares rocket built and launched by Orbital Sciences Corp exploded after liftoff from Wallops Island, Virginia, destroying a cargo ship bound for the International Space Station.
Virgin Galactic is a U.S. offshoot of the London-based Virgin Group founded by Branson, whose empire ranges from airlines to music stores and mobiles phones.
— Phuket Gazette Editors