Phuket Gazette World News: Iran to swear off nuclear; Mexico storm looting spree; Heartbroken mom of DC shooter apologizes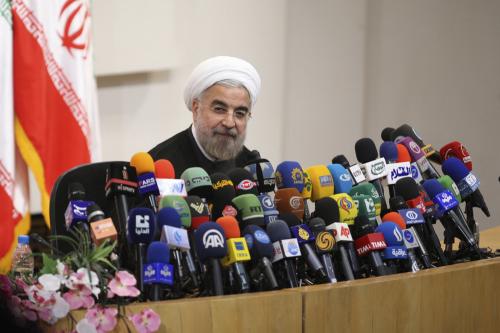 PHUKET MEDIA WATCH
– World news compiled by Gazette editors for Phuket's international community
Rouhani says Iran willing to forswear nuclear arms
Reuters / Phuket Gazette
PHUKET: Iranian President Hassan Rouhani vowed on Wednesday that his government would never develop nuclear weapons, his strongest signal yet that he may be seeking a diplomatic thaw with the West after decades of acrimony.
In an interview with NBC News days before he travels to New York for a U.N. appearance, the new Iranian president also insisted he had "complete authority" to negotiate a nuclear deal with the United States and other Western powers.
"We have time and again said that under no circumstances would we seek any weapons of mass destruction, including nuclear weapons, nor will we ever," Rouhani said when asked whether he would forswear nuclear arms.
Rouhani's conciliatory comments appeared to be another sign of his willingness to work toward a diplomatic solution in Iran's bitter nuclear standoff with the West. Washington and its allies are intrigued but still wary, making clear they hope to see tangible steps to back up his words.
Speaking to the U.S. network at his presidential compound in Tehran, Rouhani said the tone of a letter he had received from President Barack Obama, part of a recent exchange of messages between the leaders, was "positive and constructive."
"It could be subtle and tiny steps for a very important future," Rouhani said six days before he is due to address the U.N. General Assembly, a speech that will be watched closely for fresh diplomatic overtures.
Iran's supreme leader, Ayatollah Ali Khamenei, has said that nuclear weapons development would be inconsistent with Islamic values. But a willingness by a newly elected president to rule out nuclear arms could help provide a new opening in long-stalled international nuclear talks.
Questions remain about how much bargaining room Khamenei, a staunch promoter of Iran's nuclear program, will give Rouhani's government, whether in secret talks with Washington or in multilateral discussions with major powers.
Comments on Tuesday by Khamenei about the need for "flexibility" suggest a new willingness at the highest level to explore a compromise solution to Tehran's dispute with the West.
Complete authority
"This government enters with full power and has complete authority," Rouhani said, according to an NBC translation. "I have given the nuclear negotiations portfolio to foreign ministry. The problem won't be from our side. We have sufficient political latitude to solve this problem."
The White House responded cautiously.
"The world has heard a lot from President Rouhani's administration about its desire to improve the government of the Islamic Republic of Iran's relations with the international community, and President Obama believes we should test that assertion," White House spokeswoman Bernadette Meehan said.
"We hope that this new Iranian government will engage substantively in order to reach a diplomatic solution that will fully address the international community's concerns about Iran's nuclear program."
The United States and its allies suspect Iran is seeking bomb-making capability despite Tehran's insistence that its program has only peaceful aims. Israel, believed to be the Middle East's only nuclear weapons power, has repeatedly called for a credible military threat to halt Iran's nuclear advance.
Since Rouhani was elected president in June, the centrist cleric has called for "constructive interaction" with the world, a dramatic shift in tone from the strident anti-Western rhetoric of his predecessor, Mahmoud Ahmadinejad.
Obama said in a television interview on Tuesday that he was prepared to test Rouhani's willingness to open a nuclear dialogue, but he did not back away from previous U.S. demands.
Rouhani said Obama wrote to him first, congratulating him on his election and raising "some issues of interest," and the Iranian president responded.
Obama told Rouhani in their exchange that the United States was "ready to resolve the nuclear issue in a way that allows Iran to demonstrate that its nuclear program is for exclusively peaceful purposes," White House spokesman Jay Carney said.
Carney reiterated that Obama had no plans to meet Rouhani at the United Nations. But there is always the possibility the two might see each other in the U.N. corridors.
In the television interview, Rouhani did not rule out meeting Obama at the United Nations, NBC said.
In a possible gesture to ease Western concerns, Iranian authorities on Wednesday released a prominent human rights lawyer, Nasrin Sotoudeh, who was arrested in 2010 and convicted of spreading propaganda and conspiring to harm state security. Rouhani had pledged during his election campaign to ease some political and social restrictions at home.
The U.S. State Department welcomed Sotoudeh's release and called on Iran to release "all prisoners of conscience."
The United States and Iran cut diplomatic relations in 1980, after students and Islamist militants stormed the U.S. Embassy in Tehran and took American diplomats hostage.
Obama ran for president in 2008 vowing to engage with Iran. But Tehran continued its nuclear development and tough sanctions imposed by Washington and the United Nations have taken a severe toll on Iran's economy.
Also in the NBC interview, Rouhani demurred when asked whether Iran, a close ally of Syrian President Bashar al-Assad, could assure the world that Damascus would comply with a U.S.-Russia agreement to give up its chemical weapons.
"We are not the government of Syria," Rouhani said. "We are one of the countries of this region which is asking peace and stability and the elimination of all weapons of mass destruction in the entire region."
Looting hits Acapulco as Mexico storm death toll reaches 80
Reuters / Phuket Gazette
PHUKET: Looting broke out in the flooded Mexican beach resort of Acapulco on Wednesday as the government struggled to reach tens of thousands of people cut off by flooding that had claimed at least 80 lives.
Stores were ransacked by looters who carried off everything from televisions to Christmas decorations after floodwaters wreaked havoc in the Pacific port that has experienced some of the worst storm damage to hit Mexico in years.
Tens of thousands of people have been trapped in the aftermath of two tropical storms that hammered vast swathes of Mexico. More than 1 million people have been affected. Acapulco's airport terminal was under water, stranding tourists.
However there was no let-up in sight.
One of the tropical storms, Manuel, became a hurricane late on Wednesday, barrelling north along Mexico's northwestern coast and threatening more flooding and mudslides.
Shops were plundered in the city's upscale Acapulco neighbourhood of Diamante, home to luxury hotels and plush apartments, where dozens of cars were ruined by muddy brown floodwaters. Marines were posted outside stores to prevent further theft.
"Unfortunately, it wasn't looting from need of food. It was stealing for stealing's sake," said Mariberta Medina, head of a local hoteliers' association. "They even stole Halloween and Christmas decorations and an outboard motor."
Acapulco's tourist trade was already grappling with a surge in drug gang violence, which earned the city the dubious distinction of
— Phuket Gazette Editors

Join the conversation and have your say on Thailand news published on The Thaiger.
Thaiger Talk is our new Thaiger Community where you can join the discussion on everything happening in Thailand right now.
Please note that articles are not posted to the forum instantly and can take up to 20 min before being visible. Click for more information and the Thaiger Talk Guidelines.