THURSDAY MORNING NEWS BRIEFING – All your local news in 3 minutes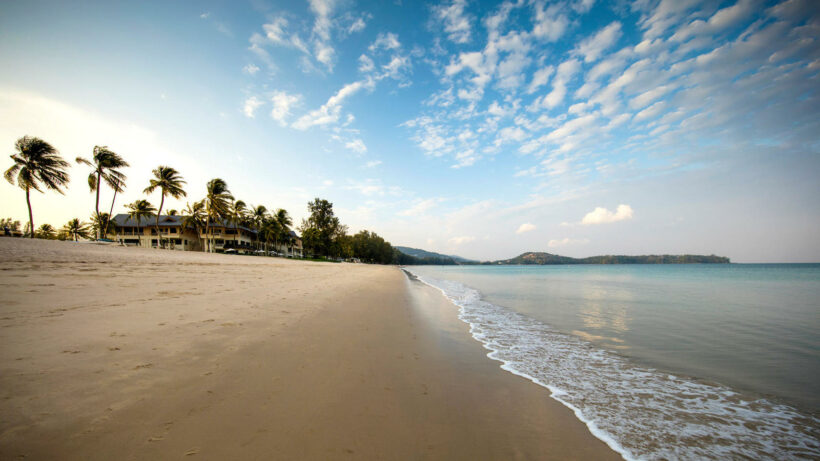 Today is the start of the Seven Days of Danger, one of two periods during the year when Thais, expats and tourists die in preventable road crashes. In large numbers. It's also the day when we're told we'll start to feel the effects of the weakening tropical depression Tembin which started off as a typhoon, killing 200 in The Philippines, before making its way east, passing over the Gulf of Thailand, and losing steam. What else is happening around Phuket and Thailand today?
Krabi locals crying foul over Palm Oil plant waste
Plaipraya District locals from Krabi are calling for help after the water in their local canal has become increasingly filthy and black because of the wastewater, they say, is coming from a palm oil factory in the area.
Apart from the smell and colour of the canal, a number of fish have also died in waterways a few kilometres around.
The Chief of the Krabi Provincial Office of Industry says that she knows about the issue and has asked the owner of the palm oil factory about the waste water. Officials say they'll follow up the problem.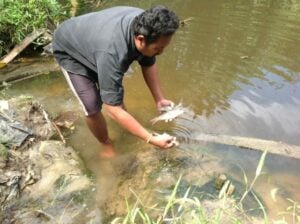 80 metre bridge takes 3 years to build. Now open.
The Chao Fah Mine bridge is now open linking Chao Fah West with Muang Chao Fah, the back-road that runs between the Honda Showroom and the Prince of Songkla University. The link from Muang Chao Fah runs in behind the King Power Duty Free Store and then over the 80 metre wide lake to a new intersection. The link's taken three years to complete.
Death toll in southern conflict at a 13 year low
Some rare good news out of the south where the death toll this year from an insurgency in Thailand's Muslim-majority southern provinces is the lowest since the conflict began 13 years ago.
Thailand's southernmost provinces abutting Malaysia have been in the grip of a low-level but bloody insurgency since 2004 and nearly 7,000 people have died. The majority of the victims are civilians — both Muslim and Buddhist — caught up in near-daily bomb attacks and shootings. Some 235 people died this year as a result of clashes between the Muslim-Malay insurgents and Thai troops and police, according to figures collected by conflict analysts Deep South Watch.
That compares to 309 in 2016, continuing a downward trend since 2014.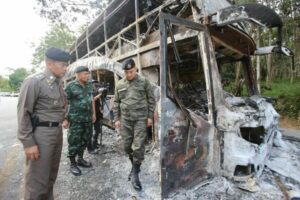 Soldier dies from injuries in Tuesday attack
Meanwhile, one of two paramilitary soldiers wounded during series of attacks in Narathiwat's Sisakhon district on Tuesday has succumbed to his injuries .
The deceased, 35 year old Kamjorn Tanma, a native of Chiang Mai province, was scheduled to wed his girlfriend today. Kamjon and another paramilitary soldier were riding with two regular Army soldiers in a pickup to buy supplies at a market when a group of heavily-armed militants opened fire on them from the roadside, injuring all four.
The other three are still recovering in hospital.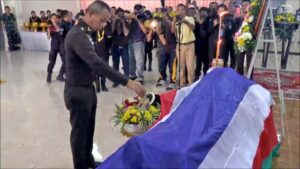 Army will confiscate your vehicle if caught drink-driving
The Army will continue to enforce traffic measures during the upcoming New Year holiday that will allow soldiers and police to confiscate the vehicles of drink-drivers, this from the Army commander in chief General Chalermchai Sitthisart.
He says the measure was adopted a few years ago and had been proven to be a deterrent with drink drivers.
The Army became involved in traffic control by the order of Prime Minister Prayut Chan-o-cha under Article 44. Tens of thousands of people are expected to leave the island and return to their home provinces during the holiday period.
The drivers, who will also be fined, will be allowed to get their vehicles back after the New Year holiday.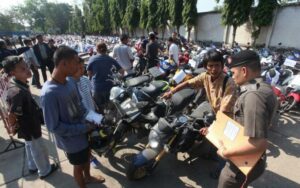 Honda driver has lucky escape
The driver of a Honda sedan narrowly escaped death yesterday after a container fell off a lorry and crushed his car on Nakhon Road in Nonthaburi province, just north of Bangkok.
Rescuers had to use a massive vice to rescue the injured driver. He was sent to a nearby hospital. Police were alerted about the accident shortly after noon and found the container on the roof of the Honda Civic, crushing the car almost entirely. You can see the photos at our Facebook page… It's a miracle the man wasn't killed.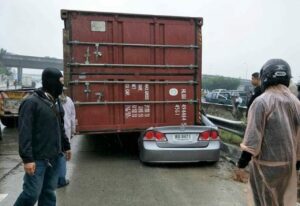 Australian grandmother cleared of drug trafficking in Malaysia
An Australian grandmother who said she was tricked into carrying drugs into Malaysia after falling for an online romance scam was cleared of drug trafficking charges, escaping a death penalty.
Maria Elvira Pinto Exposto wept and hugged her son after being found not guilty of smuggling crystal methamphetamine.
She was arrested in December 2014 while in transit at Kuala Lumpur airport with 1.1 kilograms of the drug stitched into the compartment of a backpack she was carrying. The mother of four argued she did not know about the hidden stash of "ice". She said she had been fooled into carrying the bag after travelling to China to see someone she met online called "Captain Daniel Smith", who had claimed to be a US serviceman.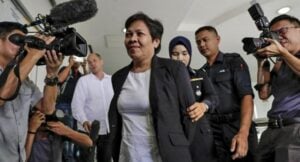 Keep in contact with The Thaiger by following our
Facebook page
.
Jump in national park visitor numbers as 'winter' arrives in northern Thailand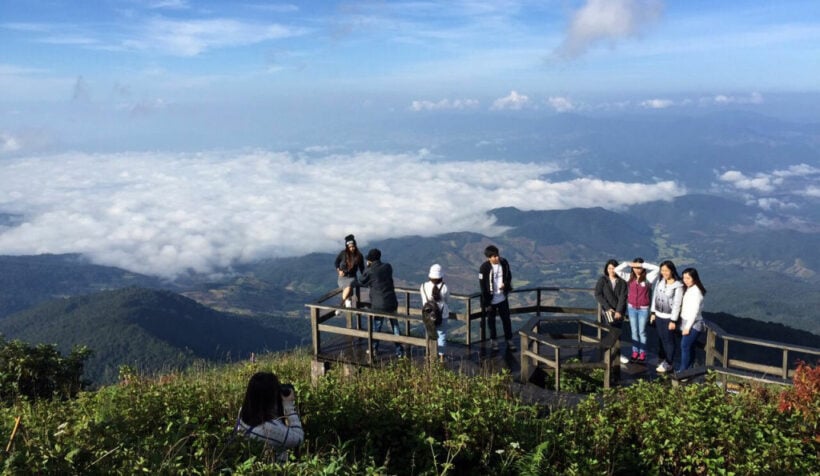 As northern Thailand moves into the 'cold season' (well, cold for Thailand) and temperatures drop, national park officials are reporting an increase in visitor numbers. Whilst the temperature is cooling down on the local northern mountain tops, the ground level temperatures are still around 30 (forecast below). But later in December the temperatures sometime reach as low as zero for places like Doi Inthanon.
The Bangkok Post is reporting that Kritsayam Khongsatri, Head of Doi Inthanon National Park in Chiang Mai says the park welcomed 21,994 visitors over the recent long weekend, over 7,000 a day.
Kritsayam says most of the visitors are Thais who enjoy camping in the colder weather, with average temperatures at the summit of Doi Inthanon, Thailand's highest mountain, being just 5-11 degrees Celsius.
Khao Yai National Park, north east of Bangkok, has also seen a significant increase in visitor numbers, with wild elephants coming out from the jungle to feel the warmth of the sun as temperatures dropped to below 20 Celsius yesterday.
"Visitors to the park are being asked to refrain from using car horns, or bright lights such as flashing cameras and full beam headlights to avoid disturbing the resident elephants."
Winter in northern Thailand typically sees a dip in temperatures and a decline in rainfall coupled with strengthening winds from the north.
SOURCE: Bangkok Post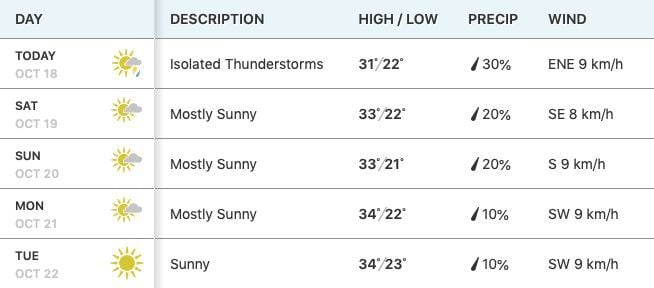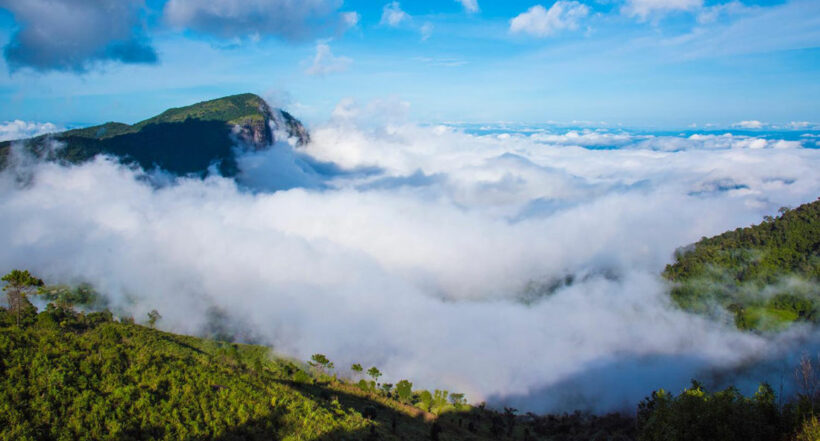 Keep in contact with The Thaiger by following our
Facebook page
.
Hostage drama in Chiang Mai – Man holds seven 7-Eleven employees hostage.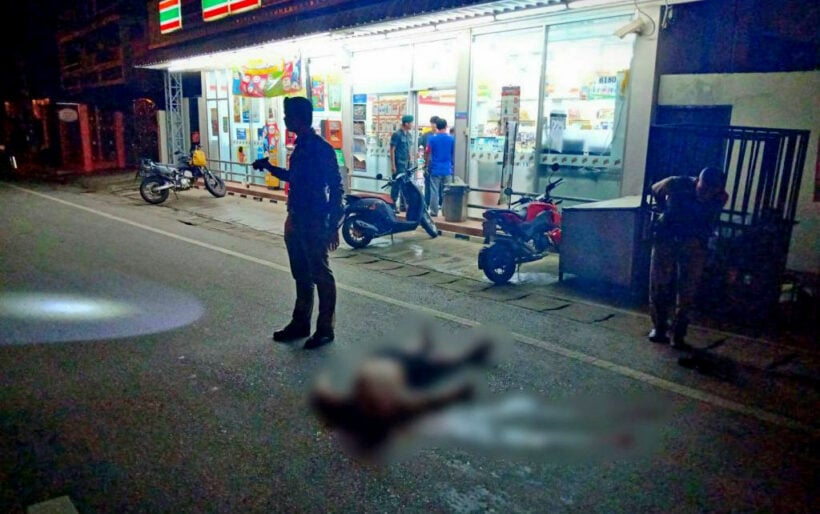 PHOTO: Chiang Mai City Life
A former Thai soldier has killed himself following a stand-off with police in Chiang Mai where he had taken seven 7-Eleven employees hostage. Eyewitnesses told Chiang Mai Citylife that a man with a gun arrived at the 7-Eleven in Mae Rim district on Chotana Road at around 5am yesterday and took one of the employees hostage.
The sergeant, who is described in reports as being "frantic and depressed", demanded that staff in the 7-Eleven live-stream the event on LINE, which they did.
Local police were called and were attempting to negotiate with the man when he shot himself in the head. Sergeant Punghong was rushed to Nakhon Ping Hospital where he later died from his injuries three hours later.
The dead man has been named as Sgt. Phongphan Kunhong, a 37 year old former soldier from Pha Mueang Force in the Chiang Rai district.
The soldier's superior confirmed to police that the man had been suffering from a depressive disorder. He died after several attempts to save him.
SOURCE: Chiang Mai City Life
Keep in contact with The Thaiger by following our
Facebook page
.
Less monitoring, more enforcement – Prawit warns northern officials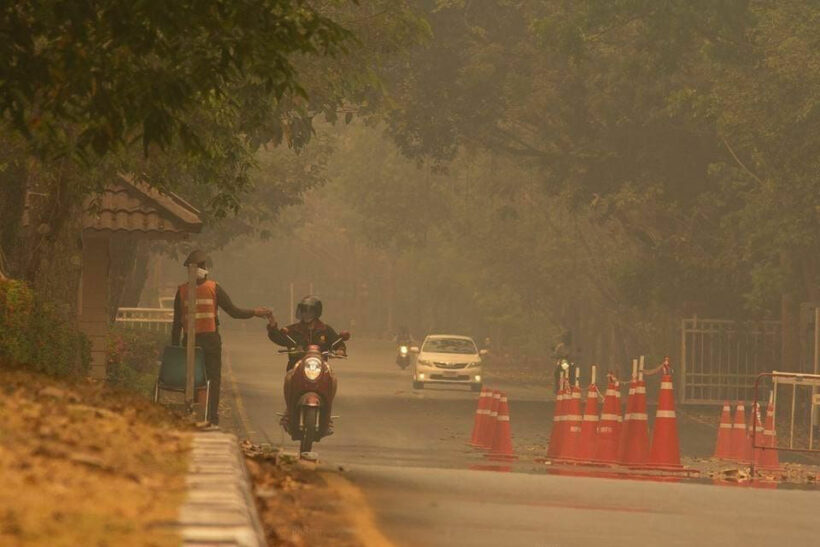 PHOTO: The Thaiger
Thai Deputy PM Prawit Wongsuwan and Natural Resources and Environment Minister Varawut Silpa-archa were in Chiang Mai yesterday to give provincial governors and state agency officials a 'heads up' in preparation for another looming season of forest fires and haze.
The North suffers perennial choking smog from approximately February to April, and Prawit passed on a message from PM Prayut Chan-o-cha who, he said, was fretting over the impact on people's health.
He said the Environment Ministry would take the lead in coordinating with neighbouring countries and related local authorities to monitor the fire problem both in and outside Thailand.
The fires are lit in northern Thailand, and over the border in Myanmar, as burn-offs to prepare for the next year's crops. Last year's choking smoke haze was headline news for months.
SOURCE: The Nation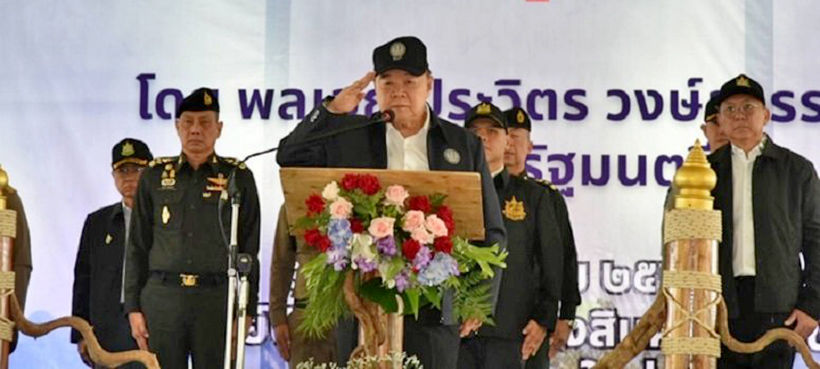 Keep in contact with The Thaiger by following our
Facebook page
.