Provincial Hall makes road safety top priority during holiday season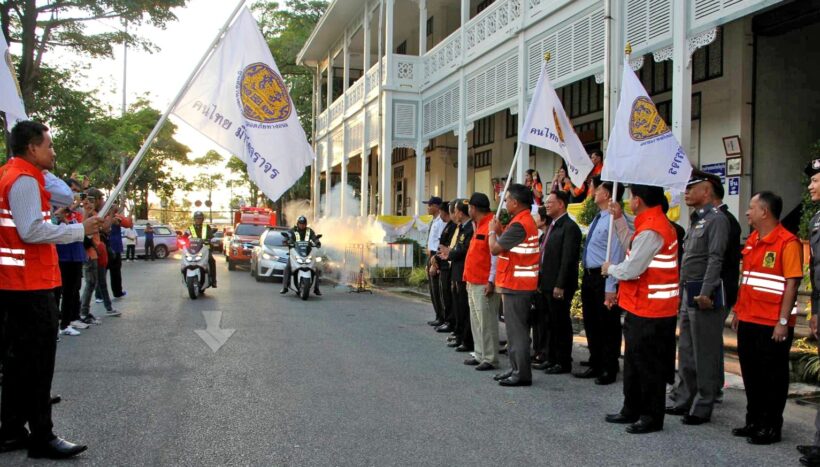 Phuket takes its turn to launch a road and marine accident prevention campaign for the new year season yesterday (December 27).
At Provincial Hall Phuket's Governor Norapat Plodthong hosted the launch of the campaign and led a parade that gathered officials from several Provincial departments, together with local foundations and volunteers.
"New Year is the festive time when people travel or head back to their hometown, making the traffic more congested and raising the risk of more accidents. From the statistics, the accidents are mainly caused by drunk driving, exceeding speed limit, improper condition of the vehicle, overtaking dangerously and exhaustion from driving.
The three vehicle categories that have the highest accident numbers are motorcycles, pickup trucks then sedans. We expect to reduce the amount of accidents from last year and would like all departments as well as people to help strengthen the traffic law enforcement," said the Governor.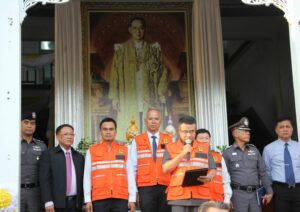 The Governor mentioned the 10 key laws to follow during the holiday period:
1. Do not exceeding speed limit
2. Do not drive / ride against the flow of traffic (ghost riders)
3. Obey all traffic signs
4. Fasten seat belt in the front and rear seats
5. Always take your driving license with you
6. Do not overtake at risky spots
7. Do not drink and drive
8. Always wear your motorbike helmet
9. Check the condition of your vehicle
10. Do not use mobile phone while driving
"There will be 4 countdown spots in the 3 districts: In Muang Phuket District, there are at Saphan Hin Cape, Karon Beach and Nai Harn Beach. For Kathu District, Patong Beach. In Thalang District, there will be a Buddhist religious ceremony overnight of prayers at Wat Tha Rua.
"The two types of activity – celebrating and driving on the roads – require an integrated approach from all departments to create adequate security and safety for revellers as there will be a large number of people participating."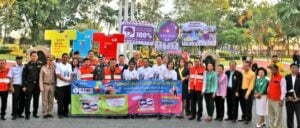 Keep in contact with The Thaiger by following our
Facebook page
.
Never miss out on future posts by
following The Thaiger
.
From 40 million visitors to 41: first STV tourists arrive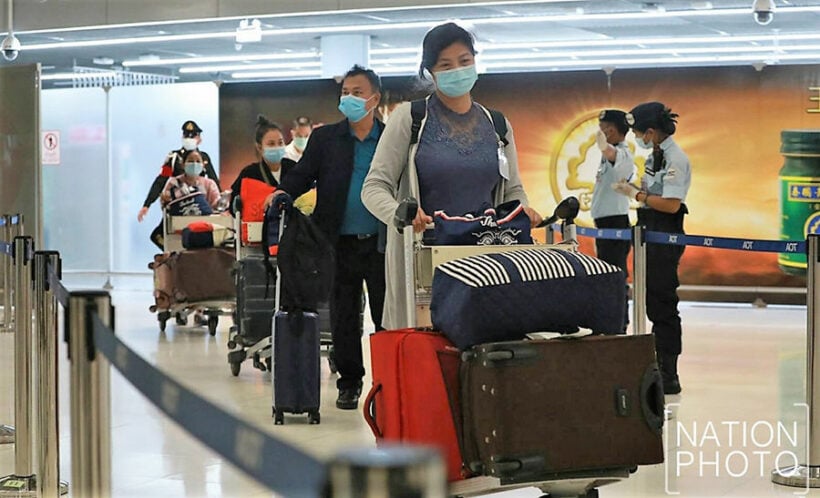 In 2019, almost 40 million tourists arrived in Thailand. Yesterday, it was 41. As the Thais say, cha cha… Thailand is slowly, slowly, re-opening its borders after the Covid-19 pandemic forced a total shutdown in March. Yesterday, the Kingdom welcomed its first tourists in 7 months, with the arrival of 41 Chinese tourists from Shanghai. The group landed at Bangkok's Suvarnabhumi airport on a chartered flight laid on by Spring Airlines, a low-cost Chinese carrier.
The visitors are here on the recently-launched Special Tourist Visa and upon touchdown, had to download a special app to track their movements while in Thailand. Yuthasak Supasorn, governor of the Tourism Authority of Thailand, also confirmed they will carry out 14 days' quarantine, before they are free to travel around. The STV grants them a stay of up to 90 days and can be extended twice.
"Most of them planned to visit the beach and they already reserved hotel rooms."
Meanwhile, the southern island of Phuket had been expecting to welcome around 120 Chinese tourists on October 8, but that visit never materialised, with various reasons given for the delay. Some officials pointed to the island's legendary vegetarian festival, which is currently underway, saying they did not want to deter domestic tourists who might be afraid of an increased risk of the virus. Others said it was simply because officials on the island wouldn't have the manpower to deal with both events. And others still pointed to the small matter of nobody having applied to come.
The STV scheme appears to be finally up and running however, even if Phuket appears to have been left out of the picture for now. Yuthasak confirms another 147 Chinese tourists are scheduled to land at Suvarnabhumi on October 26, adding (very optimistically) that they're expected to spend around 800,000 baht each while here.
Thai Airways has also confirmed it will bring 120 visitors from Shanghai to Bangkok on October 28. This group will consist of various categories, including tourists, repatriating Thais, and others arriving on medical visas.
In 2019, the Chinese made up the vast majority of foreign arrivals in the Kingdom, at around 10.99 million. Yuthasak is hopeful the return of international visitors is the beginning of the tourism sector's recovery. Be that as it may, it's almost certain there's a very long and winding road ahead.
SOURCE: Bangkok Post
Keep in contact with The Thaiger by following our
Facebook page
.
Never miss out on future posts by
following The Thaiger
.
Anti-Corruption Commission official sentenced for pointing loaded gun at taxi driver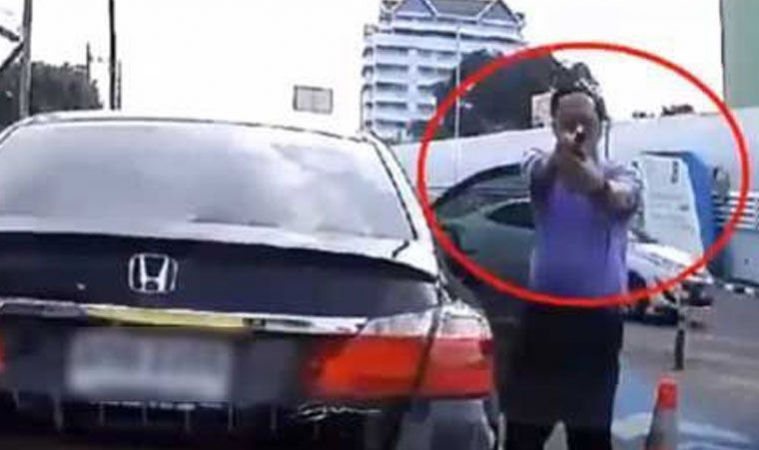 A National Anti-Corruption Commission senior official was sentenced by the Criminal Court to 1 year in jail with a 2 year suspension for pointing a loaded .38 Colt pistol, threatening a Bangkok taxi driver back in 2018. Nation Thailand called it a "very lenient" sentence.
The assistant secretary general of the commission, 54 year old Piset Nakapan, must also pay a fine of 31,000 baht. He was charged with weapon in violation of Section 309 of the Criminal Code, carrying a weapon in public, threatening others, and violating the Firearms Act.
Footage from the taxi's dashboard camera shows Piset getting out of his car and pointing the loaded gun at the taxi. He said to the driver, Pipat Seesa-on, "Why are you following me? Drive back and use another road."
At the trail, Piset confessed to the charges and gave Pipat 2,000 baht as compensation. Since he confessed, the court commuted his sentence in half, cutting down the 2 year jail term to just a year and a 62,000 baht fine down to 31,000 baht. His jail term is suspended for 2 years, with mandatory probation check-ins every 4 months.
SOURCES: Nation Thailand | Bangkok Post
Keep in contact with The Thaiger by following our
Facebook page
.
Never miss out on future posts by
following The Thaiger
.
Some tourism officials concerned with political climate, ask government to open dialogue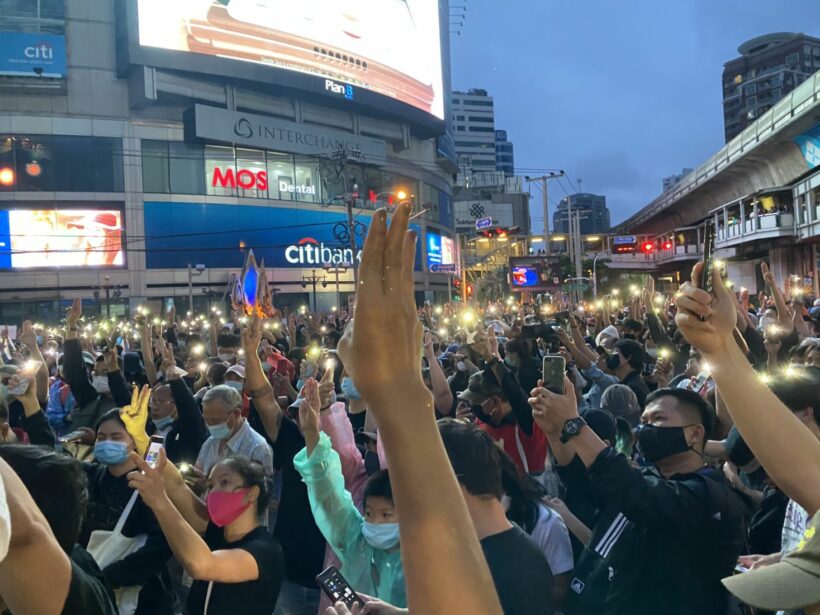 In the midst of Thailand reopening its borders to foreigners on the Special Tourist Visa, political protests have only grown in Bangkok and are now being held in cities across Thailand. Now tourism operators are worried and are asking the government to engage in dialogue with the protesters. President of the Tourism Council of Thailand Chairat Trirattanajarasporn says he's worried about another coup (Thailand's had 12 since 1932) being used to solve the problems rather than talking it out.
"If the situation's gone too far, I am concerned a coup will worsen the economy and affect the country's image on the global stage… A coup is not the ultimate solution to the problem."
Now that the protests are spreading across the country, Chairat says some tourist destinations could be impacted. In Bangkok, traffic has been blocked on busy intersections by thousands of protesters. BTS and MRT stations have also been shut down during some protests. He adds that people also tend to save their money during times of protest movements rather than spending it on trips.
"At this moment, the government has to show protesters and Thais the improvements they have brought about during the past 6 years, instead of harassing them for speaking up."
On the flip side, Tourism Authority of Thailand governor Yuthasak Supasorn says he's checked with TAT's 29 overseas offices that have been monitoring international feedback and no one has reported concerns with Thailand's political climate, adding that the visitors on the Special Tourist Visa are sticking with their plans to travel to Thailand.
"It is too early to assess the impact on tourism as mass gatherings have occurred recently and there has been no violence."
SOURCE: Bangkok Post
Keep in contact with The Thaiger by following our
Facebook page
.
Never miss out on future posts by
following The Thaiger
.