Striped dolphin washed up on Kamala beach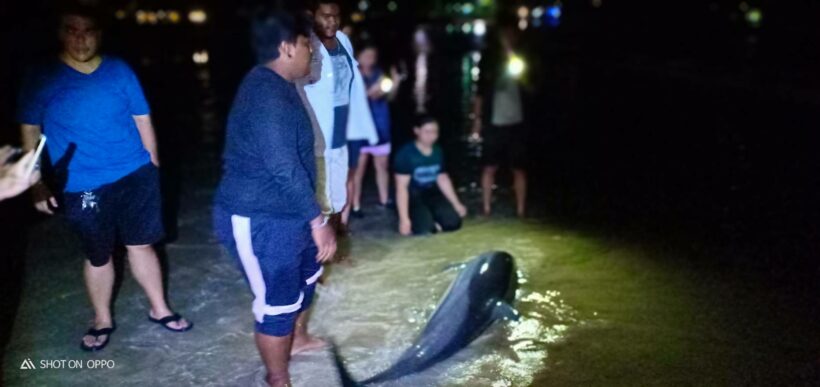 A weak striped dolphin has been washed up on Kamala beach this morning.
Rescue workers were notified that the dolphin was found on Kamala Beach near a public park early this morning (June 7). Rescue workers immediately informed officials at the Phuket Marine Endangered Species Unit.
Kamala rescue worker Kriengsak Boonlang says, "Locals, tourists and rescue workers were helping to support the dolphin in the water. A big wave washed the dolphin ten metres away from the shore whilst we were trying to assist. We jumped into a boat to fetch the dolphin back."
"The dolphin was weak and nervous. It took about two hours to take the dolphin carefully from the water and get it into the back of the pickup truck for transportation to a centre for care and rehabilitation."
Officials say the stripe dolphin is 15-20 years of age and weighed 70 kilograms and two metres long. Scrtaches were found on the dolphin. Veterinarians are now taking care of the dolphin and have conducted blood tests amongst other investigations.


PHOTOS: Kamala Rescue workers
WIKIPEDIA: The striped dolphin is one of five species traditionally included in the genus Stenella; however, recent genetic work by LeDuc et al.(1999) indicates Stenella, as traditionally conceived, is not a natural group. According to that study, the closest relatives of the striped dolphin are the Clymene dolphin, the common dolphins, the Atlantic spotted dolphin, and "Tursiops" aduncus, which was formerly considered a subspecies of the bottlenose dolphin. The striped dolphin was described by Franz Meyen in 1833. The specific name coeruleoalba (from Latin caeruleus 'dark blue' and albus 'white') refers to the characteristic blue and white stripes on the flanks.
Keep in contact with The Thaiger by following our
Facebook page
.
Another family kept apart by Thai red tape and quarantine confusion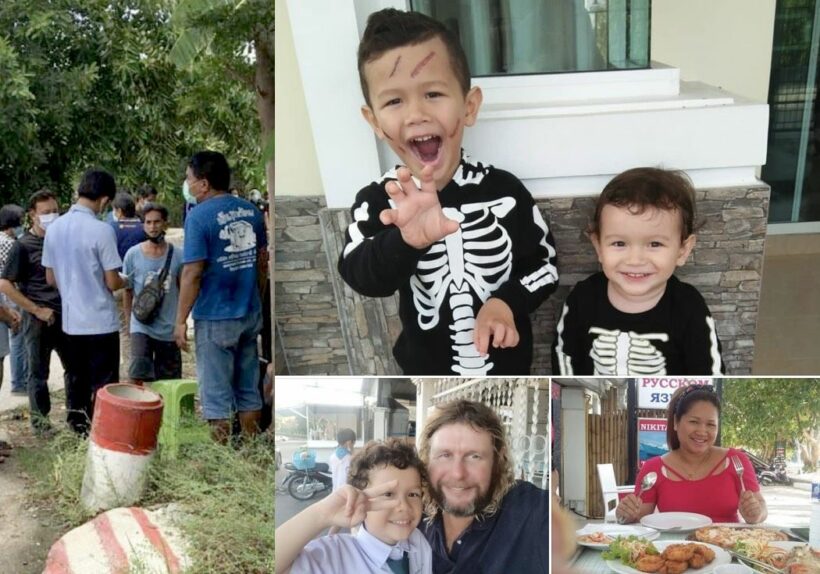 Sometimes you cross all the T's and dot all the I's and it's still not enough to satisfy the paper-pushers, especially at this disruptive time in Thailand, and everywhere else. One Australian father has ended up separated from his family – he's in Australia and his wife and 2 children are in Thailand being shuffled around Phuket and Bangkok in a Thai paperwork nightmare. Sam Kelly wants his family onto a repatriation flight being organised by the Australian Embassy out of Bangkok on June 6. For now, for reasons not immediately apparent, that's not going to happen.
"I just want to get my family out of quarantine and onto this flight. I understand that this is not normal circumstances. But the facts are: The Thai and Australian governments have put on this flight to repatriate citizens to Australia. The Thais and the Australians have already shown they can be flexible, but now it looks as though my family might miss this flight. They have been tested and are Covid-19 free."
The full story of Sam and his family's plight is below. But Sam is grateful for the help from Australian consular officials up to now.
"I want to thank all the Australian consular staff in Bangkok and Canberra that have been helping me. You have been a great help in a very difficult situation."
Sam's story is one among thousands of families separated by the lockdowns and border closures in Thailand, and around the world. The Thaiger believes Sam's wife and kids, and similar families, should be put on the top of the list of repatriation efforts when bans are lifted and flights resume.
The Thaiger hopes cooler-heads prevail in this case and that Sam, Kanny, Ronny and Adam are back together again soon.
Here is the full unedited text from Sam…
---
Help me get my family to Australia.
I'm one of the many offshore workers around the world that have been prevented from re uniting with their families
My base is in Phuket Thailand and has been for the last 15 years, I have a wife and 2 children. My wife's name is Kannika "Kanny" Polngam who is a Thai national and my 2 kids Ronald "Ronny" Kelly (2) and Adam Kelly (5), who are dual Thai and Australian citizens with passports.
On the 12th of February I left Phuket to go on a 4 week on 4 week off rotation. I saw the situation regarding Covid-19 was deteriorating, so I started the process of getting my family out to Australia. I chose to stay here in Australia, so I was available for work, and still be able to provide for my family.
On the 5th of March my kids were taken out of school in Phuket and very strict curfews were imposed to deal with the Covid-19 pandemic.
Flights in and out of Thailand all but stopped with the occasional charter/repatriation flight going out of Bangkok to a few different airports in Australia. I managed to secure a flight on only one of 2 flights from Thailand to Australia for the whole month of June. I spoke with Australian consular officials in Bangkok on the phone and was told that it was a good idea to get the family up to Bangkok in case they needed to do more paperwork, etc.
On around the 19th of May, I told Kanny to just lock the house up, throw away anything we don't need, just pack a few bags and drive off the island, stay with her parents in Bangkok and wait for the flight. She obtained permission from the Wichit Police Department in Phuket Town to leave the island and drive to make the long 12 hour drive to Bangkok. After being granted permission to get off the island my family was stopped at a Surathani checkpoint which is a few hours north of Phuket and directed to drive directly to:
Queen Sirikit Stadium
Klong 6, Tanyaburi, Pathumthani, Bangkok
When they arrived on the 21st of May they were all locked into a very small apartment that was once student housing at a university.
Kanny contacted the authorities and started to make noise. Everyone in my family has been self isolated for months. The kids actually had more people from the schools and government checking on their welfare in our Phuket house than in this little state sanctioned Bangkok student accommodation. No Thais authorities are checking on their welfare now, they just get a few bags of food thrown on their doorstop every day.
After Kanny made some noise the Thai authorities came and did a Covid-19 check on everyone. The results came back negative the next day and it was agreed that they would all be released and go to my mother and father in laws house nearby in Bangkok.
Now today it is Friday, my wife just got a phone call and one of the head honchos there by the name of Mr Boonlert, he has decided to revoke what he promised which was them being released into self isolation. The date that they will be released now is the 6th of June. This is one day after this flight leaves from Bangkok to Brisbane.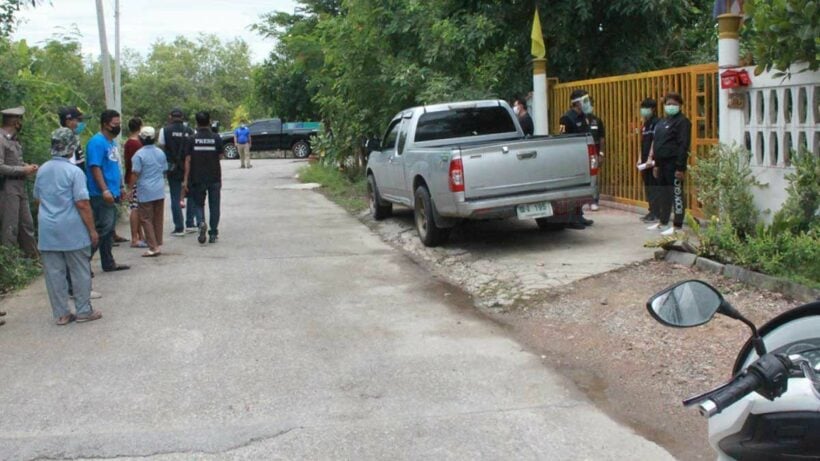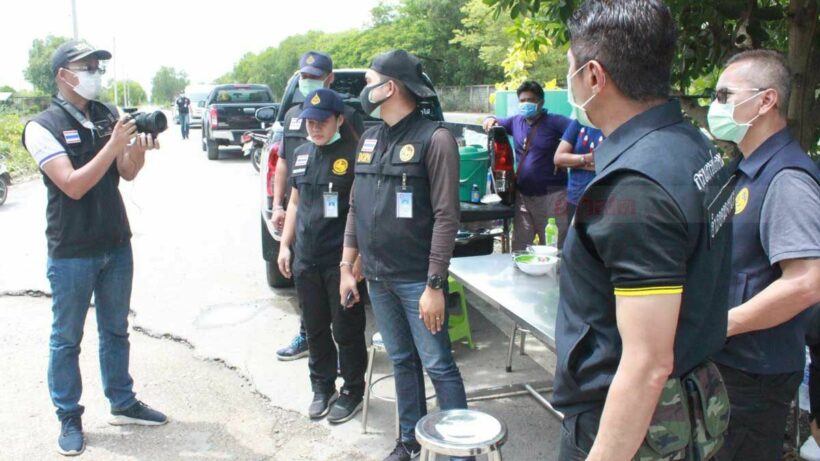 PHOTO: Kannika and the two boys are removed from the self-isolation they had been granted and returned to state quarantine – khaosod.co.th
During this time the Australian Consulate and the Australian Department of Foreign Affairs and Trade have been in touch with me stating, they cannot issue a ticket for my family to fly to Australia on this special flight until the family are out of quarantine. The Thai authorities have quite happily let people transit through Bangkok who have tickets out of Thailand, but as the Thai authorities have my family in detention, the Australians authorities will not issue a ticket to fly out.
So I am stuck between a rock and a hard place, my family has:
• Been in self isolation for months
• Been checked regularly by the Thai government and their school teachers doing home visits during the time schools closed on the 5th of March
• Have attended regular doctors appointments, including a health screen for my wife to apply for an Australian visa
• Have been in enforced state quarantine for over a week now and passed a Covid-19 test which was a horrible experience for them
• Look like they might miss one of the last flights back to Australia due to this Thai state quarantine period and if by some miracle they make the flight, they have the absolute joy of doing another 2 week quarantine in a hotel in Australia
Thousands of people have travelled to Bangkok from Phuket and none of them have been quarantined, the quarantine is actually a DISCRETION. There has been Australians being repatriated from Phuket, and they have been able to travel hassle free to Bangkok and wait for their flights out. Why are my kids the only Australians that have been locked up? I'm having serious concerns about their mental health at the moment.
All I want is the best for my kids, and neither the Australian or Thai public servants are providing that now.
These boys have not played with another kid or seen a blade of grass since the 5th of March, that means that if they went to Australia, it would be over 3 and a half months by the time they finished their last isolation period.
I have paid taxes in both countries for many years. I want some sort of communication between the Thai authorities and the Australian authorities.
Why are these Australian children being detained? They don't have Covid-19 and they need to get out of quarantine to get back to Australia on the 5th of June.
Keep in contact with The Thaiger by following our
Facebook page
.
Thailand News Today – Monday, June 1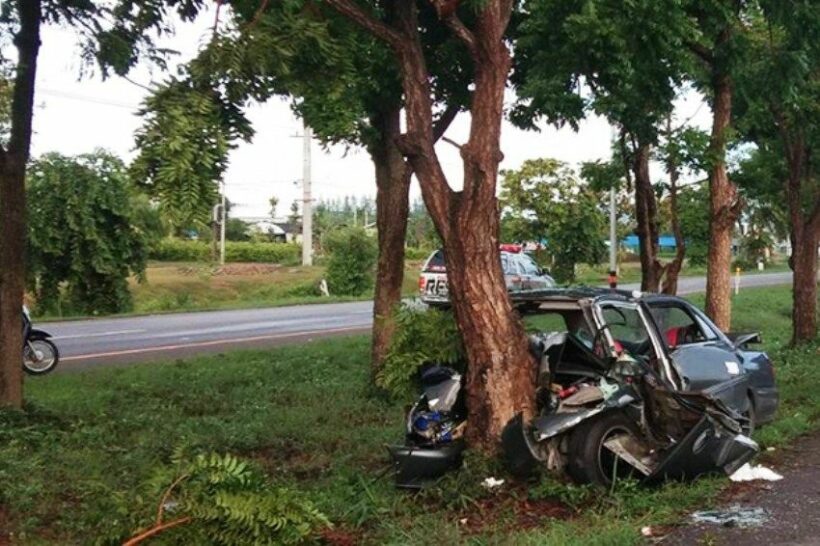 Returnees from UK found with high fever, hospitalised
Of the 251 Thais who repatriated from the UK yesterday 20 were found to have high fevers and rushed to hospital, according Suvarnabhumi Airport's deputy director.
The Thai Airways charter flight arrived at the airport at 2.20pm. Screening found that 20 passengers had high fever and they were rushed to hospital. 16 passengers also opted for the alternative 5 star state quarantine facilities, while the rest were transported to the government's specified facilities in Bangkok and Samut Prakarn.
A Korean Airlines flight arrived last night, also at Suvarnabhumi, bringing 194 Thais from South Korea. Screening officers found 13 of the passengers with high fever. 18 of them upgraded their mandatory 14 day quarantine at a designated hotel.
Thailand has registered on only new Covid-19 case today, another Thai returnee, this time from Russia.
No "new normal" for Thailand's deadly road toll
In what will come as no surprise to most, the death toll on Thailand's roads has resumed its upward trend after a brief interruption during the Covid-19 lock-down.
More people are back behind the wheel or the handlebars, and with that, the carnage has returned to Thailand's roads.
In Phuket, a truck ploughed into a power pole on Saturday, killing the Thai driver and a Burmese national who was hit by the falling power pole as he rode his motorbike on the opposite side of the road.
In the west of the country yesterday, a mother and 3 year old daughter were killed, when the car they were travelling in, left the road and slammed into a tree in Kanchanaburi.
Another accident in the south killed an 80 year old woman in Nakhon Si Thammarat, when the motorbike she was a pillion passenger on was hit by a car.
As of our recording time, 29 people have already died on Thailand's roads today and another 1,629 have been injured. Annually some 21,000 Thais die on the road, putting it into the Top 10 countries in the world for the most dangerous roads.
Police identify individuals seeking bribes from Pattaya hotels, no charges filed
Pattaya police say they've identified a number of individuals chasing kickbacks from hotels in exchange for being listed as a Covid-19 quarantine facility.
However, as none of the hotels involved have filed a complaint, the individuals in question have not been charged. Well, yet anyway.
With hotels across the city shut down as a result of the Covid-19 pandemic, some people have attempted to exploit the desperation of those in the hospitality sector. The statement from the Pattaya police comes in the wake of the government pledging to crack down on such extortion and identify those responsible.
Thai PM Prayut is pressing for legal action to be taken against those involved
Southern mayor backs bounty for shark hunt after boy's foot was bitten
People are searching for a shark after it apparently bit a boy's foot at a pier in the southern province of Satun. The local mayor even said he'll give a cash reward of 1,000 baht to whoever catches the shark. He even took a long tail boat out on Saturday afternoon to scope out the scene and try and track down the shark.
Last Thursday, a 12 year old was playing on the pier with two of his friends. Something bit him when he was swinging his legs in the canal. The boy is okay, but he needed 50 stitches (yikes!!).
Researchers from the Marine and Coastal Resources Department say the bite is most likely from a bull shark.
14,000+ people contract dengue this year
More than 14,000 people have contracted dengue fever and 11 have died so far this year, the country's north and east the hardest hit.
From Jan 1 to May 25 this year, 14,136 people were found to have caught dengue fever, or 21.2 per 100,000 population. Eleven people died from the disease during the period.
The five provinces with the highest numbers of dengue fever cases were Rayong, Chaiyaphum, Khon Kaen, Mae Hong Son and Nakhon Ratchasima.
25 arrested after police raid online gambling base in Mae Sot
Police arrested 25 people involved in online gambling after a raid Saturday night at a house in Mae Sot, Northern Thailand, right on the Burmese border.
Police also confiscated equipment used for the online gaming. Out of the 25 people arrested, 5 of them were Thai and the rest were foreigners, mostly from China.
Police seized 7 computers, 14 smartphones and 2,000 to 2,500 SIM cards. The gambling operation also has 50 bank accounts with a total of around 100 million baht.
Keep in contact with The Thaiger by following our
Facebook page
.
Black water pours into the Gulf of Thailand right next to Pattaya's Walking Street – VIDEO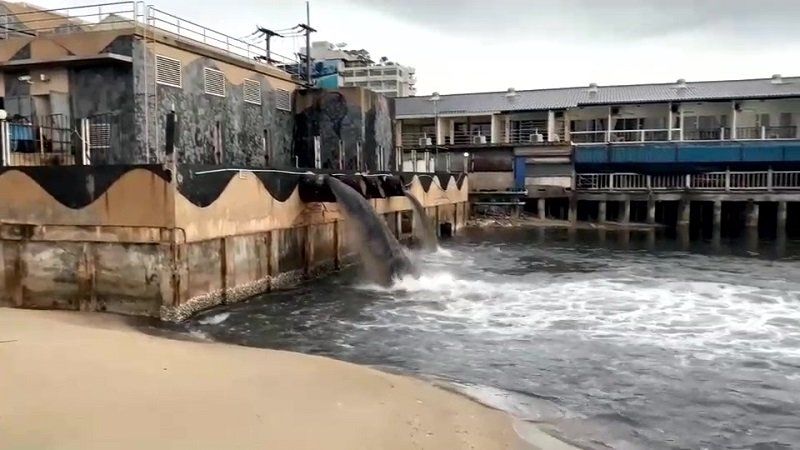 Just when you thought it was safe to go back into the water… some disgusting black water gushing back onto the Pattaya foreshore. It's meant to be the Gulf of Thailand, not the Black Sea. The video on the 'We Love Pattaya' Facebook page (below) showed the black water pouring into the sea from a pumping station near the entrance to Pattaya's Walking Street.
By the time reporters got there to collect more pictorial evidence, the damage done was evident although the flow of dirty water had stopped. Heavy rains from late last week had mixed with heaven-knows-what and ended up being deposited on Pattaya's foreshore, basically pristine up to this event after a 'rest' from tourists for nearly 3 months.
The local media called on Pattaya authorities to "act on the reports" but nothing is expected to happen. At this stage, seeing this video, social distancing may be more than just staying away from other people.
It seems the new Pattaya Beach Road drains are WORKING 🇹🇭🙏🇹🇭Big rain no beach road floods ❤️🤍💙

Posted by We Love Pattaya on Thursday, 28 May 2020
SOURCE: Thai Visa | We Love Pattaya
Keep in contact with The Thaiger by following our
Facebook page
.