One drowned, another still missing off Surat Thani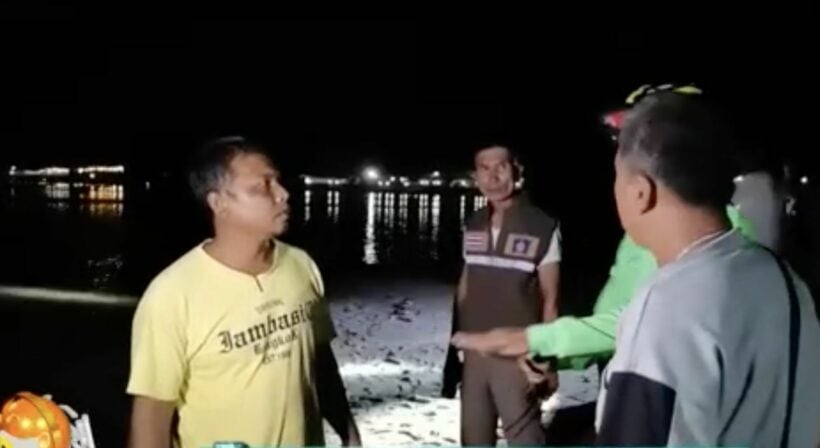 One person is still missing, one has been recovered and another person has drowned after a search for coastal molluscs and cockles went wrong in Surat Thani yesterday. A woman was reported as being washed out to sea and her daughter-in-law is still missing, while collecting molluscs at a Laem Pho beach in Chaiya district, north in Surat Thani province.
There was a "no swimming" sign on the shoreline.
59 year old Prayoon Sridaengma, her 33 year old son (reported as a 'nephew' in other media), and her 21 year old daughter-in-law, went into the sea to collect shellfish. The woman's husband and a grandchild remained on the beach.
Soon after heading into the shallows the husband noticed that the three had disappeared from view. The husband told police he believed they had been swept away by strong undercurrents.
Police called on a fishing boat returning to the shore to help search fro the missing trio. The crew pulled the mother and her son from the water. Here daughter-in-law could not be found at the time. The mother was already dead when she was pulled from the water. Her son was still alive and rushed to hospital. A search is continuing for the 21 year old daughter-in-law.
Thai-language video report from Channel 7 HERE.
SOURCE: Bangkok Post
Keep in contact with The Thaiger by following our Facebook page.
Never miss out on future posts by following The Thaiger.
Southern Thailand man arrested for allegedly selling protected animal carcasses online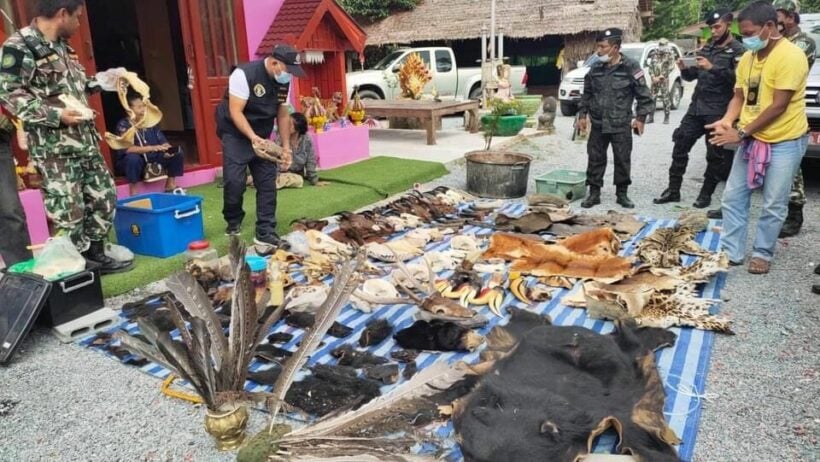 Wildlife protection officials arrested a man for allegedly possessing and selling protect animal carcasses. The Phaya Susa National Park and Wildlife Protection Unit raided the 32 year old man's home in the southern province Phatthalung and seized 31 protected animal carcasses. Under the Wild Animals Conservation and Protection Act, possessing and selling animal carcasses of protected animals carries a penalty of up to 15 years in prison and a fine up to 15 million baht.
Officers say the carcasses were protected birds, including the great argus, purple swamphen and hornbill, as well as protected wildcats including the Asian golden cat, leopard, clouded leopard and tiger. Other protected animals include the Asian black bear, honey bear, serow and Javan pangolin.
The unit says they had arrested a hunter back on January 20 in the Ratchaburi province which borders Myanmar. Officers say they believe the hunter supplied the animal carcasses to the man in Phatthalung, identified by the name Sitthichai, who then allegedly sold the carcasses online.
At Sitthichai's home, officers say they also found carcasses of non-protected animals like deer, elephants, crocodiles and turtles.
SOURCE: Nation Thailand
Keep in contact with The Thaiger by following our Facebook page.
Never miss out on future posts by following The Thaiger.
Surge of violence over the weekend in Thailand's deep south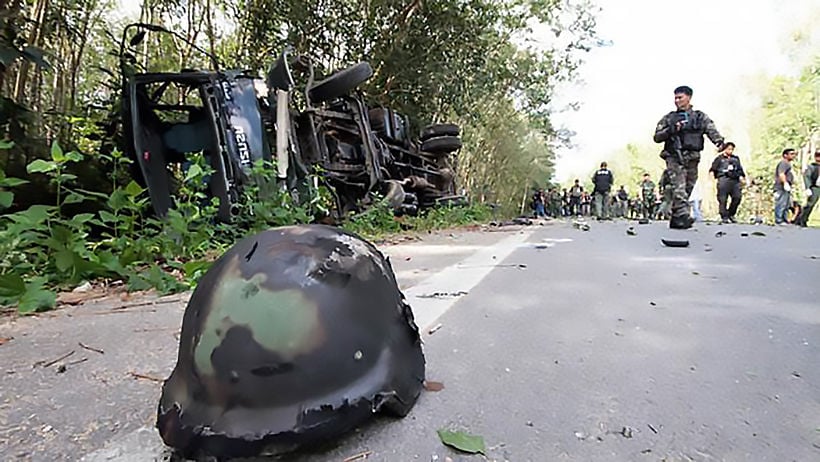 Multiple shootings and attacks on rangers and police officers were reported over the weekend in Narathiwat, a province in Thailand's deep south bordering Malaysia that has been plagued with violence for years due to the religious separatist insurgency. In one recent report, the Bangkok Post said the attacks are part of a "fresh wave of southern violence."
Last night, a gunman fired shots at the Bacho police station. No officers were injured. Bullets from the gun hit a power pole, signboard and a parked car outside the station. Officers investigating the scene found round 20 spent cartridges of M16 and 9mm ammunition by a nearby home.
The Bacho police chief Dulyaman Yaena suspects the shooting is related to an incident from over the weekend where a grenade exploded at a police residence in the Rueso district. The explosion damaged 3 vehicles. No one was injured.
In another incident over the weekend, 2 rangers were injured in a bomb explosion while riding in a pickup truck in the Rangae district. Rangers called to the scene to investigate found pieces of an improvised explosive device, or IED, made from a 25 kilogram gas cylinder. The rangers were sent to Rangae Hospital.
A police checkpoint between Narathiwat and Pattani was ambushed on Saturday. Assailants fired 20 shots at police. No one was injured.
SOURCE: Bangkok Post
Keep in contact with The Thaiger by following our Facebook page.
Never miss out on future posts by following The Thaiger.
Thai school director resigns after sexual abuse and firearms charges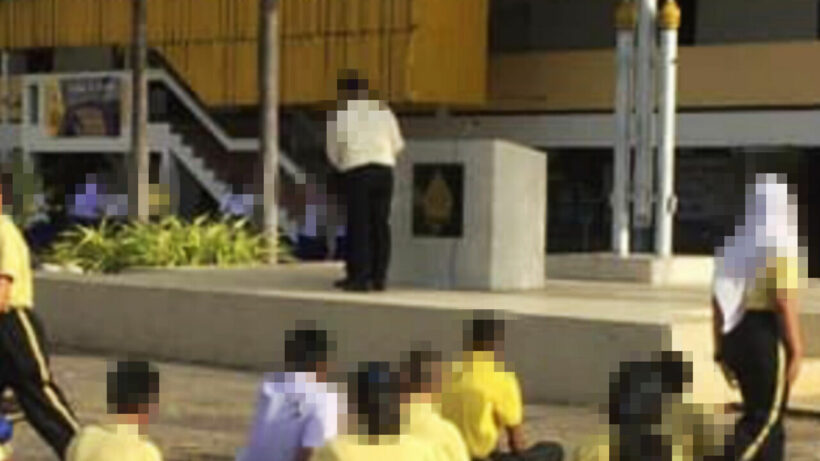 The school director who pulled out a gun during a school assembly amid allegations that he sexually abused a student has resigned. After a student's mother filed a police complaint accusing the director of rape and depriving a child of parental protection, 60 year old Sayan Chaleephol made a public apology at a school assembly for his "personal problem" and started to pull out a gun from his waistband. Students fled, but it appeared Sayan intended to hurt himself rather than the students.
The school director allegedly sexually abused a Mathayom 3 (grade 9) student at Thepha School in Songkhla's Thepha district. Along with sexual abuse charges, Sayan now faces charges of carrying a firearm in public. He submitted a resignation letter to the Zone 16 Secondary Education Office on Friday.
The resignation does not affect the disciplinary investigation against Sayan and he is found guilty, then he can be dismissed from government service, according to the education office's director Sangkorn Rakchuchuen.
SOURCE: Bangkok Post
Keep in contact with The Thaiger by following our Facebook page.
Never miss out on future posts by following The Thaiger.