Koh Tao businessman's death was suicide – Surat Thani police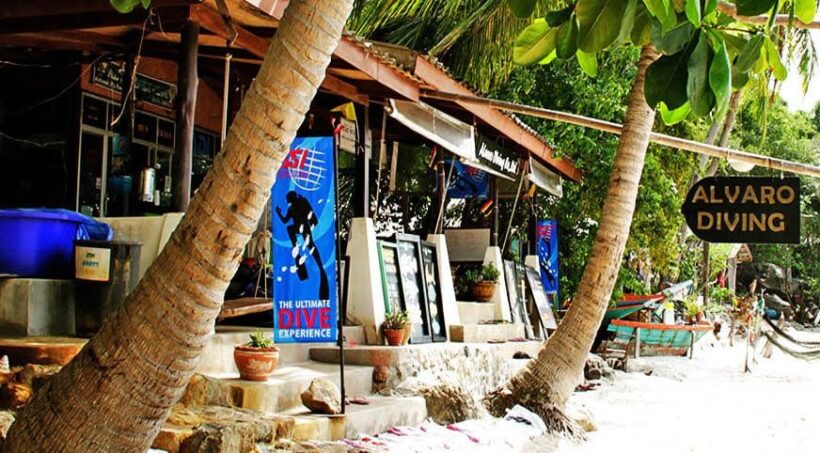 PHOTO: The Alvaro Diving shop on Koh Tao owned by Pattarapol Ekpathomsak
Investigating police are ruling a Koh Tao businessman's death as a suicide. The man yesterday threatened to kill himself on a Facebook Live post then, when he'd ended the post, went ahead with his threat.
The man's name is Pattarapol Ekpathomsak. He owned a diving school, shop, bar and several restaurants on Koh Tao, according to investigating police in Surat Thani.
He claimed he was having business and personal issues in the weeks before yesterday's incident.
"It was clearly a suicide," according to Surat Thani police chief Sirichai Songwasin, as quoted in Khaosod English.
The 47 year old had also written a series of suicidal messages in the days prior to his death. They were posted in various social media. One of the posts was title 'Last supper'.
Pattarapol was sitting on the end of a bed dressed in a biker suit addressing his Facebook Live audience. He turned off his camera before shooting himself in the head. Police arrived at the man's house and discovered his body. In his left hand there was a fabric doll, with a note reading: "Don't hold any funeral. Just burn my body and throw my gun in water". There were also messages scribbled on mirrors in the man's bedroom.
Pattarapol Ekpathomsak had two children but mentioned in some of his posts that he washing marital issues.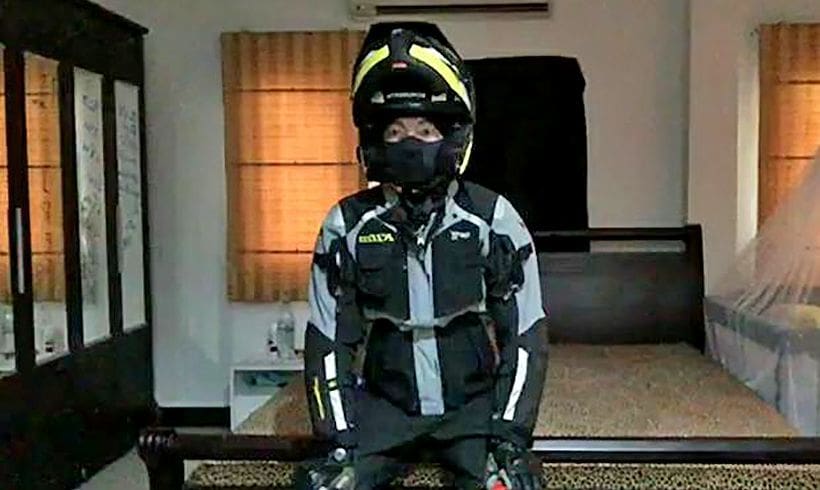 Screenshot from Facebook Live post


Read more headlines, reports & breaking news in Koh Samui. Or catch up on your Thailand news.
Raid on 18 foreign-owned Koh Samui hotels, owners arrested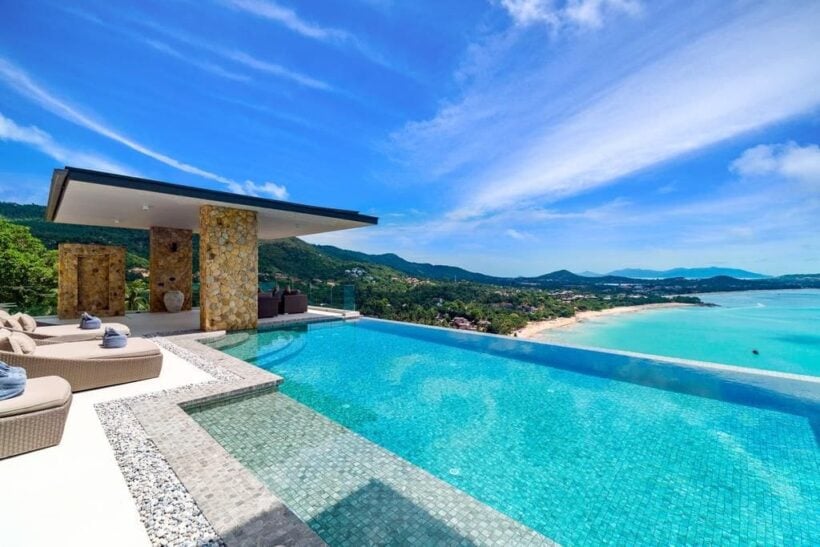 FILE PHOTO
Army, police and municipal officials have raided 18 hotels on Koh Samui claiming that they are illegally owned by foreigners. The hotels in questions are on a mountainside on the Gulf island, the second largest island in Thailand.
Officials carried out the search and raids on Chaweng Noi Mountain in Moo 6 village in Tambon Bophut  and found that 18 luxury mansions had been modified as hotels to cater to foreign tourists.
None of the 18 hotels were licensed and all are co-owned by businessmen from several countries, according to officials, including the UK, Germany, France, Russia, Belgium, Israel and Austria. Officials said the foreigners used Thais as nominees by stating their names as co-owners.
The inspection was carried out following complaints from licensed hotels that they had seen a large decrease in patrons after the new hotels began operating. Hoteliers said the new hotels had an unfair advantage because they were not paying the same taxes, or operating under the sale rules, as the licensed hotels.
Officials found the 18 hotels had proper land deeds but had not been registered as hotels.
Bophut police station took legal action against foreign executives of the four companies that were operating four of the 18 hotels. They have been charged with operating without a hotel license and working in a business – food and beverage – that is reserved for Thais.
Police said they will summon executives of the remaining 14 hotels to face charges. The executives are all living abroad.
SOURCE: The Nation
Massive fire at Koh Samui incinerator – VIDEO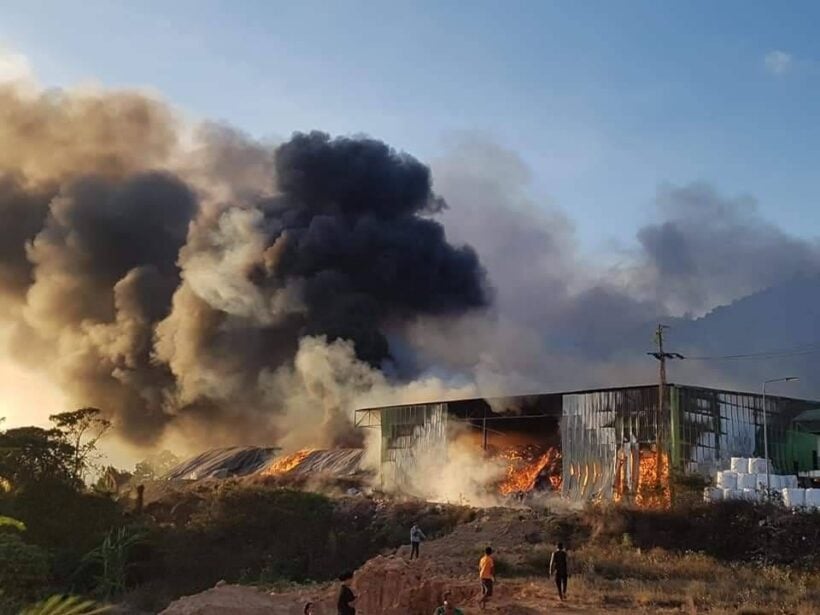 PHOTOS/VIDEO: The Government Public Relation Department Region 5
An incinerator caught fire on Koh Samui, off the coast of Surat Thani last night.
"That's what incinerators are meant to do," we hear you cry. But this one was totally out of control destroying the entire structure.
The Government Public Relation Department Region 5 reports that the fire started at the incinerator at 6pm last night. The fire spread across the facility, an area of 50 x 100 metres.
Seven fire units along with five water trucks arrived at the scene. Fire fighters took about four hours to get the fire under control.
Surat Thani Governor Wichawut Jintoe inspected the scene last night. No deaths or injuries were reported.
At this stage it is believed that the fire might have started from a combination of hot weather, festering garbage and the strong winds.
Forensic Police are on location today to investigate the cause of the big fire.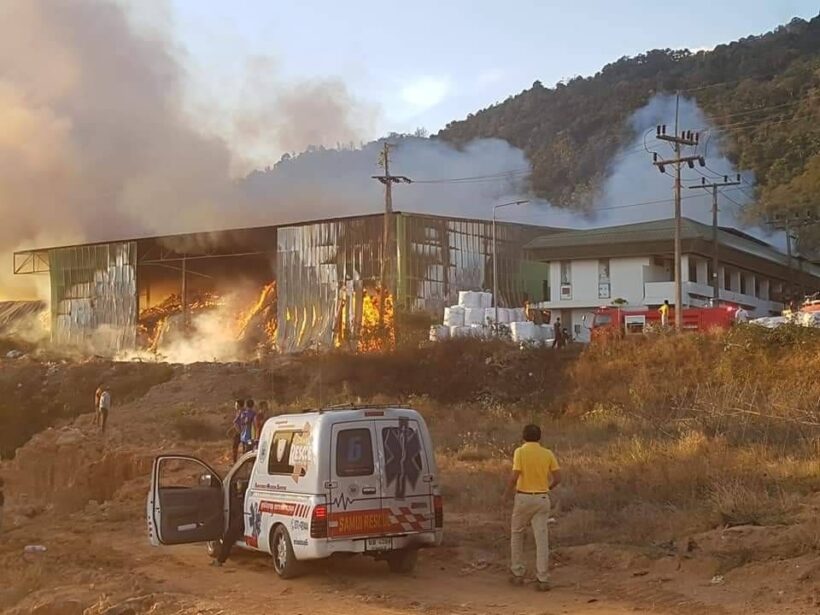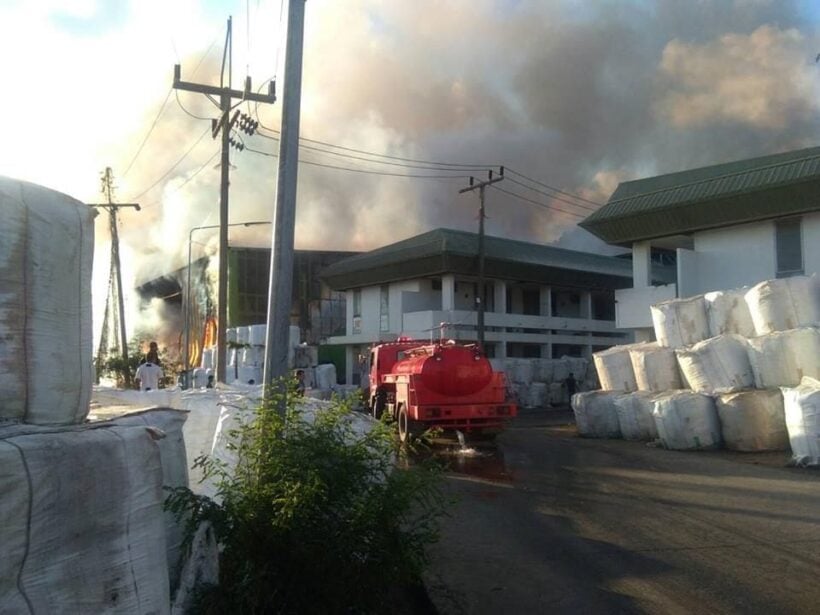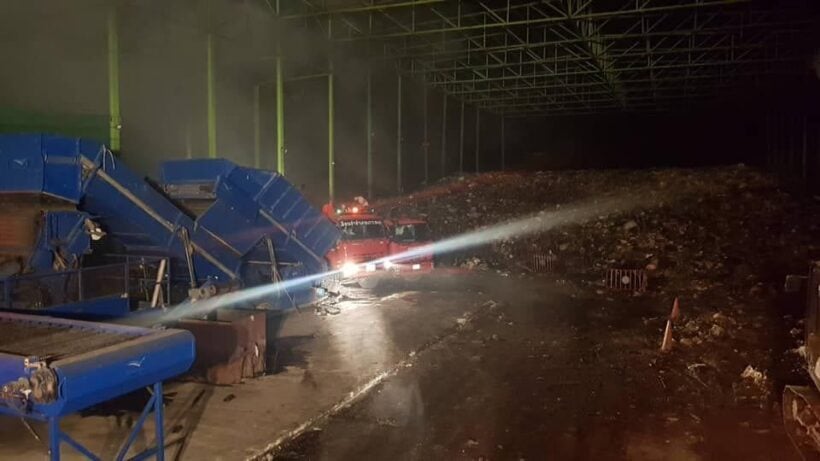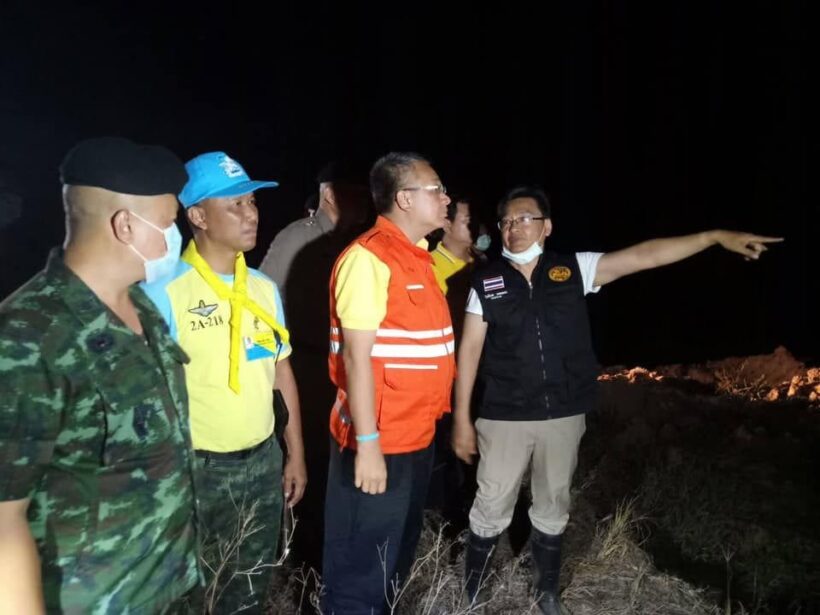 The 'Fun Police' crackdown on posting 'lewd' Songkran pics and video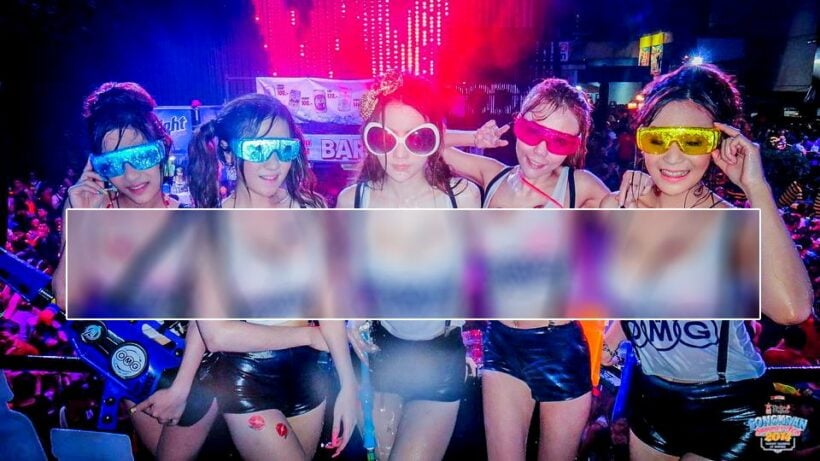 The Thai police have become Thailand's fun police today as they warn Songkran revellers against posting photos of scantily clad people, or 'invitations' to consume alcohol'… pretty much everything you see during the madness of Songkran festivities in the main tourist hot spots.
"No photos, video clips of live broadcasts of nudity, lewd acts or inviting consumption of alcohol should be published on Thai social media during Songkran."
Such actions are illegal and punishable with a fine and/or a jail term, the police said yesterday.
Pol Colonel Siriwat Deepor, the deliverer of the fun-suppression warning and deputy commander of the Technology Crime Suppression Division, says that previous Songkran festivals often saw inappropriate photos of young women and ladyboys posted on Thai social media (no mention of inappropriate photos of men).
He urged revellers to mark the Thai traditional New Year with polite cultural activities and refrain from any risky behaviour that could lead to violations of the Computer Act and related laws.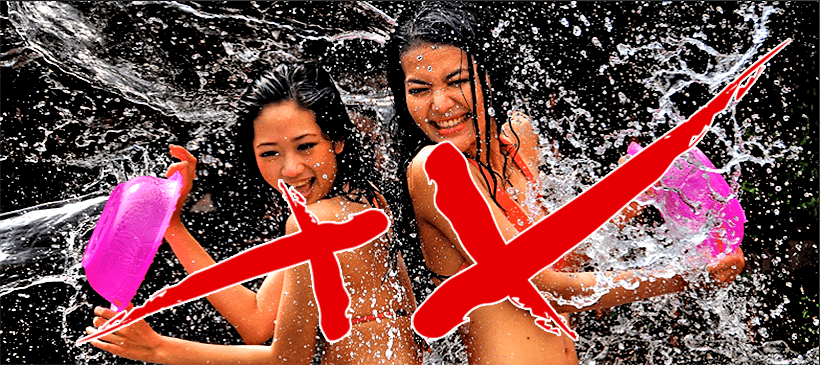 Siriwat explained that if pictures or video clips of Songkran revellers wearing "sexually-provocative clothing" were posted online, those posting or sharing them could be charged with violating the Computer Act and subjected to a maximum five-year jail term and/or a maximum 100,000 baht fine.
Those captured by photographs or video clips could also be charged with performing a shameful act in public by indecently exposing themselves or committing other indecent acts under the Criminal Code's Section 388, which carries a maximum fine of 500 baht.
But he went on… Social media posts inviting others to drink alcohol was also subject to a maximum one-year jail term and a maximum 500,000 baht fine.
Other indecent posts or live streaming deemed against society's good morality and the law could also face legal action, Siriwat added.
Police said officers will be monitoring Thai social media closely during Songkran in order to speedily investigate potential violations and prevent other viewers, especially youngsters, from copying indecent behaviour.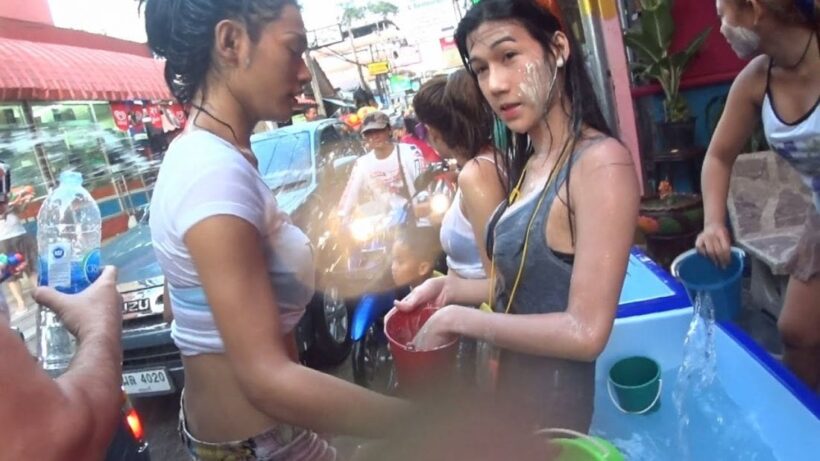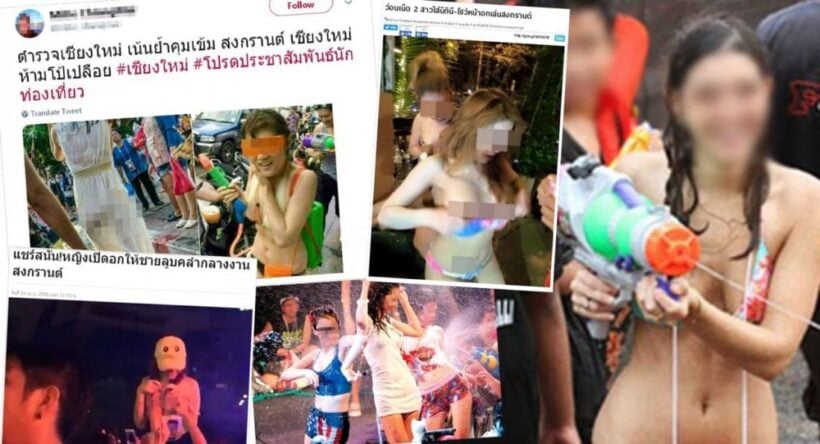 SOURCE: The Nation