Koh Tao businessman's death was suicide – Surat Thani police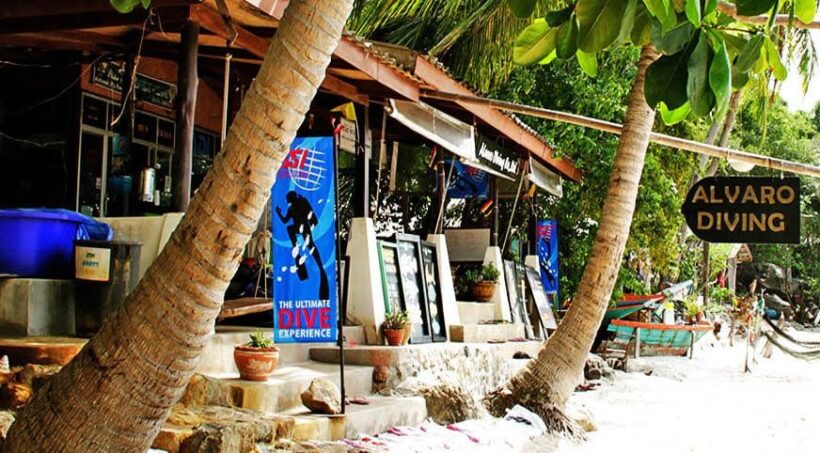 PHOTO: The Alvaro Diving shop on Koh Tao owned by Pattarapol Ekpathomsak
Investigating police are ruling a Koh Tao businessman's death as a suicide. The man yesterday threatened to kill himself on a Facebook Live post then, when he'd ended the post, went ahead with his threat.
The man's name is Pattarapol Ekpathomsak. He owned a diving school, shop, bar and several restaurants on Koh Tao, according to investigating police in Surat Thani.
He claimed he was having business and personal issues in the weeks before yesterday's incident.
"It was clearly a suicide," according to Surat Thani police chief Sirichai Songwasin, as quoted in Khaosod English.
The 47 year old had also written a series of suicidal messages in the days prior to his death. They were posted in various social media. One of the posts was title 'Last supper'.
Pattarapol was sitting on the end of a bed dressed in a biker suit addressing his Facebook Live audience. He turned off his camera before shooting himself in the head. Police arrived at the man's house and discovered his body. In his left hand there was a fabric doll, with a note reading: "Don't hold any funeral. Just burn my body and throw my gun in water". There were also messages scribbled on mirrors in the man's bedroom.
Pattarapol Ekpathomsak had two children but mentioned in some of his posts that he washing marital issues.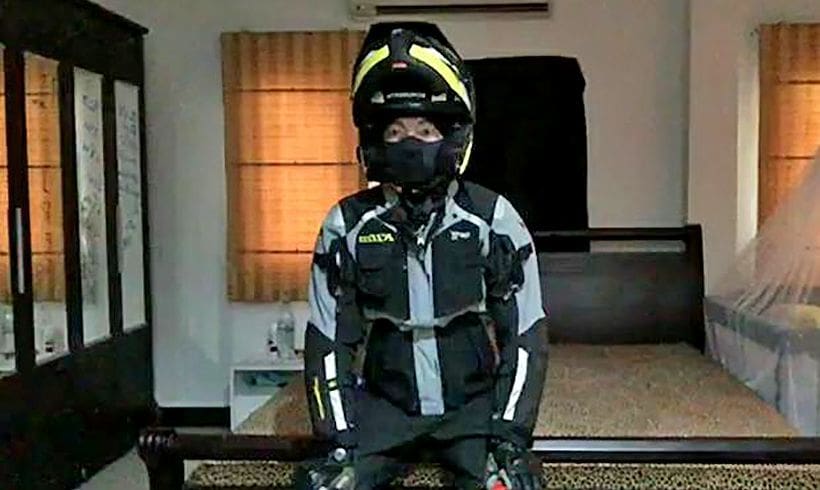 Screenshot from Facebook Live post


Read more headlines, reports & breaking news in Koh Samui. Or catch up on your Thailand news.
British man pioneers cannabis tom yum, police are not happy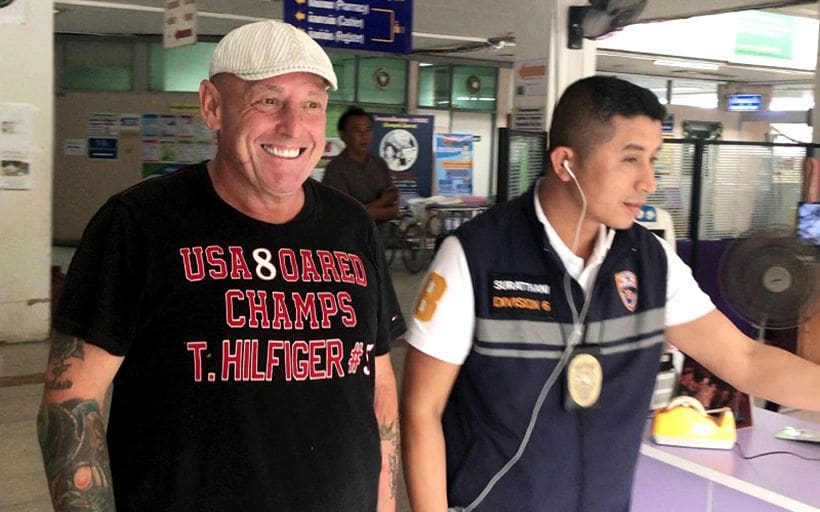 PHOTO: Khaosodenglish
A 58 year old real estate developer, living in Koh Samui for 22 years, is facing some trouble with the police for his 'medicinal' innovations in the kitchen.
Police have arrested and charged Gary Coughlan with drug offenses after they noticed he was acting a little 'unusual and erratic' this morning (Wednesday). He later tested positive for drug use.
Khaosod English reports, that when questioned by the police, he admitted to having tom yum goong shrimp soup infused with cannabis, apparently he praised its benefits for good sleep.
Coughlan also told police that he had obtained the marijuana from a Thai friend.
Thailand has recently legalised medical marijuana, yet unauthorised use still remains illegal and culprits face jail time up to one year.
Judging by the look on Gary's face we can assume he was happy with the results of his kitchen experiments.
SOURCE: Khaosodenglish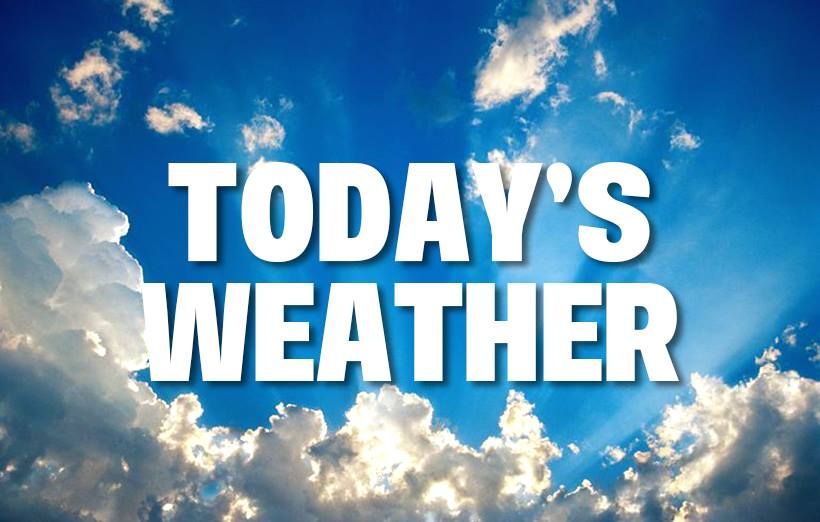 Bangkok
Morning clouds followed by afternoon sun. High 33ºC. Winds NE at 10 to 15 km/h.


Chiang Mai
Generally clear. High 30ºC. Winds ESE and variable.


Phuket
Afternoon showers. High 31ºC. Winds NNE and variable. Chance of rain 40%.


Ko Samui
Thundershowers. High 25ºC. Winds ENE at 10 to 15 km/h. Chance of rain 40%.


Pattaya
Partly cloudy. High 32ºC. Winds NW at 10 to 15 km/h.


Songkhla
Thunderstorms developing in the afternoon. High 29ºC. Winds ENE at 15 to 25 km/h. Chance of rain 80%.


French woman found floating off Koh Samui beach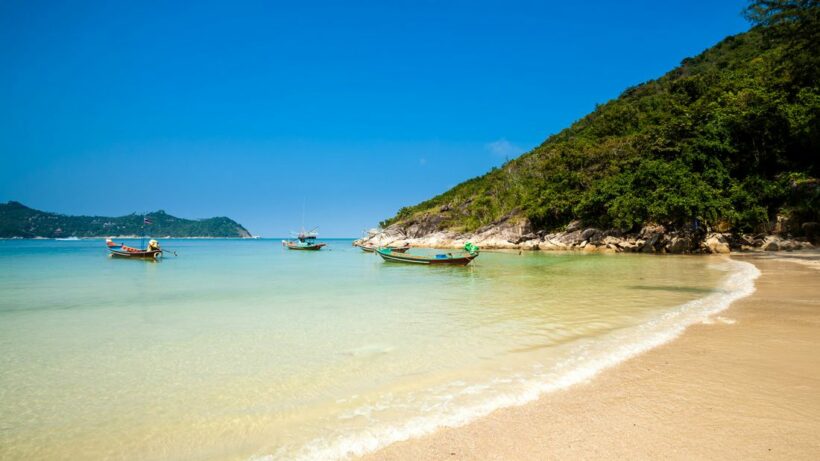 Samui police report that the body the body of 42 year old Maud Isabeile Bailley was found floating at sea off Ao Thongket beach around 2.30 pm yesterday (Tuesday).
The body was first seen floating by hotel staff who called police and rescue workers. Responders then brought the body back to shore.
A friend of the deceased has identified the body. She said that they had both lived on the island for almost two years learning Thai at a language school.
The friend said that Maud often complained about her family and her health and that that yesterday morning they had both visited a waterfall before she left on a bike.
The cause of death is under investigation by the police.
SOURCE: Bangkok Post