French tourist dies taking selfie in Koh Samui – VIDEO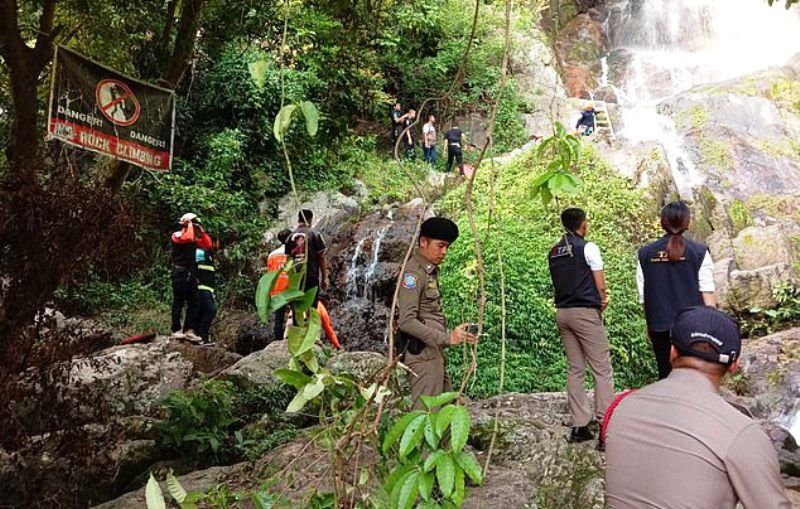 A French tourist has died attempting a selfie, in the exact spot where a Spanish tourist died just months ago. Read that story HERE.
Thirty three year old Bastien Parmier plunged to his death while trying to take a selfie at the Na Mueang 2 waterfall in Koh Samui. It was the same spot where Spaniard David Conesa died in July.
Local authorities say the area has "no entry" signs and a physical barrier (a rope) but tourists often ignore them".
Koh Samui tourist police told reporters that some tourists may want to get better photos, but it's quite steep and slippery there and he slipped. The man was in Koh Samui visiting a friend who'd recently moved to Thailand. The friend told authorities he warned Palmier about the danger but he jumped over the rope anyway.
Mr. Parmier was climbing near the edge of a cliff when he slipped, hitting his head on the sharp, wet rocks and falling into the pool below.
Samui Police say retrieving the body took more than three hours due to the slippery rocks and dangerous conditions. His body was finally tied to a stretcher, which was dragged up with ropes.
SOURCE: Chiang Rai Times
Keep in contact with The Thaiger by following our
Facebook page
.
Over 50 Chinese youth arrested for running scam call centre from Samui hotel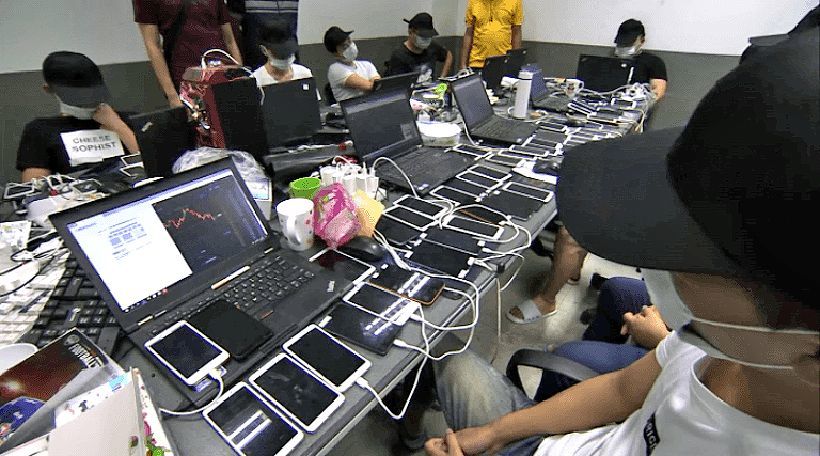 PHOTOS: CTN News
54 enterprising teenagers, most from China, have been arrested for running a call centre scam from a Koh Samui resort. The Chiang Rai Times reports that the arrests happened after police received a tip-off from a Chinese person who had worked for the call centre.
Police say the Chinese teenagers were enticed to come and work for the gang, which was running over 100 chat rooms tricking victims into parting with their cash. Workers at the call centre were given a target of 5 million baht to be raised from each person they spoke to.
Part of the con consisted of persuading other Chinese nationals to invest in fake stocks. Once the victim fell for the scam and transferred the funds, the app being used was closed down.
The gang leader is reportedly still at large and in possession of the Chinese teenagers' passports. Police believe he has not left Thailand. Meanwhile, the 54 workers have all been charged with working illegally in Thailand.
In another bust in Bangkok yesterday, 24 Chinese people were arrested for running another call centre that duped fellow nationals into investing in a cryptocurrency-style scam. It's understood the scam had been running since March.
The workers were arrested at various rental properties around the capital, with more than 500 mobile phones and dozens of computers seized. Immigration Police say they're working to identify any Thai nationals who may have been part of the operation.
SOURCE: Chiang Rai Times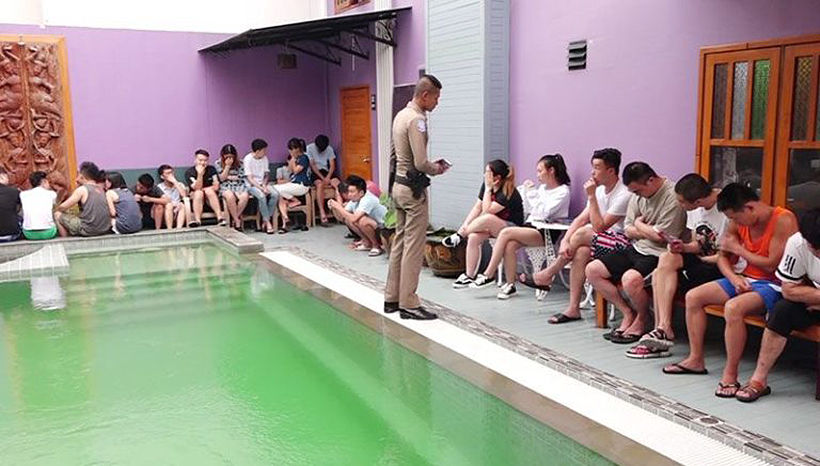 Keep in contact with The Thaiger by following our
Facebook page
.
5 good reasons to visit Koh Samui in 2020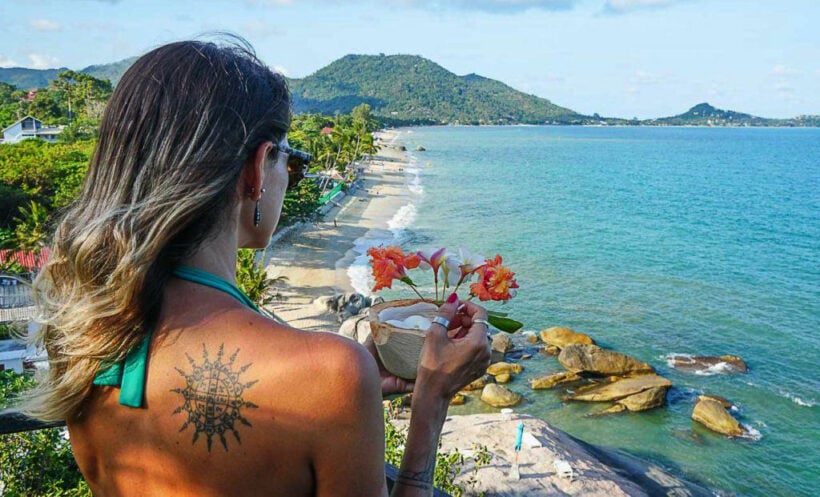 PHOTO: loveandroad.com
Thailand's "coconut island" has come a long way since it's hippy hey-day in the 1970s. Today, jet-set travellers rub shoulders with the tabloids' favorite celebrities, while major golf events and regattas have become annual pilgrimages.
So, now you're thinking about a lazy leisurely holiday on this tantalisingly tropical island? Only question is … when to go?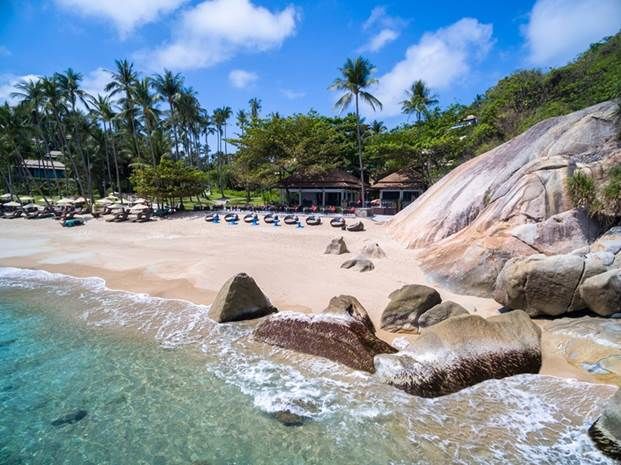 January – BBQ Season @ Banyan Tree
After several months' closure for renovations, the long-awaited return of Banyan Tree Samui's fabulous restaurant Sands is upon us. Chef Rainer Roersch promises to roll out a new "8 Fires" concept with everything from flaming woks to wood-fired ovens to fire pits, where he will sizzle up Wagyu beef steaks and fresh seafood while you enjoy sundowners at the resort's quirky tuk-tuk cocktail bar on the beachfront.
Make reservations HERE.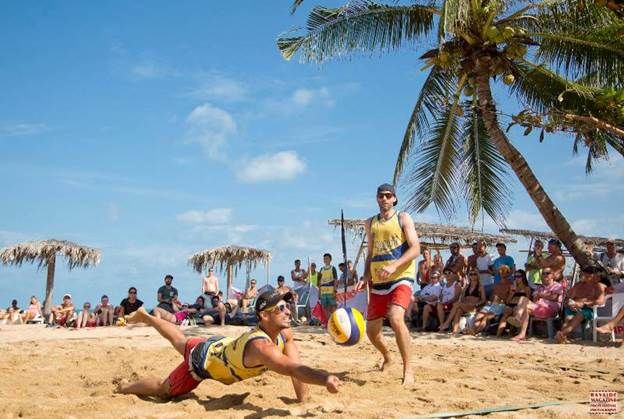 February – Samui Open Beach Volleyball
Bounce along to North Chaweng Beach on February 21- 23 to catch some 40 to 50 teams from around the world competing in this annual beach volleyball tournament. And when the spikes, digs and blocks are all over and the sun begins to set, expect some carnavalesque party fun at the brand new Seen Beach Club.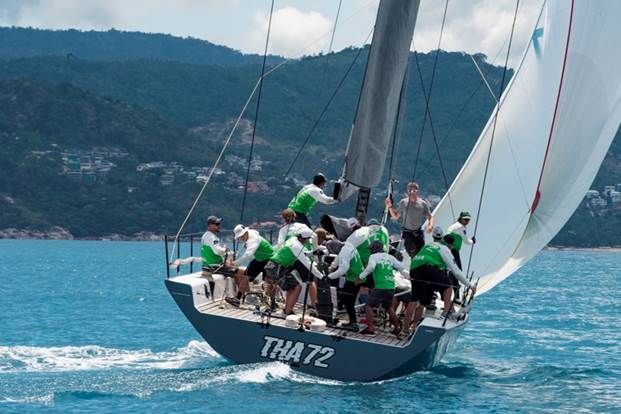 May – Samui Regatta
Few international events have put Koh Samui on the map like the annual regatta which attracts more than 500 sailors, mostly from around Asia, at this time each year. Hosted in 2020 for the first time by Synergy Samui's La Vida Resort, the event is the biggest and most competitive sailing race of its kind in Asia. Perch yourself anywhere along the eastern coast of the island from May 23- 30 – preferably with a set of binoculars – and set your sights on some competitive and intricate yacht racing.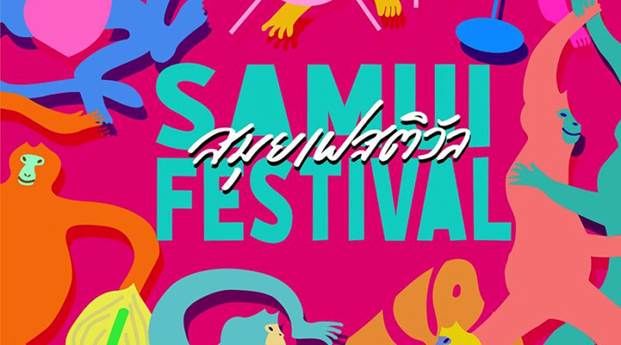 September – Samui Festival
A kaleidoscope of parades, culture, music, food and fun for all the family is in store at this 5-6 day event, the dates of which are yet to be officially announced. However, we do know that the Samui Festival Marathon will take place at 5am on August 30, so expect the fun n' games to begin soon after. Singing competitions, a beauty contest, artwork, handicrafts, Thai boxing bouts and Buddhist ceremonies are all part and parcel of this colorful extravaganza. Perhaps the highlight of the week is the array of street-food stalls where you can sample and savour some of southern Thailand's most exotic delicacies, such as maret' leaf rice cooked in a bamboo tube, oysters, fruits, and super-sweet desserts.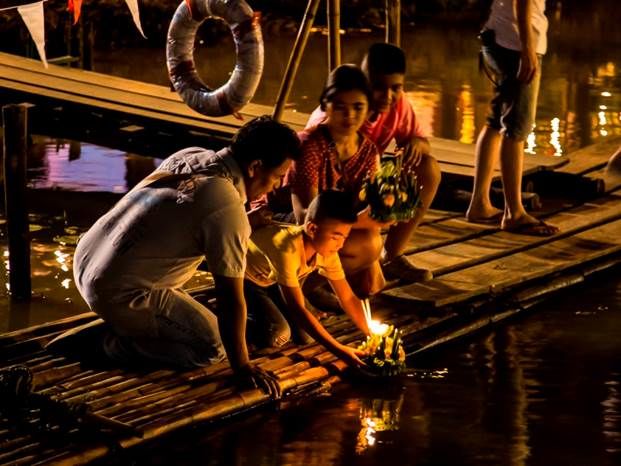 November – Loy Krathong – The Festival of Lights
Thailand's most exquisite festival is a time when Buddhists float banana boats on the river to take away bad luck and worries, while praying for a better year ahead. And nowhere could be more majestic to join the ceremony than at Chaweng Lake on Koh Samui on the night of 1 November when you make your own krathong, or banana boat, with the help of locals. And of course, there will be music, street stalls, and much merriment all round.
Koh Samui enjoys a year-round climate heaven-made for beach-lovers, High season is Cool Season – that's from Christmas through to March, and by "cool" we mean a gentle breeze, and a gorgeous 29-30 °C (84- 86°F) sunshine to bask in. April and May are the hottest months, but then again, you have the Songkran Water Festival on April 13-14 to cool you down. June through to September is thoroughly pleasant with light showers every other day, and October- November is the low season with its monsoon rains.
Keep in contact with The Thaiger by following our
Facebook page
.
Russian nabbed for 7 year overstay in Samui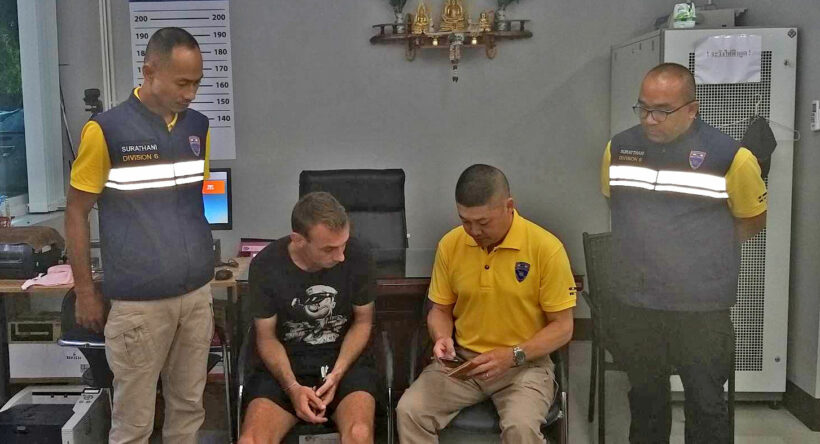 PHOTO: Matichon Online
A Russian man has been arrested for overstaying his visa by 2,861 days, 7 years and 9 months. The man was arrested on Koh Samui.
In a completely serendipitous inspection, immigration and tourist police were doing spot inspections on the island hen they were checking a man on Soi 3, off Maenam Road, in the north of the island. The inspection was yesterday afternoon.
Upon checking the man's passport the noted the visa had expired in 2012.
The man was identified as a Russian national, 32 year old Alexey Safronenkov. The man was handed over to the Koh Samui police for prosecution where he will likely end up being fined, deported and black-listed. The black listing for such a long overstay would be 10 years before he could return to the Kingdom.
The 32 year old, who would have been 25 at the time, entered Thailand through Khuan Don checkpoint in Satun, on the Malaysian border, on January 12, 2012. At the time he was given a tourist visa stamp allowing him to stay 30 days. He had never left the country since that time.
Avoiding police and staying in the Kingdom, without departing at any stage over 7 years, deserves some sort of award. But his only reward will be a return to Russia with a DCB stamp.
SOURCE: Matichon Online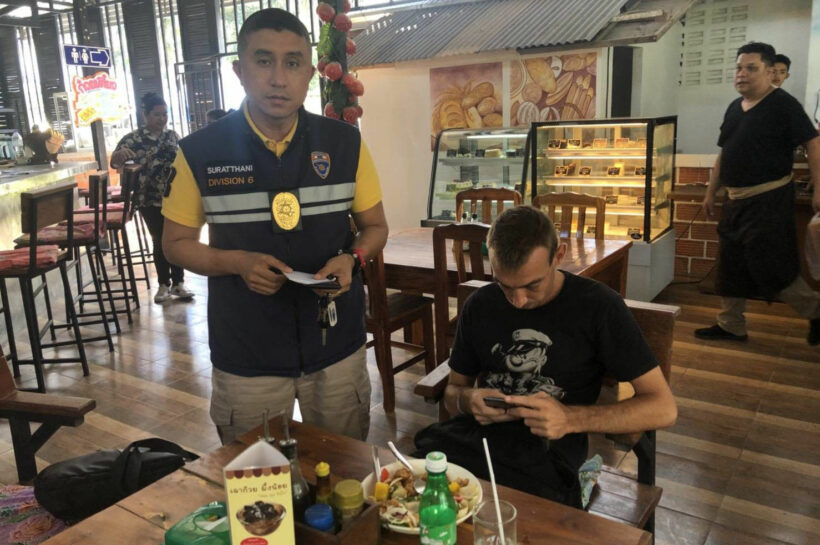 Keep in contact with The Thaiger by following our
Facebook page
.