Russian woman slashes her throat in Patong convenience store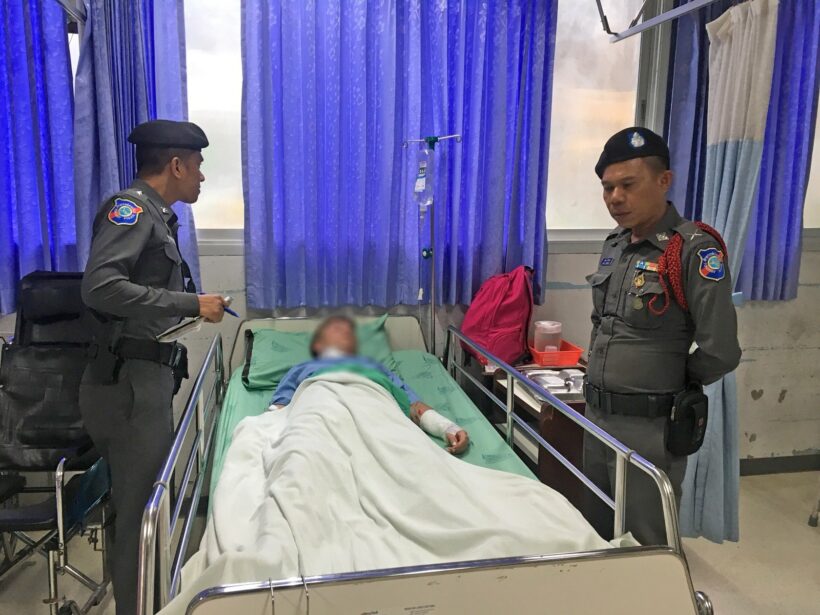 The videos of a 41 year old Russian woman trying to cut her own throat inside a 7-11 in Patong have gone viral. The videos were captured on the store's CCTV as well as staff mobile phones.
The videos show a woman wearing a yellow-black shirt and black trousers cutting her throat in front of a fridge at a store in front of witnesses who tried to stop her. She ended up with deep wounds and losing a lot of blood. She was taken to Patong Hospital after store staff called Patong Police. At the hospital she ended up with 60 stitches but is in a stable condition now following the ordeal.
She has been transferred to Vachira Hospital but still refuses to provide police or tourist police any information or discuss the incident. Police learned from witnesses that she stays at a hotel near the store and stayed in her room with little interaction from hotel staff or other travellers.
The Director of Vachira Hospital, Chalermpong Sukonthapon, said that she remains in a stable condition. The self-imposed wound on her neck was 0.5 cm deep and she also self-harmed with two other wounds on both her arms.

Keep in contact with The Thaiger by following our
Facebook page
.
Southern insurgency suspect dies after 35 days in coma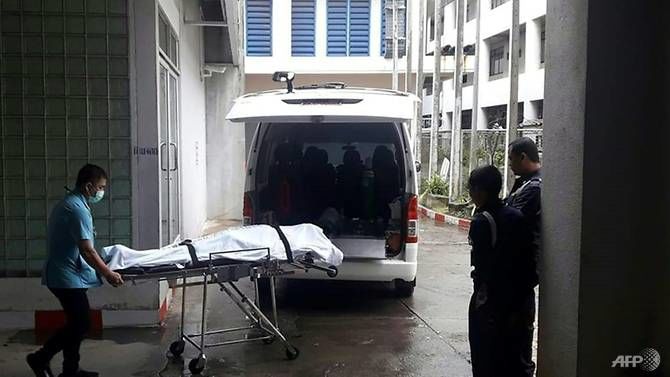 PHOTO: Adbulloh Benjakat
Abdulloh Esor Musor, left in a coma after being interrogated at a notorious southern Thai detention centre in Pattani, died yesterday, as pressure mounts on the Thai army to release further findings of a probe into the case.
The man, a suspected insurgent allegedly tortured during his brief military custody being questioned after his arrest on July 20, died yesterday morning (Sunday).
Read the earlier Thaiger story HERE.
He was rushed, unconscious, to Pattani provincial hospital the day following his arrest and then moved to Songkhlanagarind Hospital in Songkhla, just to the north.
In a statement the hospital said that the patient was pronounced dead at 4.03am on Sunday morning. The statement claims he died from "severe pneumonia and septic shock".
According to the statement, the condition of Abdulloh, who never regained consciousness since leaving the Ingkhayuth interrogation centre, remained comatose but stable until 48 hours ago when his condition worsened.
34 year old Abdulloh was taken into military custody after southern security officials allege he was involved in violent incidents in the south.
The military at the interrogation centre responded at the time that the suspect fell unconscious. An investigation was ordered into the incident, the result of which remains unknown.
At the time several news outlets claimed that Abdulloh had been tortured using suffocation.
A long-simmering rebellion against Thai rule in the Malay Muslim-majority "Deep South" on Malaysia's border has left nearly 7,000 dead – the majority civilians – since 2004.
Keep in contact with The Thaiger by following our
Facebook page
.
New Robinsons Tower in Singapore reaches for the sky with a green thumb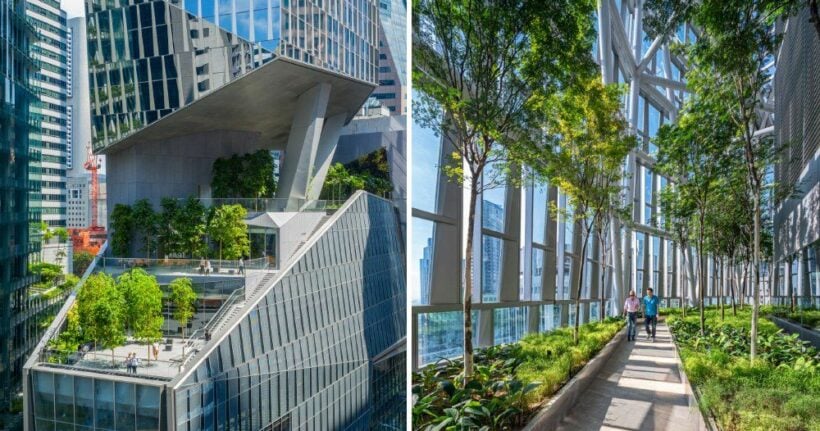 Thailand's capital could never be accused of having one of the world's most interesting skylines. Except for maybe the Mahanakorn 'lego building', there is little cutting edge skyline architecture in Bangkok.
It's a different case a few hours flight south in the Lion City, Singapore.
Pushing all sort of limits is the new Robinson Tower in the CBD. The first impression is of the upper section floating above the lower, with a leafy garden flowing between the two.
A closer inspection reveals a core that provides the backbone fo the entire structure. The twenty floors of offices also has a terraced rooftop garden.
Designed by New York's Kohn Pedersen Fox Associates, the tower is also home to retail and food outlets in the lower section of the building, all arranged around another greenspace in a central atrium.
The architects say the design was influenced by Singapore's Landscape Replacement Policy, which requires developers to incorporate publicly accessible green spaces equal in area to any greenery removed to develop the property.
"The dynamic tower frees itself from the canyon of stoic facades, integrating green space at unique vantage points and ultimately cultivating the public realm alongside a boutique, mixed-use program," said Bruce Fisher, design director at KPF.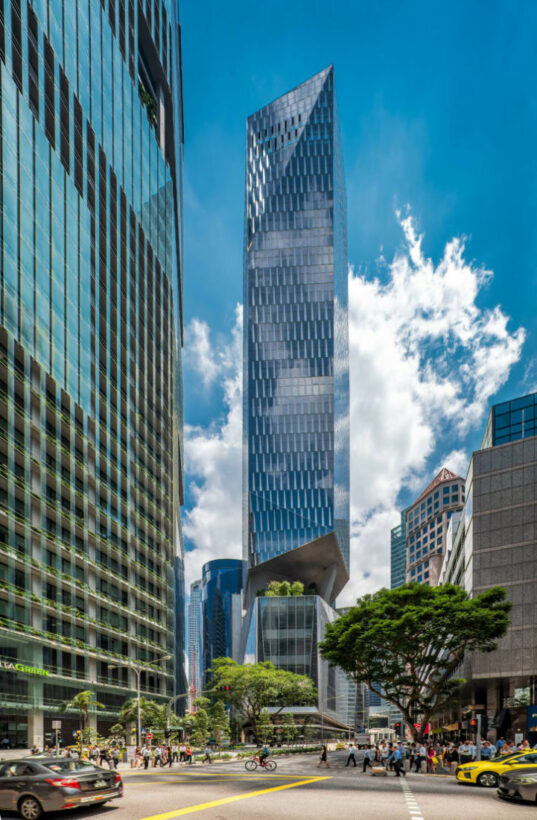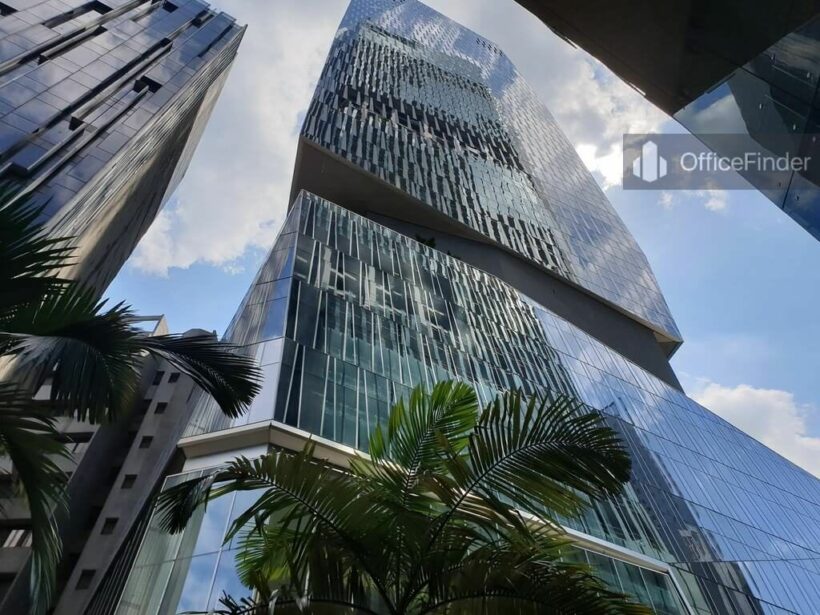 Keep in contact with The Thaiger by following our
Facebook page
.
Songkhla soi dogs heading to the US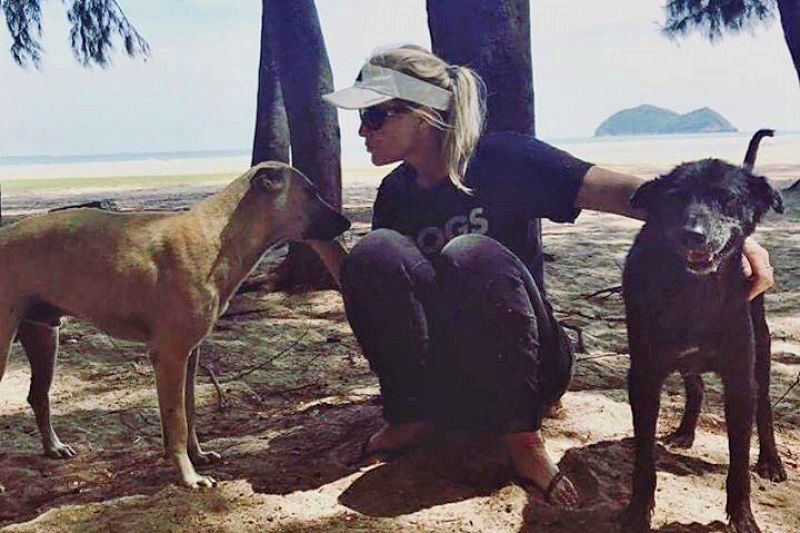 PHOTOS: Workpoint News | Thai Street Paws Rescue
5 dogs out of 29 that had been left to die in an abandoned home in Songkhla are now heading to the US to meet their new owners.
Officials from the Division of Animal Welfare and Veterinary Service and Smiledog Home volunteers report that the 29 dogs and 8 cats were abandoned at a house in Songkhla. Two representatives from Smiledog are taking care of the animals in Songkhla as their health improves and the lucky 5 dogs prepare for their long plane journey. A team of vets from Song Tale Veterinary Clinic have been providing expert medical care.
The owner of Thai Street Paws Rescue, Tamara Johnston, is an Australian teacher who teaches in Songkhla. She has played a major role in saving these animals and is the reason why 5 of them will be traveling to the US in September. She has been rescuing stray dogs and finds new owners for them without any adoption costs, except the travel fees for the animals.
Siripun Knampromwong from Smiledog Home says that the dogs have been happier since the rescue. They are playing with each other and have enough space to run around. There are still some animals available for adoption, those who are interested can contact via the Facebook page.
STORY: Workpoint News | Thai Residents
Facebook page
.