Rohingya crisis emerging as thousands flee across Bangladesh border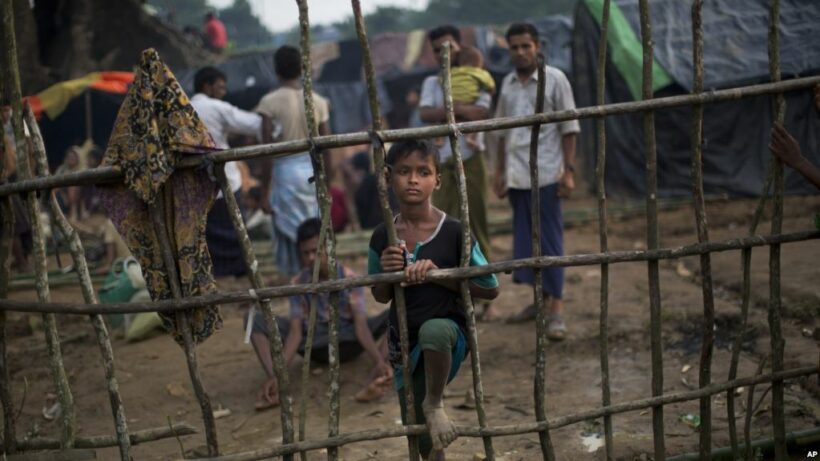 Cox's Bazaar, Bangladesh
by The Daily Star, Asia News Network and The Nation
Tens of thousands of Rohingyas wait for food; govt, aid agencies yet to start adequate relief distribution
Shafiqa Begum was among the crowd chasing a minivan distributing food packets among starving Rohingyas near Tyingkhali Rohingya camp.
Holding her eight-day-old daughter tightly to her chest, she tried her best to push through the thick throng. But before she could go near it, the van started to move back as it ran out of food.
Shafiqa, 35, looked helpless. She abruptly stopped running and began to cry instead. By now, it was raining.
Touched by the scene, these correspondents stopped by and got Shafiqa into a three-wheeler to save the infant from rain.
"I have no food, nothing. If I don't get to eat myself, how can I breastfeed my child?" she said.
Shafiqa and her four children, aged between seven years and eight days, left her village, Luthai, in northern Maungdaw in Myanmar's Rakhine State, on August 29, a day after the baby was born.
"There were tortures everywhere. The houses were burned and people killed. Having no other way, I ran with other villagers," she said.
She left behind her husband, who was working in the town. There is no knowing of his fate. After four days of walk through the jungles and rough hills, and finally the boat journey through the Naf river, she crossed the Whykkong border to enter Teknaf on September 3.
Forced to leave her homeland in Myanmar and no one to welcome her in Bangladesh, the penniless woman was crying for help by a roadside in Balukhali in Ukhia. A kind Samaritan came up to her. Upon hearing her story, he took her to his house and gave her food and shelter for the night.
The next morning, he gave her US$  0.606 so she could travel to Tyingkhali, where new arrivals have set up makeshift camps with plastic and bamboos. Accordingly, she travelled to the camp and got a space.
"But, I don't have any money to buy bamboo or plastic to set up a tent," she said.
In Dire Need of Food
Shafiqa is one of the thousands of Rohingyas who fled the violence after Myanmar security forces began a crackdown on Rohingya Muslims following an attack by Rohingya rebels on August 25.
In the 11 days since, some 1.23 lakh Rohingyas have arrived in Bangladesh, the UNHCR said in a statement yesterday.
This is in addition to an estimated 5 lakh unregistered Rohingyas Bangladesh is already hosting for years. Another 32,000 of them live in two registered camps.
Rights bodies reported village after village were burned down and Rohingya men, women and children killed since violence broke out on August 25, forcing them to cross the border to Bangladesh.
But as they reached Bangladesh, they found the situation not so welcoming.
Many are sleeping in the open and are in dire need of food and water after walking for days to reach safety, AFP said yesterday, quoting a report by UN's main coordinator in Bangladesh.
While travelling through Balukhali, Kutupalang and Tyingkhali of Ukhia in Cox's Bazar yesterday, these correspondents saw thousands of Rohingyas, mostly sickly women and children, sitting or standing in small groups beside the roads. Some were levelling land to set up makeshift camps with the authorities not yet deciding where to give shelter to the new arrivals or how to feed them.
Sanwara Begum, 35, and three of her sons are one such family found by the road in Kutupalang, begging for help. The woman, abandoned by her husband a few years ago at Doubletoli village in Maungdaw, saw her house burning last week and fled to Bangladesh.
She crossed Ghumdhum border in Naikkhangchhari and took shelter in unregistered Kutupalang camp on Friday. She had some  US$1.21, and she bought some biscuits. That was the food she had for her three children and herself. On two occasions, some people distributed a packet of khichuri.
"How can we survive with this food?" she said.
The situation is worse for children, who comprise almost 50 per cent of the Rohingya population.
Meanwhile, more and more Rohingya people are coming to the local health facilities, said Dr Romana Islam, medical officer of Ukhia Health Complex, which is supported by the International Organisation for Migration (IOM).
"Earlier, only around 80 patients would visit this health facility a day. Now, with the new arrivals of the Rohingyas, 140 patients are coming on average," she toldThe Daily Star.
They mostly face cold, cough, measles, fever, skin disease and diarrhoea, she added.
Despite a huge refugee crisis since August 25, authorities have not yet begun any relief operations for the new arrivals. Local communities or some NGOs are providing some food in a scattered way.
Yesterday's food distribution in the minivan near Tyingkhali Rohingya camp in Ukhia was an initiative by some locals.
Situation Very Shaky
Ukhia Upazila Nirbahi Officer Md Main Uddin termed the situation of the newly arrived Rohingyas very shaky.
The government has yet to decide on a concrete plan to provide food, treatment and shelter for the new arrivals, he told The Daily Star.
The World Food Programme, IOM and UN Refugee Agency handed over some food – flattened rice, molasses, high protein biscuits and dry cake – to the Cox's Bazar district administration for the Rohingyas.
"From tomorrow (today), we will distribute the food among the Rohingyas under the supervision of the local administration," said Main Uddin.
He, however, said the food they received was inadequate.
Contacted, Cox's Bazar DC Ali Hossain said, "The government was considering humanitarian assistance for the new arrivals but there hasn't been a final decision yet."
Meanwhile, a high official of the Refugee Repatriation and Rehabilitation Commissioner (RRRC) in Cox's Bazar said thousands of Rohingyas took shelter in the registered camps at Kutupalang of Ukhia and Nayapara in Teknaf. These two camps used to house only 32,000 Rohingyas. But now many more thousands have taken shelter there.
"These two camps are now overloaded," he told The Daily Star
.The UNHCR and the RRRC have begun making a list of the newly arrived Rohingyas in the registered camps.
On the other hand, the IOM is preparing a list of Rohingyas who took shelter in the unregistered camps – one in Kutupalang, one in Balukhali and one in Tyingkhali of Ukhia, and Roikkhang and Leda camps in Teknaf, the RRRC official said.
"There is an urgent need for additional emergency shelters and land as more refugees arrive. Coordination is crucial with the authorities to ensure that life-saving assistance reaches those who need it most," the UNHCR said in the statement.
SOURCE: The Nation
PHOTO: VOA News

Join the conversation and have your say on Thailand news published on The Thaiger.
Thaiger Talk is our new Thaiger Community where you can join the discussion on everything happening in Thailand right now.
Please note that articles are not posted to the forum instantly and can take up to 20 min before being visible. Click for more information and the Thaiger Talk Guidelines.