Rabies: Genuine outbreak or misinformed panic?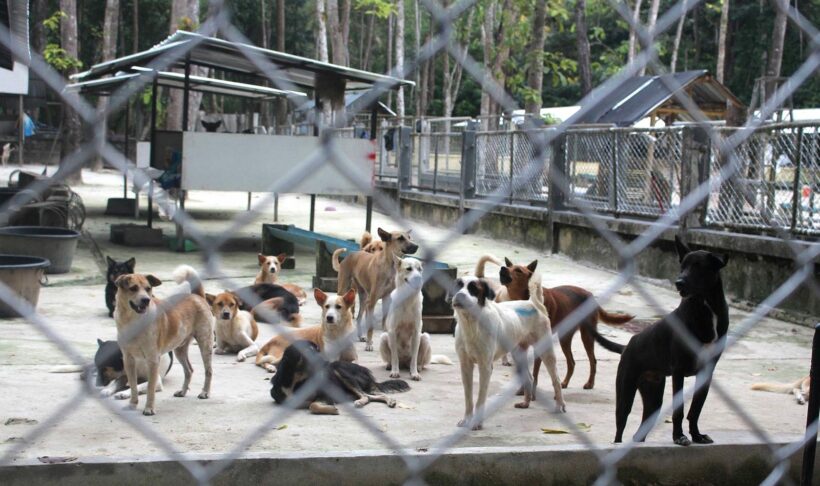 By Phuket's Soi Dog Foundation
Over the past few weeks, rabies has dominated social media in Thailand. The debate has been covered – and in some cases inflamed – by the traditional print and broadcast media across the country.
Some people are now advocating what has been described as "Set Zero", a massive country-wide slaughter or impounding of all stray dogs, so that the streets will be "safe" again.
Soi Dog Foundation would like to offer our point of view, founded on our work over the past 15 years in improving the stray dog situation and eradicating rabies in Phuket.
Thailand's record in curbing rabies is excellent, as this comment from the World Health Organisation (WHO), published in September last year, makes clear: "Through mass dog vaccination, and improved access to life-saving rabies PEP, Thailand has reduced the number of human rabies cases by more than 90% since the 1980s."
So, are we actually experiencing a surge in rabies? All the signs are that no, we are not. According to a recent Bangkok Post article, citing Bureau of Epidemiology statistics, 370 people died in 1980 of rabies. In the 1990s, the annual average human death rate from rabies was around 300.
Last year, the Bureau's records showed just 11 deaths. This year, so far, there have been six. So, are we experiencing a huge surge in rabies? No. We are not. Rabies is endemic across Thailand. What we are seeing is a panic driven by social media and sensational reporting. It's not an epidemic.
Sadder yet is that all those six deaths should have been preventable. Rabies PEP medication is highly effective if taken early.
It's a simple rule: If you are bitten or scratched by a dog or cat, or if you have an open wound that has been licked by an animal, you should wash the area very thoroughly with soap and water then go straight to the nearest hospital to get anti-rabies shots. Then you won't die.
And the Set Zero solution – getting rid of all the street dogs – is not a solution anyway.
Imagine if it ever became policy. Could it possibly work? Thailand has at least 8 million stray dogs. Could they all be slaughtered? Most unlikely and, even if they could be, try to imagine the global outcry at a predominantly Buddhist country, with its respect for life, introducing such a policy.
Or could they all be impounded? Where would 8 million dogs be locked up and looked after properly until they die of old age?
It is also important to note that, historically, more than 40% of the dogs that have been detected as being rabies-infected are pets with owners. These are not street dogs or strays and would therefore, presumably, not be included in any Set Zero campaign.
According to Dr. Peerapong Saichua, Permanent Secretary of Bangkok Metropolitan Administration (in an interview with Matichon Newspaper in 2015), the figure of 40% is because owners had not taken the simple but crucial step of vaccinating their dogs. That still applies today.
The WHO article mentioned above was published to mark a visit by Dr. HRH Princess Chulabhorn to WHO headquarters in Geneva.
In it, Her Royal Highness is quoted as making the same point, "To eliminate rabies, you have to give people the knowledge they need and also teach them about their responsibilities…"
It is important to remember that the day you take a dog into your home, it is your responsibility, as its owner, to ensure that the dog receives full and regular vaccinations and stays in good health.
What about the remaining 60%, the street dogs? They, too, can be – and are being – vaccinated. This takes time but is, along with education, the primary reason that rabies deaths among humans have fallen from 300 in the 1990s to 11 last year.
But vaccination is not the whole story when it comes to controlling rabies.
A female dog can give birth to 4-5 puppies every six months, so provided she has access to food, water and shelter, she can, on her own, generate a population of dogs that will number in the thousands within five years.
High numbers, right? If, as Set Zero supporters advocate, you remove dogs from any street by slaughtering or impounding them, they will leave a vacuum that will be filled almost immediately by other dogs from nearby territories wandering in looking for food, water and shelter. Once settled, they will breed.
So, for Set Zero to work, you would not only have to sweep millions of dogs from the streets. You would have to do it all at once or, at least in an impossibly short time – six months?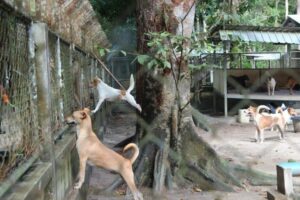 At Soi Dog, our operations have been driven for the past 15 years by a concept called CNVR (Capture, Neuter, Vaccinate and Release).
We capture stray dogs from their territories, we sterilise them to halt population growth, we vaccinate them to ensure they are healthy and safe to themselves and their environment, and then we release them back into the same territory we took them from.
This method is not only humane but has also been proven to be the safest way to end the stray dog problem and the spread of rabies.
We know it works. In Phuket, we have reduced the street dog population from 80,000 in 2003 to an estimated 4,000 to 6,000 now. And, as a result of the vaccination part of the programme, Phuket is the only province in Thailand that is, according to the government, rabies-free.
This is not just Soi Dog Foundation's philosophy. All the leading global authorities including the WHO, The Food and Agricultural Division of the United Nations, The Global Alliance for Rabies Control and others are united in their message that vaccinating dogs is the most effective way of eliminating human rabies.
Vaccinating 70% of a canine population in any area will eliminate rabies in that area, provided that other dogs are prevented from entering it.
That in itself is another issue. Even in rabies-free Phuket, authorities allow hundreds of puppies to be shipped in from puppy farms in rabies-endemic areas for sale at markets and pet stores. Those that are unsold are dumped to join the stray population.
Government Livestock offices in every district of Thailand now have ample stocks of rabies vaccine and owners should take their animals as soon as possible to have them vaccinated. In some places, the local authorities will also sterilise dogs free or for a minimal fee.
If owners live in places where Soi Dog is working – Phuket, Phang Nga, Samui and Bangkok – they can have their pets vaccinated and sterilised. Free. The schedules for Soi Dog mobile clinics are constantly updated on our Facebook Page.
Vaccination and Sterilisation, combined with more stringent rules on the transport of pets from one province to another form the only solution.
The "Set Zero" concept is not only horrifically cruel. It would also be doomed to failure.
To learn more about CNVR and the work of Soi Dog Foundation over the past 15 years, visit our website.
Keep in contact with The Thaiger by following our
Facebook page
.
Never miss out on future posts by
following The Thaiger
.
23 Koh Samui hotels seek alternative state quarantine certification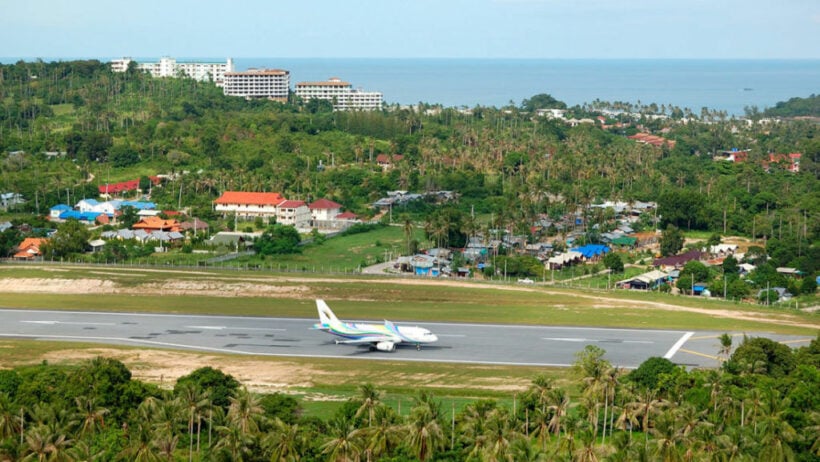 Nearly 2 dozen hotels and resorts in the Thai Gulf island resort of Koh Samui are seeking certification to be alternative state quarantine facilities. Talk of a potential travel bubble scheme to the island is also set for today, the Nation Thailand reports.
8 of the 23 hotels have already gone through a government check and the rest will be checked in October, according to the Thai Hotels Association Southern Chapter East Coast. If all the hotels are approved, 1,000 rooms would be available, according to the Tourism Association of Koh Samui. They expect 90% of the hotels to be approved for state quarantine and predict around 200 international tourists to be in the first wave of visitors.
The 23 hotels on the island seeking the certification are a fair distance away from the main streets and local neighbourhoods, according to the Thai Hotels Association's president Ruengnam Chiakwang. He says the locations make it difficult for tourists to run off during their mandatory quarantine and around 1,000 surveillance cameras are installed around the island, so officials will have an eye out.
The Centre for Covid-19 Situation Administration, or CCSA, is expected to talk with private representatives today about a travel bubble scheme to Koh Samui, according to the Nation. Past discussions of so called travel bubbles proposed foreign tourists from countries considered to be at low-risk for Covid-19 to be allowed to travel to select areas in Thailand. The island has a private airport owned and operated by Bangkok Airways who have traditionally charged unreasonably high air fares, compared to other flight in Thailand, for flights to the island.
SOURCE: Nation Thailand
Catch up with the latest daily "Thailand News Today" here on The Thaiger.
Keep in contact with The Thaiger by following our
Facebook page
.
Never miss out on future posts by
following The Thaiger
.
Raja salvage operation resumes, garbage truck, pick-up raised from seabed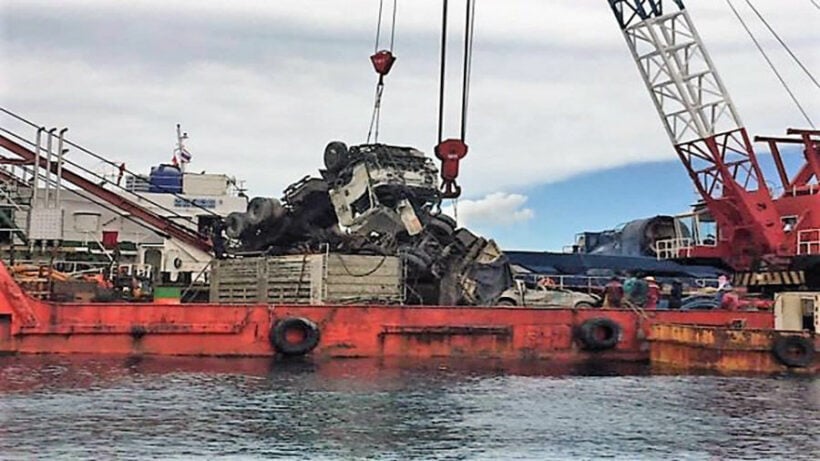 An operation to raise the sunken Raja 4 ferry and its cargo of vehicles from the seabed off Koh Samui has resumed, after being delayed due to bad weather. The ferry sank on the night of August 1 as it was transporting several garbage trucks from Samui to the mainland. The ferry had set sail in bad weather and capsized when its cargo of trucks shifted during the crossing. 5 of the 16 people on board died in the accident.
Having first been suspended briefly due to bad weather a couple of weeks ago, and more recently due to storm Noul, the salvage operation is once more underway, with workers removing an 18-wheel truck and a pick-up from the seabed.
Nation Thailand reports that operators MS Service have been using 2 cranes, installed on 2 boats, to carry out the salvage operation. Prior to being lifted, the garbage truck was covered in netting, to prevent any further refuse from entering the water. Small boats were also used to pick up any rubbish that managed to escape the netting.
The Ministry of National Resources and the Environment has previously threatened to sue the ferry company over the environmental fallout from the ferry's capsize. The ferry itself is yet to be lifted from the seabed.
SOURCE: Nation Thailand
Catch up with the latest daily "Thailand News Today" here on The Thaiger.
Keep in contact with The Thaiger by following our
Facebook page
.
Never miss out on future posts by
following The Thaiger
.
Heavy rain across the country this weekend – local forecasts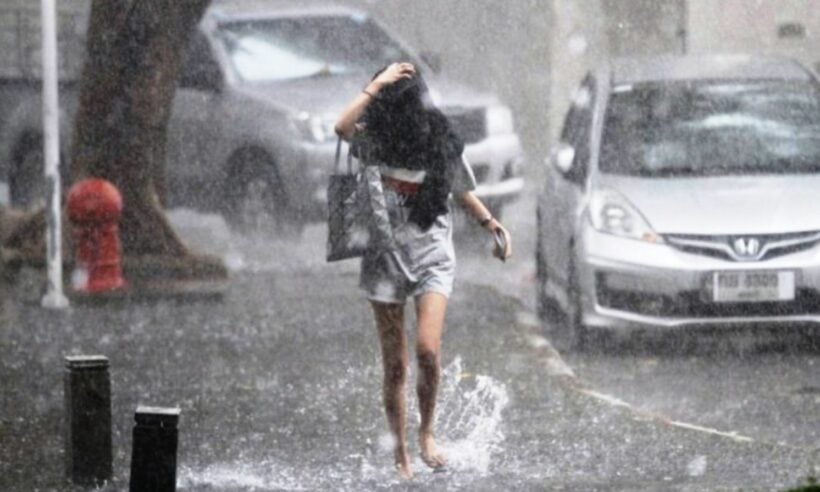 Heavy rain is expected across much of Thailand over the next few days, mostly as a result of the intensity of a tropical storm crossing into Vietnam today, 'Noul', from the South China Sea. The low pressure cell will help intensify the effects of the south west monsoon too. But the remnants of the storm won't "slam" into Northern Thailand as one news site claimed – rather it will be a lot of rain and increased winds. The storm is expected to cross into Thailand around the Mukdahan province some time early tomorrow,
Around the country, Saturday will be the worst with rains easing during Sunday. Thailand north east 'Isaan' provinces will be the worst affected as they are in the direct track of the storm as it crosses Vietnam, into Laos, and then crossing Thailand's borders in the upper north east in the early hours of tomorrow morning.
Whilst tropical storm 'Noul' has been packing winds from 80 – 120 kilometres per hour as it reaches the central Vietnam coast areas, including popular tourist locations like Da Nang and Hoi An, the storm will continue to dissipate as it moves inland. The storm has been tracking across the South China Sea this week, gathering strength, in a west northwesterly direction.
Residents in the coastal town of Hoi An report that it rained continuously last night, with strong winds, and that they expect widespread flooding to be reported during the day.
The forecast for heavy rain in Bangkok will probably dampen some of the enthusiasm for tomorrow's anti-government rally to be held in and around the Thammasat University Tha Prachan campus.
Here are the forecasts for Saturday and Sunday around the country…
Bangkok

Phuket

Chiang Mai

Pattaya

Khon Kaen

Koh Samui

Read more about Thailand's annual monsoons HERE.
SOURCE: weather.com
Keep in contact with The Thaiger by following our
Facebook page
.
Never miss out on future posts by
following The Thaiger
.