VIDEO REPORT: Muaythai champ heads to Bangkok for MMA showdown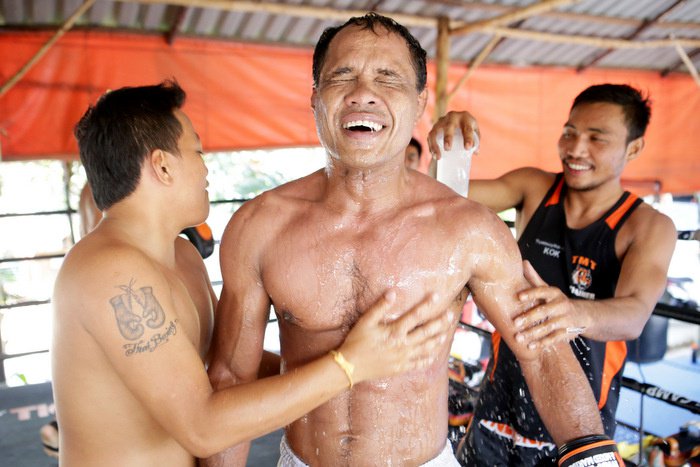 FORMER Lumpinee and Rajadamnern muaythai champion Jomhod Kiatadisak will make his transition to pro MMA complete today, when he takes on top Cambodian fighter Vorn Viva at Full Metal Dojo 4 in Bangkok.
Keeping the fight even, Vorn Viva will also be competing in his first MMA fight, to be held at Live House, located near Bangkok's famed Chatuchak Market.
At one time one of the biggest names on the muaythai scene in Europe, 44-year-old Jomhod has been in training for weeks at Tiger Muay Thai in Phuket for this one particular fight.
"MMA is challenging as it has some basic muaythai mixed with martial arts from other countries," he told the Gazette.
"However, I wanted to try a new style of fighting, so I joined the MMA. It is different from classic muaythai, because in muaythai you stand and fight. In MMA, you keep fighting even when you're down."
Switching fighting styles has had other benefits, Jomhod added.
"MMA gives me a new range of fighting techniques and keeps me fit in training. Moreover, I have made new friends to help me make the transition," he said.
Manager Jason Buchanan explained that Jomhod's training regimen has been wound down over the past week in preparation for the fight.
"Everything is okay right now. We just have to tighten his game up a little bit for him to get ready for his MMA debut on Saturday night," he said.
Buchanan explained that Jomhod had long shown throughout his muaythai career his propensity to expand his skill set to include MMA.
"We have added new skills by including more training on the ground, which he was not used to when he was still in muaythai, and I think he is making the transition very well," he said.
Some of Jomhod's skills from muaythai were adapted, such as in-close grappling.
"Muaythai involves some in-close wrestling, with a lot of body locks and throws, and he has incorporated those skills in his MMA technique," Buchanan said.
"I think he's going to do quite well. It's Full Medal Dojo. I think it's going to be quite an event and I'm looking forward to seeing him display his skills."
Jomhod's trainer, George Hickman, rated the difference between the two styles as huge.
"We have a world number-one muaythai fighter, and we are trying to turn him to MMA. It is so different from what he has done before," he said.
"Muaythai is a 'standing' sport, you hit the ground and stop. But in MMA, you hit the ground and start.
"Jomhod has had to learn to lots of new things, such as wrestling. We rate Jomhod as the number-one striker in the world, and I think he probably still is.
"Getting him into MMA is very interesting, and I think he will do it very, very well. It is going be very exciting to see."
— Woranut Pechdee
Keep in contact with The Thaiger by following our
Facebook page
.
Never miss out on future posts by
following The Thaiger
.
PM orders Thai police to collaborate with Interpol to bring Boss back to Thailand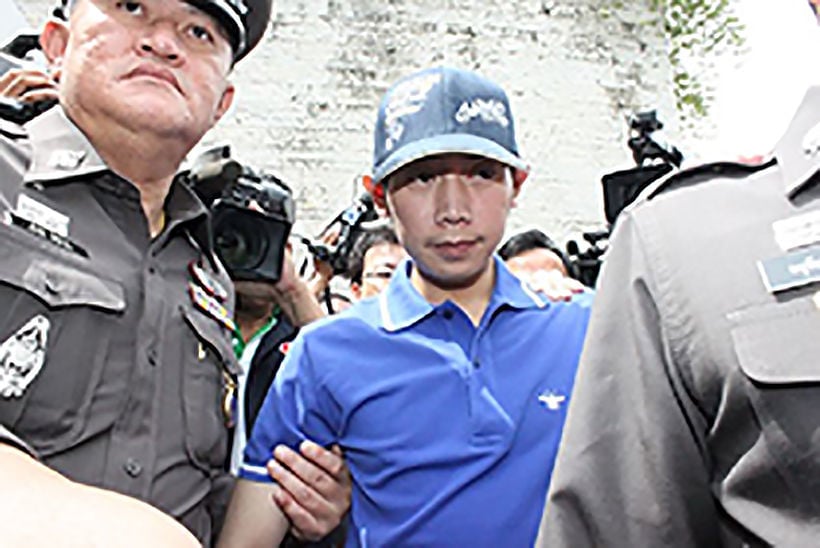 The Thai PM is ordering Thai police to work with Interpol, the International Criminal Police Organisation, to find Vorayuth "Boss" Yoovidhya and bring him back to Thailand for prosecution. The Red Bull heir has been on the run since 2017 and faces charges reckless driving causing death and using cocaine, charges which date back to the incident in 2012 in Bangkok.
In 2012, Boss allegedly sped his Ferrari down Sukhumvit Road in Thong Lor, running over and dragging a 47 year old police officer 100 metres down the road, killing him.
Prosecutors have now officially indicted Boss on the reckless driving causing death and drugs charges, the Office of the Attorney General announced last Friday. The recent indictment, more than 8 years after the fatal crash, follows public backlash after Boss's cases were dropped altogether in July by the deputy attorney general.
PM Prayut Chan-o-cha made a post on his Facebook page saying he ordered police to work with international authorities to find Boss and bring him back to Thailand for trial. He says a Red Notice has been issued and he expects an update by next week.
"I ask every officer to handle this matter correctly and effectively."
Boss, the son of the co-owner of the Red Bull energy drink empire, fled the country in 2017. His hearings were delayed 7 times. He reportedly packed up and fled to Singapore on his family's private jet just 2 days before he was due to face charges. Since then, Boss has been seen and photographed at his family home in London as well as at Red Bull events.
The story has caused ongoing rage in Thai social media with people using the cases as proof Thailand's warped justice system where wealth and power can help you bypass official investigations.
There has been no comment from the Yoovidhya family, Boss or his legal representation since last week's official prosecution.
SOURCES: Nation Thailand | Thai PBS
Keep in contact with The Thaiger by following our
Facebook page
.
Never miss out on future posts by
following The Thaiger
.
Bangkok nightclub busted for underage drinking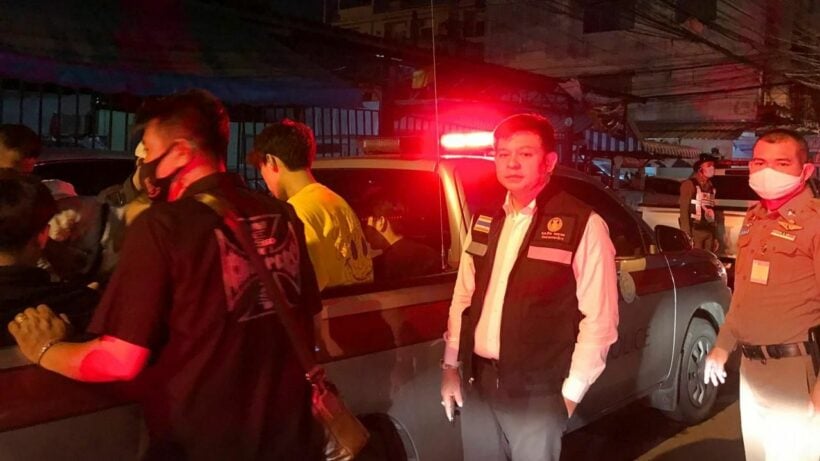 A Bangkok nightclub was raided last night when police arrested numerous underage drinkers after city officials received a complaint about "unlawful assembly". Police say many of the 50 people at the nightclub were under Thailand's legal drinking age of 20 years old. They added that the patrons at the venue did not abide by Covid-19 prevention rules like wearing a mask, social distancing, and that the venue's management didn't limit the number of people at a social gathering.
The venue, known as "Peak" in Bangkok's Lak Si district, north of the city centre, was ordered by police to close down because it served alcohol to underage customers and the venue did not abide by Covid-19 prevention measures.
Police raided the venue and were then waiting outside as partygoers tried to flee to provide free drug tests. Along with arresting the alleged underage drinkers, the police also arrested a young man for alleged drug use after a test for illicit drug use came up positive. Police did not specify what drugs they tested for. Reports also fail to say how many people were arrested, but Pattaya News says all the underage drinkers were arrested.
Palang Pracharath's Bangkok MP Sira Jenjakha was reportedly also involved in the raid. He told Pattaya News that he is dedicated to eradicating social issues involving adolescents, and venues that serve alcohol to underage youth will face charges.
SOURCE: Pattaya News
Catch up with the latest daily "Thailand News Today" here on The Thaiger.
Keep in contact with The Thaiger by following our
Facebook page
.
Never miss out on future posts by
following The Thaiger
.
Protest leaders face charges for violating Thailand's lèse majesté law and for installing the plaque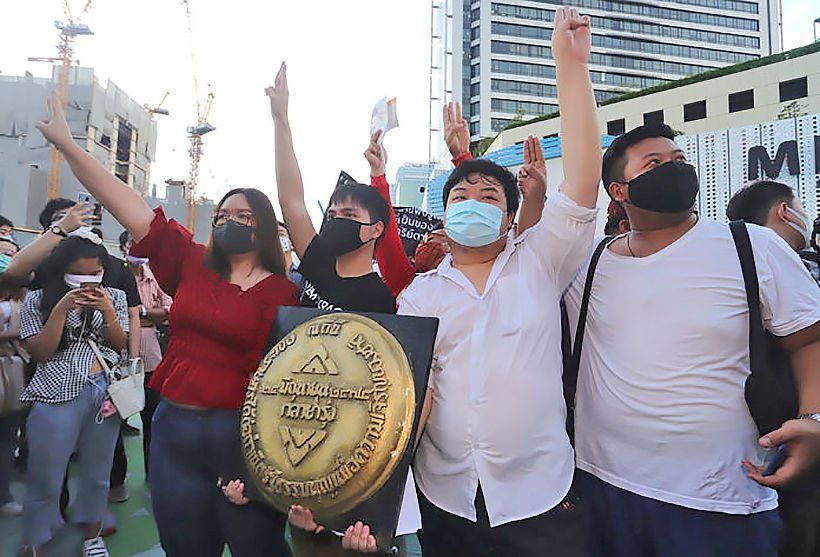 Leaders of the weekend's pro-democracy protest in Bangkok are facing charges for violating Thailand's lèse majesté laws and installing a symbolic plaque at a "registered historical site". Police filed complaints against 10 to possibly more than 16 protesters.
It's unclear how many protesters will be charged, but the Royal Thai Police spokesperson Piya Uthayo says charges will be pressed against those who "pulled the strings." He says the Chanasongkhram Police have received several lèse majesté complaints. Under the lèse majesté law, it is illegal to insult or defame the Thai Monarch or royal family. Piya says police will take the strongest legal actions possible against those who undermined the Monarchy.
A lèse majesté complaint was filed by a leader of the pro-government "multi-coloured shirts movement" Tul Sittisomwong who said the protesters had "once again crossed the line," according to the Bangkok Post.
"I don't mind if they talked about politics, the prime minister or the constitution because they have the right to do so, but not about the monarchy."
The Bangkok Post reports that around 10 protesters will be charged with violating the Public Assembly Act and Criminal Code while 4 people will be charged with violating the lèse majesté law. Thai PBS estimates at least 16 people face charges for violating the lèse majesté law and installing the plaque.
Protesters installed a plaque on the forecourt of the royal parade grounds, aka. Sanam Luang, next to the Grand Palace. The pro-democracy plaque symbolically renamed the area Sanam Ratsadon, or "People's Ground". The plaque disappeared and the spot was covered with concrete less than 24 hours after being embedded by the protesters early on Sunday morning. Police say they removed the plaque because it would be used as evidence against protest leaders.
The Fine Arts Department and the Bangkok Metropolitan Administration filed complaints with police over the installation of the plaque, saying the protesters broke the law by causing damage to an archaeological site. The department says the plaque installation violates the Ancient Monuments, Antiques, Objects of Art and National Museums Act, as Sanam Luang is a historical site protected by law. The removal of another historic plaque in 2017, commemorating the Siam Revolution in 1932, when Thailand's absolute monarchy was overthrown by a constitutional monarchy, was not reported by the same organisations.
Authorities also claim rally leaders broke into Thammasat University's Tha Prachan campus and entered the grounds of Sanam Luang without permission. The Bangkok Metropolitan Administration also asked police to take action against protesters who destroyed barriers and fences at the university as well as the damage done when installing the plaque at Sanam Luang, according to Metropolitan Police Bureau deputy spokesperson (the concrete has already been replaced after being torn out of the cement sometime on the early hours of Monday morning).
"The protesters damaged BMA properties and violated the Act on the Maintenance of the Cleanliness and Orderliness of the Country."
SOURCES: Thai PBS | Bangkok Post
Catch up with the latest daily "Thailand News Today" here on The Thaiger.
Keep in contact with The Thaiger by following our
Facebook page
.
Never miss out on future posts by
following The Thaiger
.