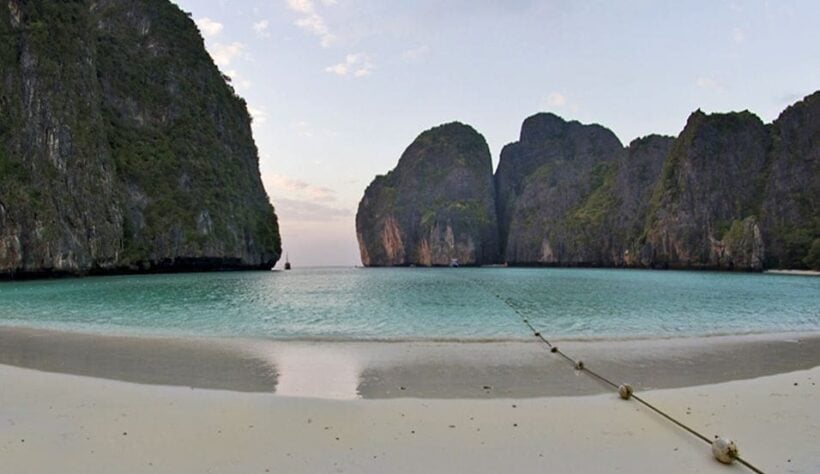 by Sitthichai Sikhawat
The indefinite closure of Koh Phi Phi Ley's Maya Bay is causing ripples of concern through the island's tourism associations, operators and beyond.
The Krabi Tourism Association president Wattana Rerngsamut is appealing the indefinite closure in an order listed in the Royal Gazette on Monday and made public on Tuesday.
The move will severely affect the tourism businesses in Koh Phi Phi and Krabi province as a whole, said Wattana.
The tourist destinations are located within Had Nopparat Tara-Mu Koh Phi Phi National Park. Wattana said the park lacked clarity in its management of the tourist attractions.
Of the targeted six million visitors to Krabi, 80-90 per cent aimed to visit Maya Bay and Koh Phi Phi, he said, so barring access would cause a long-term impact to the tourism and the economy in general.
Maya Bay – made famous by the 2000 Hollywood film "The Beach" – has suffered serious damage from year-round tourist traffic and was closed to tourists for four months starting in June to allow its coral reefs to recover. But the regeneration did not meet targets and the closure was extended to November 1.
Then an announcement published in the Royal Gazette on October 1 declared the park would remain closed until the marine and coastal ecosystem returned to its normal state.
Wattana says the four-month break was understandable, but unexpectedly extending it to November 1 had put tourism businesses into difficulty. When the park then declared the indefinite closure, Wattana said, many tourists scheduled to visit after November 1 were disappointed and some had cancelled their tour bookings.
https://www.facebook.com/thethaigernews/videos/555881841529943/
SOURCE: The Nation