Soi Dog Foundation distributes over 11 tonnes of food to stray animal feeders across Phuket
In preparation for the island-wide 'lockdown' and travel restrictions from April 13-26, the Soi Dog Foundation has distributed over 11 tonnes of dog and cat food to stray animal feeders across Phuket. A fleet of animal rescue vehicles delivered 470 large bags of dog food and 140 large bags of cat food to popular feeding hotspots, such as temples, as well as to feeders directly.
Soi Dog has long provided food to the island's feeders through its Community Outreach Program but food was provided urgently and in much greater quantities yesterday as the travel restrictions, once in force, could severely restrict the foundation's movements. Taking no chances, the food provided should be sufficient to cover feeders for around six weeks.
Many stray dogs and cats rely on feeders, restaurants and passing tourists for food and water. However, with some feeders unable to travel to certain areas due to the lockdown, with restaurants closed and with tourism grinding to a halt, many of these animals will be unable to find sustenance such as they would normally. This puts them at risk of straying into new areas where they are unwanted, competing for food amongst their packs or starving. However, with regular feeders in place, these risks are greatly reduced.
In a recent press release, Soi Dog also encouraged local communities to look out for the stray animals in their neighbourhoods by leaving out bowls of food and clean water and monitoring any changes in their health.
Soi Dog is determined that, even in these dire circumstances, no homeless animal will be left behind.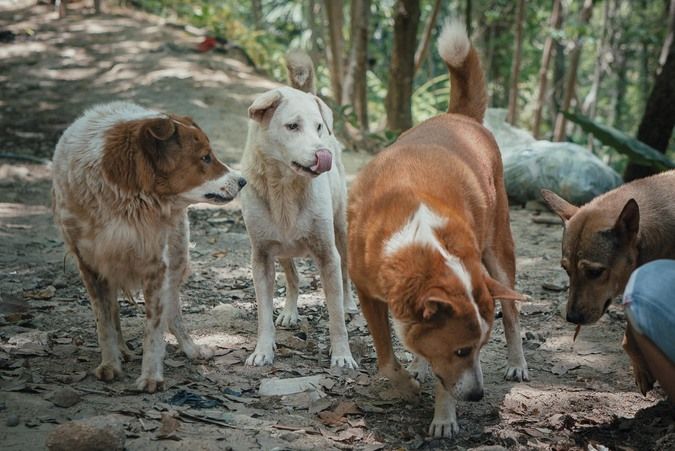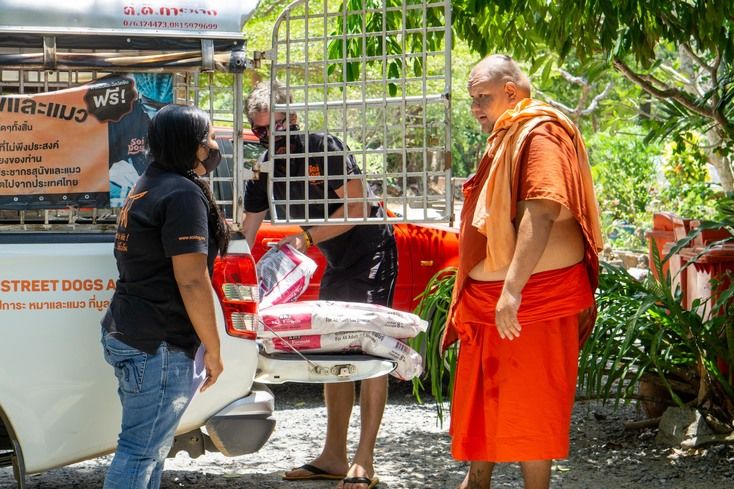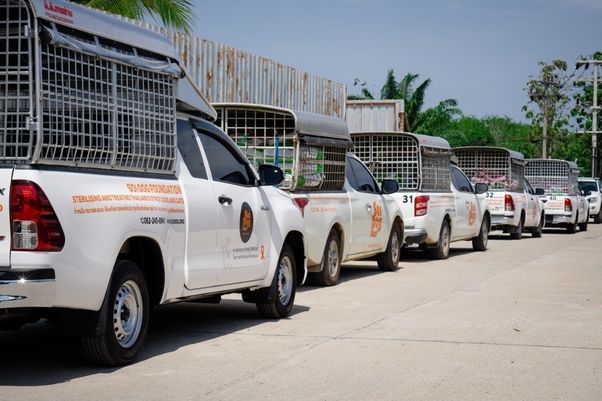 Keep in contact with The Thaiger by following our
Facebook page
.
2 killed after truck slams Phuket power pole – VIDEO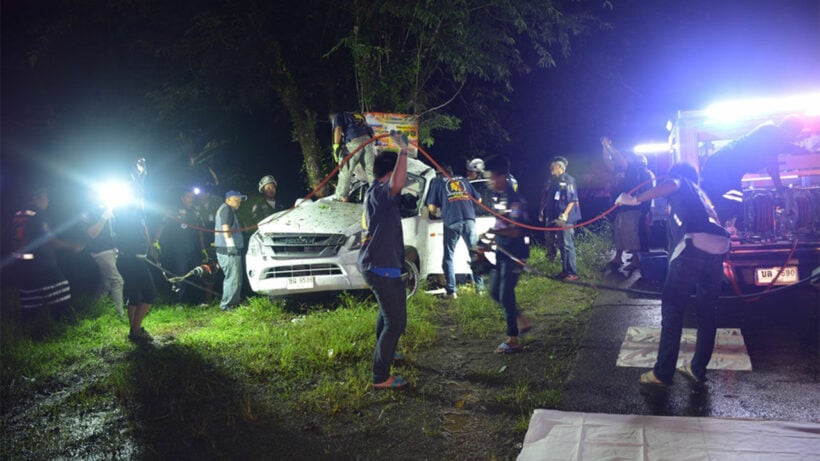 2 men are dead in Phuket after a truck slammed into a roadside power pole on the notorious Kata hill road, just out of Chalong yesterday. Police say the two men killed were a Thai and a Burmese national.
The deputy chief of Karon police says the accident occurred at about 4:50pm at the mouth of Soi Suksan 1 on Patak road – a windy section of road as it heads up the hill towards Kata Beach. The power pole fell across the road after being hit by the pick up truck, killing the man inside. He was identified as 31 year old Thanapon Prachit a native of Chaiyaphum province.
Another man, passing by on a motorbike, was seriously injured by the falling power pole. He was admitted to Chalong Hospital where but was pronounced dead. The passport found on him identified him as 28 year old Win Myo Hlaing from Myanmar.
The bodies of the victims were taken to Vachira Phuket Hospital for an autopsy.
SOURCE: Bangkok Post
Keep in contact with The Thaiger by following our
Facebook page
.
Two men die after truck plows into power pole in Phuket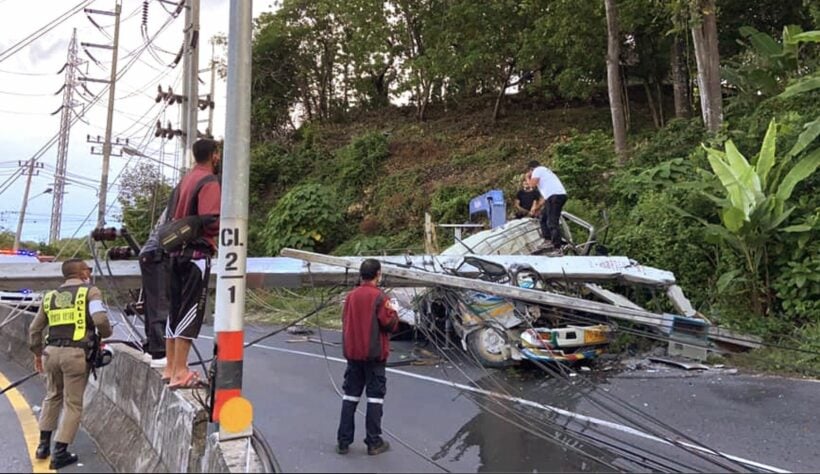 A Thai and Burmese man were killed after a work truck collided with a power pole on Kata hill, southern Phuket yesterday afternoon. The deputy chief of Karon police reported that the incident happened near the turn off onto Soi Suksan 1, on the Chalong side of the hill.
The power pole crashed on top of the truck as it fell, killing 31 year old Thanapol Prachit from Chaiyaphum province.
A 28 year old Burmese man was driving past at the same time and was also injured when the power pole fell. He was rushed to Chalong Hospital where he was later pronounced dead. His name was Hlaing Myo Win, according to the Bangkok Post.
The two bodies were transferred to Vachira Hospital and police are continuing their investigations.
SOURCE: Bangkok Post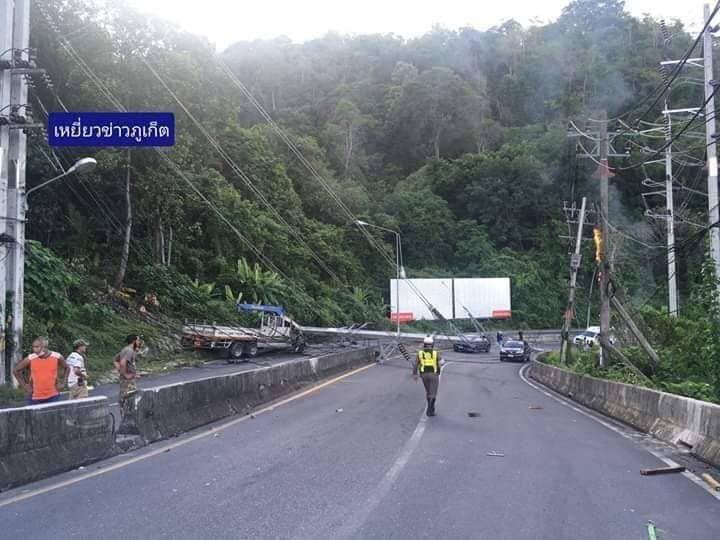 Keep in contact with The Thaiger by following our
Facebook page
.
Tourist and environment groups share concerns for new access piers for Maya Bay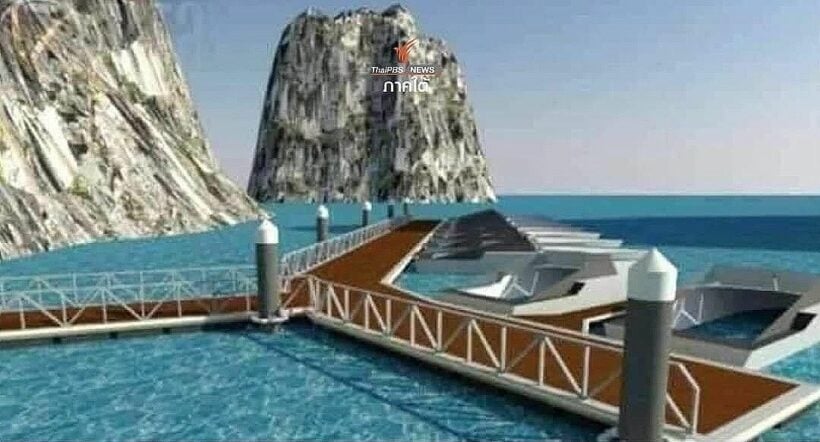 The Chairman of Krabi Tourism Industry Council has shared his concerns about new piers and landing facilities on Koh Phi Phi Ley after being made aware that the Department of National Parks had the initiative to build a pier so tourist can travel by foot to Loh Samah Bay area behind Maya Bay, Ao Nang Subdistrict, Muang District, Krabi.
Maya Bay remains closed to all visitors and access confined to boats passing by the entrance to the bay for a photo opportunity instead. The bay was attracting up to 6,000 people per day at the height of its popularity before authorities closed down access in June 2018.
The idea of the floating piers would allow tourists to disembark then walk from the rear of the island across raised boardwalks to arrive on the back of the beach. In the past tourists had arrived on boat and jumped ashore with the boats waiting either along the shore or anchoring in the bay.
Maya Bay was made famous in the 2000 movie "The Beach" with Leonardo diCaprio.
Even though Koh Phi Phi Ley, the smaller of the two Phi Phi islands, is in the Krabi province, most tourists accessed the island group from Phuket by either speed boat or scheduled ferry.
The Chairman says… "I am concerned about the impact on nature and the environment, where Loh Sama Bay is a dive site that consists of both shallow and deep corals, complete with beautiful, diverse species including soft corals, hard corals, sea anemones. Previously, tourists have consistently come to dive and inspect the beauty of coral reefs there."

A Koh Phi Phi conservation group consisting of tour operators and local villagers have also previously submitted a proposal to the Department of National Parks voicing their concerns about the construction of the new infrastructure.
Pankham Kittithornkul, Chief of Ao Nang sub-district, says that he and local villagers have come to a conclusion to proceed with the construction to service Maya Bay with the exception during low season, closing the famous bay for nature to recover.
"The Department of National Parks has closed off the area to preserve the wide life but there is no news of the reopening of the bay, causing local people to lose revenue."
"Previously the start of installation of the piers was recalled."
SOURCE: One31 | Phuket People Voice
Keep in contact with The Thaiger by following our
Facebook page
.