Phuket Sports: Scores, storms and Sepang – F1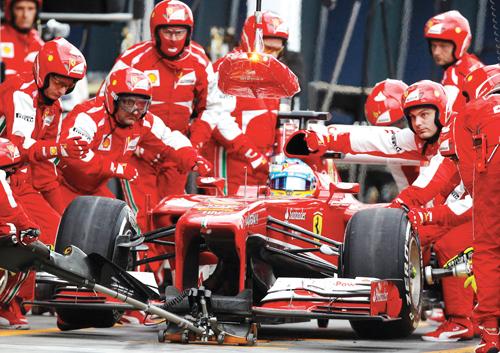 PHUKET: Well, Melbourne was a great Grand Prix, and we now have some answers to those intriguing questions from the off-season.
Last week I put my neck on the block and made some predictions about the Australian GP (click here for article) that were against conventional wisdom. How well did I do?
I said slower teams have had a better chance to copy and catch-up than have faster teams to increase their lead with innovations. So I expected the smaller teams to show this season. Force India looked awesome at Melbourne, with Adrian Sutil leading for two long periods and finishing 7th. He was unlucky not to beat Mark Webber and Lewis Hamilton.
I think that throughout this season we shall see blazes of surprise from Force India, Williams, Mercedes and Sauber.
I also said the management of the new Pirelli tyres was going to be a decider.
It was. Pirelli included supersoft tyres to spice up the Aussie barbie. It worked, providing varied success for two and three stop strategies and seven different leaders. Might they do the same in Sepang?
I thought Sebastian Vettel would be lucky to make the podium in Melbourne. But McLaren could not compete at the top, so Vettel took third fairly easily, but conspicuously 22 seconds off the pace.
Despite the great support for Red Bull, I thought Ferrari would be the team to beat. It was. They now lead the Constructors' Championship. I said Fernando Alonso would be on the podium. He was. But Ferrari ran a three–stop sprint strategy, and Lotus' deliberate two-stopper was a race winner.
I said that if McLaren could sort their tyres, I would not be surprised to see Jenson Button on the Melbourne podium alongside Alonso.
Actually he was never a contender. McLaren has not got its package working, and are unlikely to fare better in Sepang.
But don't write them off; they are the only team to go for a new package this season instead of upgrading the 2012 car.
They have time to come back, and if they do, their new car could dominate the rest of the season, because other teams may not be able to compete by tweaking. But McLaren needs to be turning around by Catalunya in May. There's a lot to do.
Despite being fastest in testing, I said I would be surprised if Mercedes managed a podium finish in Australia. Hamilton finished 5th, well off the pace, particularly in straight line speed, and Nico Rosberg DNF. They are likely to stay mediocre in Sepang.
I tipped Kimi Räikkönen for a podium position. He won of course. Lotus demonstrated perfect tyre management, and made a two–stop strategy work when others, notably Mercedes, failed.
The Iceman's penultimate lap was pointedly the fastest lap of the race, on tyres that were 22 laps old. On this showing, I would tip Kimi to revisit the podium in Sepang. I understand that Kimi griped at having to rise early for Q2 and Q3, delayed from Saturday by the stormy weather in Melbourne. If so, he had clearly recovered his good humor by the time he won.
The Constructors' Championship scoreboard shows Ferrari top with 30 points, Lotus 26, Red Bull 23, Mercedes and Force India 10 and McLaren 2.
There were five rookies in Melbourne and no bad incidents. Max Chilton, who finished 17th for Marussia, looks like he belongs in F1. He's a classic driver and one to watch in the future. He had to stop for a wing change after a kiss with Van der Garde early in the race. Look to him to make midfield in Sepang.
Sepang will be hotter than Melbourne and better suited to the tyres. There is always a likelihood of rain to add spice to strategy which may help the best drivers. So it would be no surprise to see a podium of Kimi, Alonso and a wild card. Vettel, Massa, Webber and Sutil may all be in with a shout. Last year a rank outsider made the podium, and might have won, so who knows?

Qualifying for the Malaysian GP starts at 3pm on Saturday, and the race is at the same time on Sunday. Watch both with me at The Green Man, Chalong (click here for map)!
— The Digby
Keep in contact with The Thaiger by following our
Facebook page
.
Never miss out on future posts by
following The Thaiger
.
Phuket's annual Vegetarian Festival lowers flags, spirits return to the heavens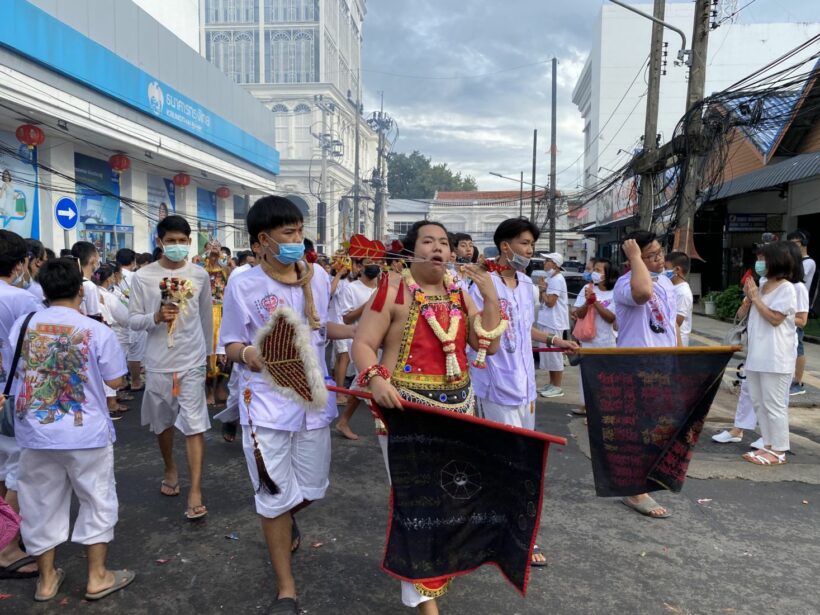 WARNING! Content below contains photos of self-mutilation that some may find disturbing.
The flags on Go Teng poles were lowered on Monday, ending Phuket's annual Vegetarian Festival and symbolising that the spirits have returned the heavens. The flags are raised at the start of the festivities each year at participating shrines, calling on the spirits to descend from the heavens.
This year, 2 men were electrocuted while taking down the festival flags. A steel pole with the flag touched a power pole, electrocuting and burning the workers as they were trying to lower the flags. They were taken to the hospital.
During the festival's street processions and ceremonies so-called "mah songs" channel the descended spirits. They enter a trance-like state and many practice self-mutilation to channel the spirits. "Mah" means horse in Thai, and some say the mah song acts as a horse for the spirit to ride.
Some mah song pierce their cheeks and other parts of their body with steel spikes and sometimes swords or other bizarre choices (we've seen petrol pumps, javelins, samurai swords and kitchen utensils). During the street procession, they walk for hours with the self-inflicted piercings, seemingly posessed by 'spirits' and muttering all sort of strange chants, verging on mild cases of Tourette syndrome. A team of devotees for each mah song wipe away blood and keep the wounds clean. Some mah songs even slice their tongue for the street procession. Blood drips on their chest and the ground. Waiting bystanders line the streets hoping for the blessing of a passing mah song. Some mah songs carry a black flag.
The event is an annual spiritual 'cleansing' for those in watching the processions. Onlookers lining the street bow their heads and place their hands in the "wai" position as the mah song waves flags and banners over their heads. Businesses along the procession route often set up an altar outside their shop and mah songs stop at each one to do a short ritual.
The Phuket government gave the festival organisers the "okay" to hold this years event with hopes that it would increase domestic tourism and generate much-needed revenue after the Thai government's response to the Covid-19 pandemic crippled Phuket's tourist economy. Before this year's festival, Phuket City Mayor Somjai Suwansupana asked that the mah songs "limit the level of torturing." He also called for a limit on the number of people at ceremonies to prevent the spread of the coronavirus.
His calls were largely ignored.
The spirits will again return in 2021 to Phuket again cleanse the island's large Thai-Chinese community.
Photos of the 2020 Vegetarian Festival by Marina Krasnopolska.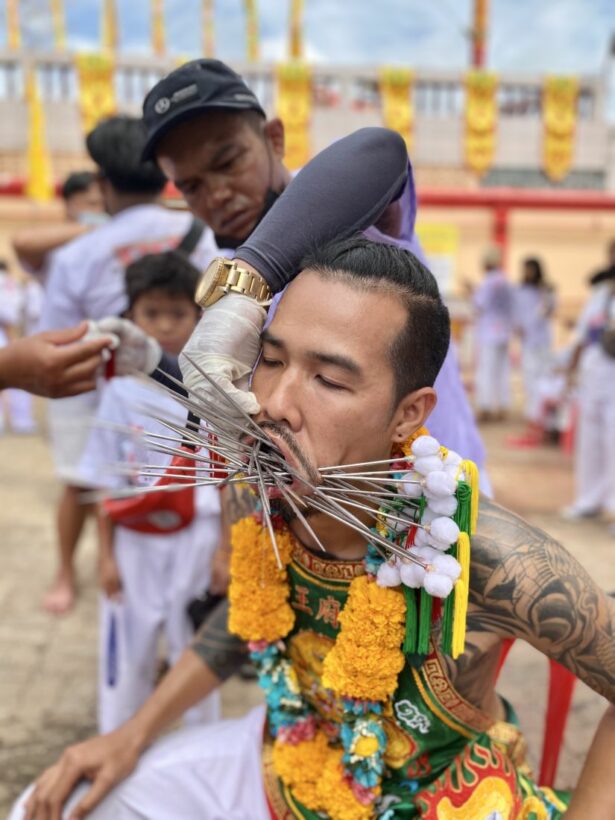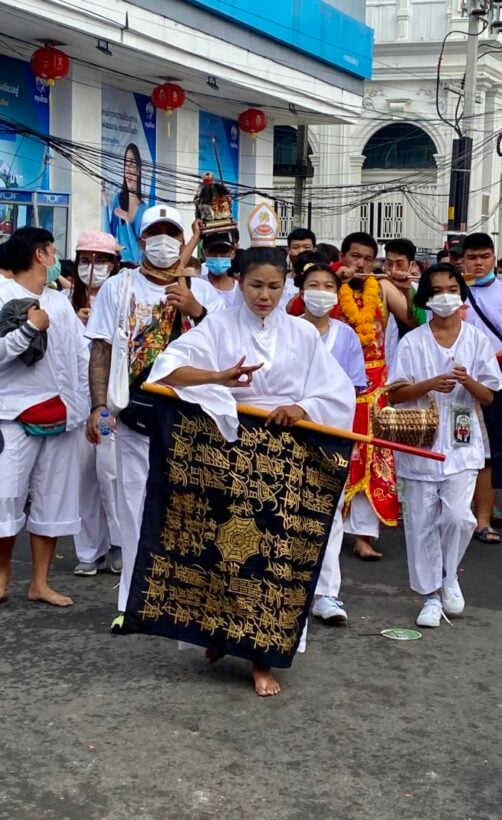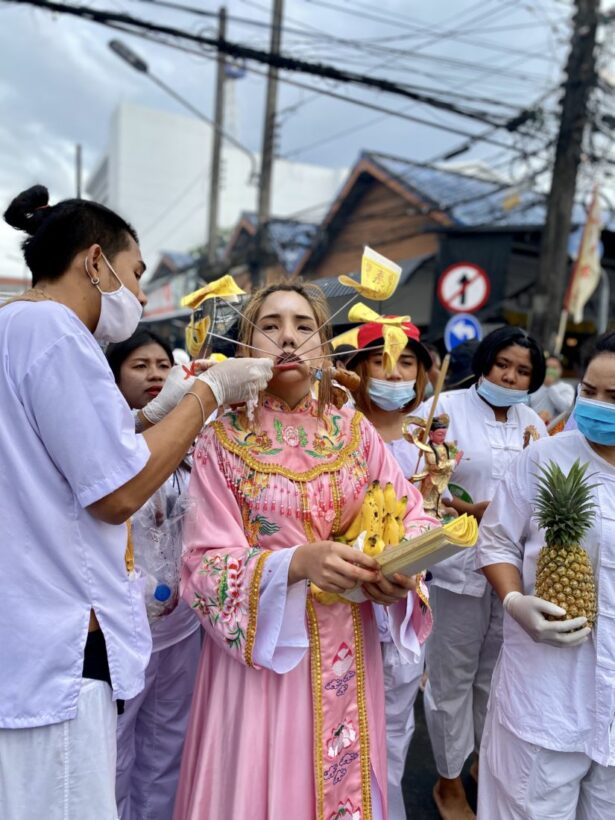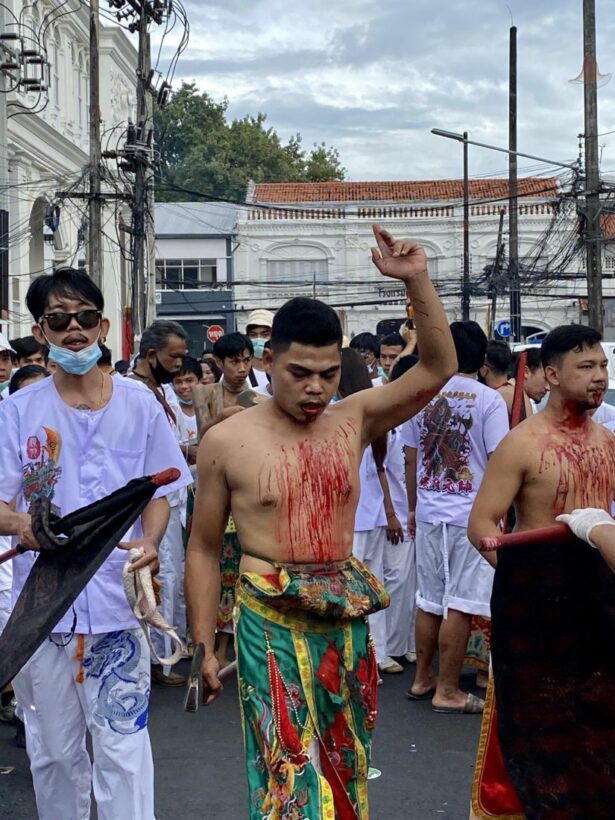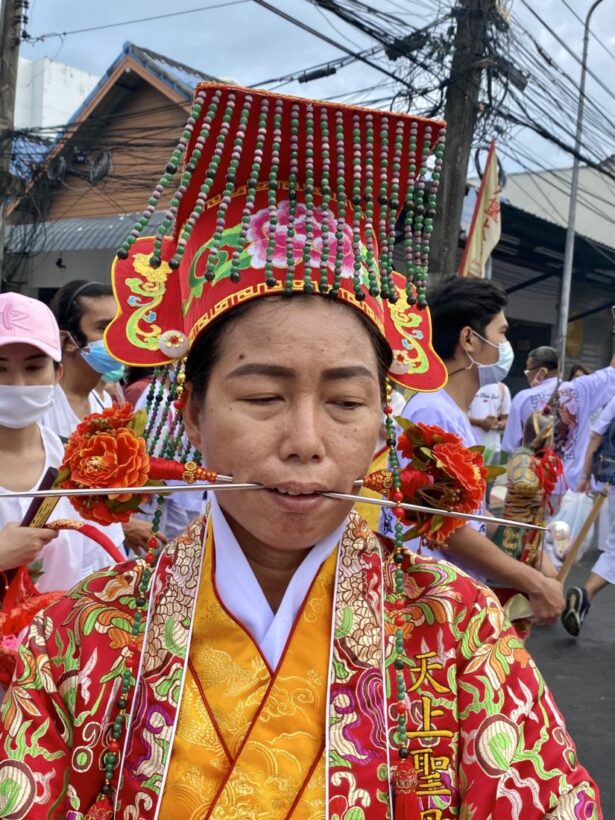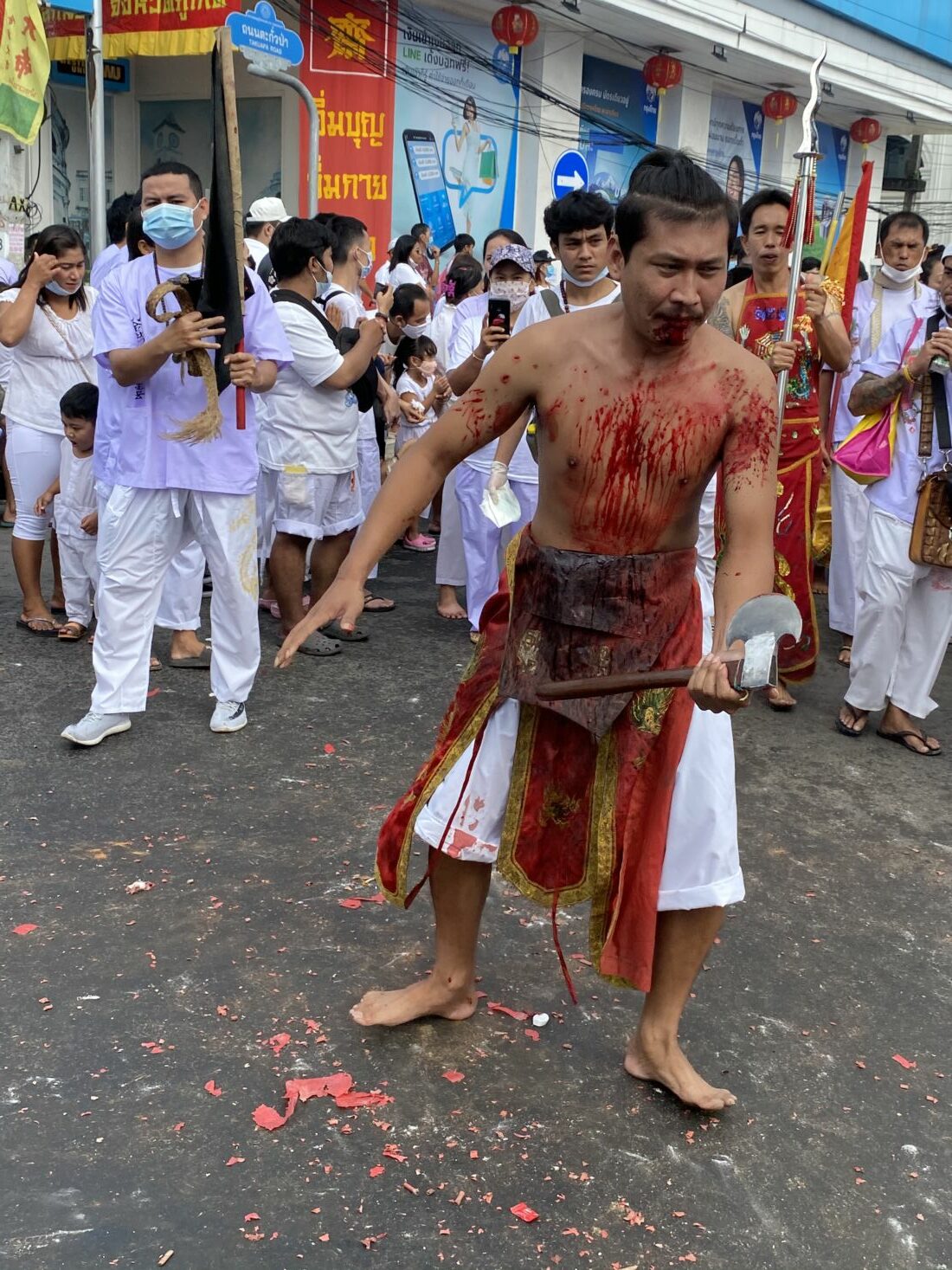 SOURCE: Phuket News
Catch up with the latest daily "Thailand News Today" here on The Thaiger.
Keep in contact with The Thaiger by following our
Facebook page
.
Never miss out on future posts by
following The Thaiger
.
Phuket told to prepare "response plan" in case of second Covid-19 outbreak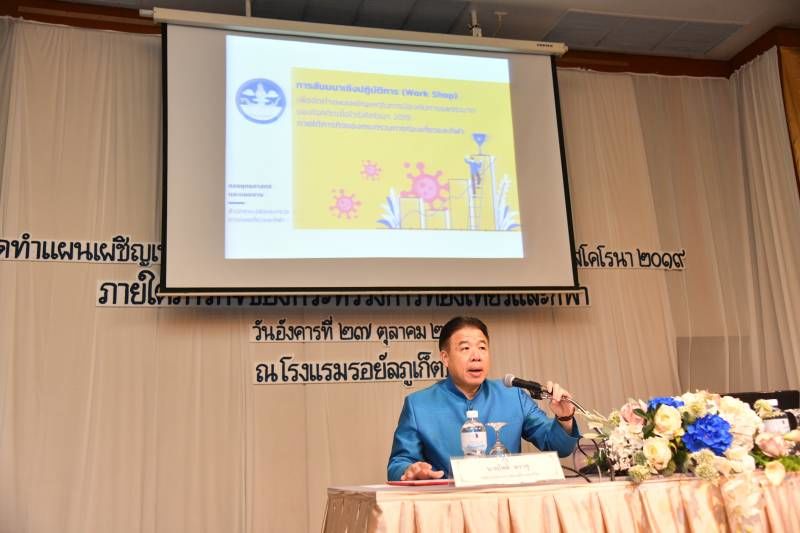 As Phuket awaits foreign tourists, city officials are told to prepare a "response plan" in case of a second wave of Covid-19. An official from the Ministry of Tourism and Sports held a workshop in Phuket today to discuss the risk of another outbreak as the country opens up to those on the Special Tourist Visa.
The ministry's permanent secretary Chote Trachu says now that the country is allowing tourists (who are required to quarantine upon arrival) an infection "may somehow slip through." He says a response plan needs to be in place in case this happens, adding that there should be corporation from the Ministry of Public Health and Ministry of Defense.
"If any tourists are found to be infected, the disease must not be allowed to spread among the people. There should be no panic, and public health officers will investigate the case. Tourist Police will track down the suspected person in an investigation with the Ministry of Public Health."
Chote says all provinces – not just Phuket – should have a response plan. Although tourists must go through a mandatory 14 day quarantine upon arrival, Chote says there are some cases where the incubation period for Covid-19 is longer than 14 days.
"There are a variety of cases. Sometimes, the infection does not show after 14 days, or even 15 or 16 days. Each situation is different."
Recently, a woman in Koh Samui tested positive for the coronavirus 5 days after she was released from a Samut Prakan quarantine facility. Traces of the virus were found on gym equipment the woman used at the quarantine, leading health officials to suspect she was infected before arriving to the island.
"We urge Thai people to not let their guard down. Everyone must wear masks, wash their hands and take care of personal hygiene. This will help prevent them from contracting the disease."
SOURCE: Phuket News
Keep in contact with The Thaiger by following our
Facebook page
.
Never miss out on future posts by
following The Thaiger
.
Approval sought for multi-billion-baht Phuket medical hub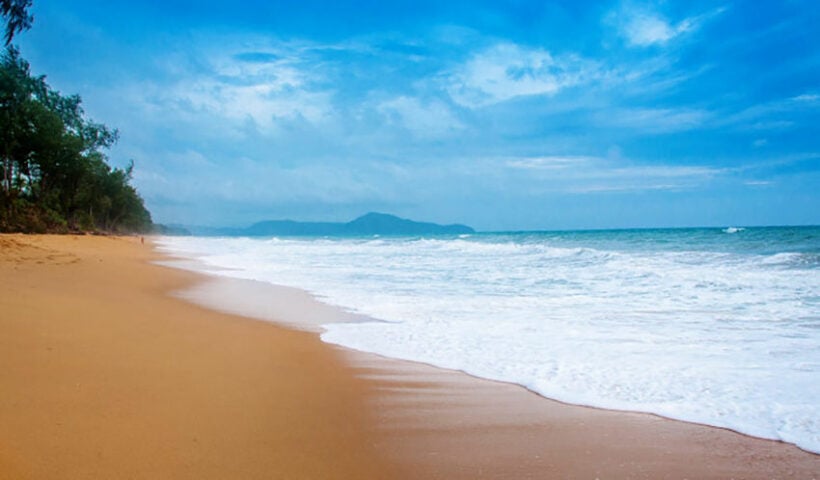 Industry officials are seeking the go-ahead for a project to transform over 140 rai of government land in Phuket into a world-leading medical hub. The project is budgeted at 3 – 4 billion baht, depending on which report you read. Kitkong Tantijaraswarodom, from the Federation of Thai Industries, believes the development of a medical and wellness hub in the sub-district of Mai Khao, north Phuket, will help revive the southern island's battered economy. Phuket has become increasingly reliant on a steady flow of tourists over the past 2 decades.
The southern division of the FTI covers Phuket, Krabi, Phang Nga, Nakhon Si Thammarat, Trang, Patthalung, Surat Thani, Ranong, Satun, Chumphon, and Songkhla.
"The FTI will ask the government to green-light the project during the scheduled mobile cabinet meeting on the island on November 3."
Kitkong says businesspeople in the south are anxious for the government to approve the project, which will provide both locals and foreign medical tourists with state-of-the-art medical care. The facility is expected to include long-term care, hospice and rehabilitation services, in addition to a dental hospital, sports therapy centre, and a medical training school for doctors, nurses, pharmacists and medical laboratory scientists.
The chair of the FTI's southern chapter is also calling on officials to provide small and medium-sized businesses with additional support, in the form of access to loans, in order to deal with cash shortages.
"In the short term, the FTI wants the government to help SMEs, especially those in the tourism sector."
SOURCE: Bangkok Post
Keep in contact with The Thaiger by following our
Facebook page
.
Never miss out on future posts by
following The Thaiger
.