Special Report: Controversial Dolphinarium puts on first Phuket shows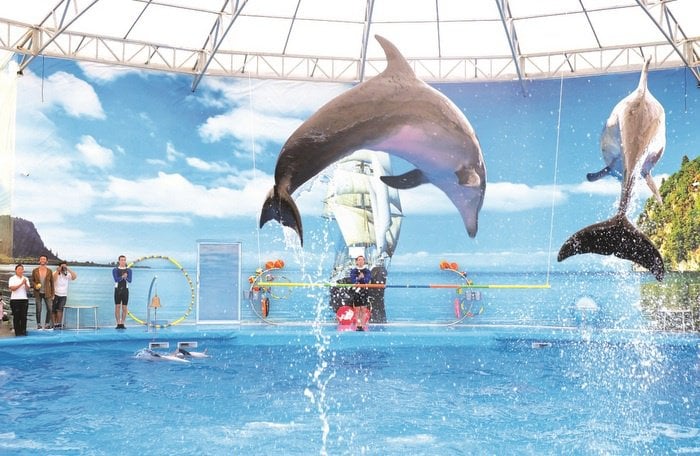 PHUKET: A number of local schools and orphanages were invited to join the soft opening of Phuket's highly-contested dolphinarium on the weekend of October 31.
Though the manager of the the Dolphins Bay Phuket facility declined to detail exactly how many invitations went out, the five dolphins, two seals and their trainers debuted to a packed 900-seat house.
"We actually had to add a 2pm show on both Saturday and Sunday because there were so many people coming to the attraction. We did not want to turn them away and ruin our reputation," said Dolphins Bay Phuket General Manager Supreecha Suthamanondh.
The event was the first time for many people in Phuket to see a dolphin and seal performance, as most have not visited such facilities before, explained Waratthaya Suanpon, the managing director of Dolphins Bay Phuket.
Despite the widespread knowledge of the soft opening and a very active local movement by members of the 'Phuket Says No to Dolphin Shows' Facebook group, there were no protesters blocking the gates to the facility.
"It is not our objective to publicly protest, as there are potential risks involved," the group explained to the Gazette on Facebook.
"Our objective is to raise awareness and educate the community about the cruelty of dolphin captivity and to lobby relevant government and private sectors.
"We are working tirelessly to do this. We have visited Taiji [Japan] and have seen first hand the truth behind the lucrative captivity trade. We have successfully implemented an online awareness campaign that is strengthening daily and captured the attention of the community. We are working toward more visits to schools.
"We will be continuing to do this, as we believe wholeheartedly that education and awareness are the key drivers to help people make better informed decisions about whether or not they want to visit such shows. We also believe that what we are doing strengthens our community in Phuket."
Nonetheless, the response from those community members that attended the show was beaming.
"This was my first time seeing a dolphin. It was a good chance for me and I would like to thank my teacher and the dolphin show owner who let us see the show for free," said an 11-year-old from SOS Children's Villages Thailand.
Jeerawat Siribumrungsook, the director of SOS Children's Villages Thailand, brought about 100 children to the dolphinarium last Sunday.
"We received the invitation to see the dolphin show for free. I think it's good for students to have the chance to see real dolphins, as some of them have never been able to before. We received good feedback from the children – they enjoyed the show," Mr Jeerawat said.
However, not everyone who was invited decided to take Dolphins Bay Phuket's offer.
"The organization 'Phuket Says No to Dolphin Shows' came and told us about dolphins being kept in captivity. After they told us the story about how bad they [people] treat the dolphins, no one wanted to go there [the Phuket dolphinarium]," said Susanne Janson, the manager of Barnhem, a post-tsunami orphanage. "I think it's very good that the organization is educating people about the truth of dolphinariums. We all love dolphins, so none of our children wanted to go."
In February this year, a group of children from Phuket's Gecko School presented a letter to the mayor of Taiji denouncing the annual slaughter of thousands of dolphins in Japan, which is used to secure a select few dolphins for dolphinariums around the world.
The letter began:
"I would like you to take immediate action to end the hunting of dolphins in Japan, including the bloody and inhumane slaughter of dolphins that takes place in Taiji. Japan's international reputation is severely damaged by the continuation of these barbaric hunts that are as disturbing to many Japanese as they are to the rest of the world…"
Early protests against Dolphins Bay Phuket focused on the 'Taiji connection'.
Sea Shepherd Conservation Society confirmed to the Gazette in 2014 that the original marine animals slated for shipment from Ukraine to the Phuket facility had a direct connection to the annual slaughter of thousands of dolphins in Taiji.
Three of the dolphins, two Pacific Bottlenose and one Black Sea Bottlenose, were born in captivity in 2012 and are being directly exported from Ukraine, said Sea Shepherd Conservation Society Asia Director Gary Stokes at the time.
Additionally, five more Pacific Bottlenose dolphins are being re-exported from Ukraine; and all five were originally caught in the wild in Japan, he explained.
However, Mr Supreecha assured the Gazette that the dolphins that were eventually brought to Phuket had no direct connection to Taiji.
"People need to know that we aren't torturing the animals. They were born in captivity and raised by humans," Ms Waratthaya explained. "Please be assured that they are well taken care of by specialists."
To ensure that the Dolphins Bay Phuket was being set up legally, the Department of Fisheries committee invited members of the Phuket Marine Biological Center (PMBC) to review the company. The team had two primary objectives: ensure that the facility met national standards and check the import licencing.
"We checked the venue several times and made clear what changes were necessary to best take care of the dolphins. Once they met all national standards, we were able to sign off on the facility. We also looked into the documentation of the dolphins themselves and were able to confirm that there were no conflicts with CITES [Convention on International Trade in Endangered Species of Wild Fauna and Flora]," said Dr Kongkiat Kittiwattanawong, head of the endangered species unit at the PMBC.
"Dolphins are social animals that need to learn from their parents and friends how to survive. As these dolphins were born and raised in an aquarium, they are well adjusted to this environment and would not be able to survive in the wild," Dr Kongkiat said. "We can not just decide what is best for them based on our feelings."
Dr Kongiat made it clear that he was aware of the annual dolphin hunt in Taiji, but said that there was nothing his office could find that linked the dolphins at the facility to those captured in Japan.
The venue also succeeded in garnering local support in Chalong, with Chalong Moo 2 headman Thanakrit Kaewlipon explaining to the Gazette that he was proud to have the dolphinarium on the island.
"I am aware of the people protesting the dolphinarium. However, my understanding is that they are against hunting wild dolphins. They also say that keeping a dolphin in a small tank is torture," Mr Thanakrit said.
"As a local leader, there is very little I can do one way or another, especially since the people in our village have no problem with the facility opening.
"I have talked with the manager and he confirmed that the facility is legal in all capacities and that the dolphins were not taken from the wild, but born in captivity.
"The dolpinarium will bring tourists to the village and supply jobs for locals. It's not that we don't understand those who are against the facility, but we don't have a problem with it. In fact, we are proud to have it here and to welcome tourists to our area."
However, renowned dolphin trainer-turned-animal rights activist Ric O'Barry, well-known for his role in the Academy-award winning documentary The Cove, lashed out against the facility following its soft opening.
"It is my hope that the new dolphin abusement [sic] park in Phuket also has a soft closing. We [Dolphin Project] will continue to support the local environmentalists and support their effort to educate the tourists and encourage them to not buy a ticket to the dolphinarium," he told the Gazette. "I feel confident that the abusive animal act will eventually close and be replaced with some sort of cruelty free entertainment. It's just a matter of time."
Meanwhile, Phuket expat and Dolphin Project Monitor Vicki Kiely vowed to continue her efforts to sway public opinion about the moral issues surrounding dolphins and other marine mammals in captivity.
"I'm very sad about this dolphinarium opening, especially seeing the lengths we have gone to to stop it, and also to educate people about it and the wrongs of captivity in general," Ms Kiely said.
"We will continue to speak out against this abusement [sic] park. We are exposing to the world how wrong it is, and how wrong captivity is. The animals suffer immense stress and are robbed of all their natural environment. In turn, they are deprived of being able to function using their instincts."
Mr Supreecha acknowledged that it was unlikely for there to be an understanding between his operation and the stance taken up by those who support 'Phuket Says No to Dolphin Shows'.
"I know that those against the dolphinarium will continue to protest our attraction. However, as I have made abundantly clear from the start, we are following legal procedures and ensuring that the animals are being well taken care of by specialists," he said.
"At the end of the day, we are giving adults and children the opportunity to see real dolphins at their convenience, as finding them in the wild is not that easy."

— Chutharat Plerin
Phuket News

Join the conversation and have your say on Thailand news published on The Thaiger.
Thaiger Talk is our new Thaiger Community where you can join the discussion on everything happening in Thailand right now.
Please note that articles are not posted to the forum instantly and can take up to 20 min before being visible. Click for more information and the Thaiger Talk Guidelines.