Record-breaking turnout for Day 1 of 2016 Cape Panwa Raceweek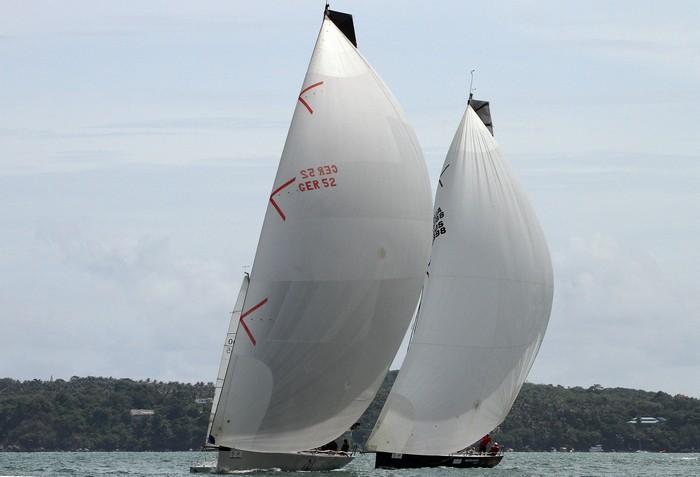 PHUKET: Perseverance and patience were the skills in most demand on Day 1 of the 2016 Cape Panwa Hotel Phuket Raceweek as Principal Race Officer (PRO) Simon James and his on-water team tracked around Chalong Bay and surrounds in search of wind.
It was testing and trying for the record 47-boat fleet and 500+ sailors. As 14:00 approached, the PRO set a course and at 13:54 got the Firefly 850 Sport class off first.
Light winds meant a single windward/leeward for all and everybody's patience paid off as all classes got in a full race put the first scores on the board. Kudos to the PRO and team.
In the one-design Firefly 850 Sport class first blood went to former champion Voodoo, helmed by Ian Coulson, who got the better of 2015 winner John Newnham's Twin Sharks. Just two seconds separated third and fourth with George Eddings' Blue Noze edging out Neil Ayre's Advanced Racing Mamba.
In the Corsair class, made-up of four identical Corsair Pulse 600s, Pixalux, skippered by Mick Tilden, showed the entire fleet a clean pair of heels winning by over six minutes. It was much closer for second and third with the Chinese/Thai team on Phuket Island Radio placing second ahead of Zam Bevan's team on Multihull Solutions H30 in third.
Nine boats in Multihull Racing made for the joint largest class in the regatta and the first win went to Asia Catamarans Hurricane finishing just 17 seconds ahead of sister-Stealth Cat Java. The larger Stealth, Top Cat, held onto third ahead of the fast finishing Galeforce RAirlines, skippered by Patinyakorn Buranrom.
In the keelboat fleet, the TP52's of Millenium Racing and Oi! were evenly-matched tracking each other around the course, and it was Ray Roberts and crew on Millenium Racing who took the first win of the series in IRC Racing I.
In what looks poised to be one of the closest classes, David Dimmock's Swan 42 Loco won the first race in IRC Racing II by a mere nine seconds. Second place went to the Sydney 40 Emagine skippered by Scott Bradley and with a strong team of Thai sailors on board. On his first outing on his new boat, Ben Copley sailed Gust (ex-KukuKERchu) to third ahead of Fujin, the first of the four Beneteau's that make up the rest of the class.
IRC Racing II – poised to be a close battle with seven evenly-matched 40-footers
Ian Lodewyckx/Keith O'Donnell's Farr 30 Foreign Affair corrected out 18 seconds ahead of the ¾ Ton X-yacht Phoenix skippered by Niels Degenkolw in IRC Racing III, while the Farr 1104 Piccolo of Rex Hollyoake/ Troy Scott managed third.
In spite of the tricky conditions, the racing was close throughout the fleet and no more was this true than in the Cruising/Charter class where five seconds was the winning margin. Venture claimed the win ahead of BeauX Esprits and just over 30 seconds back was the ever-slippery S&S 42 Remington.
Returning to a Phuket regatta for the first time in many years is a one-design Platu class. Referred to as "Absolute One Design", the five Platus are identical, racing with controlled sails provided by the class organisers and it was Australian Liz Schoch on Phuket Boat Lagoon Fox who put the first win on the board ahead of Clement Lim's Phuket Boat Lagoon Weasel and Kev Scott's Absolute One Design, who finished second and third respectively.
Organised by Media Business Services, Racing continues tomorrow off the Cape Panwa Hotel.
Keep in contact with The Thaiger by following our Facebook page.
Never miss out on future posts by following The Thaiger.
Thailand News Today | Covid passport talks, Thai Airways heads to court | March 2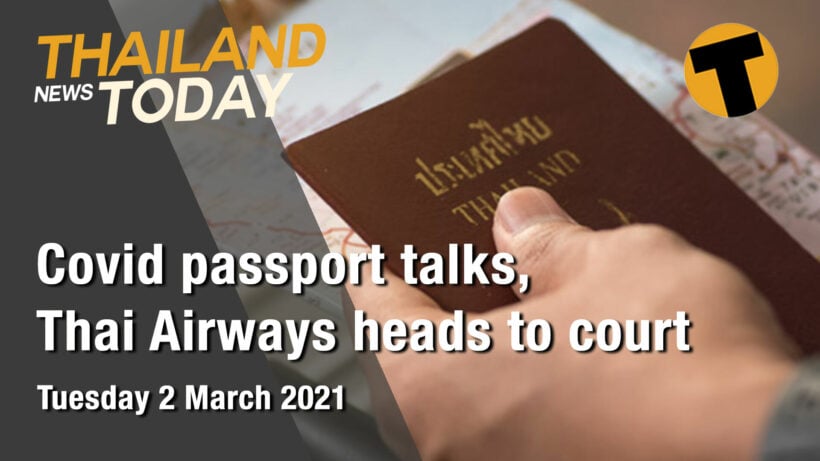 In today's Thailand News Today…. The island of Phuket has a firm plan to get its residents vaccinated leading up to an October opening for tourists, the Thai PM backs up his police over last Sunday's protest violence and Thai Airway's employee union criticises the changes to employee contracts.
But the plan must be approved by the national government by April, if the province wants to open tourism by October 1. Phuket has a resident population of around 300- 400,000 people.
Before you go rushing off to book your plane tickets we'd stress that this is another in a long list of proposals that have not come to fruition and we'd urge patience until the Government approves the plans.
Meanwhile the island has taken delivery of 4,000 doses of the Chinese Sinovac Covid-19 vaccine. Vaccinations started yesterday, with priority given to 1,500 healthcare workers and 500 "at-risk" officials exposed to Covid-19 patients.
On a broader note… Thailand's Tourism Minister says he has asked the Public Health Ministry to approve a vaccine passport scheme aimed at reviving Thailand's devastated tourism sector. According to the Minister, the government is looking to the World Health Organisation to issue a statement on vaccine passports before it makes a final decision on the matter.
The Thai PM, Prayut Chan-o-cha has defended police action against protesters taking part in Sunday's anti-government rally in Bangkok. Officers from the Metropolitan Police Bureau used tear gas, a water cannon and rubber bullets in an effort to drive protesters back from the PM's residence. The PM insists the actions were in line with international standards. He says that police did not violate the protesters' rights.
Thai researchers are claiming that horseshoe bats are not responsible for transmitting the Covid virus to humans. A researcher with the Thai Red Cross Emerging Infectious Diseases-Health Science Centre, says that even though the bats have tested positive for a coronavirus, it is not the strain that is transmissible to humans, and it's certainly not the virus that causes Covid-19.
As Thai Airways tries to sell new contracts and conditions to its remaining workforce, the labour union of the national carrier is challenging changes to the employment contracts, where Thai Airways employees are being asked to agree to changes as part of the bigger financial rehabilitation program.
But a union representative says the new contracts are unfair because it includes fewer leave days and shorter holidays. The union has filed a complaint with the Department of Labour Protection and Welfare.
Keep in contact with The Thaiger by following our Facebook page.
Never miss out on future posts by following The Thaiger.
Police investigate reports of women's underwear stolen from Phuket homes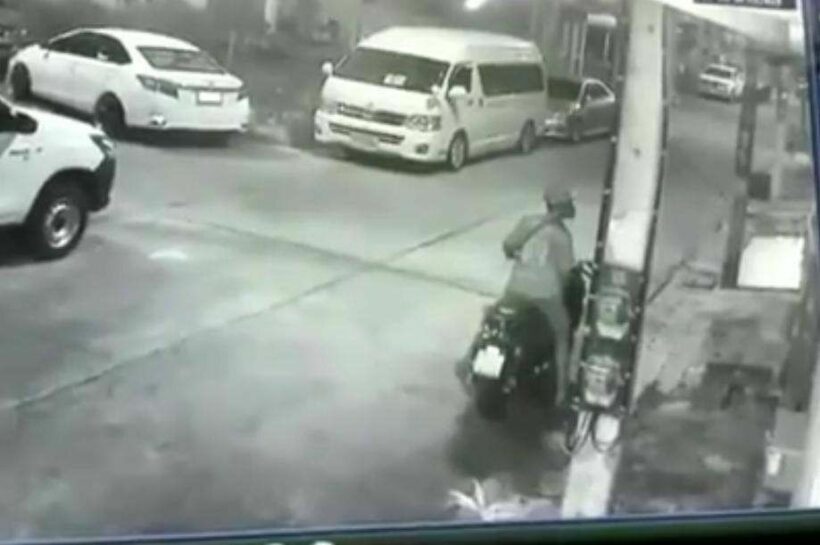 Police in Phuket are looking for a suspect who residents say has been stealing women's underwear. Surveillance camera footage from a resident's home shows a teenager driving through a neighbourhood, then stopping and stealing ladies panties that were hanging up to dry.
One resident told Phuket News that numerous residents in Thalang's Baan Lipon area have reported missing underwear.
"Recently neighbors have been reporting that many items of their underwear have been stolen. Many residents are worried about the man hovering around here trying to steal underwear."
A man told the Phuket News that his wife's underwear was stolen and he's now worried about his family's safety. Another resident says he's also concerned.
"As a resident in this area, I am worried about the safety of the local residents. Underwear has been stolen, something else could happen as well."
In a similar case back in October, a 46 year old man was arrested for allegedly breaking into homes in Ratchaburi and stealing women's underwear. Police says they seized 70 pairs of panties.
SOURCE: Phuket News
Keep in contact with The Thaiger by following our Facebook page.
Never miss out on future posts by following The Thaiger.
Phuket pushes to open doors to vaccinated international tourists by October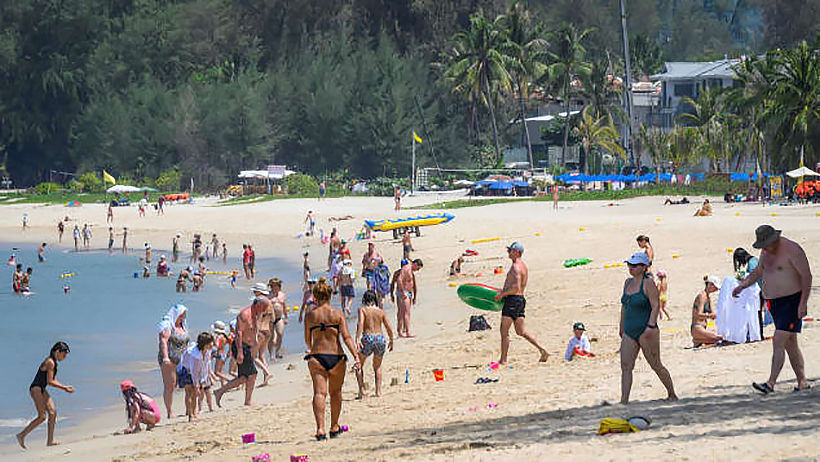 Phuket is set to open its doors to vaccinated, international tourists by October, pending the government's approval. The local government's initiative, named Phuket First October, proposes vaccinating a majority of its population over 18 years of age in time for the high season. The move would allow thousands of vaccinated Europeans to enter Thailand, while locals would be protected from the virus symptoms.
Protecting the locals would include achieving herd immunity in time for reopening the province, which would need 70% of the population to be vaccinated. The local government's goal would not wait for the government to roll out vaccines, and instead, use its own resources to vaccinate the public. Bhummikitti Ruktaengam, president of the Phuket Tourist Association told the Thai Enquirer over the phone, that they won't stop pushing for ways to help the tourist destination survive.
"I think there must be a solution that balances controlling the outbreak and stimulating the economy."
The island is also looking to waive the 14 day quarantine, with PM Prayut recently changing his stance by announcing that a quarantine waiver is being considered for those vaccinated tourists.
But the plan must be approved by the national government by April, if the province wants to open tourism by October 1. Initial research shows that around 250,000 citizens per month must be vaccinated to achieve herd immunity.
Initially, the province's request was denied by the federal government, but business leaders are not giving up hope. Recently, they submitted a petition to PM Prayut to appeal the denial citing lack of income, mounting debts and increasing financial disputes due to over eight months without international or domestic flights.
The second wave has also plummeted tourism even lower than before, as the industry has seen a 93% drop in visitors since the same time last year.
Phuket has already kicked off its vaccine rollout as of yesterday, after receiving a delivery of 4,000 doses of the Chinese Sinovac jab. Priority is being given to 1,500 healthcare workers and 500 "at-risk" officials that have been exposed to Covid-19 patients.
SOURCE: Thai Enquirer
Keep in contact with The Thaiger by following our Facebook page.
Never miss out on future posts by following The Thaiger.