Phuket police have 'vagabond ladyboys' in sight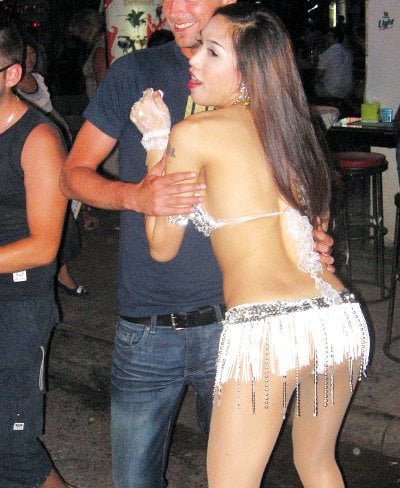 PHUKET: Ladyboys have become an entertainment mainstay in Patong, but unwitting tourists are seeing a shadier side to the festive scenes with robberies and assaults by ladyboys wandering the streets and beachfront.
Patong Police are working to curb these crimes before it affects tourism and have found that the issue stems from ladyboys moving to Phuket from other provinces.
Ladyboys, called katoey in Thai, are almost synonymous with Patong and responsible for much of Soi Bangla's spectacle.
On the darker side of the "show" are the thefts and beatings that are perpetrated at the hands of the trans-gender katoey. Kathu police have put measures in place to fight these crimes and say that the bad behavior of some should not cast all Patong katoey in a bad light.
"They can be divided into two groups. First, the ones that have a place of work such as the bars in Soi Paradise. They do not cause trouble." Patong Police Superintendent Arayapan Pukbuakao told the Phuket Gazette.
"The second type are those who spend their time on the beach and look for people to steal from. They are often involved in drugs and need money to fuel their habits," he added.
Police have begun compiling information on katoey in Patong to help with identification. It is a continuous process, police say, as many travel from other provinces.
"Most of them come from places outside Phuket, especially Pattaya. We have already taken records of local katoey, some now help us as informants," Col Arayapan explained.
To help deter them, police have begun fining unemployed ladyboys 300 to 500 baht for loitering and warning them of the consequences of crime.
"[These crimes] will destroy our image among tourists and we are trying to stop them by taking records. It seems to be working very well," Col Arayapan added.
Details of about 50 katoey from Pattaya were recorded in December, but Col Arayapan said the numbers were sometimes as high as 100 per month.
In a typical scenario, tourists are approached by groups of ladyboys and wallets are stolen while the victims are distracted.
Another case that is common is when an unsuspecting tourist wakes up after sleeping with a ladyboy to discover he's been robbed – or he wakes up and realizes he has no money to pay for the "services" of the ladyboy and a fight breaks out, Col Arayapan said.
Frank Tomensen, a public relations officer with the Tourist Police volunteers of Patong Beach, said that he's seen many cases involving tourists and katoey.
"I've had complaints about guys having cameras and phones stolen. You get one or two, or maybe even three ladyboys come up and start touching and grabbing," he said.
"In one case it happened as the guy's wife was looking in a shop window and the ladyboys were touching him up," he said.
"There is an increase [in the number of cases], as there is an increase in the amount of aggression. I am not sure if there are more of them than there were, but they're getting a bit cheekier than they were, they are applying themselves a bit more because they are getting away with it," he added.
Most cases do not see the light of day due to lack of evidence.
"Many tourists get their wallets stolen on the beach. There was one case of a drunk foreigner walking on the beach and some ladyboys tried to touch and kiss him. His wallet was taken while he was defending himself. He realized this the following morning and came to report the theft to police," a local police officer, who asked not to be named, told the Gazette.
"Ladyboys are denied access to some bars in Patong," he added.
Some establishments take a more intuitive approach to the issue.
"We accept ladyboys if they come to our clubs as customers but not if they arrive in a big group of ladyboys who come to our club looking for customers themselves," Jari Leinonen, General Manager of Seduction Beach Club & Disco and Factory Bar, told the Gazette.
"This may cause problems, as tourists may think they are ladies but only find out later that they are ladyboys. We don't risk this," he said.
"The policies seem to work. In the two years that I have worked here we haven't had any problems with ladyboys," he added.
Katoey employed by Patong establishments distinguish themselves from those who are stealing from tourists.
"Most people think all ladyboys cause trouble, but actually its the ones who stand at the roadsides who are to blame," said Sha-sha, a 24-year-old katoey working at Tootsie Ladyboy-Massage.
"We are not involved with them ["roadside" ladyboys], but at first the police were making records of every ladyboy in Patong. But, once we showed documentation proving our employment, we were left alone," Sha-sha said.
Aussie David Crockford, 59, had his wallet stolen while visiting Phuket with two friends in mid-May.
Three katoey approached him while he was walking down a street in Patong. One attempted to hug him while another began touching him.
"That was probably when my wallet was taken," he said.
Mr Crockford said he didn't want to report the crime to police as it was a waste of time.
Aussie investment adviser and Patong condominium owner Matthew Bohlsen agrees that vagabond ladyboys are threatening Patong's image as a safe place to party.
"I think [ladyboys] are okay for looking. I think they look nice and sexy," he said.
"It's bad because tourists are a big source of income and should be protected. I'll be careful about ladyboys stealing," he said.
— Atchaa Khamlo
Want more from the Thaiger family?
📱 Download our app on Android or iOS for instant updates on your mobile
📧 Subscribe to our daily email newsletter
👍 Like/Follow us on Facebook
🔔 Subscribe to or Join our YouTube channel for daily video updates
Phuket tightens restrictions: No parties, no visits from friends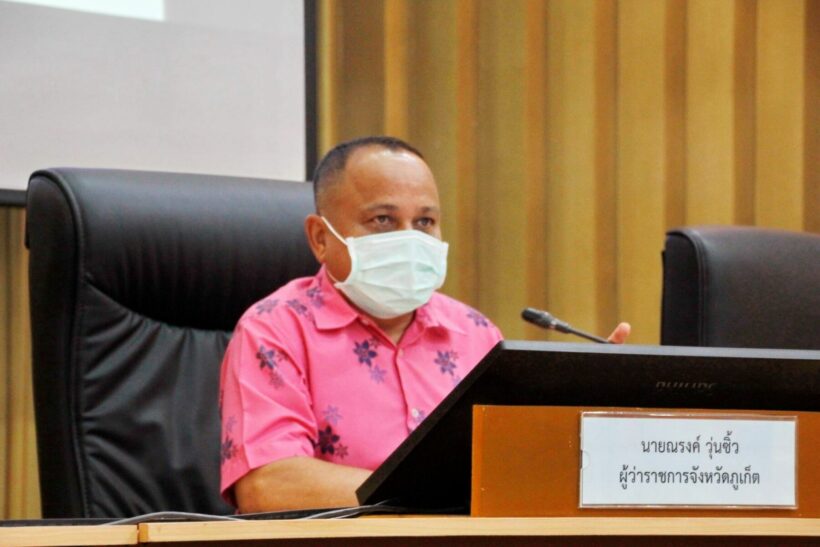 No, your friends can't come over. No parties. No drinking with friends. No large gatherings. As part of Phuket's efforts to stop the spread of Covid-19, local authorities have tightened restrictions and say friends are not allowed to gather at private homes.
"No parties of any kind allowed… No house party, no friends gathering in the residence."
Along with temporary closures of some businesses and venues, the order says, parties involving alcohol are banned and gatherings of more than 30 people are banned. The only gatherings allowed are religious ceremonies like weddings and funerals.
Foreigners who violate any of Phuket's disease control measures could be deported and lose their permission to stay in Thailand. On Sunday, 2 British men in Phuket were each fined 6,000 baht for having a "party." Only 6 people were gathered at the home. Police from the Cherng Talay station came by the home after a call from a neighbour.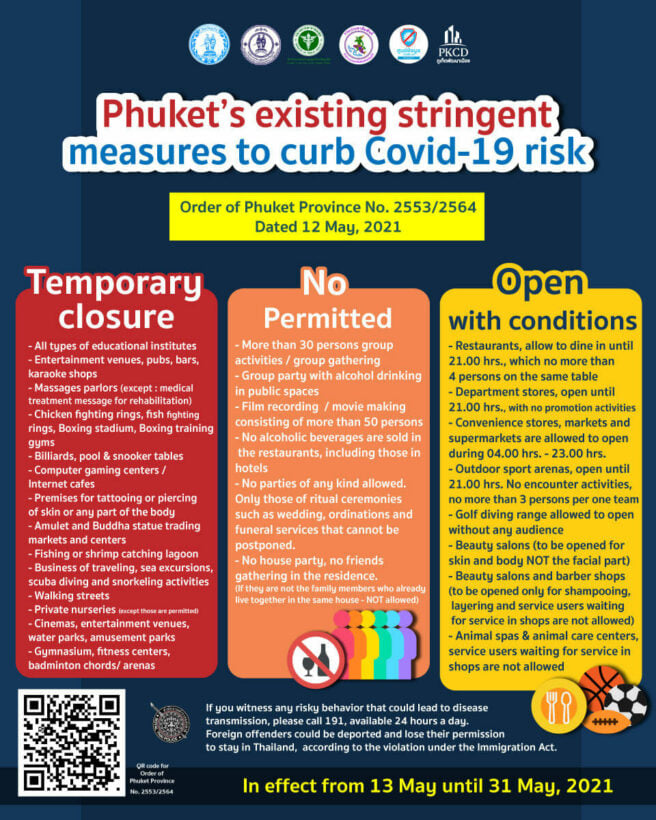 Want more from the Thaiger family?
📱 Download our app on Android or iOS for instant updates on your mobile
📧 Subscribe to our daily email newsletter
👍 Like/Follow us on Facebook
🔔 Subscribe to or Join our YouTube channel for daily video updates
3 organisers of Phuket's Kolour superspreader event charged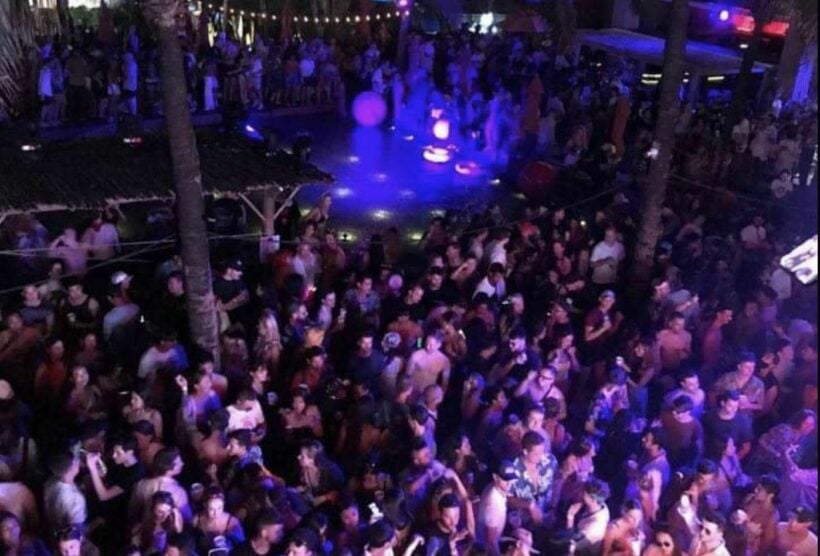 As Thailand still wrestles to control the third wave of Covid-19, much of which stems from entertainment venues in Bangkok and a massive party in Phuket, Patong police announced that the managers of the Phuket venues that hosted the Kolour superspreader event will be charged under the Emergency Decree. The case report was filed with the public prosecutor yesterday according to the Patong police chief, confirming that 3 people will be prosecuted for the event.
The Kolour Beachside Festival was held April 2 and 3 with events at Café Del Mar Phuket in Kamala, and Shelter Phuket Dance and Night Club and Illuzion Nightclub, both in Patong. Before the festival, Phuket had gone more than a hundred days without any new Covid-19 infections, but by April 7 the Phuket provincial Public Health office announced 8 new infections, half of which had been at the Kolour parties. In the following weeks, officials plead for attendees to be tested as infections spread.
Charges were delayed in being filed to the Phuket Public Prosecutor's office as a special investigation committee was ordered to be created to oversee the investigation at the request of Region 8's Police Commander. That committee brought together officials from various law enforcement in the area including the Patong Police, Kamala Police, Phuket Provincial Police, and the Region 8 Police to investigate the Kolour event before anyone was charged.
The manager of Café Del Mar, along with the managing director and the manager of Shelter and Illuzion, which are under the same management team, will be charged for the Kolour festival violating Thailand's Emergency Decree that was declared to help protect the country from Covid-19 outbreaks. A breach of the Emergency Decree can be held liable for up to 40,000 Baht and 2 years in jail under Section 9 of the Decree.
The latter 2 are also facing charges of operating an unlicensed entertainment venue. This carries the possibility of another year in prison and a fine of up to 60,000 baht, in accordance with Thai Law under Section 26 of the Entertainment Place Act.
SOURCE: The Phuket News
Want more from the Thaiger family?
📱 Download our app on Android or iOS for instant updates on your mobile
📧 Subscribe to our daily email newsletter
👍 Like/Follow us on Facebook
🔔 Subscribe to or Join our YouTube channel for daily video updates
Phuket woman impaled by steel rod in motorbike accident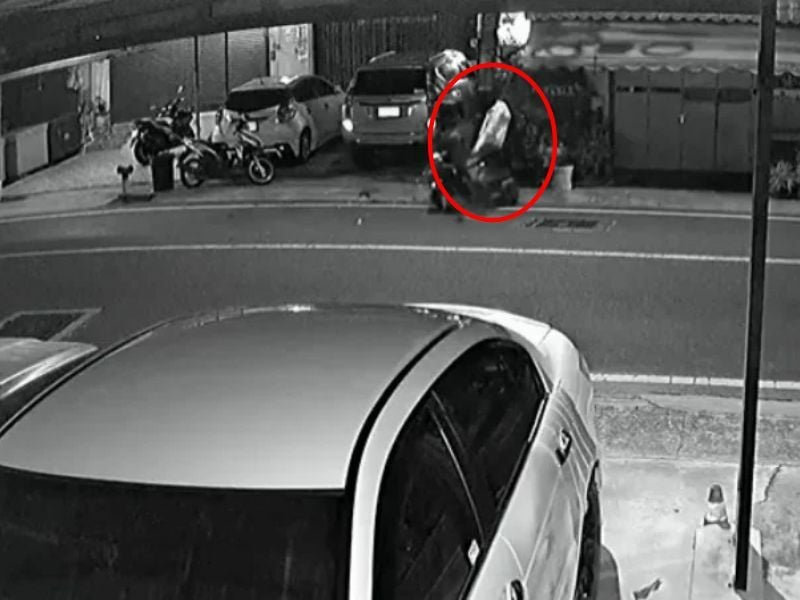 Police were called to the scene of a gruesome motorbike accident just after midnight in the Kathu area of Phuket, where a woman was impaled by a steel rod. The 34 year old woman crashed her motorbike into a concrete power pole on Wichit Songkram Rd between the Kathu Shrine and Kathu Municipality. rescue workers responded, and together with police, they arrived to find the woman still hanging from the power pole.
Khanuengnit Onoaun was driving a black and pink Honda Click motorbike and may have been speeding just before being impaled by the rod on the electric pole. Her motorbike was lying nearby the pole with significant damage to the front of the bike and the front wheel.
CCTV footage recovered from the scene suggest that the woman may have fallen asleep and crashed into the power pole. The pole had steel rods protruding from its side that utility workers use to climb when service or repairs are needed to the electrical lines, which is what impaled her when her motorbike hit the pole.
The metal rod pierced the woman's upper chest and went all the way through her body with about 2 inches exposed on the other side of her as she hung from the pole. Rescue workers could not remove her from the steel rod at the scene of the accident safely and instead chose to cut the rod to take her off the electric pole and into an ambulance. Cutting through the steel took about 5 minutes for the rescuers.
She arrived and was admitted into Vachira Phuket Hospital with the metal rod still impaled through her chest. The hospital had no updates about the woman's condition after her motorbike crash other than that she is alive and receiving treatment currently. The police plan on questioning her once she has had time to recover and investigating the incident further if necessary.
SOURCE: The Phuket News
Want more from the Thaiger family?
📱 Download our app on Android or iOS for instant updates on your mobile
📧 Subscribe to our daily email newsletter
👍 Like/Follow us on Facebook
🔔 Subscribe to or Join our YouTube channel for daily video updates