Phuket police have 'vagabond ladyboys' in sight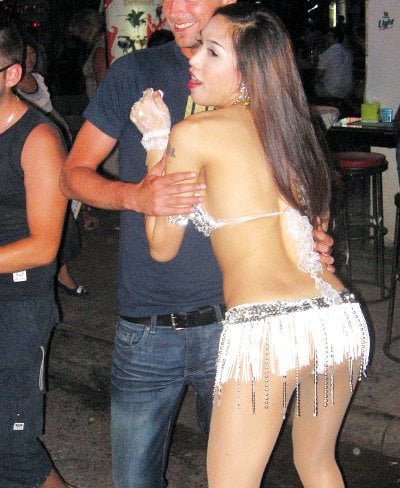 PHUKET: Ladyboys have become an entertainment mainstay in Patong, but unwitting tourists are seeing a shadier side to the festive scenes with robberies and assaults by ladyboys wandering the streets and beachfront.
Patong Police are working to curb these crimes before it affects tourism and have found that the issue stems from ladyboys moving to Phuket from other provinces.
Ladyboys, called katoey in Thai, are almost synonymous with Patong and responsible for much of Soi Bangla's spectacle.
On the darker side of the "show" are the thefts and beatings that are perpetrated at the hands of the trans-gender katoey. Kathu police have put measures in place to fight these crimes and say that the bad behavior of some should not cast all Patong katoey in a bad light.
"They can be divided into two groups. First, the ones that have a place of work such as the bars in Soi Paradise. They do not cause trouble." Patong Police Superintendent Arayapan Pukbuakao told the Phuket Gazette.
"The second type are those who spend their time on the beach and look for people to steal from. They are often involved in drugs and need money to fuel their habits," he added.
Police have begun compiling information on katoey in Patong to help with identification. It is a continuous process, police say, as many travel from other provinces.
"Most of them come from places outside Phuket, especially Pattaya. We have already taken records of local katoey, some now help us as informants," Col Arayapan explained.
To help deter them, police have begun fining unemployed ladyboys 300 to 500 baht for loitering and warning them of the consequences of crime.
"[These crimes] will destroy our image among tourists and we are trying to stop them by taking records. It seems to be working very well," Col Arayapan added.
Details of about 50 katoey from Pattaya were recorded in December, but Col Arayapan said the numbers were sometimes as high as 100 per month.
In a typical scenario, tourists are approached by groups of ladyboys and wallets are stolen while the victims are distracted.
Another case that is common is when an unsuspecting tourist wakes up after sleeping with a ladyboy to discover he's been robbed – or he wakes up and realizes he has no money to pay for the "services" of the ladyboy and a fight breaks out, Col Arayapan said.
Frank Tomensen, a public relations officer with the Tourist Police volunteers of Patong Beach, said that he's seen many cases involving tourists and katoey.
"I've had complaints about guys having cameras and phones stolen. You get one or two, or maybe even three ladyboys come up and start touching and grabbing," he said.
"In one case it happened as the guy's wife was looking in a shop window and the ladyboys were touching him up," he said.
"There is an increase [in the number of cases], as there is an increase in the amount of aggression. I am not sure if there are more of them than there were, but they're getting a bit cheekier than they were, they are applying themselves a bit more because they are getting away with it," he added.
Most cases do not see the light of day due to lack of evidence.
"Many tourists get their wallets stolen on the beach. There was one case of a drunk foreigner walking on the beach and some ladyboys tried to touch and kiss him. His wallet was taken while he was defending himself. He realized this the following morning and came to report the theft to police," a local police officer, who asked not to be named, told the Gazette.
"Ladyboys are denied access to some bars in Patong," he added.
Some establishments take a more intuitive approach to the issue.
"We accept ladyboys if they come to our clubs as customers but not if they arrive in a big group of ladyboys who come to our club looking for customers themselves," Jari Leinonen, General Manager of Seduction Beach Club & Disco and Factory Bar, told the Gazette.
"This may cause problems, as tourists may think they are ladies but only find out later that they are ladyboys. We don't risk this," he said.
"The policies seem to work. In the two years that I have worked here we haven't had any problems with ladyboys," he added.
Katoey employed by Patong establishments distinguish themselves from those who are stealing from tourists.
"Most people think all ladyboys cause trouble, but actually its the ones who stand at the roadsides who are to blame," said Sha-sha, a 24-year-old katoey working at Tootsie Ladyboy-Massage.
"We are not involved with them ["roadside" ladyboys], but at first the police were making records of every ladyboy in Patong. But, once we showed documentation proving our employment, we were left alone," Sha-sha said.
Aussie David Crockford, 59, had his wallet stolen while visiting Phuket with two friends in mid-May.
Three katoey approached him while he was walking down a street in Patong. One attempted to hug him while another began touching him.
"That was probably when my wallet was taken," he said.
Mr Crockford said he didn't want to report the crime to police as it was a waste of time.
Aussie investment adviser and Patong condominium owner Matthew Bohlsen agrees that vagabond ladyboys are threatening Patong's image as a safe place to party.
"I think [ladyboys] are okay for looking. I think they look nice and sexy," he said.
"It's bad because tourists are a big source of income and should be protected. I'll be careful about ladyboys stealing," he said.
— Atchaa Khamlo
Phuket News

Join the conversation and have your say on Thailand news published on The Thaiger.
Thaiger Talk is our new Thaiger Community where you can join the discussion on everything happening in Thailand right now.
Please note that articles are not posted to the forum instantly and can take up to 20 min before being visible. Click for more information and the Thaiger Talk Guidelines.