Phuket hotels urged to discount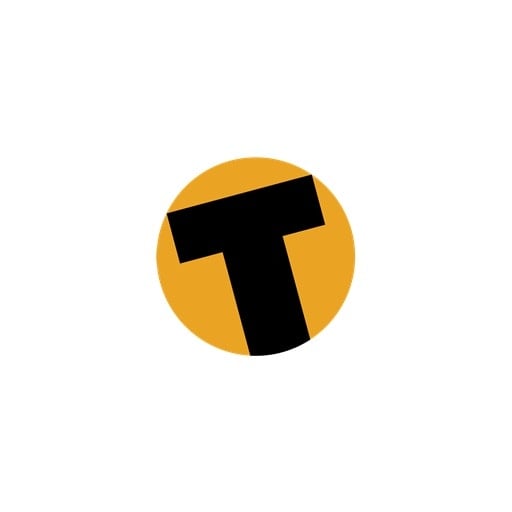 Phuket NEWS Hound
– A daily digest of news from around the world compiled by Gazette editors for Phuket's international community.
PHUKET: The Thai Hotels Association (THA) will launch a Buy-One, Get-One-Free promotion this month to match the time frame of the Amazing Thailand Grand Sale 2010, TTR Weekly reports.
Phuket hotels are being encouraged to participate in the promotion.
The Amazing Thailand Grand Sale this year runs until August 15 and includes discounts at more than 2,500 shops, department stores and retail outlets nationwide, including the Central department store and Jungceylon in Phuket.
According to the THA, the association has written to all member hotels and resorts urging them to participate in the room discount promotion. Although Phuket has generally enjoyed better room rates and occupancies than most, if not all, tourist destinations in Thailand to date this year, Bangkok has been severely damaged by the red shirt protests.
"This month, the Bangkok hotels will average a 40 percent occupancy, but July usually delivers 65 to 70 percent. We need to be proactive on rates and take into consideration that the city is still under an emergency decree," notes THA president Prakit Chinamourpong.
In addition to Phuket, the Amazing Thailand Grand Sale is featured in seven other tourist destinations: Bangkok Chiang Mai, Pattaya, Hat Yai, Hua Hin, Koh Samui and Udon Thani.
Rough seas for Phuket
Bernama
Strong north westerly winds of 40 to 50kmph and rough seas with waves as high as 3.5 metres are expected to occur over waters off northwestern Malaysia and Phuket from today until Thursday.
The condition is dangerous for swimmers and to small boats, yachting and other recreational activities in the sea, the Malaysian Meteorological Department said late yesterday.
The department also issued a warning on thunderstorm activities over the waters off Perlis, Penang, Kedah, Selangor, Melaka, Negeri Sembilan and Johor.
New resort brand for Phuket
Asia Travel Tips
InVision Hospitality has signed a management agreement for The Residence Phuket. The integrated residential and resort property will also be rebranded as 'The Residence Phuket – A Lantern Residence & Resort'.
The Residence Phuket is the first project being launched under the Lantern Hotels, Resorts and Residences banner.
The property's villas feature full size swimming pools, multiple outdoor relaxation and dining areas, and landscaped private gardens, while the interiors include multiple televisions with DVD and CD players.
Each villa also has a fully-equipped "gourmet kitchen" with full size refrigerator, washer and dryer.
Guests can also enjoy a spa treatment at the Hattakarn Spa, or take a trip out into the Andaman Sea on board the resort's Fountaine Pajot Lavezzi 40′ catamaran.
Thailand losing in drug war
Asia Times
Thailand is losing its latest war on drugs such as methamphetamine, heroin, opium, ketamine, cocaine and ecstasy continue to flood across its porous borders.
A rise in production and trafficking related to tensions between Myanmar's military government and narco-trafficking ethnic insurgent groups based near the Thai border have undermined Bangkok's efforts, according to the annual world report of the United Nations Office on Drugs and Crime (UNODC).
Large narcotics seizures have increased in Thailand over the past year. The Bangkok Post reported the seizure of over 300,000 methamphetamine pills in Bangkok on May 29.
On June 22, police in the northern province of Chiang Mai intercepted a six-wheel truck en route to Bangkok with 1.2 million methamphetamine tablets on board.
Phuket has also witnessed what appears to be a significant surge in drug trafficking and consumption over the past year, with many arrests documented in the daily news of the Phuket Gazette online.
In April 2009, Thailand embarked on its so-called "Five Fences" counter-narcotics campaign, aimed at curbing trafficking and abuse at the national, district and village levels.
A so-called "Border Fence" aims to monitor and interdict cross-border narcotics trafficking, mainly from Myanmar and Laos. Through a "Community Fence", people and civil society are encouraged to participate in anti-drugs activities.
A "Society Fence" aims to combine social order with efforts to control entertainment venues, dormitories and other places where drugs are purchased and used.
A "School Fence" aims to integrate an anti-drugs message into the Ministry of Education's outreach program.
And a "Family Fence" recognizes the importance of family participation to prevent drug use.
Glimmer of hope in the South?
Asian News Network
Malay-Muslim separatist organisations confirmed over the weekend that they have unilaterally suspended organised attacks against Thai government security forces for the past month in three districts of Narathiwat province in Southern Thailand.
The unilateral cease-fire, billed as a confidence-building measure, was in place in the Rangae, Yingor and Choh I-Rong districts from June 10 until yesterday.
"The aim of this limited cease-fire was two-fold: to indicate the movement's sincerity in wanting to hold a dialogue on the political future of the southern provinces, and at the same time to demonstrate the movement's command and control in the area," according to a statement sent to Phuket Gazette partner newspaper The Nation by the Patani Malay Liberation Movement.
Thai police investigating jailed Dutchman
Associated Content
Law enforcement officials in Thailand have been investigating 22-year-old Dutch national Joran Van Der Sloot's connection with sex trafficking and the possible disappearance of several young Thai women in 2008.
According to Thai police sources, several young women went missing while Van Der Sloot resided in Bangkok in 2008. The police are investigating to see if he may have been involved.
There is no indication as yet whether any of the trafficked women were from Phuket.
Van Der Sloot is currently in a Peruvian prison after being arrested last month on suspicion of murdering 21-year-old Stepahnie Flores Ramirez in May.
He had set up shop in Bangkok after Aruban authorities failed to charge him in the disappearance of 18-year-old Alabama high school student Natalee Holloway.
Although arrested twice, Van Der Sloot was released both times due to lack of evidence.
— Gazette Editors
Keep in contact with The Thaiger by following our
Facebook page
.
Never miss out on future posts by
following The Thaiger
.
Phuket's Sri Panwa Resort's land title deed to be investigated for legality by DSI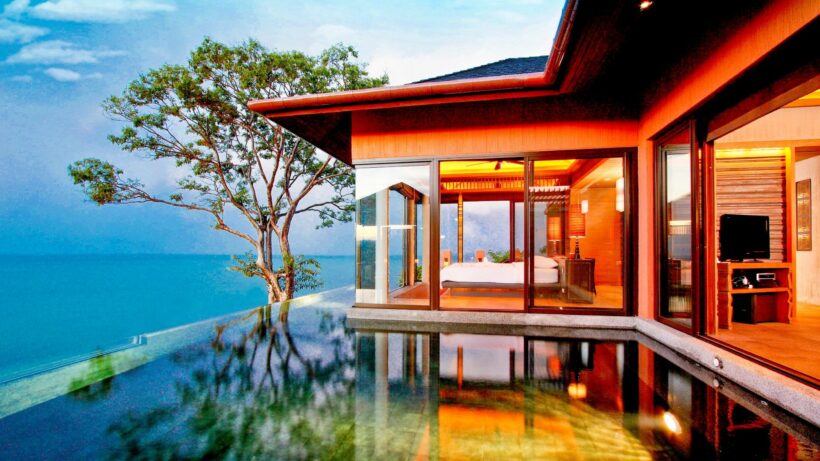 Back in the news again. Phuket's Sri Panwa Resort's land title deed is now to be investigated by the Department of Special Investigation after a petition was filed to determine whether the deed was procured legally. Veera Somkwamkid, the secretary-general of the People's Network Against Corruption, filed the petition along with 167 pages of documents pertaining to his accusations that Thawatchai Anukun, a land fraud suspect, had unlawfully issued land title deeds to plots of land in Phuket before he mysteriously died in a detention room while in DSI custody in 2016.
He was allegedly being investigated for falsifying land deeds between the years of 1998 and 2001. Veera claims before the title deed was issued on the plot, the land was part of a forest known by locals as Pa Kae.
"Back then, 10 families that had occupied the plots for about 40 years had title deed requests rejected. The reason given was the land was part of a forest reserve used by the navy."
However, Watchara Buathong, Phuket's current land official, says the Sri Panwa resort had legally acquired its 56-rai, none of which was ever state land. Local resident Khwanjai Khumban, backed this claim, saying her father and cousins had sold most of the land to the resort, and she could produce documents to account for at least 12 rai of the disputed area.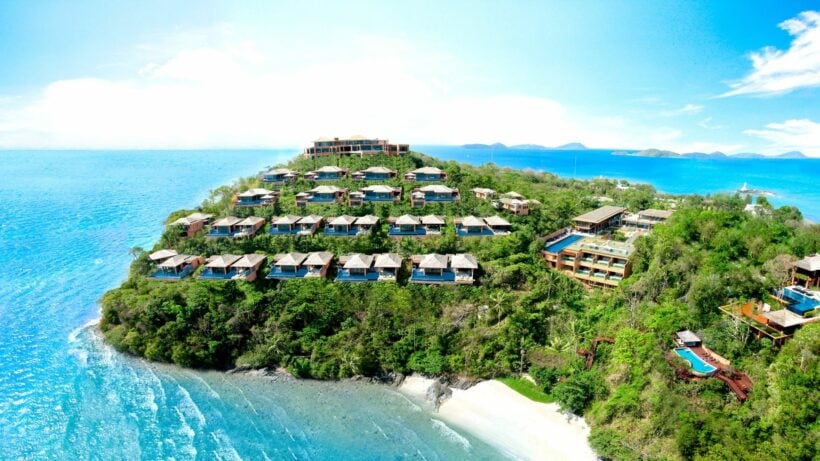 Meanwhile, the Social Security Office, is also
under fire
as it is being asked to explain why it invested in the hotel's trust fund. The department, which is under Thailand's Ministry of Labour, in which its minister says he doesn't know if the property has been legally built and points to the responsibility to the DSI to investigate. This was echoed by at least one opposition MP and anti-corruption activists.
The hotel, situated on Cape Panwa, in Phuket's Muang district, has been under recent scrutiny due to its owner, Vorasit Issara, accusing Panusaya "Rung" Sithijirawattanakul, a co-leader of the anti-government United Front of Thammasat and Demonstration group, of offending the monarchy at last weekend's protest at Sanam Luang.
Vorasit posted on Instagram that Panusaya Sithijirawattanakul should be jailed, further falsely claiming that she is not Thai when, in fact, Panusaya was found to have been born in Nonthaburi and is a Thai citizen.
"This bullshit has got to stop. She is not Thai. Who is she working for? This one needs to be in prison".
Such a statement has received wide backlash from netizens with some taking to Trip Advisor and other websites to post bad reviews of the resort, prompting it to suspend advertising on such sites.
Keep in contact with The Thaiger by following our
Facebook page
.
Never miss out on future posts by
following The Thaiger
.
Female prisoner on the run after escaping from Phuket Hospital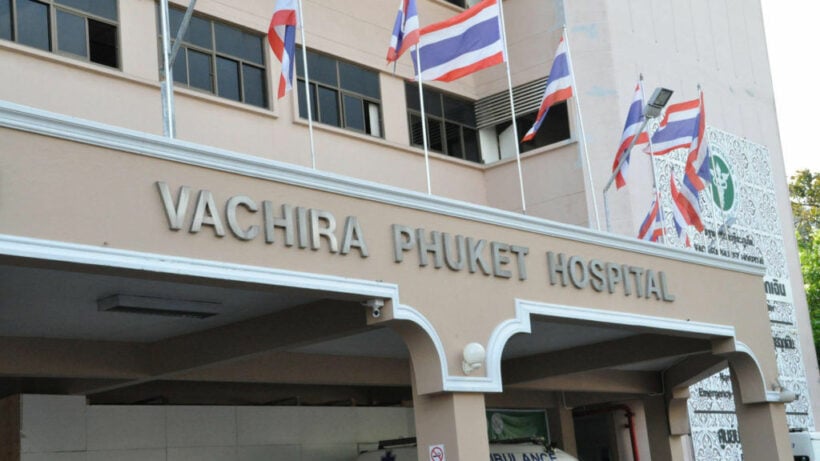 A female prisoner is on the run after escaping from Vachira Hospital in Phuket during a doctor's appointment. 58 year old Siri Phodam allegedly escaped after asking her prison escort officer to use the toilet. But she took a long time to come back, and was found to have escaped. CCTV cameras caught her dressed in a blue hospital patient shirt and a sarong leaving the hospital quickly. A Phuket prison officer says the woman is 158 centimetres tall and has dark skin.
"Some of our own officers are searching for her, and we have also sent the prisoner's description to all Phuket police stations. However, at this stage we have not found any clues."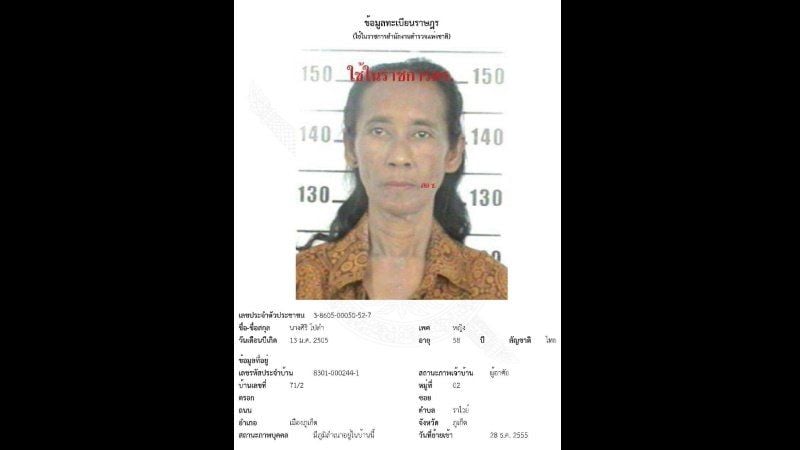 "If anyone finds a person matching the prisoner's appearance, please inform us by calling 076 212 104."
Siri was imprisoned after being charged with posessing illegal drugs and lived in Moo 2, Rawai.
SOURCE: The Phuket News
Keep in contact with The Thaiger by following our
Facebook page
.
Never miss out on future posts by
following The Thaiger
.
Phuket's annual vegetarian festival gets the green light – VIDEO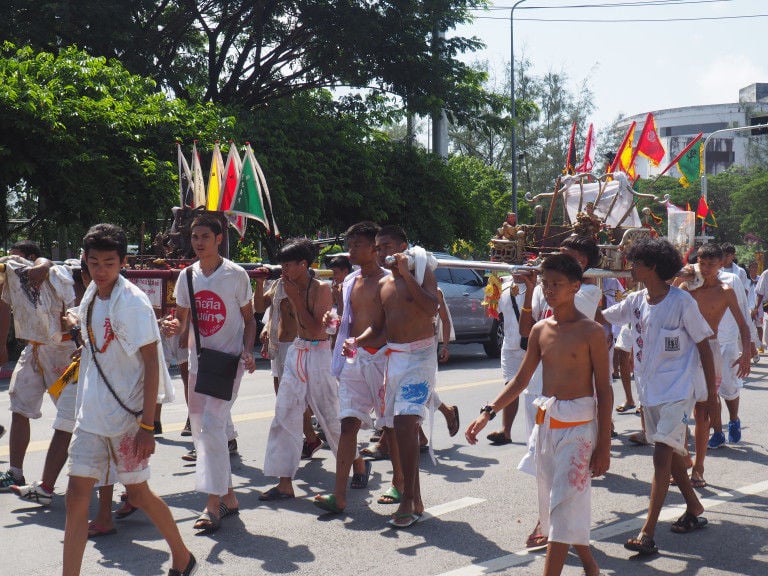 WARNING: The content below contains photos and videos of self-mutilation that some may find disturbing.
Somehow Phuket's annual vegetarian festival is to go ahead next month, but officials say they will ask participants to strictly observe social distancing. Good luck with that! For those who don't know, the festival isn't exactly known for the food. It's known for blood, body mutilation and more blood.
During street processions for the weeklong event, also known as the Nine Gods Festival, so called "mah songs" are known to practice self-mutilation and are said to enter a trance-like state, channeling spirits through their body. "Mah" means horse in Thai, and many suggest the mah song acts like a horse for the spirit to ride.
Many mah songs pierce their checks, ears and lips, some with large swords and thick needles. Some slice their tongues continuously for hours, blood dripping down on the street. Others appear to be in a trace walk barefoot as firecrackers explode on the ground.
Mah songs march down Phuket's streets for hours with a team of devotees to help tend to their wounds, adjust the piercings, wipe away drool and blood, and keep them hydrated. It's understood that devotees wear white as a symbol of purity. It's also reported that they abstain from eating meat, drinking alcohol and having sex during the weeklong festival.
It seems gruesome, but it's actually very spiritual. Business owners and locals line the street, some setting up altars. Mah songs stop at each one and do a quick ritual. Some mah songs carry a black flag, waving it over onlookers who bow their heads and place their hands in the "wai" position. Some spend time blessing the elderly and handing out bracelets to children. During a procession last year, a woman held up a bracelet as said "the 'Spirit' gave this to my mother."
This year, the festival will have to be a little different to abide by coronavirus prevention measures. The Bangkok Post says it's the first festival since the outbreak. The head festival organiser Prasert Fukthongphol says "we will seriously enforce social distancing measures and require all participants to wear face masks."
The grotesque piercings, noisy parades and visits to the shrine, are good news for Phuket's tourism and bad news if you're a vegetable. Many adherents to the Chinese-heritage local festival will go without sex, alcohol and meat for the week of so of the festival. The week of events and ceremonies hopes to scare away the bad gods again but, especially this year, attract some extra visitors to the festival.
Another Vegetarian Festival in Chon Buri has also been given the green light. The event is planned for October 16 to the 26. This year's main event for the festival will be in Naklua at Sawangboriboon Thammasathan Foundation at the Sein Sua Chinese Temple, but many other events will be around the city throughout the week.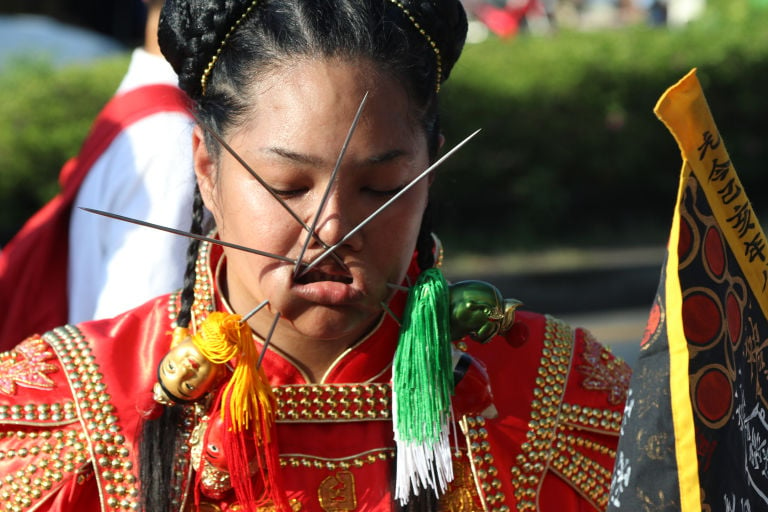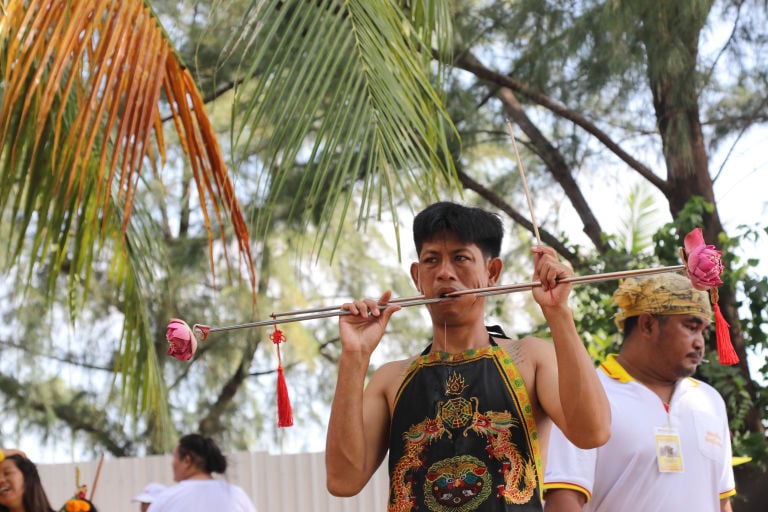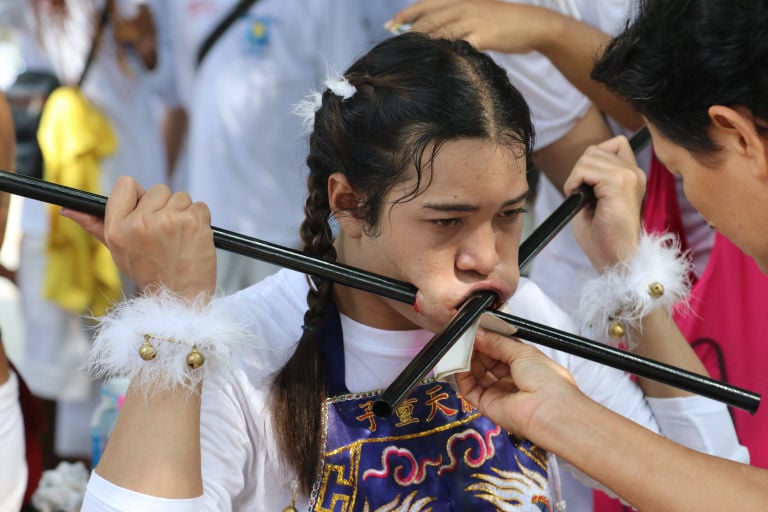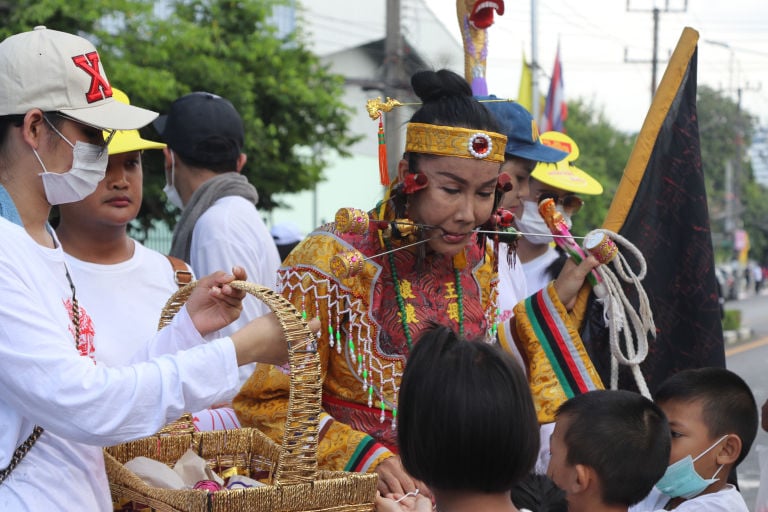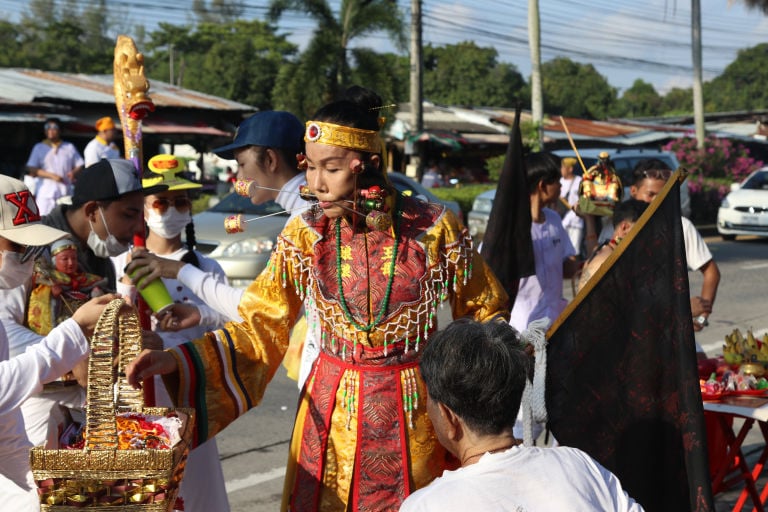 SOURCES: Bangkok Post | Pattaya News
Catch up with the latest daily "Thailand News Today" here on The Thaiger.
Keep in contact with The Thaiger by following our
Facebook page
.
Never miss out on future posts by
following The Thaiger
.