Phuket Vegetarian Festival blasts into 2011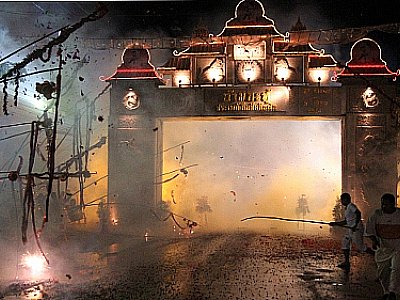 PHUKET: Devotees at Chinese shrines across Phuket raised their go teng poles at dusk last night and began reciting incantations to invite the Jade Emperor and Nine Emperor Gods to descend from the heavens.
Among the VIPs joining Kathu Mayor Chai-anan Sutthikul in declaring the Phuket Vegetarian Festival 2011 officially open at the Kathu Shrine – the "original home" of the Vegetarian Festival – were Culture Ministry Deputy Permanent Secretary Prarop Laovanich and Pheu Thai Party spokesman Phrompong Nopparit.
Fireworks lit up the sky and lion dancers paraded in celebration of the return of the annual festival.
At midnight, nine lanterns were hung from each go teng pole at participating shrines to mark the traditional start of the nine-day festival.
The festivities begin in earnest today, with most shrines observing at least two days of prayers and ceremonies to make offerings to the gods, ahead of a full schedule of traditional activities to invoke purification of the mind, body and soul.
First to get ablutions underway on Friday will be devotees, called mah song ("spirit mediums"), at Tae Gun Tae Shrine in Baan Pasak, Thalang, where participants will bathe in hot oil from 8pm.
At the same time, devotees at Choor Su Goong Naka Shrine, south of Phuket Town, will bathe in hot water.
With purification by liquid complete, the true testaments of faith follow on the program.
On Sunday, devotees will climb bladed ladders at Bangkoo Shrine from 7:45pm. Other devotees will walk through fire at Tha Reua, Yokkekeng and Jang Ong Shrine (opposite Vachira Phuket Hospital) from 8pm; at the Tae Gun Shrine in Baan Nabon, Wichit, from 8:30pm; and at Sui Boon Tong Shrine (also called "Lor Rong Shrine") and Sapam Shrine from 9pm.
The climbing of knife ladders will continue on Monday (October 3) at Cherng Talay Shrine from 7:59pm; at Bang Neow Shrine and the Lim Hu Tai Su Shrine in Samkong from 8pm; at Tae Gun Tai Tae Shrine in Baan Pasak from 8:30pm; and at Bangkoo Shrine from 8:45pm.
A more family-oriented ceremony will be observed at Tha Reua Shrine from 8:45pm. After devotees bathe with hot oil, a ceremony will be held during which blessed strings will be tied onto children's wrists as a mark of purification.
"Bridge crossing" ceremonies to further confirm purification will be held at Sapam Shrine and Jang Ong Shrine from 8pm, while devotees at the Tae Gun Tai Tae Shrine in Baan Pasak, Thalang, will bathe in hot oil from 8:30pm.
The festivities continue on October 4, with a bridge crossing ceremony at Jui Tui Shrine at 8:09pm and bladed-ladder climbing at Jang Ong Shrine at 8pm.
Fire walking will be performed at Bang Neow Shrine, Lim Hu Tai Su Shrine in Samkong, Tae Gun Tai Tae Shrine in Baan Pasak and Gim Su Ong Shrine – all at 8pm, and at Cherng Talay Shrine at 8:09pm and Bangkoo Shrine at 8:30pm.
October 5, the final day of the festival, marks a day of prayer and ceremonies to bid farewell to the gods, before a massive bonfire sendoff at Saphan Hin at 11:45pm and a rousing racket of fireworks through to midnight – the official closing time of the festival.
The shrines go into cleanup mode on October 6 and before sunset, sometime between 4:30pm and 6pm, depending on the shrine, the go teng poles are lowered to mark that the gods have returned to the heavens… until next year.
Click here for a schedule of the street processions to be held during this year's Phuket Vegetarian Festival.


Read more headlines, reports & breaking news in Phuket. Or catch up on your Thailand news.
Slow loris released back into Phuket forest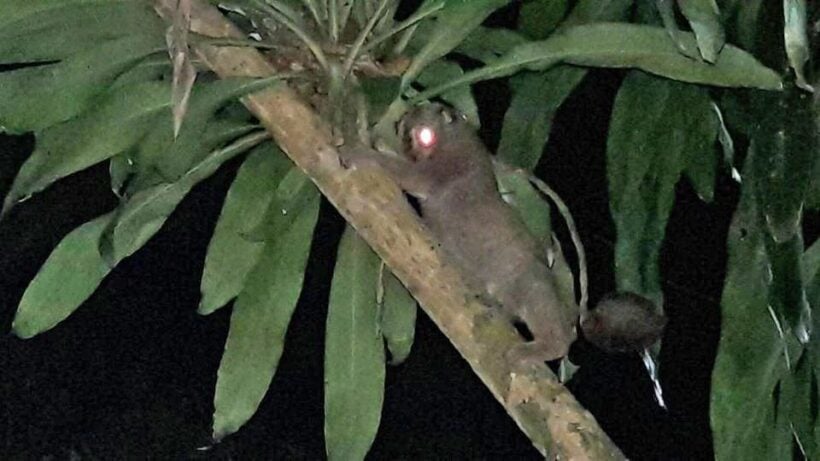 PHOTOS: Department of National Parks
Officers from of the Khao Phra Thaeo Non-Hunting Area have helped in the release of a slow loris back into the wild yesterday.
The Department of National Parks, Wildlife and Plant Conservation reports that the head of Khao Phra Thaeo Non-Hunting Area, Pongchart Chueahom, yesterday released the slow loris to the Khao Phra Thaeo Non-Hunting Are in Thalang.
The slow loris was found near a furniture factory in Thalang last week. It was being treated at a pet hospital before being handed over to Khun Pongchart when it was ready to be set free.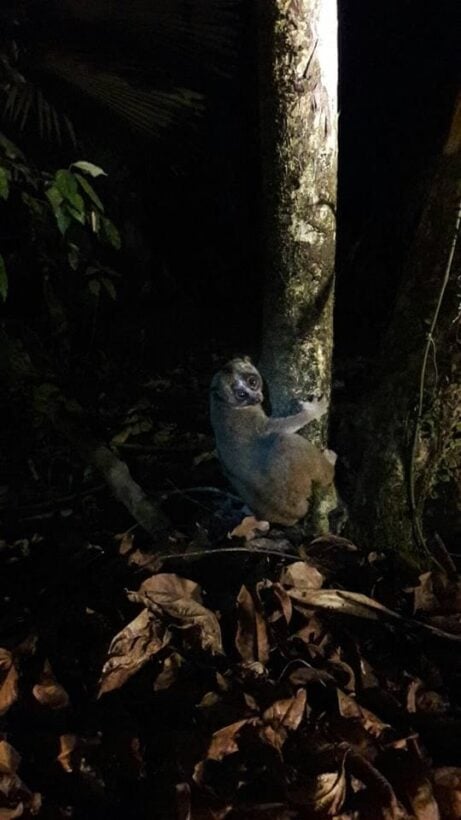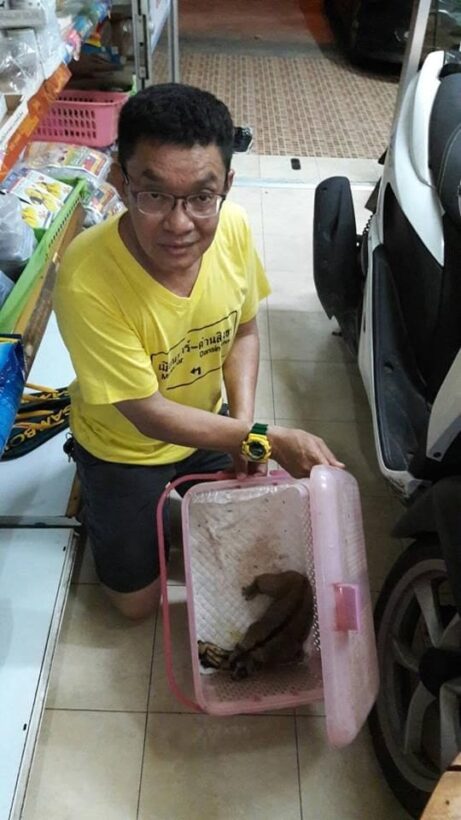 Seastead structure dragged back to shore by Royal Thai Navy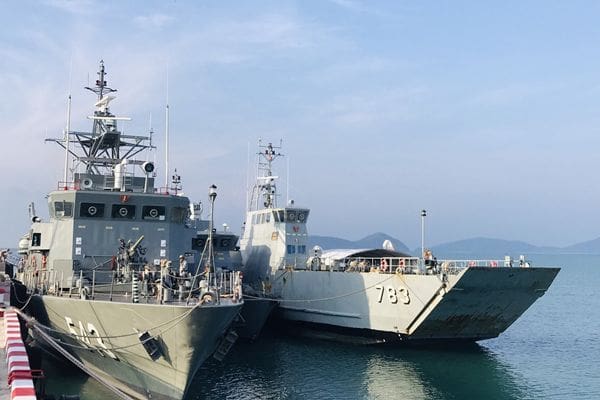 A floating seastead has today been towed by a naval vessel back to the Port of Phuket in Cape Panwa. Meanwhile the Deputy PM Wissanu Krea-ngam is challenging the owners and builders of the structure to take the Thai Government and Navy to the International Court of Justice.
The Royal Thai Navy's Third Fleet ventured out with a group of reporters on Saturday to inspect the floating seastead, the first of about 20 planned Ocean Builders for the open waters about 22km from Phuket's Koh Racha Yai.
Nothing valuable was found on board the octagon-shaped steel and aluminium structure which was attached to a floating platform.
Two vessels were used in today's operation. The living quarters were detached and placed on the first vessel and the second towed the floating platform to the shore for safe keeping pending legal action against its owner as well as the builder, Ocean Builders Company.
Dr. Wissanu said yesterday that Thai authorities were authorised to remove or dismantle the floating housing unit with or without the consent of its owner after finding the structure could pose a threat to Thai national security and sovereignty in accordance with Article 119 of the Criminal Code.
He said that the structure also posed an obstacle to vessels and was located not far from an oil rig.
Regarding the threat by Ocean Builders Company to sue the Thai government in the International Court of Justice for the removal, the deputy PM says he welcomes the move, noting that no government anywhere would allow a seastead settlement near their maritime territory.
Seasteader Chad Andrew Edwartowski and his Thai wife, Mrs. Nadia Summergirl, are wanted by the Thai police for questioning after Thai immigration revoked the American's non-immigrant visa and blacklisted him.
SOURCE: Thai PBS
Phuket taxi slams into tree in Phattalung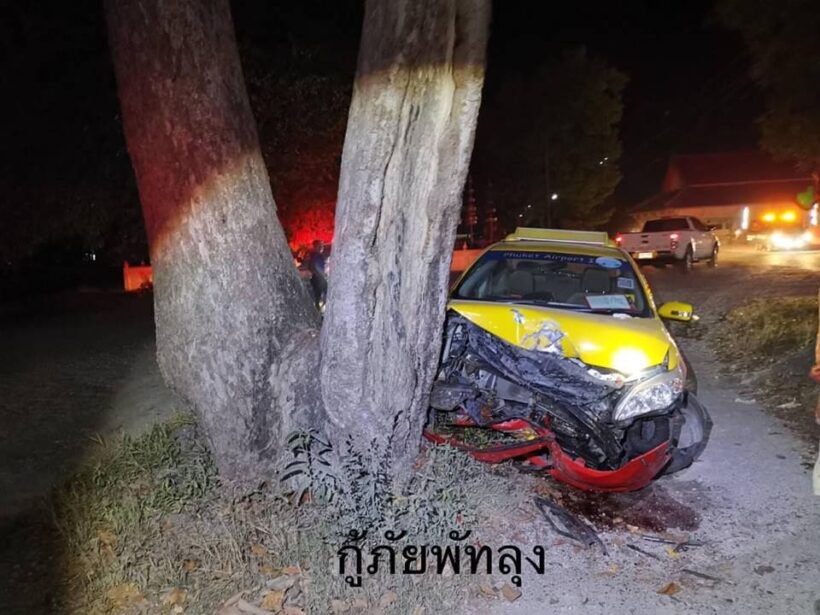 PHOTOS: Phattalung Rescue
Two people have sustained serious injuries after a Phuket taxi slammed into a tree in Phattalung last night.
Phattalung rescue workers were notified of the accident in Mueang Pattalung District at 7.57pm last night (Sunday).
They arrived at the scene to find the Phuket registered taxi resting in front of the big tree on the side of the road near a temple. The front of the vehicle had extensive damage following the collision.
The two people who sustained serious injuries were 58 year old Wanchai Srithong and 64 year old Jamras Srithong. They were both taken to the Phattalung Hospital.
Pattalung City Police are continuing their investigation. There has been no explanation given at this stage as to why a Phuket taxi was in Phattalung.