Phuket Sports: Truth, tyres and tall tales – F1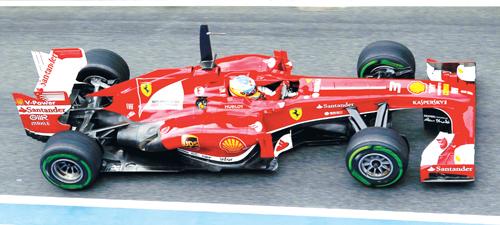 PHUKET: The 2013 Formula 1 rules are much the same as last year, so slower teams have had a better chance to copy and catch-up in the off-season rather than have faster teams increase their lead with innovations. But the new Pirelli tyres are going to degrade even faster than the 2012 versions. So I expect a very close season.

Pre-season testing of the teams' new cars in Spain is over. The top ten results in order were: Nico Rosberg (Mercedes), Fernando Alonso (Ferrari), Jenson Button (McLaren), Nico Hulkenberg (Sauber), Kimi Räikkönen (Lotus), Paul di Resta (Force India), Pastor Maldonado (Williams), Sebastian Vettel (Red Bull), Valtteri Bottas (Williams), Charles Pic (Caterham).

What to make of it? Are the results and comments to the media indicative of relative rankings or of crafty camouflage? They are both. F1 teams play their cards so close to their chests that they are nailed on. They may not have used their latest gizmo's to keep progress up their sleeves, and they could have over-fuelled their cars to slow themselves down. One thing is certain; we are in for some shocks. Following is what I guess.

Red Bull was slower than Mercedes and Ferrari in Spain, and Red Bull faces looked very worried. Perhaps they had taken excellent acting lessons, but I think they are terrified by Ferrari's progress. I think Vettel will be lucky to make the podium in Melbourne.

Ferrari looks like the team to beat in Australia, and maybe for the season. If they really have a car to match Alonso's skill, they will be formidable. Barring accidents, he should be on the podium.

McLaren had difficulty with the new Pirelli tyres in Spain. The 2013 tyres have been designed for hot circuits, and Spain was cold. I would not be surprised to see Button on the podium in Melbourne with Alonso.

Despite Nico Rosberg being fastest in testing, I would be surprised if Mercedes managed a podium finish in Australia. They were far behind last season. Lewis Hamilton is a great driver, but I fear that history will say that in changing his colors he cashed in his birthright for a mess of Euros.

Kimi Räikkönen and Lotus will be asking tough questions too. They were not at their technical best in Spain, but expect them to be in the points in the first race, and Kimi would be a good outside bet for a podium position.

Sauber may not have their tyre wear sorted out for Australia. I suspect Williams and Force India will both be happy if they end Melbourne with two cars each in the points. And a newly revamped Caterham would love a point.

Melbourne is a cool street circuit. The cars run with high down force, and it has a bit of mystery about it. Practice sessions tell little; the track starts very green, and evolves fast over the weekend as rubber gets laid down.

After Melbourne, the circus will head to Sepang, where the track is notorious for flooding and upsets. But Alonso, Vettel, Button and Räikkönen all feel at home, and Sergio Pérez did so well last year. Shanghai was Schumacher's only win for Mercedes last season and then it's Bahrain where politics overshadow sport, but both are hot. At Catalunya, the race last year looked like a dodgem circuit littered with broken cars. Then it is Monaco where anyone can win who qualifies well, and it's the high point of the social calendar. Silverstone is at midsummer, and that's always a great race.

Nürburgring is early July. Initially announcing 20 races for this year, the FIA then scrapped the New Jersey Grand Prix. The circuit will not be ready to host its inaugural race. There was talk of filling the space with Turkey, dropped in 2012 following a disagreement over fees. Austria and Portugal were also mooted. But we now know that the July 21 date will not be filled, leaving a three-week gap between the German and Hungarian Grands Prix.

Neither of these races inspires me much, but the next three are magic: Spa in August, Monza in early September, and Singapore later that month. Spa and Monza are fast hard tracks that can change the face of the championship. Monza is also the jinx circuit – win at Monza and lose the championship! And Singapore is becoming a circuit to rival the social position of Monaco.

Then it's a mediocre Korean GP and on to Suzuka for the Japanese GP, always one of the great races of the year. India tends to disappoint, but Abu Dhabi in November will be splendid. And if the season is as tight as I think it will be, the winner will not be decided as they head to Austin for the US GP. That was wonderful last season, entertaining and classic. The year ends as always in Sao Paulo. That will be November 24.

A whole year to look forward to. Lies now, truth by Sao Paulo – a splendid prospect!

The Australian Grand Prix starts at 1pm on Sunday and will be shown at The Green Man (click here for details).
— The Digby
Keep in contact with The Thaiger by following our
Facebook page
.
82 year old Frenchman killed in motorbike crash with ATV in Phuket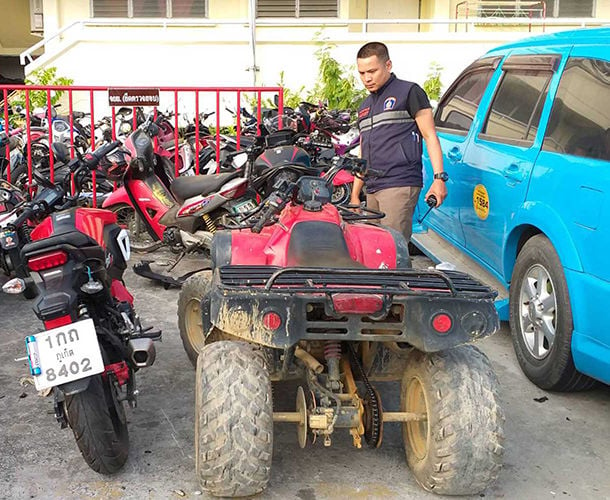 An elderly French man has died after an American woman lost control of her all-terrain vehicle (ATV) and crashed into his motorcycle in Chalong, southern Phuket. The woman was seriously injured. Police say the incident occurred on Soi Klum Yang in Chalong around 4pm on Thursday.
The crash involved a red ATV, and a black motorcycle ridden by the 82 year old Frenchman Robert Geoffray.
The woman, identified as 39 year old American Onome Alero Adeosun, suffered a broken right arm, leg and collarbone. Emergency workers found the elderly Frenchman lying unconscious on the road with serious head injuries. Medics performed CPR before sending both to Chalong Hospital, where the man was later pronounced dead.
His body was taken to Vachira Phuket Hospital for autopsy. The woman was transferred to Siriroj Hospital and is currently helping police with their investigation.
SOURCE: Bangkok Post
Keep in contact with The Thaiger by following our
Facebook page
.
Salty tap water and dirty air – Bangkok's environmental woes continue today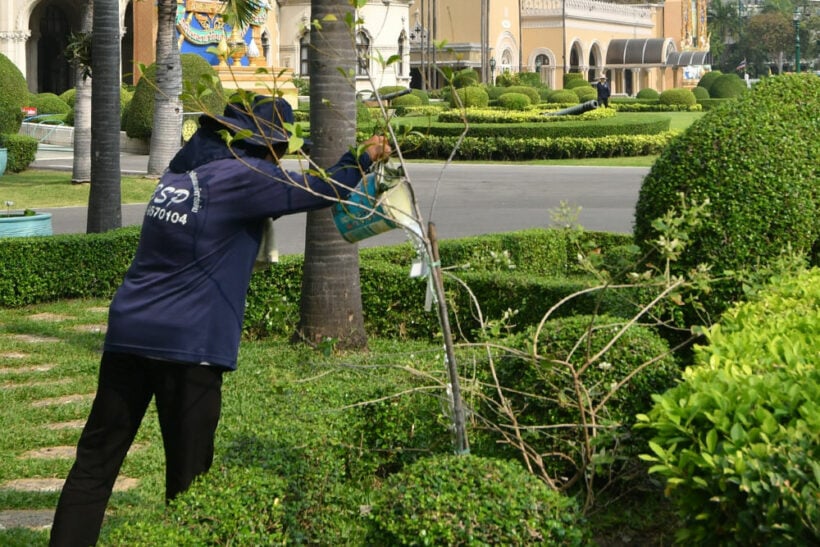 Brackish tap water, with increased salinity caused by seawater back-flowing into the Chao Phraya River, is threatening the gardens in and around the Government House compound. Government House officials are seeking assistance from the Agriculture Department.
Several small tree species – Lamduan, Chor Sumalee, Rachavadi, Nom Maew and Hom Muenlee – are more vulnerable to brackish tap water. The gardens are watered from a supply pumped in from the Chao Phraya.
It's been noted tha the saline level was around 400 milligrams per litre, still within the 1,000 mg/litre standard, but some of the species were already intolerant to the rising salinity.
Officials are seeking advice from the Agriculture Department about long-term measures to replant with species which would be more tolerant to the rising salinity of the water – situation they acknowledge will need to be managed in the short to medium term.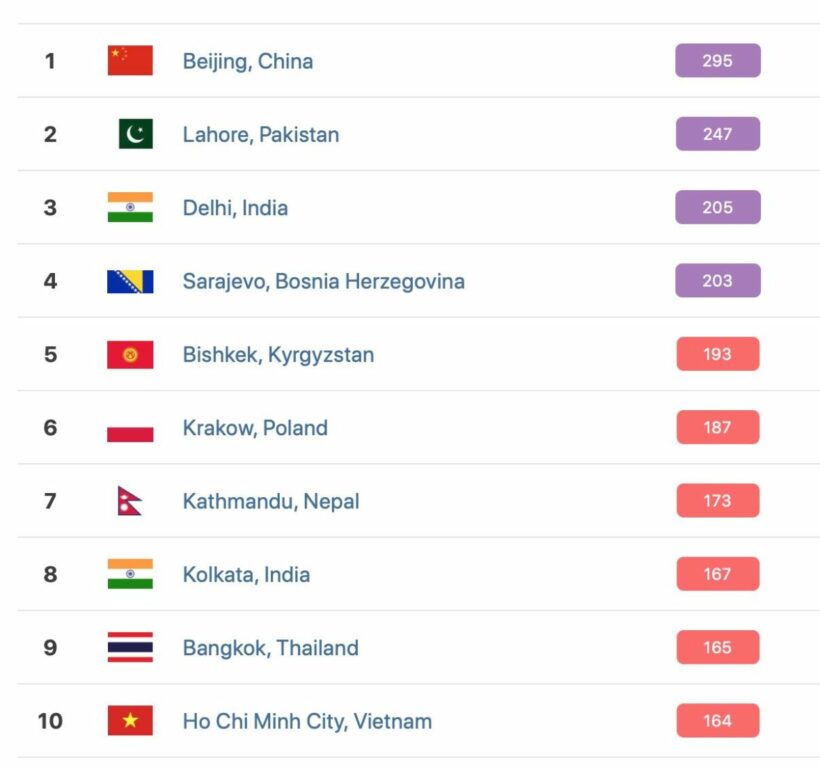 SCREENGRAB: Air Visual
Meanwhile, air around the capital today continues to be universally poor to very poor with readings as high as 187 near Suvarnabhumi Airport. Light airs, dust problems from northern-easter provinces and hot continental air flowing across the capital, continue to haunt Bangkok. Even with many factories closed today, and traffic lighter than weekdays, Bangkok's air has been recorded as the ninth worst city in the world for air pollution.
Right across the city the air quality readings are into the 'unhealthy' zone.
Chiang Mai, Lampang and Central Thailand are fairing no better – all with readings at least 3 times the Thai upper safe limit of 50 microns of 2.5micron particulate per cubic metre. The World Health Organisation sets its limit even lower at 25.
Pattaya has air quality readings today of 162, whilst even Phuket, in the south, is registering readings between 100 and 145 with reduced visibility today.
SOURCE: Thai PBS World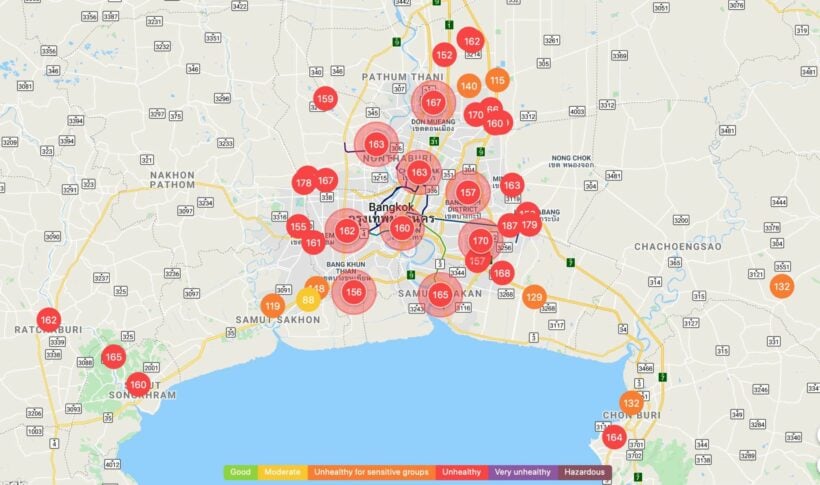 Keep in contact with The Thaiger by following our
Facebook page
.
Three massive condo developments along Phuket's up-market Layan Beach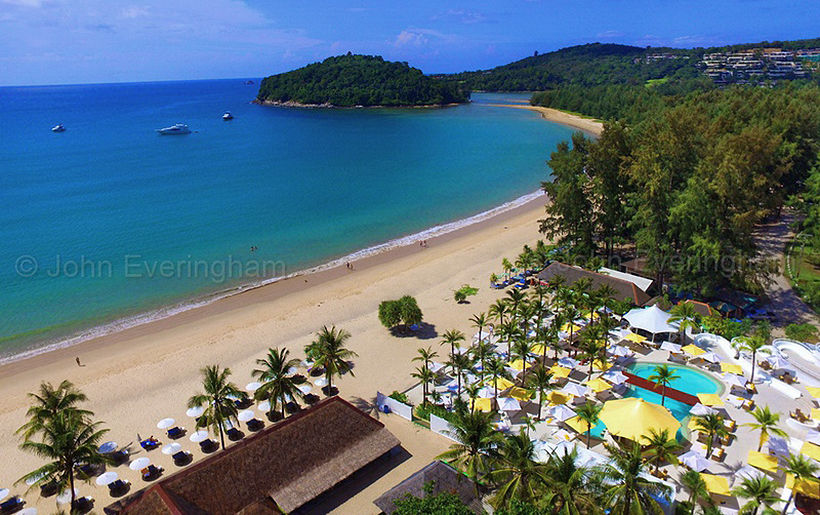 by Bill Barnett – c9hotelworks.com
Two new condo developments are going ahead in the Layan Beach area of Phuket's up-market west-coast beach strip. And there's another one underway next to the Dream Beach Club at the northern end of the Layan beach strip. All in all, another 1,200+ keys added to the available rooms along the Bang Tao/Layan Beach area.
On the northern side of Bangtao Beach, next to Maan Tawan and nearby Banyan Tree Phuket is the upcoming Sunshine Beach development. With a plan for 771 hotel and residences units on 12.6 rai, the high-density project is targeting Mainland Chinese buyers with pricing points reportedly starting from 4 million baht. Construction is expected to start in June of this year and complete in 2022.
From our discussion with sales staff the developer has claimed they have reached an agreement with the government for beach fronting facilities in the National Park strip in front of the project.
While in Layan next to Lotus Gardens is the upcoming 400 unit Layan Green Park. Pricing points run from 2.5 million baht. Unit configurations will range from studio, to one, two and three bedrooms. Guaranteed returns of 10% for a period of 10 years are being promoted.
Phuket's Layan area is seeing a surge in new real estate led projects and rising land values. At the same time as these two projects are underway, next to the Dream Beach is an oceanfront luxury project promoting sales of Grand Beach Villa and Ocean View Suites tagged as 'N5'. The developer of the project is VIP Thailand who have another project in Rawai.
Based on our research the primary source market tragets of these three projects are mainland Chinese and Russian buyers. Local concerns in the Cherngtalay area over mounting traffic, water shortages and strain on municipal infrastructure are becoming issues.
Traffic in and around the central Cherngtalay shopping district is becoming increasingly clogged with little hope for respite other than improved traffic management.
SOURCE: C9Hotelworks.com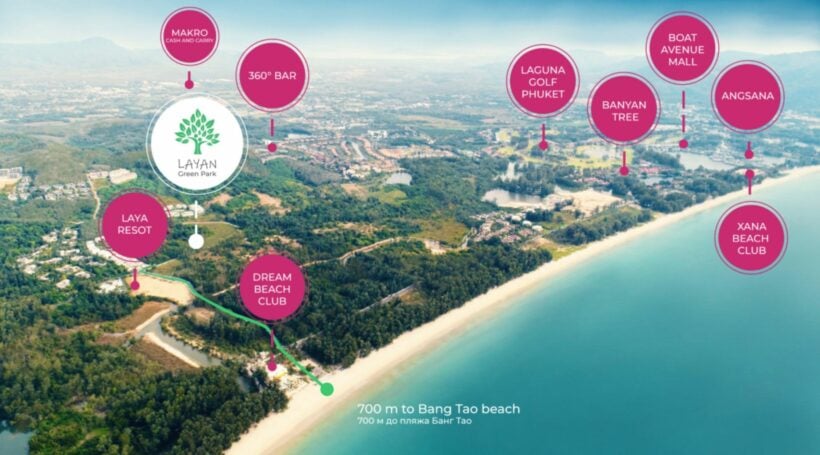 Keep in contact with The Thaiger by following our
Facebook page
.