Phuket
Phuket LIve Wire: TOT shuts off international downloads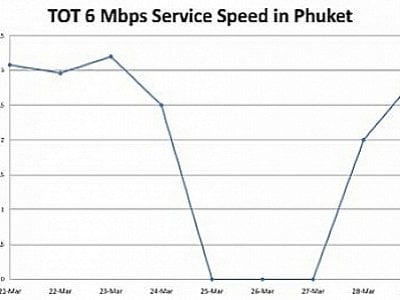 PHUKET: Out of the blue last week a friend of mine sent a panic message: Suddenly, for no reason he could discern, he was unable to download the security update to Adobe Flash.
He was sure he had a virus, and the virus was blocking Flash updates.
It's a reasonable concern – in fact, my first reaction was to run through a full anti-virus check – but shortly after, I started seeing reports on the Phuket Internet Speed reporting site phuketinternetspeed.com that other folks on the island weren't able to run the speed test.
The intermittent reports turned into a flood.
By the end of the next day, eight people had notified me that they weren't able to download anything from the internet.
They couldn't run the speed test or other popular download speed tests.
They couldn't get the critical Adobe Flash patch or the new Java patch, and they couldn't download the new Firefox 4, which came out on March 26.
Some of them reported that their anti-virus programs weren't working because they couldn't get the latest signature files downloaded. All of them were mystified – myself included – because they had no problems going to most websites.
The TOT speed test, which only goes to Bangkok, ran blazingly fast. But our speed test, which goes to San Francisco, didn't even start.
The one thing the afflicted customers had in common was that they were all using TOT's 4 Mbps or 6 Mbps service.
The problem didn't seem to affect TOT's 8 Mbps service, but the 4 and 6 Mbps customers were left high and dry – and without patches, AV updates, or the new Firefox – for much of five days.
I've talked with several friends in the internet service provider business, and I'm still at a loss to understand why it happened.
Apparently somebody inside TOT turned off the inbound international data pipes for 4 Mbps and 6 Mbps customers, possibly by misconfiguring the TOT International Internet Gateway (IIG) known as AS 38040, or possibly by forgetting to pay the bill.
How and why – if, indeed, there is a "why" – remains a mystery.
If you aren't yet reporting your internet speeds, drop by phuketinternetspeed.com and sign up. It's free, easy and you can help shape the future of the internet in Phuket.
Jack says… hardware report
A friend of mine, Jack, has started sending in periodic reports about the computer hardware that's available in Phuket.
His reports are full of information about deals that you can't get anywhere else. I'm posting those here.
For the most recent report, click here.
Jack's latest goes into detail about the various PC warranties available in Phuket – who stands by their machines, and who leaves you holding the bag.
Facebook 101 Seminar
Able Wanamakok's first Facebook 101 seminar has everyone begging for more.
Dubbed Facebook 101, she takes attendees through the basics, from setting up a business (or organization or charity) page, designing it, drawing attention to it, and then using the page to reach out to Facebook users.
The seminar runs three sessions, on consecutive Saturday mornings, and doesn't assume any prior knowledge of Facebook.
The first three-seminar series was fully booked shortly after it was announced.
The second series starts on April 9.
If you're interested in attending her free seminars, sign up by going to the Sandwich Shoppe's Facebook page and on the left click the link marked Facebook Seminar.
The seminars are sponsored by Khun Woody's Sandwich Shoppes, the Phuket Gazette, Able's AW PR and Marketing, and Johan Lofgren's onsite.in.th.
Stock Market Investing for Beginners
Don Freeman explains how to find the best stocks at the right time and, just as importantly, when to sell to protect your profits.
Don's approach is unique, refreshing, and accurate. He'll fill you in on the scams, and show you how to invest with minuscule overhead.
He's holding a free Stock Market Investing for Beginners seminar on April 7, at the Sandwich Shoppe in Chalong, one kilometer north of Chalong Circle on Chao Fah East Road.
FREE Computer Clinics
The next Phuket Computer Clinic meeting will be on Sunday, April 3, from 10am to mid-day at Sandwich Shoppe Patong, near Andaman Beach Suites and the Patong Language School.
On April 10, the Computer Clinic will be at Sandwich Shoppe Laguna, which is near the entrance to the Laguna complex.
As always, the Clinics are free, and open to anyone interested in (or bothered by) computers in Phuket.
There's a lengthy question and answer period, and lots of help from kindred souls: if you have a question about computers in Phuket – or PCs in general – drop by and we'll get you some world-class answers.
The clinics are sponsored by the Phuket Gazette and Khun Woody's Sandwich Shoppes.
Live Wire is IT guru and Phuket Gazette columnist Woody Leonhard's weekly snapshot of all things internet in Phuket. Follow Woody on Twitter: @PhuketPC.
To see what Woody's up to in the international press, and to keep on top of the latest patches and problems with Windows and Office, drop by AskWoody.com.
— Woody Leonhard

Join the conversation and have your say on Thailand news published on The Thaiger.
Thaiger Talk is our new Thaiger Community where you can join the discussion on everything happening in Thailand right now.
Please note that articles are not posted to the forum instantly and can take up to 20 min before being visible. Click for more information and the Thaiger Talk Guidelines.