Phuket King's Cup competitors look to bag every point in light winds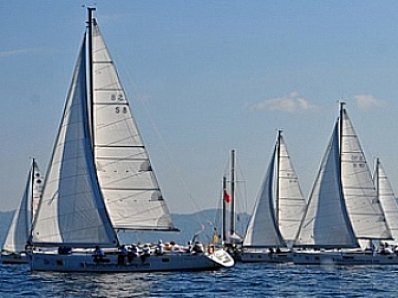 PHUKET: With winds easing off slightly during yesterday's racing, competitors looked to maximize every possible advantage as valuable points were up for grabs.

Frank Pong and his Jelik team have been the quickest of the IRC Zero class boats in the last few races, but Kevin Whitcraft's Won Ma Rang shared class honours yesterday. Won Ma Rang took victory in race eight, with race nine going to rivals Jelik. It has set up a stunning finale for today– the final day – as Jelik is on top with 13 points, and Won Ma Rang close behind on 15 points.

EFG Bank Mandrake found some of last year's magic with a win in IRC1 race eight. They finished with a nose in front of David Fuller's Ichi Ban team, who came on strong to win race nine. Foxy Lady 6 skippered by Bill Bremner came third in both races. The upshot is that Ichi Ban leads the standings with Foxy Lady 6 (18) and EFG Bank Mandrake (22) in second and third respectively, ahead of what is sure to be an exciting final race day .

Matt Allen's Ichi Ban, one of two Ichi Ban entrants, had a storming day in IRC2 class, and has already won the class after winning races seven and eight and coming second in race nine today.

Allen, said, "The wind was pretty powerful in the first race and has remained strong throughout the week. Seven weeks ago, the boat (an Adams 10-metre) was sitting in Sydney in Rose Bay and hadn't sailed much in seven years. It hasn't really had any money spent on it since its launch in 1976!

"It was ahead of its time when it was new, so we thought it would be a good IRC boat. We completed all the work right here in Phuket and it was amazing to sail on the first Regatta day – the first time we ever put the sails up. We won two races on the first day, winning by small margins, and that set the Regatta up for us. It's been a great effort by the boat-builders (Latitude 8, Phuket) and all of the crew."

Ichi Ban powered ahead in the IRC2 class to win the series early, making for a superb Ichi Ban double. Race nine was won by Peter Dyer's Kata Rocks team, who remains third in the table behind the Royal Thai Navy 1.

The Firefly 850 Sports class continues to entertain with finishes separated by just a few minutes. Race eight went to Roger Kingdon's Moto Inzi team, but it had little impact on the table due to the margin enjoyed by Hans Rahmann's Voodoo. Likewise with IRC1 and IRC2, the leading Voodoo team now cannot be beaten.

In the Multihull class, Andrew Stransky's Fantasia team took another great win in race eight, and in race nine, they finished just two minutes behind Peter Wilcox's Mojo; these two teams are now tied at the top, setting up a stunning clash.

In Platu One Design class, it was Japan versus Thailand; Makiko Matsuishi and team IPPAI took race seven but Thai-registered Tuay Lek skippered by Scott Duncanson won the next two races. Just two points separate them going into today's final day – a contest to be followed closely by everyone in Thailand!

Amongst the Premier class boats, there is a great battle going on between Richard Dobbs' British Titania of Cowes team, and the Thai Pine-Pacific team. Things were shook-up today as race six went to another boat, Xena. Titania of Cowes remains on top with six points, with Pine-Pacific in second on 10.

There is also a tight contest taking place in the Modern Classic class. Just three points separate Patrice III, Windstar and Emerald Blue, with today's win going to Nick Band's Emerald Blue. This is another hot race to keep an eye on tomorrow.

The large fleet of 23 Bareboat Charter class vessels set sail with two boats in particular heading the pack; Sail Plane skippered by Kirill Sakhattzev and Agility International (Venture) skippered by Graeme Sheldon. Sail Plane took victory in race six, by three minutes. This means they are three points ahead of their rivals going in to the final stage.

In Cruising class, William Lo's "No Name" won again to stay top, ahead of rivals Sansiri (Ok-La) and team Linda skippered by Jack Christensen.

With some early business already written to account, there is still everything to race for in many classes on the final day.

Points standings at the end of race day four (of five):

IRC 0
1. Jelik: 4, 3, 1, 2, 1, 1, 1, 3, 1 (13)
2. Wan Ma Rang: 1, 4, 2, 1, 3, 3, 2, 1, 2 (15)
3. Utarid: 2, 1, 3, 3, 4, 2, 4, 2, 3 (20)

IRC 1
1. Ichiban: 1, 2, 4, 2, 4, 1, 2, 2, 1 (15)
2. Foxy Lady 6: 2, 1, 2, 4, 2, DSQ, 1, 3, 3 (18)
3. EFG Mandrake: 3, 4, 1, 6, 3, 4, 4, 1, 2 (22)

IRC 2
1. Ichiban: 1, 1, 2, 1, 2, 2, 1, 1, 2 (11)
2. Royal Thai Navy 1: 2, 2, 3, RDG, 1, 1, 3, 3, 3 (18)
3. Kata Rocks: 3, 4, 1, RDG, 3, 4, 2, 4, 1 (22)

Firefly 850 Sports
1. Voodoo: 1, 2, 2, 1, 1, 1, 2, 5, 1 (11)
2. Dyer Straits: 4, 1, 3, 2, 2, 2, 4, 3, 3 (20)
3. Twin Sharks: 3, 4, 4, 3, 3, 3, 3, 2, 4 (25)

Multihull
1. Mojo: 2, 1, 1, 2, 1, 2, 2, 3, 1 (12)
2. Fantasia: 1, 2, 2, 1, 2, 1, 3, 1, 2 (12)
3. Sweet Chariot: 4, 3, 5, 3, 3, 3, 1, 4, 4 (25)

Platu One Design
1. Tuay Lek: PEN, 2, 1, 2, 4, 2, 3, 1, 1 (14)
2. The Beaver: 1, 1, 3, RDG, 1, 1, 4, 4, 2 (17)
3. Sakura: 2, 4, 2, RDG 3, 2, 2, 4 (20)

Premier
1. Titania of Cowes: 2, 1, 1, 1, 1, 2 (6)
2. Pine Pacific: 1, 3, 2, 2, 3, 3 (11)
3. Xena: 3, 2, 3, 3, 2, 1 (11)

Bareboat Charter
1. Sail Plane: 1, 2, 1, 3, 1, 1 (6)
2. Agility International: 3, 1, 3, 1, 2, 2 (9)
3. Tonicola 2: 6, 6, 2, 2, 3, 12 (19)

Modern Classic
1. Patrice III: 3, 2, 1, 1, 1, 4 (8)
2. Windstar: 1, 1, 3, 3, 2, 3 (10)
3. Emerald Blue: 2, 3, 5, 2, 3, 1 (11)

Cruising
1. No Name: DNC, DNC, 1, 1, 1, 1 (10)
2. Linda: 3, 1, RDG, 2, 2, 4 (12)
3. Sansiri – Ooo La La: 4, 2, 2, 3, 3, 2 (12)

About the Phuket King's Cup Regatta – Asia's legendary yacht race under Royal Patronage
The Phuket King's Cup Regatta last year celebrated its Quarter Centenary year, after first sailing in 1987 to celebrate His Majesty the King of Thailand's 60th birthday. Under Royal Patronage, the Phuket King's Cup Regatta is organized by the Phuket King's Cup Regatta Organizing Committee under the auspices of the Royal Varuna Yacht Club, in conjunction with the Yacht Racing Association of Thailand, the Royal Thai Navy and the Province of Phuket.

The King's Cup Regatta is proudly sponsored by the Phuket Gazette, PGTV and the nationally televised Phuket Today show on UBC/True Visions. Phuket Today, co-produced by PGTV and MCOT World, will be providing coverage of this event. The half-hour show runs six times a day, seven days a week, on channels 59 and 99.
Keep in contact with Thaiger by following our Facebook page.
Never miss out on future posts by following Thaiger.
UPDATE: Field hospitals being established in Covid hot zones around Thailand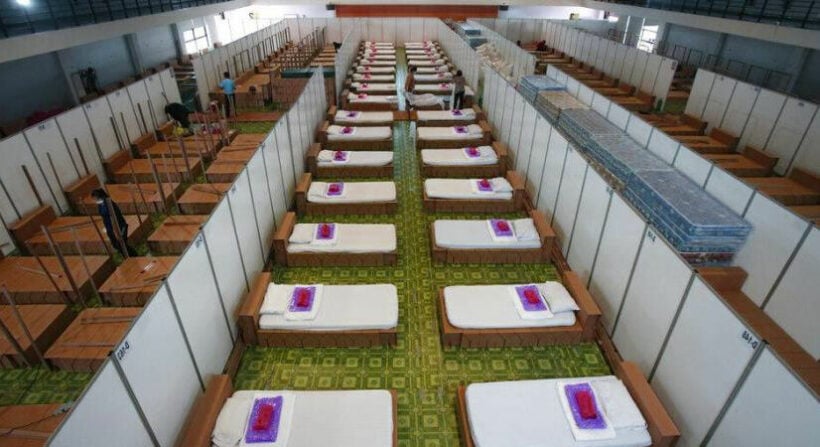 UPDATE: The field hospital in Bangkok's Bang Bon district, west of the Chao Phraya river, had its first 10 Covid patients today. The director of the medical services office of the Bangkok Metropolitan Administration says that the 10 patients into the makeshift hospital, located at the Chalerm Phra Kiat Stadium, will enable assessment of the performance by the medical team, before more patients arrive – Thai PBS World
ORIGINAL STORY: Despite the confident posture and Songkran going ahead, amid restrictions, there is a lot of background activity which suggest the authorities are getting ready for a surge of new infections at the end of the Songkran break, officially this Thursday (but in reality, next Sunday at the end of the weekend when most people who travelled home will return for a resumption of work).
The Thai lunar new year celebrations – Songkran – are the largest mass movement of Thais each year, a source for a huge leap in road deaths and accidents. And, this year, a potential super-spreader event.
Quietly, at least 3,000 extra beds have been prepared in 10 field hospitals around Bangkok. The government has also confirmed that additional field hospitals are being set up in other potential 'hot zones', including Phuket, Chiang Mai, Chonburi and Hua Hin. Some of them were set up last year, and since closed, and now being prepared for new positive infections.
One Thai person who had been in one of the field hospitals put together a check-list of things to take IF you end up as an invited 'guest' HERE.
The CCSA say they are looking for additional beds in hotels and previous state quarantine facilities (where repatriating Thais were housed for their free quarantine) to be used if needed.
This year's Songkran had bad timing, coming just a week after a number of major clusters were identified around some of Bangkok's popular nightlife areas in 3 key inner city districts. Even before Songkran these isolated clusters had already spread into the provinces. In the weekend before Songkran the government had already listed 37 provinces which had instigated some form of paperwork or restrictions for people who had been in any of the 3 Bangkok districts.
The government also leapt on the source of the new outbreaks – bars, clubs and entertainment venues – and promptly shut them down for at least 2 weeks. At this stage it looks likely that that ban will be extended beyond the 2 weeks and, depending on the extent of new infections following the Songkran holiday, additional restrictions will also be added.
Even today the Civil Aviation Authority published a number of new in-flight restrictions for passengers – another blow to the hard-hit domestic aviation sector.
Keep in contact with Thaiger by following our Facebook page.
Never miss out on future posts by following Thaiger.
Tourism officials slash Songkran travel expectations by half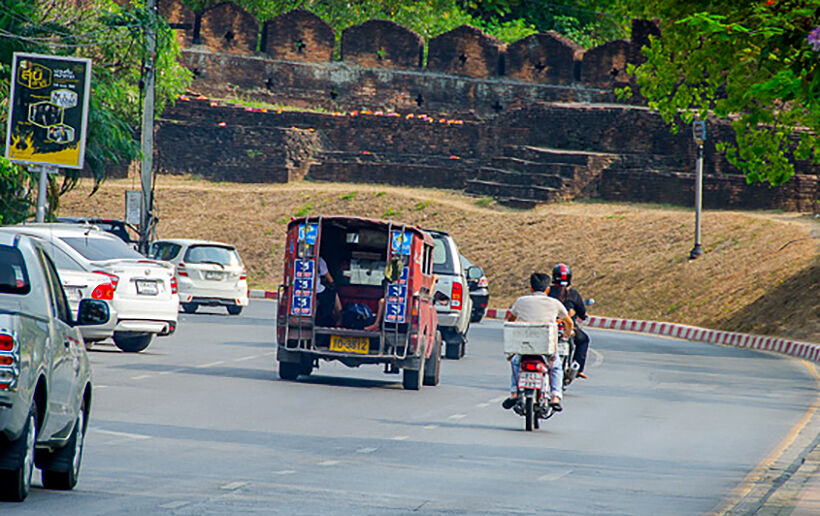 The TAT, ever the optimists regarding anything tourism related, even domestic tourism, predict that the Bangkok clusters that have emerged in the week before the Songkran break could reduce traffic and spending by up to half.
Today the CCSA is reporting 789 new infections and one additional death. 522 were local infections, mostly walk-ins to Bangkok hospitals, 259 were discovered through track and tracing. The remaining 8 were found in quarantine from overseas arrivals. In Phuket, another 17 cases have been reported today, taking the island's week total to 43.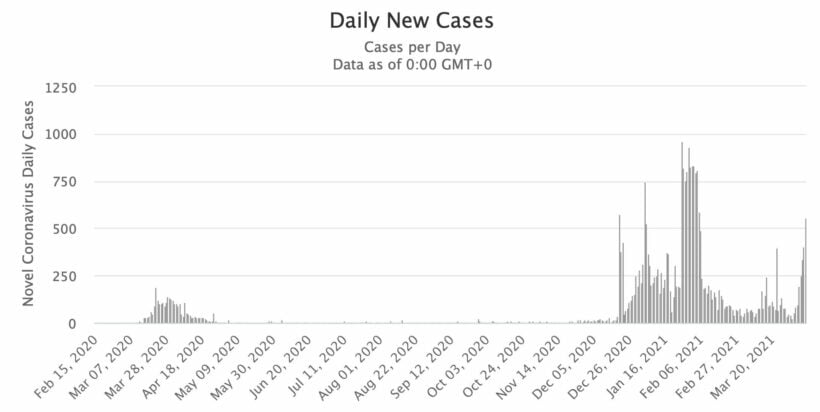 GRAPH: Worldometer figures for Thailand, up to April 9
A 68 year old man from Nakhon Pathom province died on April 4 but wasn't reported until today. The CCSA report that he died from Covid and "complications". 33 other former patients have recovered and been discharged.
Last week the TAT estimated 3.2 million domestic trips would circulate 12 billion baht for the Thai economy. But the Tourism Authority has now slashed their estimates by half after hotels, airlines and bus companies reported mass cancellations in the last few days. Other provinces are reporting less than 20% cancellations. Although this weekend will see a lot of travel, Songkran doesn't formally start until next Tuesday and the TAT expect there could be additional fallout as travellers decide to have a staycation for Songkran instead heading home.
Bangkok Post reports that 70% of travellers to Prachuap Khiri Khan and Hua Hin have already cancelled hotel bookings. Similar cancellations have been reported in Pattaya, Phuket and Chiang Mai. Many other provinces, particularly in the north east and north, are also enforcing quarantine on arrivals or additional paperwork to try and protect their provinces from any of the Bangkok clusters.
8 north eastern provinces rare now requiring 10 or 14 day quarantine periods for anyone arriving from areas where new clusters have been reported. Chiang Mai provincial officials say that tourists from Samut Prakan, Nakhon Pathom, Bangkok, Pathum Thani and Nonthaburi – basically Bangkok and surrounding provinces – must complete a 14 day mandatory quarantine or conduct a test for Covid when they arrive.
The reality is that the travel and quarantine changes are outstripping the ability to communicate them all. Anyone crossing into other provinces in the next few day, especially if you're travelling from Bangkok and surrounding provincial 'red zones' can expect some additional paperwork or a Covid test. Or even quarantine.
Keep in contact with Thaiger by following our Facebook page.
Never miss out on future posts by following Thaiger.
Phuket student protests and is flunked as "not loyal to the nation"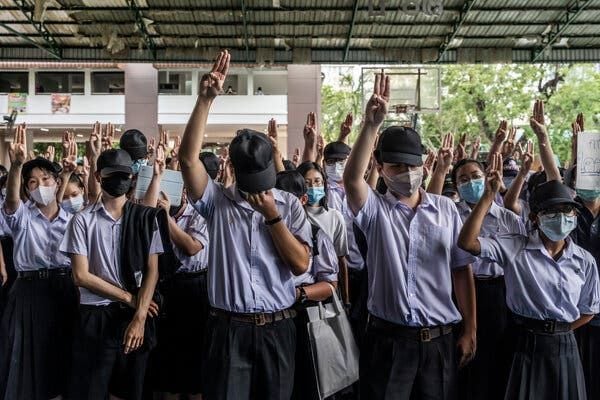 After participating in protests for student's rights, a Phuket student was barred from graduating 9th grade, moving from middle school to high school, charged with being "not loyal to the nation, institution of the monarchy". The student had advocated against mandatory uniforms and for student's liberties. He told reporters that the school started paying attention to his actions last year when he participated in rallies in solidarity with students across Thailand. The school's student affairs office received a copy of posts he made on social media encouraging others to join the cause. The school ordered a stop to his political actions, but he and his friends disregarded warnings and violated school rules when they handed out white ribbons to classmates. They received a warning from the student affairs office.
Student protests have increased after pro-democracy demonstrations surged in July last year, empowering many Thai people to speak out against injustices, including students' rights and liberties. People from schools across the nation have been banding together in solidarity to bring their issues to public light.
On graduation day, all the students were promoted into high school, except for the one student protestor, says the Bad Student protest group. The theme of the day focused on dedication to the monarchy, country and religion, and specifically how students should be obedient. The student said he has received support from friends, but his parents remain neutral and his teachers have been completely silent on the matter. He is frustrated that he was punished for his right to express himself. He plans on testing with incoming students to re-enrol in the same school, and if he is not accepted because of the disloyalty charge, he will pursue legal ramifications, suing the school for blocking his right to an education over the student's protests.
The student believes he needs to speak out to prevent school administrators from imposing on more students' rights. He advocates for diversity in schools and ending prejudices, with increased liberties and freedoms for students.
"Schools must teach children to be able to think by themselves, not force children to think like them. Schools should create opportunities for students to express their ideas more freely."
SOURCE: Prachatai
Keep in contact with Thaiger by following our Facebook page.
Never miss out on future posts by following Thaiger.