Phuket Gardening: Marginal choices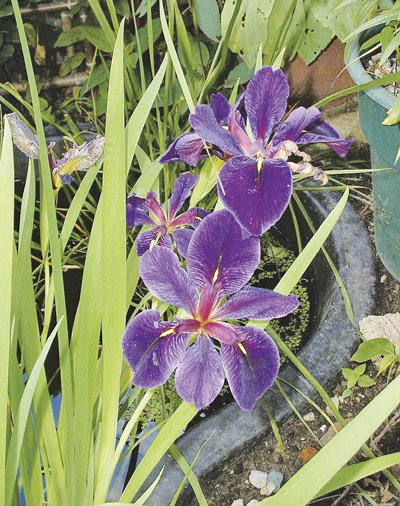 PHUKET: There has been lots of hot air expended about marginals during the run-up to the American presidential election. In political terms, "marginals" are states where a few key votes may swing all the seats either in a Republican or Democratic direction. In the case of Florida, all 28 members elected to Congress. Marginals can be very important.
In the world of flora, marginals have different connotations. True, they exist in marginal situations, straddling the divide between land and water, plants that flourish in shallow water, or mud, or in soil that is more-or-less permanently moist.
More crucially, they normally grow, as the name suggests, at the margins or fringes of expanses of water – lakes, rivers, even your domestic fish pond. And normally they are not "floaters" such as lilies (nympheas) or water hyacinths, but erect growers with tall, stiff stems and foliage. In fact, the waxy, immersed leaves not only tend to repel water, but utilize light in the way of terrestrial plants, photosynthesizing in the same manner.
These plants can also be grown in pots, but preferably with more mud than water, in order to simulate their natural marshy habitat. And they will need feeding. It is worth dividing these marginals into two groups: those that need to have their feet permanently in shallow water or saturated soil; and those (canna lilies, for instance) that can put up with somewhat drier conditions for short periods: for example when pond levels temporarily recede.
In the former category, you might include the eponymous lotus, though in natural conditions, it does tend to spread out across entire lakes, and certainly the varieties of cyperus mentioned in earlier articles. Tall and graceful, the Egyptian papyrus will enhance the appearance of any water garden. At least one variety can be cultivated in temperate regions, so if you still have a residence outside the tropics, it is worth thanking about.
The papyrus, with its cylindrical stems, is actually a sedge. Like the rush family, of which the bulrush (typha angustifolia) is the best known and most widely distributed, both rushes and sedges are familiar waterside plants in temperate regions, useful because they fringe the margins of lakes, streams and rivers. Look out for them. Some varieties also grow here.
One, (juncus variegata) a variegated form known as the gold strike rush, has beautiful yellow stripes along the length of its narrow leaves. I have not seen it in garden centers, but it is worth prospecting for. Sedges tend to be characterized by hollow, hairless, circular stems, rushes more often have flat, spathe-like leaves. Both sprout from rhizomes beneath the surface of the water, and can cope with infertile soils – including sandy ones.
With conventional irises, one is in the realm of plants, as with marsh-loving canna lilies or calocasias, that may survive without constant moisture. Not the case though with water irises, which come from wetland habitats, and prefer permanently water-logged soil. They have large, attractive, tri-sepaled flowers which droop – hence the blooms are called "falls" – and they come in a huge range of colors (iris means rainbow).
Moreover, they are vigorous growers, some producing blooms as tall as two meters in height. As with all these plants, they are good for containers, but will need feeding with fertilizer tablets placed in the mud.
Many varieties have been developed in the southern USA: for example, "Black Gamecock" a deep purple Louisiana hybrid; others, more familiar to Europeans, include the yellow flag iris (pseudocorus). Like sedges and rushes, they are generally temperate or sub-tropical; whether they can tolerate conditions here is open to speculation.
Tip of the week – What's in a name?
As far as plants are concerned, quite a lot. They have common English names and Thai equivalents, but also botanical names – usually two Latinate words with the second epithet providing useful information about such matters as growth habit, type of foliage, size or shape of blooms, or even medicinal properties.
Tongue-twisting they may be, but these botanical names are recognized the world over by many horticulturists. Worth remembering.
For example fragrans means sweet smelling, floribunda and grandiflora respectively refer to abundant and large flowerers. Rotundifolia suggests round leaves, variegata bi-colored foliage. Nocturnum implies a night flowerer, mutabilis blooms that change color.
Japonica reveals a Japanese origin, chinensis a Chinese one. Every so often these epithets, which are linked to the plant's name – the first word – contain surprising information.
In the case of allamanda cathartica, the second word shows that this climber can be used as a purgative (cathartic). Or once was…
If you have a question or a garden that you would like featured, you can email the author here.
Keep checking our online Phuket Lifestyle pages or join our Facebook fan page for regular gardening features and tips.
— Patrick Campbell
Thai Life

Join the conversation and have your say on Thailand news published on The Thaiger.
Thaiger Talk is our new Thaiger Community where you can join the discussion on everything happening in Thailand right now.
Please note that articles are not posted to the forum instantly and can take up to 20 min before being visible. Click for more information and the Thaiger Talk Guidelines.