Phuket King's Cup Regatta gives spectacular tribute and racing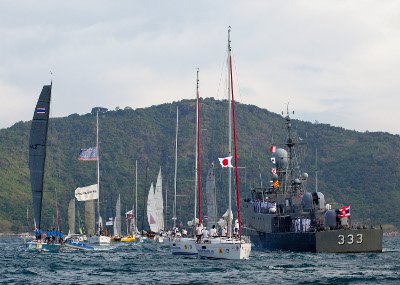 PHUKET: The entire Phuket King's Cup Regatta fleet took part in an inspiring sail pass close to Nai Harn Bay yesterday, before the start of the third day of racing.
Royal Thai Navy yachts led the procession of Regatta boats from around the world, as they sailed past three Royal Thai Navy ships positioned off Nai Harn Bay.
This spectacular tribute was held in honor of His Majesty the King of Thailand's 85th birthday.
Thousands of spectators, media and members of the public also gathered on Phromthep Cape viewpoint to watch the sail pass and gun salute, followed by a procession of the Royal Thai Navy ships, paying their respects and showing their love and support of Thailand's Monarch, himself a gold medal winning sailor.
The 2012 Phuket King's Cup Regatta fleet comprised of a very diverse assortment of vessels, included 78 large, ocean-going racers and cruisers, 49 dinghies and 40 windsurfers.
The boats were crewed by an international complement of sailors from 34 countries; part of the reason why the Regatta is renowned as the region's most coveted sailing competition.
The sail pass was followed by some very competitive racing in 15+ knots of wind with gusts of up to 20 knots.
In the IRC Zero class, Frank Pong and his Jelik team turned it up a gear, winning races six and seven ahead of the Royal Malaysian Navy DK47 skippered by Mohamad Razali Mansor, and Kevin Whitcraft's all Thai team on the modified GP42Won Marang.
Pong, skipper of the twice-victorious Jelik, said:
"Phuket has been terrific and has really delivered. This is a much older boat than the one we ran last year, so it is carrying less handicap. With the previous setup it was very sticky in light air below eight knots. It was okay today [Wednesday] with the changes I've made; it goes well in all conditions. Conditions will change of course; Friday looks lighter, Saturday, very light. We ran from 12-20 knots today [Wednesday] and it worked well – 42 seconds and 20 seconds ahead. We have only really sailed against Kevin's Won Marang. We hope the Regatta President Commodore does well, and we hope they finish second!"
David Fuller's Ichi Ban, one of two competing Ichi Ban teams this year, took a spectacularly tight win in the IRC1 class, just one second on corrected time ahead of Walawala 2 team skippered by Steve Manning. The bottleneck finish illustrated just how close the class is this year, with potential winners coming from anywhere on the results sheet. In race seven, Foxy Lady 6, skippered by Bill Bremner, came home in first place. The class remains wide open.
Royal Thai Navy 1 secured two victories in the IRC2 class. Skipper CPO.1 Wiwat Poonpat inspired his crew to power home almost half a minute ahead of Matt Allen's Ichi Ban team – very tough competitors in each and every race.
The competition for Firefly 850 Sports class is shaping up between three teams; Hans Rahmann and Voodoo beat rival Dyer Straits skippered by Peter Dyer in race six, with the seventh race going to Roger Kingdon's Moto Inzi – another very open contest.
Fantasia, skippered by Andrew Stransky, returned to winning form in the Multihull class with a win in race six, while a new victor emerged in race seven, Sweet Chariot skippered by Mark Thornborrow.
In Platu One Design class, Junichi Ishikawa and The Beaver came in ahead of compatriot teams Sakura and IPPAI, leaving Scott Duncanson's Thai-registered Tuay Lek at the back of the pack. The second race honors also went to The Beaver, establishing their dominance in the one-design class.
In the Premier class, Richard Dobbs' Titania of Cowes won again in both races, solidifying his lead and putting him in good stead for back-to-back Regatta wins following their success last year. The Pine-Pacific team, Dobbs' nearest rival in terms of outright pace, came in second place in race four, and in race five, a small time difference separated them from team Xena. Dobbs has the points score advantage, but margins of victory remain tight on corrected times.
Of the Bareboat Charter entries, Aussie Graeme Sheldon became the man to break the Russian dominance in the class with a strong win by him and his Agility International team. Mikhail Beloborodov on Tonicola 2 placed second, with compatriot Kirill Sakhattzev finishing third. However, Sakhattzev's Sail Plane team came on strong in the next race, placing first for an important win.
Barry Cunningham took Patrice III and crew to a Modern Classic class victory in both races against some very stiff competition from Emerald Blue and Windstar; just a couple of minutes separated all three boats on corrected time.
In Cruising Class, William Lo's No Name romped home in first, seemingly without a challenge. This is doubtless the boat to beat among this group of cruising yachts. The team was victorious in race five also, setting the crew up for a solid Phuket King's Cup Regatta trophy come end of the week.
The final races for the windsurfers took place yesterday. Re-introduced to the Regatta this year, windsurfing has certainly added some adrenalin-fueled excitement to the proceedings.
Chun Leung Michael Cheng took the overall win. Thai windsurfing stars Natthaphong Phonoppharat and Pornanan Payungkasem did their best to overturn the Hong Kong Olympian, but Cheng was ultimately victorious after a display of great windsurfing. His compatriot, Hei Man Chan, was the overall winner in the women's class.
The International Dinghy Classes also concluded with Thai sailors winning across the board. Pongsapat Poomyam won the Optimist Boys, while Kamonchanook Klahan was the Optimist Girls winner. Laser victory went to Kamolwan Chanyim, while Akapoj Kankaew finished first in the Topper contest.
The first three days have so far delivered spectacular tropical sailing conditions, and with two days to go, there is still plenty to compete for. Thursday is a Lay Day. Racing returns on Friday December 7.
Keep in contact with The Thaiger by following our
Facebook page
.
Never miss out on future posts by
following The Thaiger
.
Phuket police arrest 6 after finding large amounts of methamphetamine in raid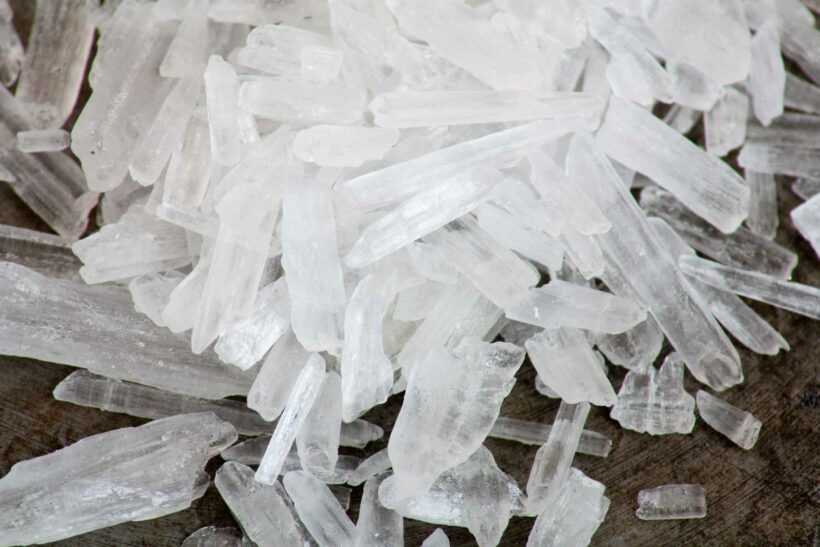 Phuket Provincial Police have arrested 6 people after finding large amounts of methamphetamine and other drugs during a raid. One suspect alone allegedly had 7.6 kilograms of crystal meth (ya ice) and over 12,500 methamphetamine pills (ya bah). 29 year old Surasak 'Bank' Wijit and 27 year old Panida 'Mei' Saeyang were arrested at an apartment car park in Soi Lookkaew, Moo 6, Rassada, in eastern Phuket, after they were found in possession of the drugs.
Police also found 2 mobile phones and a red Honda PCX, registered in Phuket, as evidence. Both suspects have been charged with posessing a Category 1 drug with the intent to sell.
Other suspects arrested at the same time include 36 year old from Chiang Rai, 42 year old Sarawut 'An' Srichanon, from Ranong and 31 year old Pornthep 'Iew' Thepchampa, who were charged with the same crimes in Chalong after police found more drugs in their possession. 33 year old Kamon 'Kung' Sae-ngow, was arrested as well after police found kratom juice and leaves at a house in Rassada. He was taken to Phuket City Police station and was charged with a Category 5 drug possession.
SOURCE:The Phuket News
Keep in contact with The Thaiger by following our
Facebook page
.
Never miss out on future posts by
following The Thaiger
.
Phuket Muay Thai fighter is the first Thai national to compete in UFC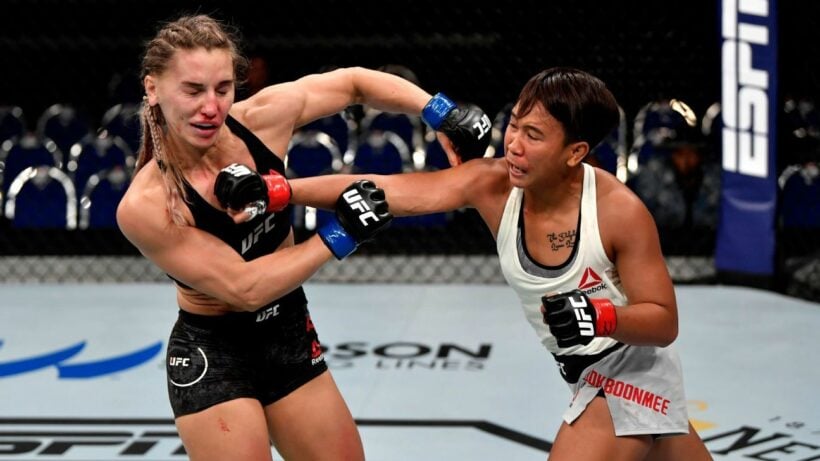 The upcoming Ultimate Fighting Championship Fight Night event in Abu Dhabi will feature Thailand's only national marking her third fight with the UFC, the world's largest mixed martial arts competition. 24 year old Loma Lookboonme, from Burirram in northeastern Thailand, will fight in the event on October 3, 2020.
Loma is a Muay Thai fighter who has adapted her MMA skills to fight in the UFC where she currently trains at the Tiger Muay Thai gym in Phuket. Loma qualified for the national team at the age of 19 and has fought in over 12 nations worldwide. She currently trains 6 days a week starting daily at 6:30am with a 3 kilometre run. In the UFC, she will be competing against China's Angela Lee who is the undisputed champion of the 52 kilogram fist weight category.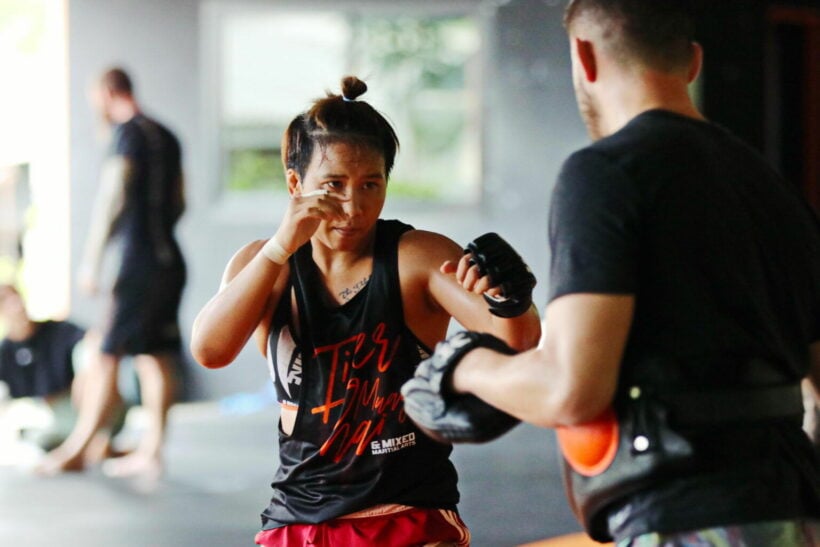 Loma's parents are former Muay Thai fighters and her 2 sisters currently compete as well. She reportedly started training at 8 years old after being inspired by her father, whom she describes as her "hero."
Like most Thais in such fighting sports, Muay Thai offers a way to rise out of poverty-and fighting for the UFC can be financially lucrative. But Loma says her only Thai sponsor is the gym where she trains, with the rest of her sponsors being from foreign brands. She says she is trying to get more Thai sponsors but feels that maybe she needs to win the UFC first before Thai brands notice her.
Loma lost her last fight and says her new opponent gives her nothing to lose. She says her goal is to get into the Top 10, but is not sure when it will happen. Loma says for now, it would be good to fight against someone in the Top 10 to help her prepare for her future.
FULL INTERVIEW: Thisrupt.co
Keep in contact with The Thaiger by following our
Facebook page
.
Never miss out on future posts by
following The Thaiger
.
Phuket airport ready for tourists after finishing Covid screening labs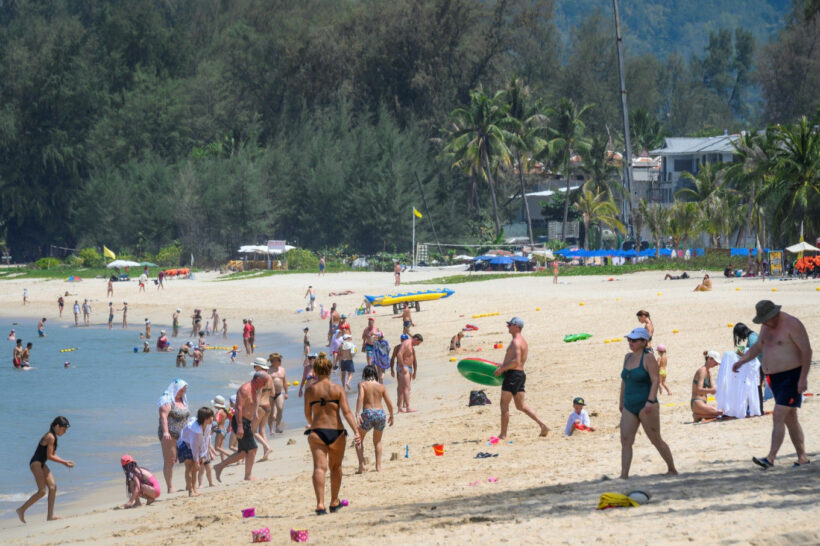 Phuket Airport is officially ready for tourists as authorities say they have finished installing Covid screening labs in an effort to welcome international travellers. The 5T Model for Covid-19 is being used at the airport with the goal of screening large groups of people in a quick and efficient manner. The Phuket health chief says the 5T's stand for Target, Testing, Treating, Trusting and Tracing.
Phuket has one large airport at the north end of the island but is separated into two separate terminals – a domestic terminal (the original airport terminal), and a new international terminal opened in 2016.
The target category refers to the target groups of tourists while the tracing stands for software that will be used to monitor their movements. The testing category refers to Covid tests that will be implemented to travellers upon arrival along with the treatment and trust categories signifying the readiness of resources for medical treatment and confident communications between all parties respectively.
The Covid-19 lab container module has been set up at Phuket airport's Terminal X (the terminal opened for charter flights opened in 2014) and will be tested tomorrow with its operation to start on September 30. As large groups of tourists could arrive (later in the year, the lab is reportedly capable of testing 96 people at a time with test results becoming available in 6 hours. What the airport would do withe tested passengers whilst waiting for 6 hours, has not been detailed at this stage.
Such a readiness plan to welcome foreign tourists originally singled out Phuket due to its popularity with travellers, and as a so-called guinea pig model to test in a controlled environment (Phuket is an island joined to the Thai mainland by a single 300 metre road bridge). Once dubbed the "Phuket Model", authorities have proposed to rename the plan to "Special Tourist Visa" due to the confusion and opposition it reportedly caused. The scheme is reportedly now being proposed for all areas of Thailand but only allowing foreigners from specific countries.
SOURCE: Pattaya Mail
Keep in contact with The Thaiger by following our
Facebook page
.
Never miss out on future posts by
following The Thaiger
.