Phuket
Phuket Governor cracks down on illegal alien workers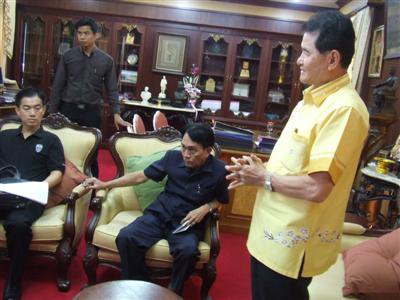 PHUKET CITY: Phuket Governor Wichai Phraisa-ngop yesterday morning convened a meeting of local government office representatives, ordering them to crack down on illegal alien workers harming the Phuket tourism industry.

The meeting took place at Phuket Provincial Hall, where representatives from the local Immigration, Employment, Culture, Fine Arts and Revenue Department offices were among those ordered to carry out the crackdown.

The problem of illegal alien workers was not confined to illegal low-wage workers from Burma, Cambodia and Laos, Gov Wichai said.

There are also Pakistanis, Bangladeshis, stateless Rohingyas and Korean tour guides among the ranks of those working without work permits or doing jobs different to those specified in their work papers, he said.

"This is especially true in Patong, where there are beach boys, tour guides, waiters and sales people, for example.

Soi Bangla is full of alien workers who are working jobs different to those specified in their work permits and which are reserved for Thai nationals, he said.

Gov Wichai expressed dissatisfaction that the issue has remained largely ignored, despite the fact that as many as eight different government agencies have the authority to act.

"Even some media businesses are under the control of foreigners or employ foreign editors. Officers need to strictly scrutinize these businesses to determine which are working legally and which are not," he said.

"If alien workers have work permits and follow all the regulations, we can't do anything to them, but we need to find out which are working legally and which are not," he said.

Noting the lack of manpower needed to carry out these investigations, Gov Wichai said he was prepared to call on the military to help if needed.

"When they make such problems as committing crimes or encroaching on public land it makes Phuket look bad. Tourists don't know that it is not Thai people creating these problems, so we have to find the illegal aliens responsible," he said.

After the grace period for workers from Burma, Cambodia and Laos expires at the end of October, the ensuing crackdown will target workers from every country, not just neighboring states, he said.

"We will examine them one-by-one, in great detail," he said.

"They live here together as entire families, destroying our resources, producing trash, using our water supplies…and competing for jobs with Thai people. This is a real weak point for Thailand," he said.

"If we taxed them all, we could generate a great deal more revenue," he said.

Officials have ignored the problem for so long that Thai nationals are now suffering as a result, he said.

Gov Wichai gave as an example the situation at Vachira Phuket Hospital, where Thai nationals need to wait a long time to be seen by overworked physicians because of the large number of Burmese that go there for treatment.

To reverse the trend he called on all police branches to arrest illegal aliens and create an atmosphere in which foreign nationals will think twice before trying to enter the country illegally.

He described as another 'weak point' the fact that illegal businesses always seem to know in advance when officers are coming to make inspections.

"It happened last time we went out to check the bars," he said.

Once the grace period passes, a meeting of representatives from all relevant government agencies would be called to co-ordinate the work effort.

The work of the government officers involved would also be scrutinized to ensure they do their part, he said.

"If we don't solve the problem, it will affect tourism in Phuket," he said.
— Atchaa Khamlo