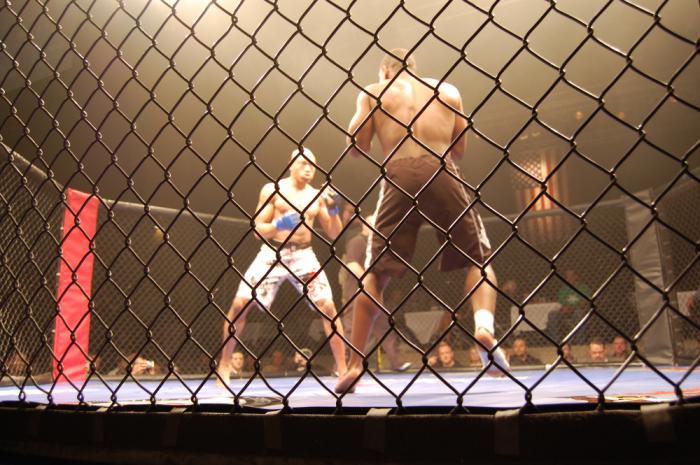 PHUKET: More than 500 people are expected to show up at Phuket's first MMA gala, and they are in for a treat.
"Thai culture understands combat sports. And the Kingdom is on the cusp of accepting MMA with open arms. We're just trying to give a little push," explains Ree Webster, the event's co-organizer,when asked about the motivations behind his efforts.
The event will feature seven fights and 14 fighters, all in one of Patong's biggest nightclubs – Seduction Beach Club and Disco. Most of the fighters will be up-and-comers, that have been trained in the region.
"It is no secret to combat sports fans that Muay Thai is a primary part of MMA. With so many fighters flocking to Thailand to train in one of its hundreds, or possibly thousands, of world class Muay Thai gyms, to learn Muay Thai in order to incorporate it into their MMA arsenal, the Kingdom needs more MMA events," explains Webster.
Among the fighters in the ring on the night will be Mangthus "The Beast" Rewtawee, whose training with Thai One FC fighter Shannon Wiratchai up in Bangkok, and Rachanon "The Mad Child" Ngaongam, out of Boxing King and Emac – both up in Bangkok. In another matchup, a debut fight for both fighters, Dylan Fussell from TeamQuest Chiang Mai will face Tiger Muay Thai's Yusuf Karakaya. This event will also see the likes of EMAC Gym owner Niti Techottiasnee and Shannon Wiratchai, One FC fighter and Martial Warrior Star, doing the commentary.
One of the tasks the organizers set for themselves is to promote MMA in Thailand – a country with rich martial arts traditions that it holds dear, but is slowly shifting to accept contemporary fight sports like MMA.
"I feel like Asia still thinks of fighting in the cage as a taboo. Many still prefer a boxing ring. Many Thais still have the"old school" way of thinking and we're just trying to break through doors." explains Ree Webster. It starts with the event's name. "There is no Thai word like "Octagon" which the UFC uses to describe their cage. So we're helping out. Dojo is a place where martial arts are done. And what surrounds our awesome dojo? Full metal, that's what. Enter the Full Metal Dojo."
The organizers are also hoping to get the Tourism Authority of Thailand involved in the promotion of future events. The negotiations are ongoing.
The event will take place on June 7 at Seduction Night Club in Patong. Doors open at 4pm.The tickets are available at Seduction, the Fight Lab shops and the Tiger Muay Thai gym or reserved via the Full Metal Dojo Facebook page. For more information click here
— Maciek Klimowicz