Krabi farmers threaten airport blockade
PHUKET: Krabi palm oil and rubber plantation workers have threatened to blockade Krabi Airport if the government does not increase the legal minimum prices for their produce by next Thursday.

More than 500 plantation workers gathered in front of Krabi Provincial Hall on Tuesday morning to file a complaint to be handed to Prime Minister Yingluck Shinawatra.

The complaint calls for the government to increase the minimum price of raw rubber to 120 baht per kilogram and palm fruit to 5 baht per kilo.

The current regulated minimum prices, as set by the Ministry of Commerce's Department of Internal Trade on May 14, are 81.5 baht per kilogram for raw rubber and 3.5 baht per kilogram for palm fruit.

"If we have not heard anything back from the government 10 days from now [by May 23], we will block the airport," protest leader Chamnan Makpol warned.

Mr Chamnan accused the national government of failing to provide assistance to farmers across Southern Thailand.

"We have been in a difficult period since Ms Yingluck was elected prime minister. The rubber and palm fruit prices have kept falling, but she has never really helped us. She just works on creating her good image from time to time," he said.

"In the past, when she distributed 40 billion baht to help poor farmers, the money never went to us. It all went to the middleman. Poor people like us got nothing," he added.

Mr Chamnan pointed out that plans to provide financial assistance to rice farmers across the North and Northeast of Thailand, the heartland of the ruling Pheu Thai Party's voter base, were already in motion.

"The government should care about us more. They should not just think that we are 'yellow shirts' and ignore us, and support only 'red-shirt' farmers in the North and Northeast. They haven't even grown the rice yet, but the government has already set up a budget to support them," he said.

"We don't want to pressure the government, but we want to let them know we are in serious trouble," he added.

Krabi Provincial Chief Administrative Officer Weera Jantharathipparak received the complaint on behalf of Krabi Governor Prasit Osathanon, who is in Bangkok on official business.

"I will report the problem to PM Yingluck immediately and will call in other relevant organizations to discuss it" Mr Weera said.

Satisfied for now, the protesters dispersed, but vowed to return in 10 days to see if their request is to be acted on.
— Kritsada Mueanhawong
Keep in contact with The Thaiger by following our
Facebook page
.
Phuket's Soi Dog Foundation: State of Emergency affecting homeless dogs and cats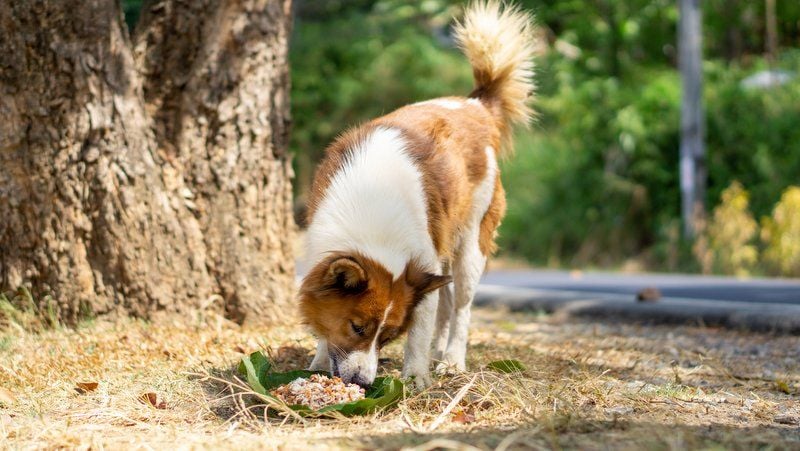 During these troubled times, Soi Dog Foundation in Phuket has changed a few policies. Community Relations Manager Sakdapol Thongjan issued a special notice saying… in light of the escalation in Covid-19 cases worldwide, and to support the community efforts to stem the spread within Thailand, with immediate effect Soi Dog Foundation has decided to close the sanctuary to visitors and volunteers indefinitely.
"Soi Dog Foundation hope that normal service can be resumed as soon as possible and apologize for any inconvenience this closure may cause. The sanctuary and hospitals continue, the same as any other day, to care for the dogs and cats, in runs and in treatment.The community rescue and outreach programs provided for those in need will also carry on. "
This current national crisis not only affects humans but inadvertently affects our four-legged friends. Many homeless dogs and cats typically tended to by loving volunteers are now unable to continue their regular feeding schedules. As a result, Soi Dog Foundation is asking each of us to help where we can.
Without the regular feeding cycles in a consistent location, these homeless dogs and cats may suffer.
Thongjan reminds us there are feeders in areas across the island usually, but at the moment they might find it too difficult to get to those areas. The animals they care for are often fed at the same time and at the same location. Any changes to this routine can change their behaviour too, forcing them to relocate to survive which can cause new problems."
This sudden inconsistency could lead them to explore new territory in search of nourishment and this is where we come in. While observing the national curfew and social distancing and unable to travel as freely, we can still enact small steps to help. 
For example, place a fresh bowl of water and some food outside to help feed a would be hungry homeless dog or cat. Be sure to change the water daily so as to not encourage mosquito breeding. Monitor the behaviors and health of the dogs and cats and report any life threating injuries to Soi Dog. 
Be sure to observe caution if you want to pat any animal, especially an animal in distress, and be sure to wash your hands as a basic sanitary habit.
• Soi Dog Foundation is located at 167/9 Moo 4, Soi Mai Khao 10, Mai Khao, Thalang, 83110.
• Shelter hours are Monday-Friday 8 am-5pm (but not at the moment).
• To report a sick or injured street dog or cat during these hours, email clinic@soidog.org or call 076 681 029. However, if you see an animal outside of shelter hours whose life you believe is in danger unless it receives immediate, emergency treatment, call the emergency hotline on 098 927 9698.
SOURCE: Soi Dog Foundation
Keep in contact with The Thaiger by following our
Facebook page
.
Phuket reports 12 new coronavirus cases, all from Patong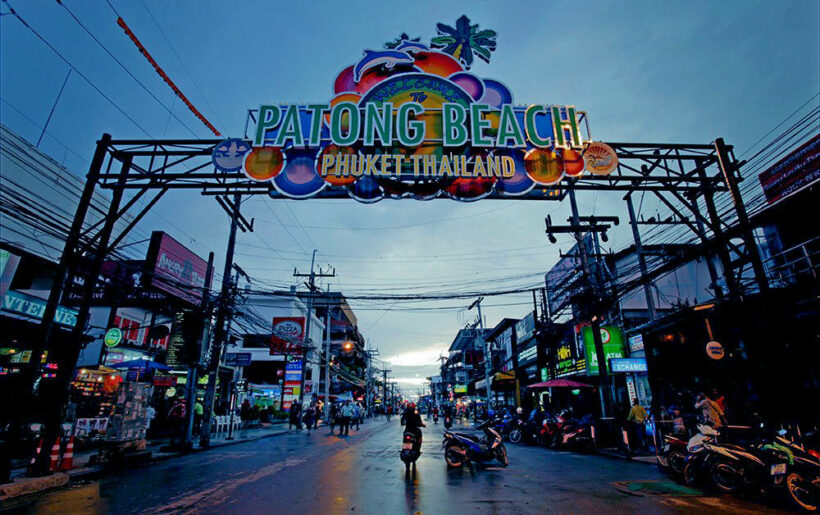 The southern island province of Phuket confirmed 12 new cases of the Covid-19 coronavirus today (Thursday), bringing the total on the island to 87. All appear to have originated in the island's Patong area, most from the Bangla Road red light district.
The town of Patong was placed on unofficial curfew yesterday as its governor issued a public decree urging residents to stay in their home at all costs, and promising delivery of necessities to those in need to keep them from venturing out.
The details of the new cases are…
Case 76: A 28 year old Thai woman, a restaurant owner in Patong. she has a history of contact with foreigners and visiting Bangla Road. She fell sick on March 20, 1 contact is considered at risk and is being sought by authorities.
Case 77: A Swedish woman, aged 52, a tourist who came to Thailand with her husband on March 13. She has history of visiting Bangla road, although she stayed a hotel in Karon. She became sick on March 21, 2 contacts are at high risk.
Case 78: A 26 year old Thai woman, a waitress in Patong who had close contact with foreigners and visited Bangla Road. She got sick on March 21, 2 contacts are at high risk.
Case 79: A 37 Russian woman, a tourist in Patong for more than a month. She has an alleged history of partying in Bangla Road and had contact with case 49, a Ukranian man. She became sick on March 20 and 1 other person is at high risk.
Case 80: A 30 year old woman from Kazakhstan, also a tourist in Patong for more than a month, who also had contact with case 49. 1 person is considered at high risk.
Case 81: A 48 year old Thai woman, masseuse in Patong at the same massage shop as cases 32 and 62. She fell sick on March 22 and 6 people are believed to be at high risk
Case 82: A 39 year old Thai man, a worker in a phone shop in a Patong mall. He has a history of close contact with foreigners and visited Bangla Road. He got sick on March 22, 7 people are at high risk.
Case 83: A 37 year old Thai woman, worked in the same Italian restaurant, as cases 59 and 60. High risk contacts total 15
Case 84: A 36 year old Thai man, a chef in Italian restaurant, who became sick on March 30. 12 people are at high risk.
Case 85: A 51 year old Thai woman, a waitress in same restaurant. She fell sick March 25, 13 people are thought to be at high risk.
Case 86: A 30 year old Thai man, a chef in same Italian restaurant, who got sick on Tuesday. Contacts at high risk number 13 people.
Case 87: A 32 year old Thai woman, a tour guide who had contact with a group of friends in Bangla Road. She got sick on sick on March 24, 5 people are at high risk.
Phuket has effectively sealed its borders by land and sea, and will close its airport on April 10 to all flights.
SOURCE: Ministry of Public Health
Keep in contact with The Thaiger by following our
Facebook page
.
Bangkok Airways cancels all domestic flights from April 7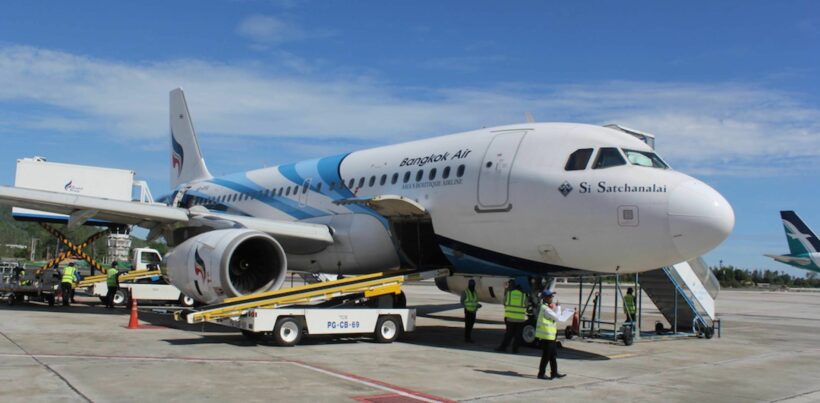 Bangkok Airways has announced today that they will cancel all it domestic flights from April 7 – 30. The company's vice president, Tresarum Sitakalin says the flights that are being cancelled are…
Bangkok – Chiang Mai
Bangkok – Phuket
Bangkok – Trat
Bangkok – Sukhothai
Bangkok – Samui
Samui – Phuket
"The company had previously decreased flight frequencies on these routes and also using some of their smaller ATR aircraft instead of their Airbus 320 aircraft."
"From April 7 onwards until April 30, we will cancel all flights."
Requesting for a refund can be done at www.bangkokair.com/refund or contact their ticketing offices at +662 270 6699 or Bangkok Airways Call Centre on 1771 . For passengers who purchased their tickets through travel agencies, please contact their travel agency directly.
SOURCE: The Nation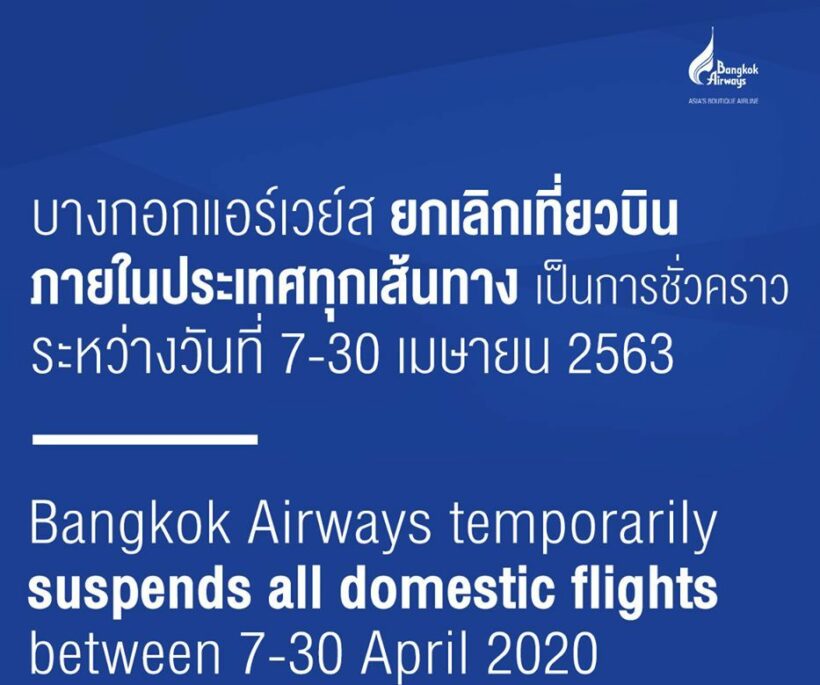 Keep in contact with The Thaiger by following our
Facebook page
.