Blazing Saddles: Pedaling with pasta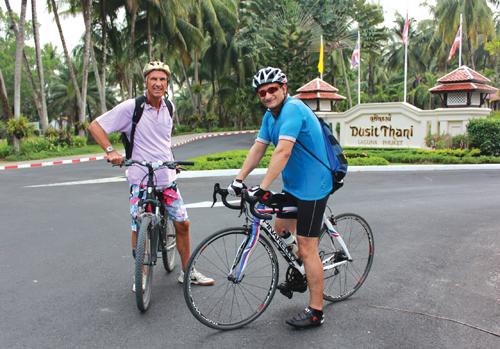 PHUKET: Silvano Amolini of the Dusit Thani Laguna Resort is one of Phuket's preeminent chefs and is also a keen cyclist. Baz Daniel recently caught up with him for a ride around his Bang Tao Beach backyard, followed by some serious pasta-loading at La Trattoria Restaurant.
One of the great unsolved mysteries of the universe is the seemingly irrevocable link between pedaling and pasta. Certainly a good bike ride burns loads of energy and a fine dish of Italian pasta is a great way to replenish the bodily reserves that all the leg-pumping and lung-panting have depleted.
But there's much more to it than that!
Here on Phuket the link seems particularly strong, as many of the island's top chefs are also keen cyclists. Perhaps packing on the pounds is an occupational hazard for chefs, being surrounded by so much great tucker 24/7. Certainly, many of Phuket's top chefs crow about the benefits that "getting on their bikes" brings them. And none more so than the doyen of Italian cuisine in the Laguna area – Dusit Thani's Executive Chef Silvano Amolini.
When I went to meet him, Silvano was the picture of good health, a svelte 44 year old, bounding energetically from cooking range to lightweight Italian road bike in the blink of a microwave – but he says it was not ever thus.
Just a few years back, Silvano's bathroom mirror turned traitor. It began to display a decidedly overweight profile, indeed, one that many members of his chosen profession also seem to manifest. Then 'Madame Destiny' came calling.
The Patong Rotary staged an auction at the Dusit in aid of underprivileged children, and a bicycle just happened to be one of the prizes. Cursing his bathroom mirror and scales, Silvano seized his chance. He outbid everyone, collected the bike, and from then on became a passionate convert to pedaling and pumping as a way of life.
"The turnaround in my lifestyle has been dramatic," he says.
"These days I am awake at 5:15 am and in the saddle by six doing my regular 38 kilometer ride along the back roads from the Laguna over to Nai Thon Beach and back.
"I ride three or four times a week with my training buddy and friendly rival Stefano Artosin, the executive chef from the Amanpuri Resort.
"We try to outdo each other at every sport we try and so we've formed a sort of Italian pasta pedaling parade as the sun comes up!"
You might think that the hectic life of an executive chef would make so many demands on Silvano's time and energy that training for this year's Laguna Triathlon in November, would be a nonstarter. But as he explains, the truth is quite the reverse.
"The strange thing is that since I started regular cycling I have so much more energy and I am more alert and able to handle stress far better than ever.
"Actually I would encourage any chef to get into cycling. It seems to be the perfect antidote for the stresses and strains, not to mention calories, of the job."
A recent stunning April evening saw us wheeling our bikes out of the Dusit Thani's grounds and setting off along the back roads that run along Bang Tao Beach and then heading north. Sleepy birds twittered, soi dogs scratched and the sun threw its diminishing scarlet tentacles over the tops of the Casuarina trees as we sped (well Silvano sped and I tried to keep up) over the hilly back roads past Layan Gardens, Trisara Resort and then on down to the beautiful sands of Nai Thon Beach. There we had a Lycra-clad dip in the crashing spume as the sun continued its westward trajectory, as is its wont at that time of day.
Back at the Dusit we sat outside on their glorious sweep of Bang Tao Beach in front of Casuarina Restaurant and quaffed health booster drinks while the last vestiges of sunset called it quits and dipped below the horizon.
After a shower, Silvano and I regrouped in his spiritual home – La Trattoria Restaurant for some serious pasta reloading.
"Pasta, my friend, is like cycling. It should be simple, uncomplicated and honest. Just take the very finest Italian spaghetti with fresh tomato sauce cooked with a few drops of quality Italian extra virgin olive oil, fresh sliced garlic, chopped fresh chili and a good ripe tomato.
"Cut it all up by hand and dice in a few leaves of fresh basil, a sprinkle of fresh Parmesan cheese and there you have the perfect simple, energizing and delicious pasta!
"Serve it with a fresh a salad and a little cured ham and Mozzarella… oh, and a glass or two of good Chianti – because you deserve it."
So, we sat there admiring the dusk as she spread herself over the broad lawns of the Dusit Thani and enjoyed one of the most sensational meals I've ever had. Was it my ravenous appetite from the ride? Was it the ambiance and atmosphere? Or was it the magic of the fine Chianti at work? I'll never know, but maybe, just maybe… at last I was beginning to appreciate the mystical link between pedaling and pasta.
Got a route you want to share with our intrepid cyclist, then click here to extend an invitation.
Keep checking our Phuket Lifestyle pages for the latest happenings across the island. Join our Facebook fan page or follow us at @PhuketGazette.


— Baz Daniels
Thai Life

Join the conversation and have your say on Thailand news published on The Thaiger.
Thaiger Talk is our new Thaiger Community where you can join the discussion on everything happening in Thailand right now.
Please note that articles are not posted to the forum instantly and can take up to 20 min before being visible. Click for more information and the Thaiger Talk Guidelines.