Blazing Saddles: Pedaling with pasta
PHUKET: Silvano Amolini of the Dusit Thani Laguna Resort is one of Phuket's preeminent chefs and is also a keen cyclist. Baz Daniel recently caught up with him for a ride around his Bang Tao Beach backyard, followed by some serious pasta-loading at La Trattoria Restaurant.
One of the great unsolved mysteries of the universe is the seemingly irrevocable link between pedaling and pasta. Certainly a good bike ride burns loads of energy and a fine dish of Italian pasta is a great way to replenish the bodily reserves that all the leg-pumping and lung-panting have depleted.
But there's much more to it than that!
Here on Phuket the link seems particularly strong, as many of the island's top chefs are also keen cyclists. Perhaps packing on the pounds is an occupational hazard for chefs, being surrounded by so much great tucker 24/7. Certainly, many of Phuket's top chefs crow about the benefits that "getting on their bikes" brings them. And none more so than the doyen of Italian cuisine in the Laguna area – Dusit Thani's Executive Chef Silvano Amolini.
When I went to meet him, Silvano was the picture of good health, a svelte 44 year old, bounding energetically from cooking range to lightweight Italian road bike in the blink of a microwave – but he says it was not ever thus.
Just a few years back, Silvano's bathroom mirror turned traitor. It began to display a decidedly overweight profile, indeed, one that many members of his chosen profession also seem to manifest. Then 'Madame Destiny' came calling.
The Patong Rotary staged an auction at the Dusit in aid of underprivileged children, and a bicycle just happened to be one of the prizes. Cursing his bathroom mirror and scales, Silvano seized his chance. He outbid everyone, collected the bike, and from then on became a passionate convert to pedaling and pumping as a way of life.
"The turnaround in my lifestyle has been dramatic," he says.
"These days I am awake at 5:15 am and in the saddle by six doing my regular 38 kilometer ride along the back roads from the Laguna over to Nai Thon Beach and back.
"I ride three or four times a week with my training buddy and friendly rival Stefano Artosin, the executive chef from the Amanpuri Resort.
"We try to outdo each other at every sport we try and so we've formed a sort of Italian pasta pedaling parade as the sun comes up!"
You might think that the hectic life of an executive chef would make so many demands on Silvano's time and energy that training for this year's Laguna Triathlon in November, would be a nonstarter. But as he explains, the truth is quite the reverse.
"The strange thing is that since I started regular cycling I have so much more energy and I am more alert and able to handle stress far better than ever.
"Actually I would encourage any chef to get into cycling. It seems to be the perfect antidote for the stresses and strains, not to mention calories, of the job."
A recent stunning April evening saw us wheeling our bikes out of the Dusit Thani's grounds and setting off along the back roads that run along Bang Tao Beach and then heading north. Sleepy birds twittered, soi dogs scratched and the sun threw its diminishing scarlet tentacles over the tops of the Casuarina trees as we sped (well Silvano sped and I tried to keep up) over the hilly back roads past Layan Gardens, Trisara Resort and then on down to the beautiful sands of Nai Thon Beach. There we had a Lycra-clad dip in the crashing spume as the sun continued its westward trajectory, as is its wont at that time of day.
Back at the Dusit we sat outside on their glorious sweep of Bang Tao Beach in front of Casuarina Restaurant and quaffed health booster drinks while the last vestiges of sunset called it quits and dipped below the horizon.
After a shower, Silvano and I regrouped in his spiritual home – La Trattoria Restaurant for some serious pasta reloading.
"Pasta, my friend, is like cycling. It should be simple, uncomplicated and honest. Just take the very finest Italian spaghetti with fresh tomato sauce cooked with a few drops of quality Italian extra virgin olive oil, fresh sliced garlic, chopped fresh chili and a good ripe tomato.
"Cut it all up by hand and dice in a few leaves of fresh basil, a sprinkle of fresh Parmesan cheese and there you have the perfect simple, energizing and delicious pasta!
"Serve it with a fresh a salad and a little cured ham and Mozzarella… oh, and a glass or two of good Chianti – because you deserve it."
So, we sat there admiring the dusk as she spread herself over the broad lawns of the Dusit Thani and enjoyed one of the most sensational meals I've ever had. Was it my ravenous appetite from the ride? Was it the ambiance and atmosphere? Or was it the magic of the fine Chianti at work? I'll never know, but maybe, just maybe… at last I was beginning to appreciate the mystical link between pedaling and pasta.
Got a route you want to share with our intrepid cyclist, then click here to extend an invitation.
Keep checking our Phuket Lifestylepages for the latest happenings across the island. Join our Facebook fan page or follow us at @PhuketGazette.


— Baz Daniels
Keep in contact with The Thaiger by following our
Facebook page
.
Thai authorities track down contacts of Covid-19 victim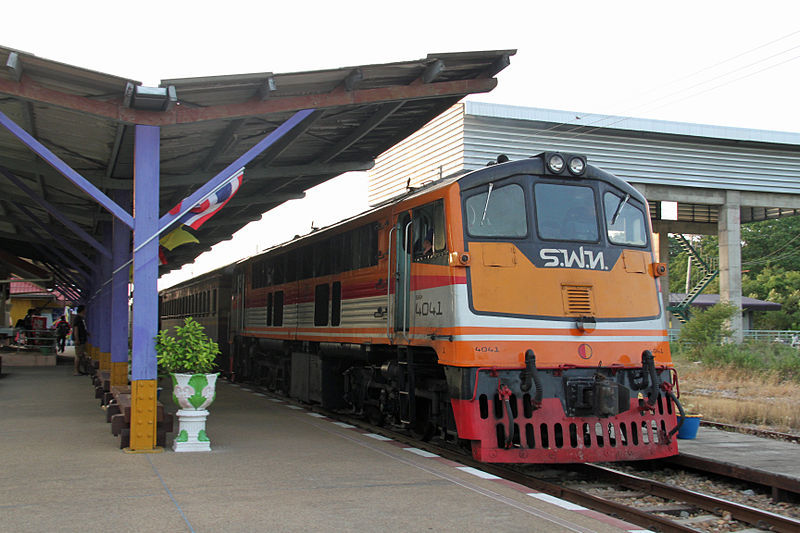 Yesterday a 57 year old man, named as 'Anan Soho', passed away due to the effects of the Coronavirus. Authorities are now trying to track down people who came in contact with the man. The man died travelling on a southbound train on Monday night.
A spokesperson from the Immigration Bureau says that Anan had returned to Thailand from Islamabad, Pakistan, on Flight TG350 at 5.50 am on Sunday along with 279 other passengers, who were mostly Thai students returning home."
"6 Immigration police have been identified as those who had potentially been in contact with Anan as they were involved in handling his immigration clearance documents upon his arrival at Suvarnabhumi airport," according tot he Bangkok Post.
"At least 13 of the students arriving on the same flight were found to have body temperatures exceeding 37.5C and were transferred to a hospital serving as a Covid-19 quarantine zone. Anan had travelled to Pakistan alone and passed a Covid-19 screening test at the immigration check counter upon return."
Kittiphong Kittikahchon, Suvarnabhumi deputy director of airport operations, says that the passenger had been walking with a limp and requested a wheelchair and spent a long time at the baggage claim area due to long queues.
"An airport worker pushing the wheelchair for him and the taxi driver who took him from the airport after baggage claim were located and have been tested for Covid-19."
The State Railway of Thailand director for train service operations, says that a male passenger, who happened to be at Bang Sue central station at the same time as Anan on Sunday morning, was caught on a security camera as the infected man appeared to cough on him.
"After the security footage was aired by the media, the man in the video contacted the SRT to say Anan did not cough on him. However, he now must quarantine himself in case of possible infection."
SOURCE: Bangkok Post
Keep in contact with The Thaiger by following our
Facebook page
.
Thai Airways goes into hibernation until end of May, others ground fleets too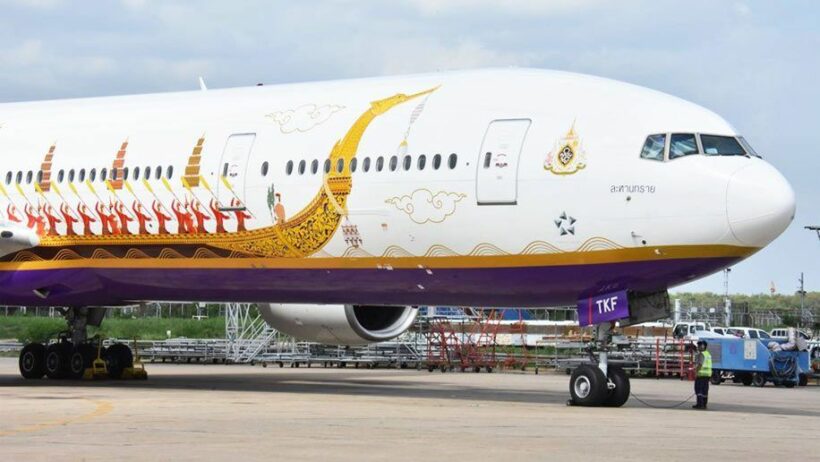 After a decade of financial struggles and corporate upheaval, Thailand's national flag carrier, Thai Airways, with a previous reputation as one of Asia's premier airlines, is ceasing all flights for a period of at least two months, due to the Covid-19 coronavirus pandemic. The Civil Aviation Authority of Thailand has now allowed the suspension of all domestic and international flights.
The once proud airline made the initial announcement a week ago, suspending some flights at that time. Then, acting president Chakkrit Parapanthukul said in a statement that, compounded by a sharp reduction in passenger numbers, the continuation of operations would increase the airline's already massive losses. So, the company has now asked employees to take two months off from Saturday (tomorrow) to May 31. Along with this, staff salaries will be reduced by 10-50%.
Thai has transferred flights from Bangkok to Phuket, Krabi and Chiang Mai to its sister company Thai Smile Airways.
Passengers who have Thai Airways or Thai Smile code-share tickets issued before March 25 with the date of travel between March 25-May 31 for Asian routes and between April 1-May 31 for European, Australian and New Zealand routes can convert the tickets to one-year-valid travel vouchers without a fee and surcharges. Visit thaiairways.com.
It's not only Thai Airways grounding its fleet. Thai Smile suspended all international flights beginning on March 23 but is still operating a few domestic flights. Passengers can ask for a full refund without any charge via member.thaismileair.com/customerservice/refund.
Thai AirAsia has temporarily suspended all international flight services from now until April 25, and April 30 for domestic flights.
Passengers who booked tickets before March 20 can rebook the flights on the same routes within 180 calendar days from the original date without additional cost. They can change the tickets to credit accounts, which can be redeemed for booking within 365 calendar days from the issuance date.
Passengers can ask for a full refund in the amount equivalent to the original booking. Visit support.airasia.com.
Bangkok Airways also halted international services until further notice. It's also reducing domestic flights and has temporarily closed its lounges at Suvarnabhumi and other airports.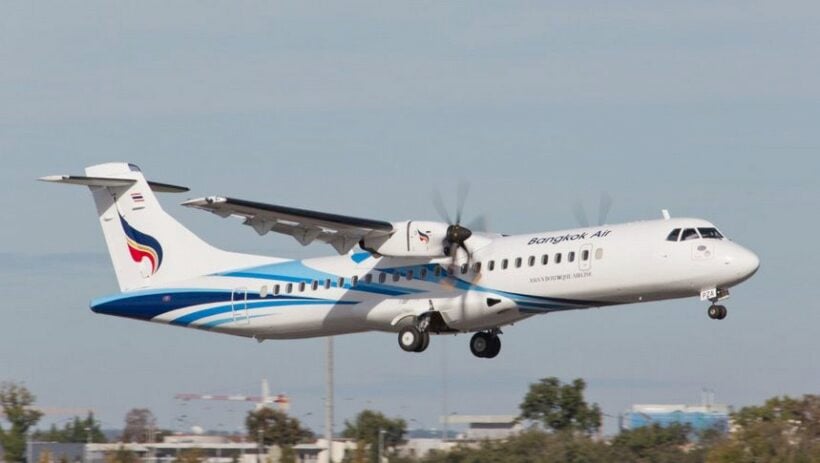 Passengers can request refunds without a service charge by contacting its sales offices, or call Bangkok Airways' call centre at 1771.
Nok Air has suspended services from Bangkok to Nanning, Chengdu, Hiroshima and Yangon until April 30. Direct flights from Bangkok to Ho Chi Minh City are halted until May 31.
Passengers can rebook or reroute for a new flight until Nov 30 without a fee. The change must be made before the date of departure. Passengers can also request a ticket refund via its contact centre at 1318.
Thai Lion Air has suspended all domestic and international flights until April 30. Passengers can rebook tickets without a change fee or fare difference. The new travel date must be on or before September 30. Passengers can request a full refund at lionairthai.com.
To check which airlines still offer international flights, visit the website of Airports of Thailand at airportthai.co.th/en/flight-schedule.
SOURCES: The Nation | Bangkok Post
Keep in contact with The Thaiger by following our
Facebook page
.
Thai banks report they can handle the impacts of the virus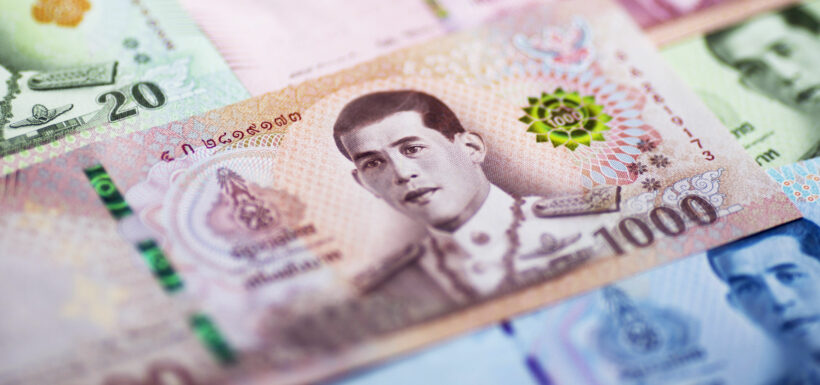 As the Covid-19 coronavirus continues to spread in Thailand, authorities have temporarily shut off shopping malls, entertainment and sporting venues while allowing food stalls and restaurants to open, but only for take-out and delivery services. The measures have led to social disruption, unemployment, leave without pay and salary cuts.
However, a senior official at the Bank of Thailand reports, "Thailand's banking sector is strong enough to defend against a potential upsurge in bad debt as well as debt restructuring cases stemming from the ongoing Coronavirus outbreak and official measures to contain the spread."
Senior director for the economic and policy department Don Nakornthab says that banks have a sufficient capital buffer in the event of higher past-due payments and debt restructuring. Unlike the 1997 Tom Yum Kung (Asian financial crisis in Thailand) crisis, the banking system's financial position is much more solid now."
"At the end of 2019, the banking system's capital funds totalled to 2.85 trillion baht, with a capital adequacy ratio of 19.6% and loan-loss provision of 701.2 billion baht, according to central bank data."
"The non-performing loan coverage ratio was stable at 149.9% at the end of last year, and the liquidity coverage ratio remained high at 187.5%."
"The banking system delivered a 30.8% rise in net profit to 270.9 billion baht in 2019."
Siam Commercial Bank 's co-president Apiphan Charoenanusorn says that more than 100,000 clients with over 150 billion baht worth of total loans have requested financial aid to ease their burden after the bank launched the scheme in February.
Last week The central bank has set guidelines for the minimum assistance that financial institutions must offer to debtors to ease their financial burden amid the pandemic, which is effective from April 1st. All lenders, comprising commercial banks, specialised financial institutions, and non-bank and leasing companies, are required to comply with the guidelines covering 6 types of loan product…
Credit cards
Personal and car title loans
Auto and motorcycle loans
Machinery leasing
mortgages
SME – Nanofinance and Microfinance loans
Krungthai Bank data shows that the bank has already provided financial aid to 1,500 customers with combined loans of 30 billion baht, while another 70,000 clients with total loans of 250 billion baht are in the process.
The strongest demand for debt restructuring is seen in the bank's mortgage and personal loans.
At the state-owned Government Savings Bank, President and chief executive, Chatchai Payuhanaveechai says that the GSB has offered a three-month grace period on principal and interest for all debtors who still service debt and miss payment for less than three months as of the end of March.
"The scheme, will run until June 30 and is automatically applied to qualified debtors without any registration requirement, adding that those who do not want to participate in the scheme can honor their debt as usual."
SOURCE: Bangkok Post
Keep in contact with The Thaiger by following our
Facebook page
.