FC Phuket beat Pattani FC, 3-1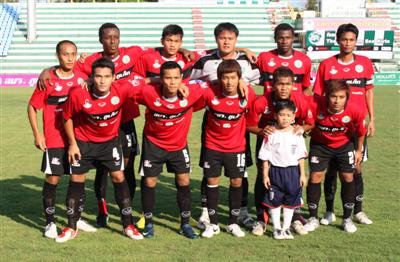 PHUKET: FC Phuket came three points closer to their dream of promotion with a strong 3-1 win on the road at Pattani yesterday.
The road win, the Southern Sea Kirin's first this year, came as the second-place Satun United "Witch Doctors" were unable to work their magic against Surat Thani FC, going down 3-1 on the road.
Surat Thani FC and Satun United are now tied for second place with 27 points, seven points behind the top-of-the-table Sea Kirin.
FC Phuket also got some unexpected help from 12th-place Phang Nga FC, who pulled off a shock 1-0 win on the road at former league leaders Trang FC, who now fall to fourth place on 26 points.
FC Phuket took the field at Rainbow Stadium in Pattani with some confidence, having defeated the "Big Guns of Langkasuka" 3-0 at their previous meeting in Phuket on March 21.
Sarach Yooyen got the scoring underway early, taking advantage of some chaos in front of the goal to slip a shot past Pattani goalkeeper Artur Philips at 8 minutes.
Phuket FC stretched the lead to 2-0 at 28 minutes, after Nitiroj Sokuma took advantage of another defensive blunder by Pattani deep in their own end.
Any chance of a comeback was ended when Thawin Butrsombat hit the third goal at 82 minutes.
Pattani's Dumaka got his team on the scoreboard by converting a free kick at 89 minutes, but it was too little too late for Pattani FC, who now sit in eighth place out of the 13 teams in Division 2 (South) of the Football Association of Thailand's Regional League.
In other division matches played over the weekend:
Yala FC 1 – 1 Chomphon FC; Krabi FC 1 – Phattalung FC 2; Ranong FC 1 – 1 Nakhon Sri Thammarat FC.
FC Phuket's next match will be at Surakul Stadium on Sunday, July 18, when they take on 10th-place Yala FC.
Start time is listed at 5pm, although the actual kickoffs in previous home games played this year have been closer to 6pm.
— Stephen Michael Fein
Keep in contact with The Thaiger by following our
Facebook page
.
And the new Phuket mascot is 'Nong Joong'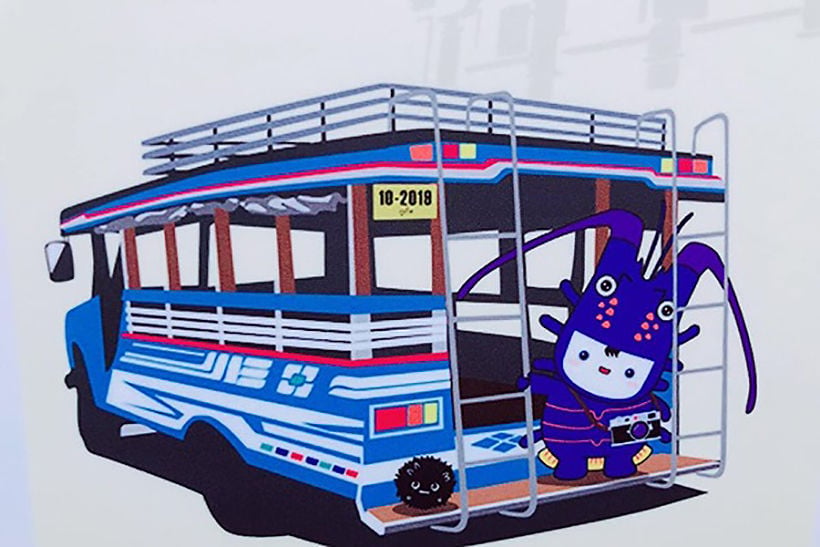 PHOTOS: Phuket Hot News
The Phuket mascot has officially been announced and the winning mascot is 'Nong Joong' – a baby lobster created by Jin Sataponsathitsuk, who received 100,000 for his efforts.
The baby lobster mascot represents a naughty kid who loves eating, exploring, and loves learning new things. His goal is to discover Phuket through fun activities, delicious food and great experiences. His best friend, Umi, a baby sea urchin, keeps calling him Joong, instead of Goong (that means prawn in Thai).
The mascots are expected to be the representative and symbol for Phuket tourism and will welcome tourists from all around the world. The organisers laid out the concept of the mascot, saying that it had to be "outstanding, beautiful, charming, impressive and approachable".
The event was organised by the BIC Event Group. Earlier when the contest opened, there were more than 200 pieces of art submitted from many provinces across Thailand.
Phuket's Governor chaired the award ceremony and handed out the prizes to the winners. Apart from first prize winner, Nong Joong, the second prize went to 'Nong Ang Lai' created by Panatratha Sae-Eung – a 12 year old girl who has pineapple head. The pineapple represent the 'lucky fruit' and also Phuket signature fruit. Nong Ang Lai is a playful and friendly character and wears a Chinese red dress, considered a lucky colour in Chinese culture.
The second place winner received a 20,000 baht prize, who also won the popular vote prize by Phuket Tourism Association.
The winner of the competition received a Bangkok Airways round trip ticket for Bangkok – Phuket and 3 nights complimentary stay at Baba House Phuket. The third place winner was 'Andaman Boy' created by Thani Muannut, who received a 10,000 baht prize.
SOURCE: Phuket Hot News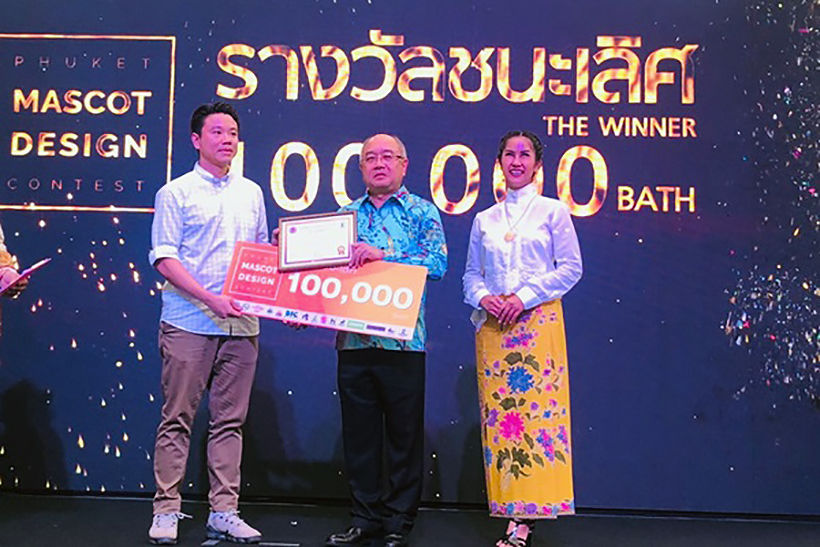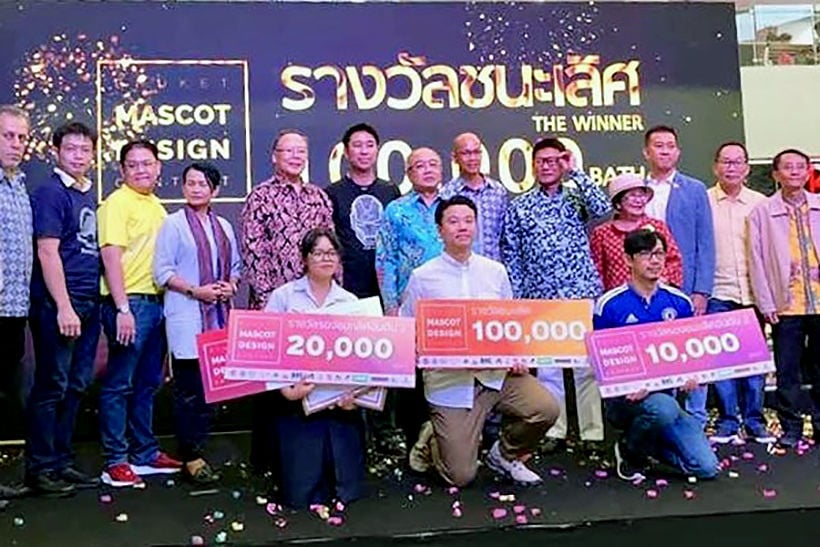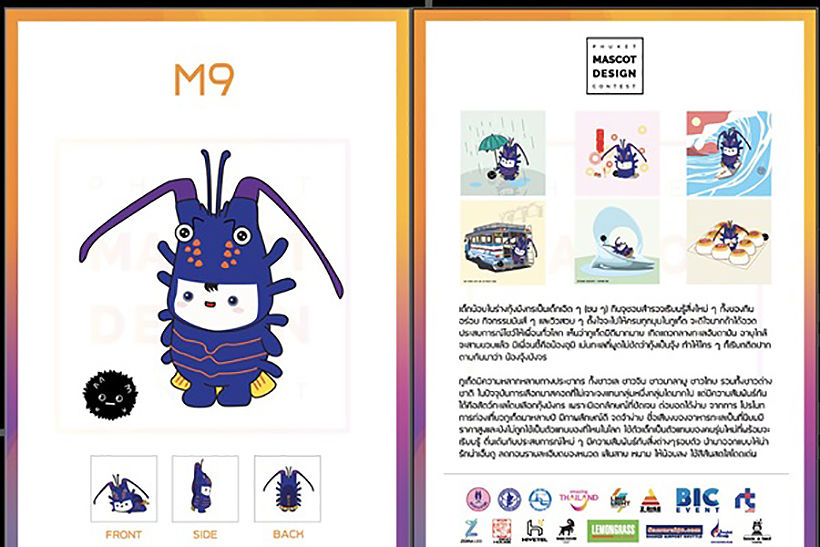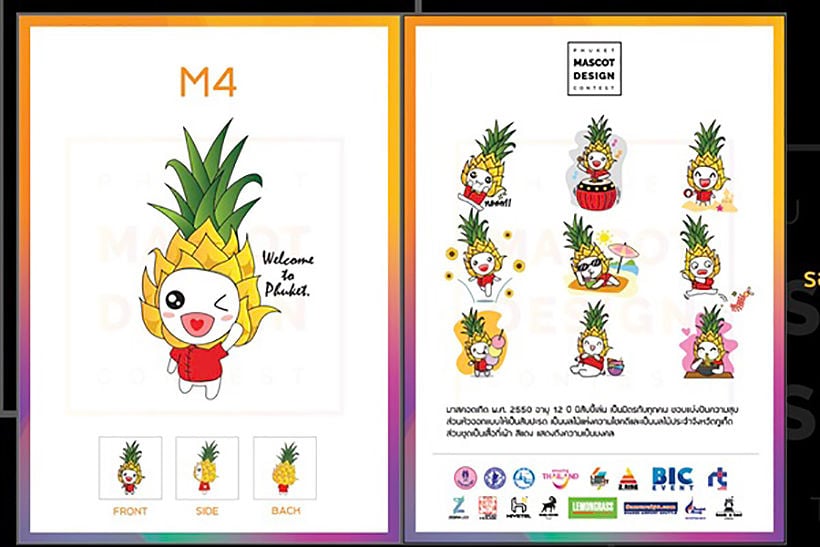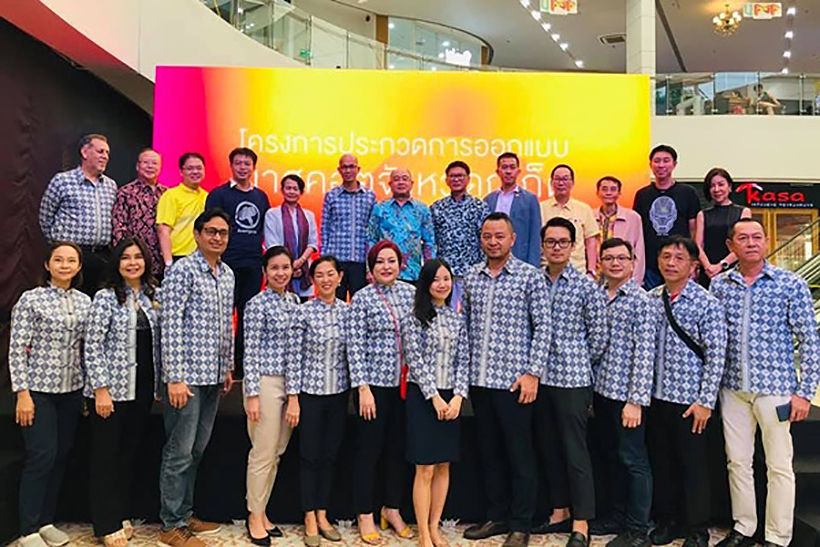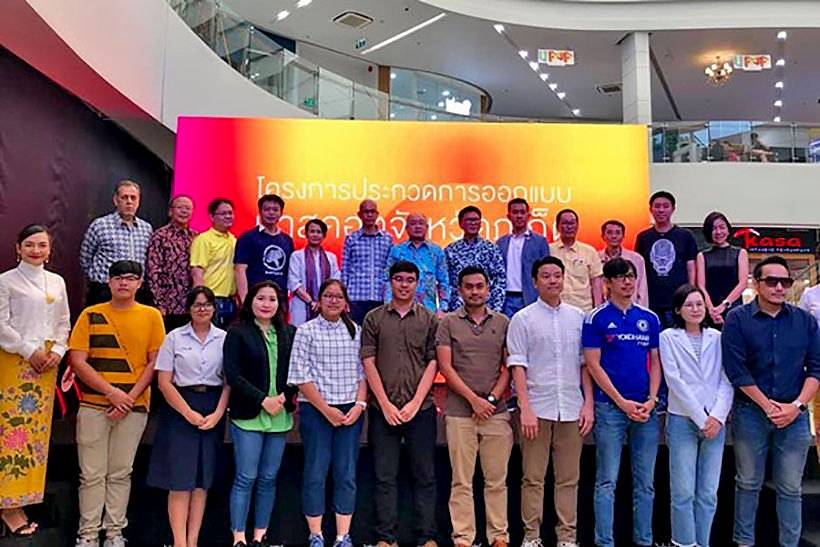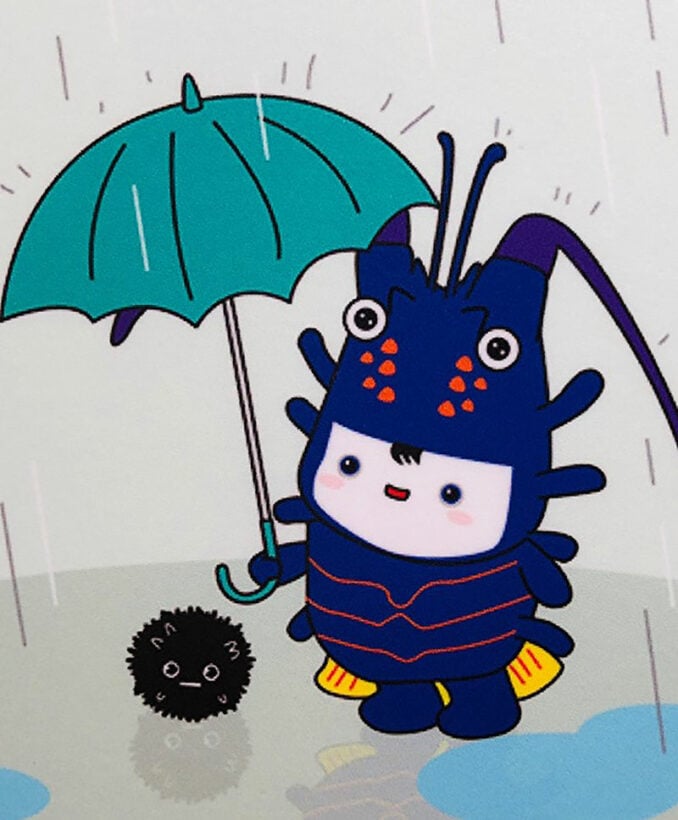 Keep in contact with The Thaiger by following our
Facebook page
.
"Phuket needs a world class exhibition and convention centre"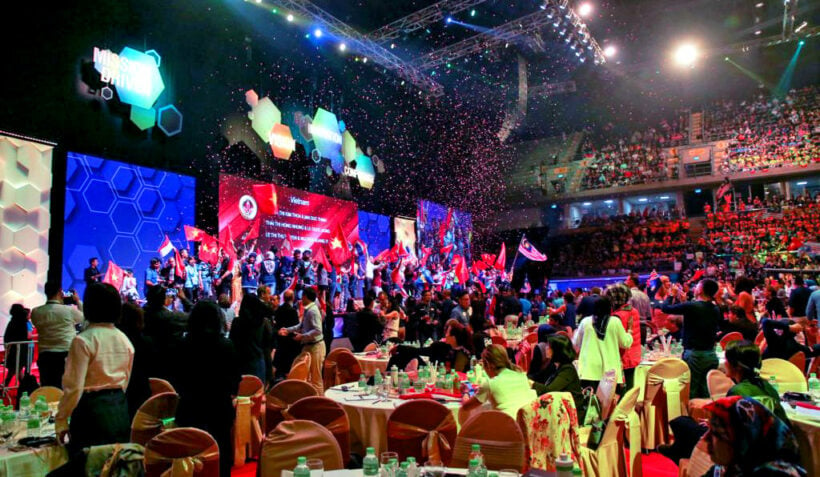 "Two key developments we are tracking is Central Festivals next phase of expansion and Proud Groups Andamanda project that both have significant concerence, meeting and incentive space."
Plans to promote Phuket as a world-class MICE (meetings, incentives, conventions, exhibitions) location are being obstructed by many impediments –  inefficient town planning, poor transport systems and poor availability of land in tourist locations.
Dusida Worrachaddejchai writes that Phuket's deputy governor says the province has a blueprint to build an exhibition and convention hall to host international events with a capacity up to 5,000. But he said that town planning rules forbid building a hall larger than 6,000 square metres with a hight greater than 23 metres.
The prohibition for a proper convention hall by town planning appears to be one of the few projects impeded by lax town planning laws.
The project has been talked about for decades with Phuket's potential as an active MICE venue being hampered by the lack of facilities, principally a large convention and exhibition centre.
If some provisions of the current town planning act for Phuket can be amended, the likely destination for a convention centre would be Thalang district. The deputy governor says he hopes it can be built in a few years and make Phuket able to bid for international events and expos.
But Thalang, although within 15 minutes of the Phuket International Airport, has little offer convention and exhibition delegates with most of the beaches and tourist infrastructure on the island's southern coastal areas (Patong, Kata, Karon).
C9hotelworks' Bill Barnett says proper MICE facilities have been a long time coming for Phuket.
"Phuket hotel developers are finally seeing the signifigance of the MICE trade. Two key developments we are tracking is Central Festivals next phase of expansion and Proud Groups Andamanda project that both have significant concerence, meeting and incentive space. TCEB ae active in the working on Phuket as a MICE destination so we see the future direction as positive, at last."
Meanwhile the Thai government has foreshadowed that five Thai cities will be earmarked as MICE locations – Phuket, along with Chiang Mai, Khon Kaen, Pattaya and Bangkok. The deptuty governor sprouted Phuket's existing MICE credentials – 600 hotels offering 40,000 guest rooms, 220 convention rooms, 615 meeting rooms, 14 piers and four private marinas. But these facilities are spread all over the island with poor access and almost no public transportation.
Plans for a world class convention centre have been brought up from time to time over the past two decades with provincial officials huffing and puffing about the need for a proper facility for the growing island but, so far, nothing has happened and the island remains a leading tourist destination with little attraction for larger conferences, exhibitions and events.
In the past the private sector – primarily Central Group and Jungceylon – have indicated their interest to build a convention hall in the Patong area. But town planning issues and the ever-dwindling available land in the seaside city have shelved any progress.
Southern beach locations, with excellent hotels, shopping and beaches – Karon and Kata – have also been flagged as potential locations but access, especially from the airport, remains poor. Travel times to the southern beaches from the airport is at least an hour and involves trips across the notorious hills roads at either Patong or Kata.
Progress on the Patong Tunnel has also stalled with successive governments unable to progress the project.
The government should improve mass transport from the airport to Patong and other western coast districts in Phuket, namely Karon, to facilitate large groups such as Mice travellers that require more than buses and vans, Ms Chalermluck said.
Last year, more than 2 million visitors arrived in Phuket for MICE events, generating 19.5 billion baht in income. But MICE industry proponents say that number could be easily tripled with a proper convention and exhibition venue.
Keep in contact with The Thaiger by following our
Facebook page
.
Laguna Angsana Resort opens conference and exhibition venue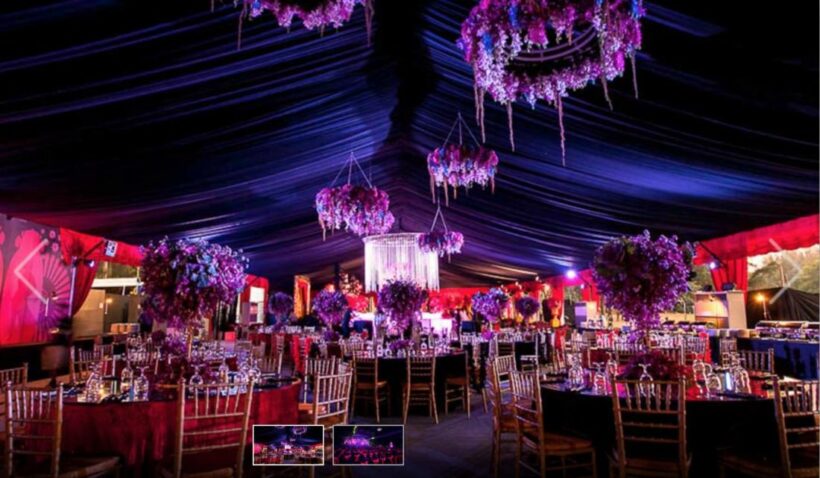 by Bill Barnett of c9hotelworks.com
Laguna Phuket's Angsana resort is set to debut it's new 1,500 square metre conference and exhibition space. It's actually a renovation and rebranding of the successful Laguna marquee space and relocated to a more permanent location within the Angsana Laguna Phuket complex.
Tagged as ACES, the venue will open at the end of September.
For big events the space accommodates 1,500 patrons, theatre style, or 800 for dining.
The new ACES will be one of the island's largest event venues.
Phuket's MICE (meetings, incentives, conferences, exhibitions) industry have been calling for better conference and exhibition facilities for two decades with a growing market of businesses and conferences wanting to mount their events around Phuket's excellent hotel and tourist offerings.
Keep in contact with The Thaiger by following our
Facebook page
.