Earthquake Update: Reports from Myanmar say little damage, but one dead, several missing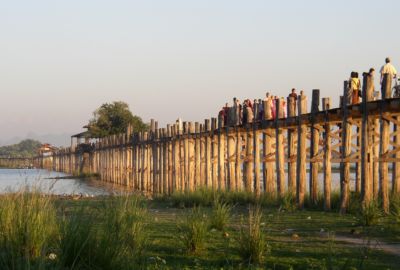 PHUKET (Reuters): The major earthquake that shook Mandalay this morning, and was felt in Bangkok but apparently not Phuket, is likely to have caused limited damage to Myanmar's second larget city, although one person has been reported dead and several construction workers are missing.
The 6.6 magnitude quake struck around 60 km (37 miles) northwest of Mandalay, the U.S. Geological Survey said. It was shallow, at around 10 km (6 miles) deep.
"I've never felt such a strong tremor. I also heard some loud noises and the lights went out. No idea about the damage," one Mandalay resident said by telephone.
Several very strong aftershocks also hit the region but there were no reports of serious damage in Mandalay.
An official at the Mandalay Meteorological Department said the epicentre was near the town of Shwebo and struck at 7:41am, which was the same time in Phuket.
Local media said a half-built bridge over the Irrawaddy River near Shwebo and Kyauk Myaung had collapsed and there may have been casualties.
A police officer in Shwebo said one woman had died and 10 people had been injured in Kyauk Myaung.
"A house collapsed in Kyauk Myaung. The Radana Thinga Bridge, still under construction, over the river was badly damaged. A huge steel beam fell into the river and five workers went missing," he told Reuters.
A resident of Singgu, opposite Kyauk Myaung on the east side of the Irrawaddy, said some people were injured in the town and a few were killed at the river bank but this could not be confirmed with official sources.
State television, the usual mouthpiece for government statements in Myanmar, along with state-run newspapers, gave a report on the quake that did not mention casualties or damage.
Local media reported minor damage in several areas around Mandalay, including Amarapura, a town popular with tourists because of its monasteries and the longest teak bridge in the world. Pagodas had been damaged there, media said.


Read more headlines, reports & breaking news in Phuket. Or catch up on your Thailand news.
US Navy veteran locked up in Thai prison, family pleas for help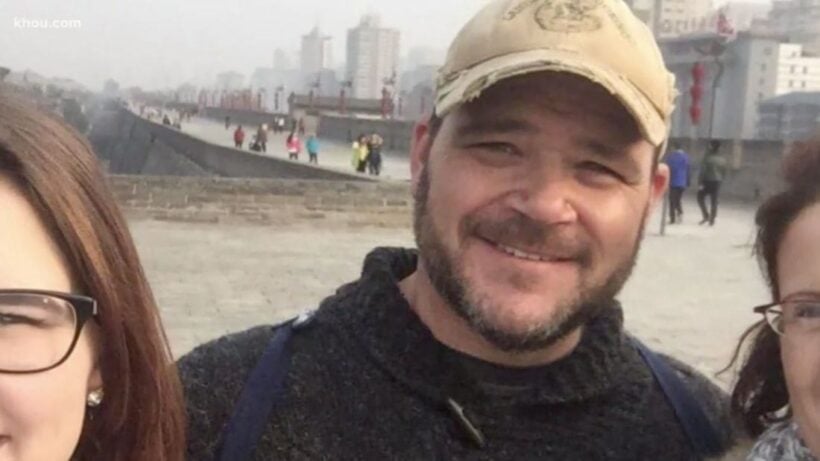 by Lauren Talarico
A US Navy veteran from Texas remains locked up in a Thai prison for something his family says he didn't do. Derrick Keller was arrested on August 20, 2018. But his family says the allegations against him are not true and they desperately want him home.
Derrick Keller's family doesn't know what to do next after their cries for help from politicians and lawyers have gone unanswered. They fear if something doesn't happen fast Keller could spend the rest of his life in a Thai prison. 44 year old Derrick Keller is from Richmond, Texas. He is a son, a husband, a father to two kids and a Navy veteran.
"He was always a jokester," his father said. "Always liked to make people laugh."
"He's the best man I've ever known," said his 19 year old son Mark Keller.
But Derrick is 16,000 kilometres away behind bars at the notorious Klong Prem Prison in Bangkok.
"We are still in shock," said Debra. "We still can't fathom what's taking place"
In 2015 Keller and his wife Tanya moved to China with their children. Tanya was offered a job she couldn't pass up as the lead dance instructor at Shenzhen Dance Academy.
Derrick gave up his trucking company in East Bernard and worked odd jobs in China. He tended bar, coached a baseball team and perused acting, a childhood passion. In 2016 the family says a recruiter reached out to him about a company looking for a "Western face." It was called Eagle Gates Group.
"The company was represented as completely legit," his brother-in-law Ryan Murray explained. "Totally legal. It would just be an acting opportunity."
Over six months, Keller acted in several corporate videos. His family says he was paid $15,000 to do so. After the job was complete, he told family he never heard from the company again, until a vacation to Thailand last August. Keller was arrested after he and his wife landed in Thailand for a vacation.
"They got off the plane and had a lot of Thailand police officers waiting for them," Murray explained.
Thai media reported his arrest and claimed he was part of a Ponzi scheme which defrauded investors of millions of dollars.
"An American actor staying in Phuket as a tourist has been arrested in connection with a multinational scam operation based in Singapore that has allegedly defrauded Thai investors of 235 million baht."
"I think at first they thought it was just a misunderstanding," Murray said. "And it turned out to be something much worse."
Keller was arrested on August 20, 2018. One day later he called his father to tell him he was being detained.
"That's the last I've heard from him," his dad said through tears. "That's the last time I heard his voice. Been bad. Horrible. Absolutely horrible. I mean, like I said, I haven't heard him. God knows I love my son."
Watch a Texas TV report about the story HERE.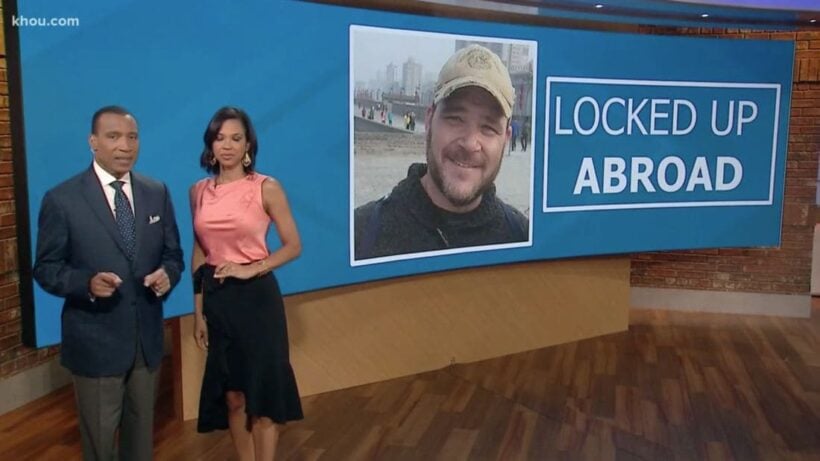 No family member has seen or talked to Keller since he has been in prison.
"I'm always scared that I'm just going to wake up to the worst information I've ever heard," cried his son, Mark.
"That something beyond horrific about this has happened to my dad like maybe he's died in incarceration or something. It's the uncertainty that really kills me."
"The prison that he's in is notorious for human rights violations," Murray explained.
"There's a lot of bribery. It's very corrupt. He's sleeping on concrete, sharing a cell with 50 other people."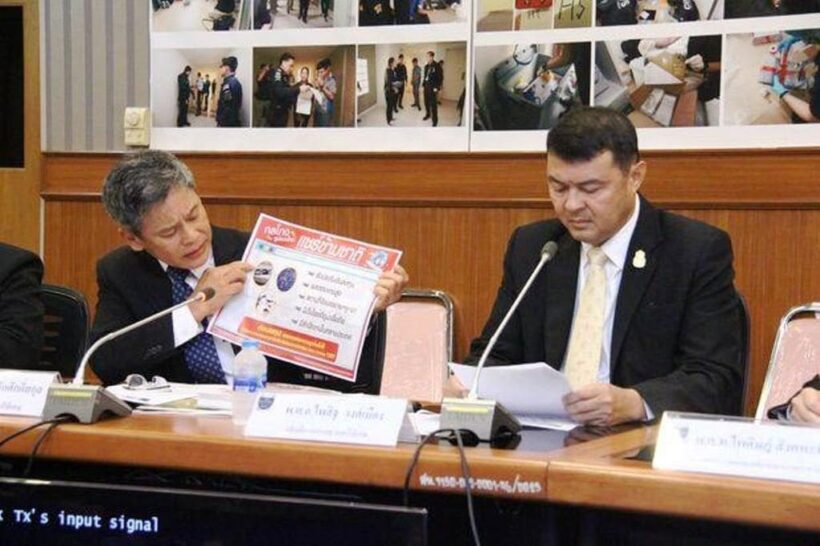 Deputy DSI chief Songsak Raksakskul (left) and DSI chief Paisit Wongmuang brief the media on the arrest of 10 suspects in the alleged Eagle Gates Group investment fraud, at the DSI offices in Bangkok.
Missionaries have related to the family that Derrick's lost 30 kilos in 10 months. The family says they've provided proof that Derrick is innocent and was simply an actor in a corporate video. They claim they've reached out to President Trump, Senator Ted Cruz, Senator John Cornyn and a long list of other local politicians but haven't been offered any help.
"The country called… he answered," said his father, a Vietnam veteran.
"When the country called… I answered. And now we call and we don't get an answer."
Derrick Keller's trial date is set for July. He's facing 35 years in prison.
"During questioning, Keelor told officers that he was an actor working in China, and was hired by a Singaporean to be Executive Director of Eagle Gates Group Co Ltd in order to build credibility and reputation for the company. The DSI noted that they would investigate Kellor's role further.
The DSI also reported that their investigations had discovered more than 1 billion baht in investment had been transferred out of the victim's bank accounts." – Bangkok Post
"The court itself, from what we've been able to find out from lawyers and our own research, has a 95% conviction rate," Murray said.
"We've been told that if he admits guilt they will be easier on him and that it's not worth fighting against. Derrick is a man of integrity… I do not see him admitting to a crime he didn't commit so that has me worried."
A change.org petition has been started. To help, click HERE.
'Fast and Furious 9' to be partly filmed in southern Thailand, including Phuket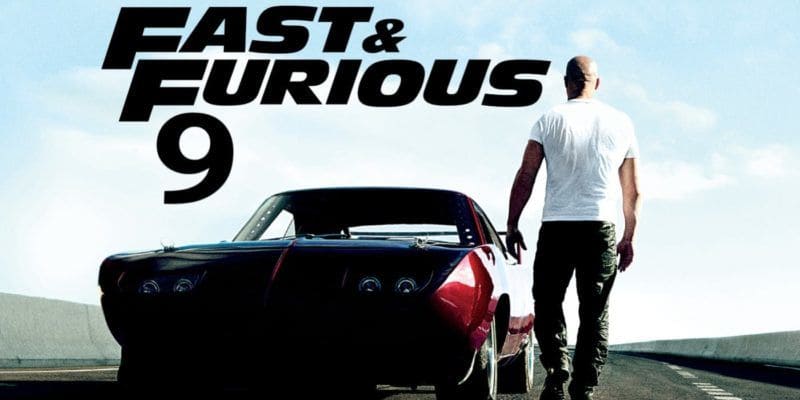 The latest sequel of the 'Fast and Furious' movie franchise will partly be filmed in Phuket, Phang Nga, Krabi and Surat Thani next month.
Yesterday Piya Petonji, the film's production manager, met with Krabi Governor M.L. Kitibadee Prawit at the Krabi City Hall before the cast arrives and filming begins.
The filming will be from July 1-27 in locations around Phuket, Phang Nga, Krabi and Surat Thani. It is estimated the production will bring a 340 million baht benefit to Thailand and the local film industry.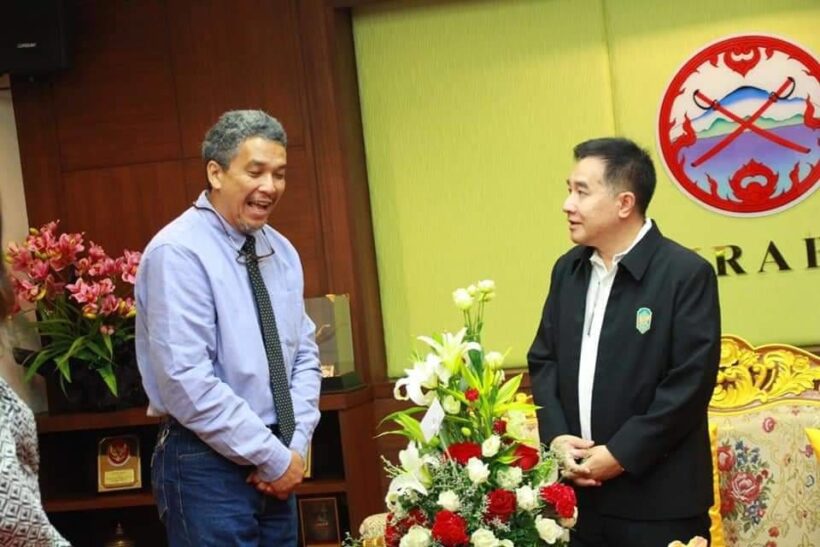 The Krabi Governor says this is a good opportunity for Thailand to present its beautiful nature, culture and history to the world through the film. There has been no announcement of when filming may be taking place around Phuket's roads.
The Thaiger recommends the plot of the film as a race between a visa-run passenger van and a Chinese Tour Bus to the Malaysian border, with a feature muay thai face-off on Maya Bay beach between Vin Diesel and Leonardo DiCaprio (though the 45 year old might have to get some training in before returning to 'The Beach').
Here's our Top Ten movies made around Phuket and Thailand.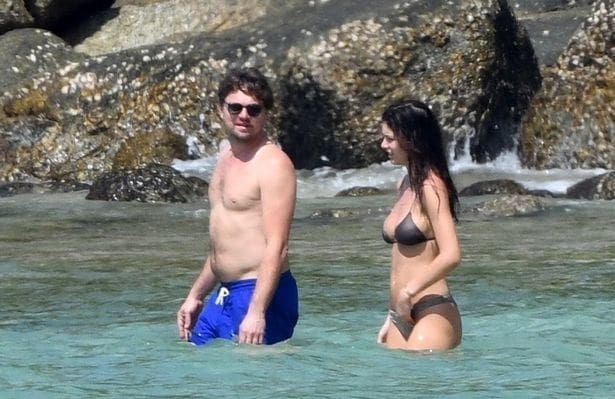 Leonardo in Phuket last year during a quick break
change.org petition calls on Phuket locals to take action on construction dump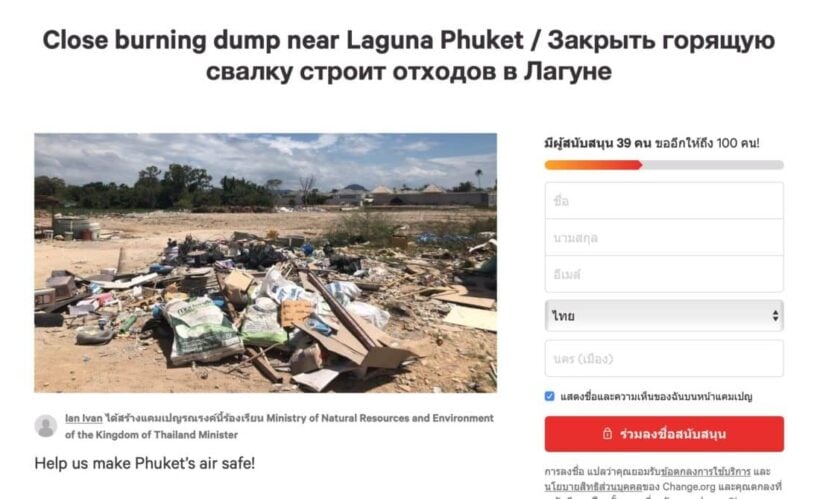 Locals have launched a petition on Change.org to draw attention to a construction dump operating in central Phuket, in the suburb of Cherng Talay, which adjoins the coastal towns of Bang Tao, Layan and Surin. We print the article verbatim, spelling and all. The article is titled "Close burning dump near Laguna Phuket" and has been penned in English and Russian languages. Click on links to the page to get involved.
"Help us make Phuket's air safe!
In the city of Cherngtalay in the area of ​​the world-famous resort of Laguna of Phuket Island, close to other resorts, villages and kindergarten a huge construction waste dump has been operating and burning the waste for several years.
Every day, environmental and health legislation is violated with the knowledge of local authorities. Several construction waste trucks are brought from nearby construction sites and are burned mostly at night and in the evening.
Construction waste contains extremely harmful substances whose burning get into the air and make the air around hundreds of meters dangerous. Furniture and toys in the courtyards of nearby houses are covered with black sticky soot. There is a smell of burning in the air outside and you can not open the window.
The scale of air pollution is evidenced by the data of the Air Quality Control device of the worldwide network AirVisual, installed in a residential village within a radius of 500 meters from the garbage. This device is currently used for private monitoring, but in the near future it will be connected to the worldwide network and air condition data in the resort area of ​​Laguna will be publicly available. At night, the pollution indicators in Laguna correspond to the level of the dirtiest cities on the planet and reach 149 µg / cubic meter.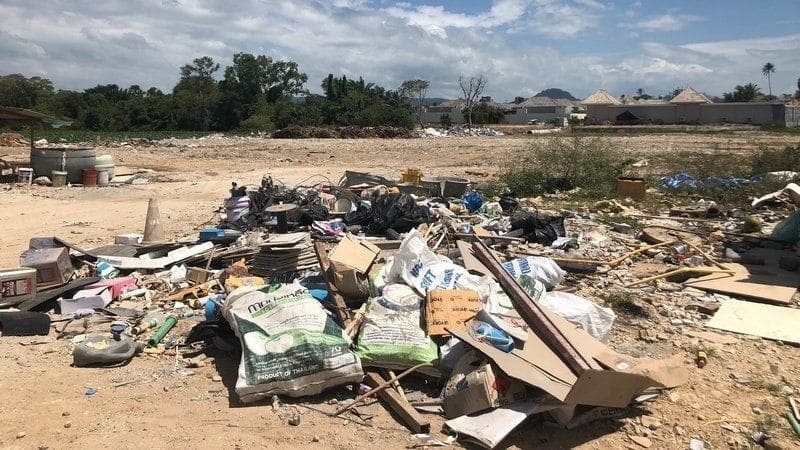 On June 5, 2019, Phuket's Vice Governor hosted a party at the bottom of the campaign to combat environmental and air pollution. For this, of course, there are many reasons:
1) Phuket is a place where people come to relax in the fresh air and restore health (world sporting events take place in Laguna)
2) lung cancer leads by a large margin among all other types of this disease in Thailand .
If the Phuket administration is really concerned about the resort's ecology, then why does it allow such crimes against the local population, tourists and the nature of the island to take place?
Public resonance in modern society, puzzled by environmental problems, can make negative affect to the island's reputation as one of the most popular holiday destinations in the world. We would very much like Phuket to remain as beautiful as nature has created and developed as a world-wide resort.
We ask you to intervene to this issue solution  and eliminate this and similar dumps and to oblige land owners and construction companies to dispose of waste in garbage processing factory in a civilized manner. Thus, it will help to preserve the unique nature of the island, and strict adherence to environmental safety will attract more tourists, will help preserve the health of tourists and local residents, which in turn will contribute to the development and prosperity of Thailand."
Go HERE to sign the petition or get involved.