A Decade Ago: Parliamentary elections and cable thieves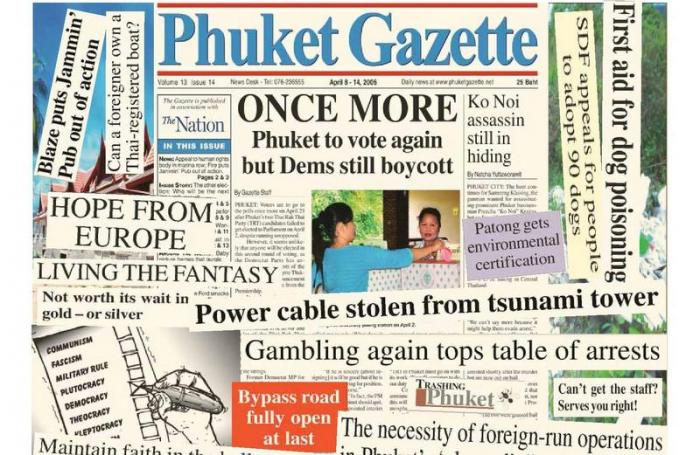 PHUKET: In A rare move, the Phuket Gazette dove into politics in the April 8-14, 2006 edition as the Democrat Party announced a boycott of the parliamentary election polls, despite Thaksin Shinawatra announcing that he would step down from the Premiership.
"What the PM did last night was for his own benefit; ordinary people who do not understand politics in depth will have seen his announcement and will admire him. But last night, as I was listening to him, many people called me to ask, 'What does it mean?'" said former Democrat MP and current mayor of Patong Chalermlak Kebsap. "He said he would continue to push Thai Rak Thai policies [after stepping down], so that means nothing has changed."
Mr Thaksin was eventually slapped with a number of charges including abuse of power and tax evasion – I wonder if his name is buried somewhere in the Panama Papers, which are the recent unprecedented leak of 11.5m files from the database of the world's fourth biggest offshore law firm. These documents show the multitude of ways in which the rich can exploit offshore tax regimes, though do not directly connect them to criminal activity. Already, 12 national leaders are among 143 politicians, their families and close associates implicated in the documents.
Despite vowing to step down, it wasn't until later that year that Mr Thaksin and his party were removed from power via a military coup. His younger sister, Yingluck, was elected Prime Minister in 2011, but also removed from power by the military after a political deadlock – see National Council for Peace and Order. But we are getting ahead of ourselves.
As this issue of the Gazette goes to press, Thailand's democratic process continues to flounder. Eclipsed by the political drama playing out in recent months, however, has been the upcoming Senate election, reported Janyaporn Morel ten years ago. Little did the Gazette editors and reporters know at the time that not one, but three coups would be in store for the Kingdom over the next 10 years.
The phrase 'uncharted waters' is being used a great deal by the press worldwide in reporting the April 2 general elections in Thailand, the Gazette warned in its editorial.
At the time of going to press, not all the votes had been counted, but most pundits were predicting that the election could result in a parliament that would not meet constitutional requirements, leading to a second election, possibly a third, until something radical happened to break the deadlock.
This is all very worrying. Indeed, in Bangkok, a recent opinion survey found that many people were worried that the country would descend into chaos and violence.
People's worries were warranted.
However, the April 8 issue wasn't all politics. The silence of the tsunami warning towers along Phuket's west coast last week eerily echoed a similar silence that fell over the island in April 2006. As this week's Gazette goes to print, the reason behind the malfunctioning of five warning towers last week remains unknown. However, ten years ago the silence of the Ao Yon tower was very clear, with the headline reading: 'Power cable stolen from tsunami tower'.
Government officials rightfully railed against the unknown thieves who had stolen the cable, rending the tower inoperative.
"The thieves may make just 500 baht [from selling the copper cable as scrap metal], but they didn't think that it might save more than 100 lives if a tsunami happened," said an officer at the Department of Disaster Prevention and Mitigation Phuket Office. "If the power is cut from one tower, then all the other towers further down that line will be put out of action as well.
Though only follow-up stories will reveal the truth behind the towers' failure to sound last week, we can only hope it wasn't a repeat of such a senseless petty crime.
— Isaac Stone Simonelli
How to be charged 2,600 baht for having a flat battery in the Jungceylon car park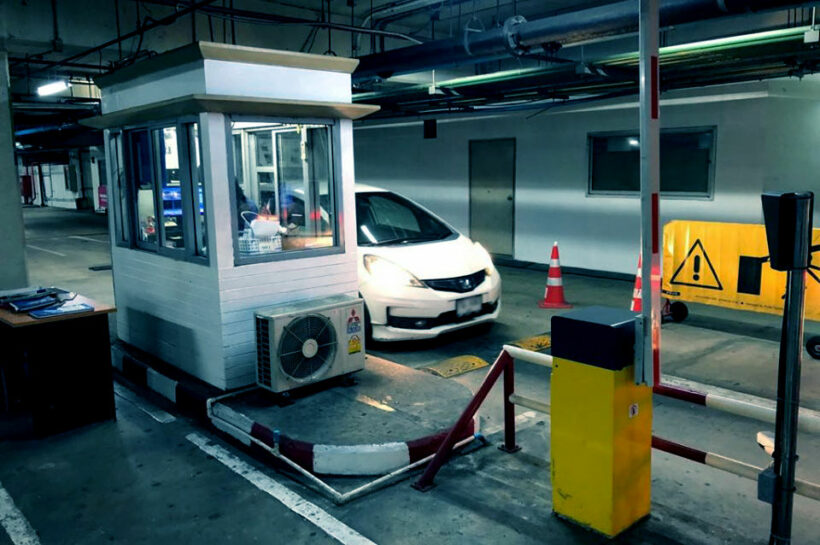 A rant…
Started off with trying to exit the Jungceylon carpark in Patong, Phuket, late on a Sunday night. After watching a film in their tawdry cinemas, I was assured by ticket sales staff that I should present my ticket stub with the car park card for free exit.
Getting to the exit gate and I was told I had to go to an 'elevator' to get my ticket stamped. As there were already three other cars behind me (it was around 9.30pm at this stage), it caused quite a kerfuffle and tempers (mine included) were starting to fray.
The poor woman at the exit booth (whose key work skill must be 'patience'), kept yelling 'elevator, elevator', doing little to inform us what we were actually meant to do. (I wanted to leave a car park, not go on an elevator?!?).
Anyway, minor 'misunderstanding' sorted out soon enough, and returned to my car to exit the car park (about 10 minutes later).
A Russian man had had his own adventures with the Jungceylon car park the night before. Firstly he was stuck there on the Saturday night with a flat battery in his white sedan. As it was very late, and wanting to get home, he left the car in the space and took a taxi.
As I was sorting out my own car park 'misunderstanding', other car park staff assisted him with his flat battery by jump starting his car. The assisting staff were given a gratuity, I don't know how much.
But on reaching the exit gate he was told he had to pay 1,800 baht. (Presumably for around 24 hours of car parking).
With his fist full of receipts, around 3,300 baht worth, he was also told 'elevator, elevator'. He got out of his car, there were another three cars backed up behind him at this stage, and went to find the 'elevator'. Upon returning he was now told he had to pay 2,600 baht! How the amount had magically inflated to 2,600 baht remains a mystery but the cark park 'gatekeeper' was not to be messed with.
By this stage about eight young Thai gentlemen, with name tags, keys hanging from their belts and hand-held radios, had turned up to 'assist' in addressing my complaints and ensuring that the Russian man was not able to leave the car park before paying the 2,600 baht. The only common language among the Russians and the Thais in the situation was English and it was not going well.
Google Translate was getting a fine workout but wasn't really helping.
During the extended 'negotiations' the cars behind were detoured around and allowed free exit.
Given the man's travails in having a flat battery, having to come back to the steamy car park late on a Sunday night, the cars piling up behind him and the loss of face for just about everyone at this stage, the 'smart', good PR thing to do would have been to thank him for spending 3,300 baht at their expensive shopping centre, lifted the boom gate and waved him on his way.
But no, these young Thai car park staff wanted their pound of flesh and there was no way in the world that barrier was going to be lifted until the man had paid every baht he 'owed'. Three police turned up to try and sort things out but all departed in exasperation, knowing the car park staff were being pig-headed but unable to intervene because they would have caused their fellow Thais a loss of face.
At this stage the Thai car park staff were already starting to utter things under their breath and spitting out 'farang' in their deliberations.
During the entire two hour drama many other cars had the same issue of not understanding that they needed to report to the bottom of one of the 'elevators' to have their receipts stamped. There didn't appear to be any signage or understanding of the procedure (until, of course, you go through this rather drawn out lesson in Jungceylon car park procedure). There was a sign outside the elusive 'elevator' but given there are seven other exits from the car park you're unlikely to see them.
Apart from Jungceylon losing the patronage of at least two, or more, customers over their overly-officious and unprofessional behaviour, the system will surely remain unfixed waiting for the next stupid 'farang' to stroll innocently into the underground farrago.
The only bright light in the dingy car park fiasco was the pleasant young gentlemen sitting at the 'elevator' with his stamps and gracious smile, wearing full eye make up and blissfully unaware of the surly car park Nazis. He profusely apologised but I am fairly sure he was none-the-wiser about my lengthy explanation of the situation.
Give the man a pay rise!
For Jungceylon, I would urge better signage, in a few languages (it IS a tourist town), to inform us about their rather opaque car park procedures.
I did ask for a statement to include in this story from some of the 'people with hand radios' or a comment from the Manager. But there was none forthcoming. Our forum remains wide open for a response from management.
Phuket's lifeguards say goodbye to a champion of local beach safety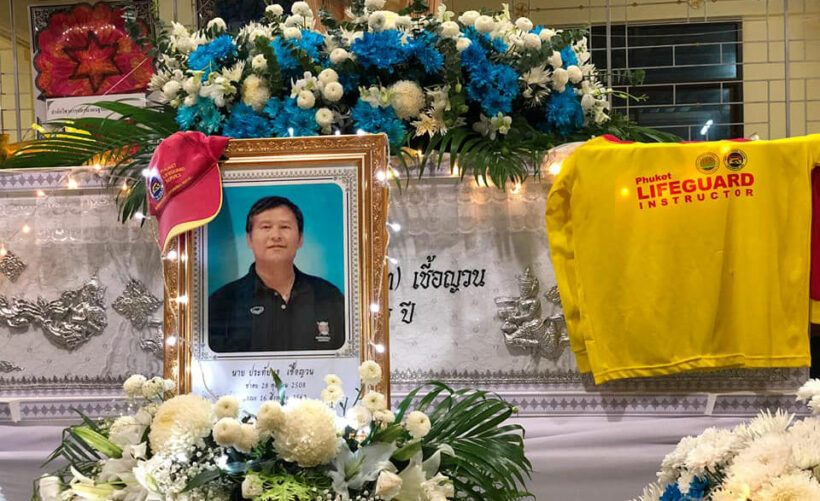 PHOTOS: Phuket Lifeguard Service
A commemoration ceremony has been held for Prathaiyuth Chuayuan, a local Phuketian who helped drive Phuket's first beach lifeguard services. He passed away on Friday morning after a heart attack.
He first experienced chest pains whilst delivering his daughter to school in Phuket Town on Friday morning, drove himself immediately to the Vachira Hospital nearby but succumbed to cardiac arrest around 9am.
He was 57 years old.
He worked with Australian lifesavers to help train local lifeguards and improve the skills of the Phuket's beach enthusiasts, and finally sought international accreditation for the growing body of competent Phuket lifeguards.
The Phuket Lifeguards Service, founded and run by Prathaiyuth and his wife Witanya, saved innumerable lives each year whilst battling Provincial Hall and local government for increased funding in annual contract negotiations.
Daren Jenner, a FOT (Friend of The Thaiger) and local safety officer for the International Surf Lifesaving Association, sent a message to us expressing his deepest condolences to Prathaiyuth's wife, family and friends.
"I had many good conversations with him over the years. He was a good-hearted man who did his best in difficult and changing circumstances. A very big loss for Phuket and the lifesaving community here. ISLA sends our deepest respect for his long commitment to ocean safety in SE Asia."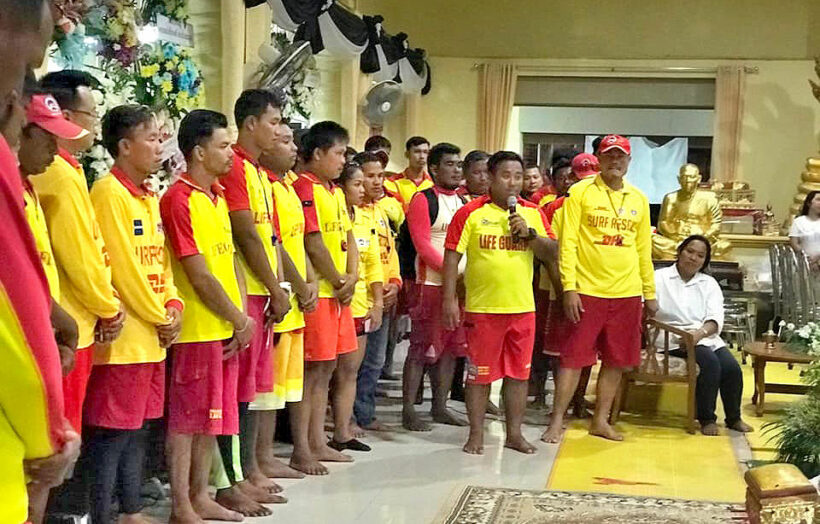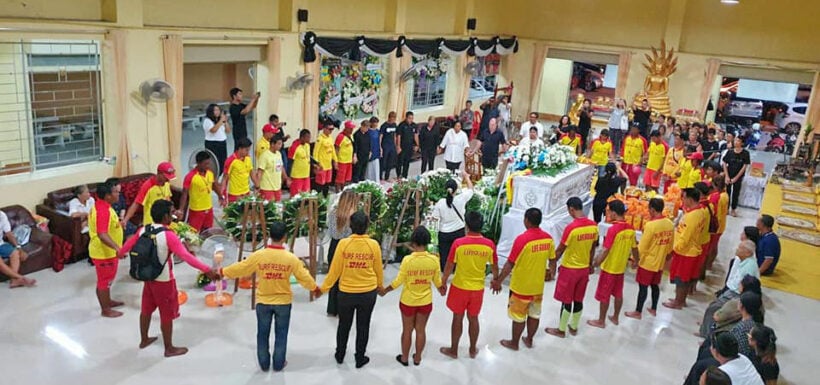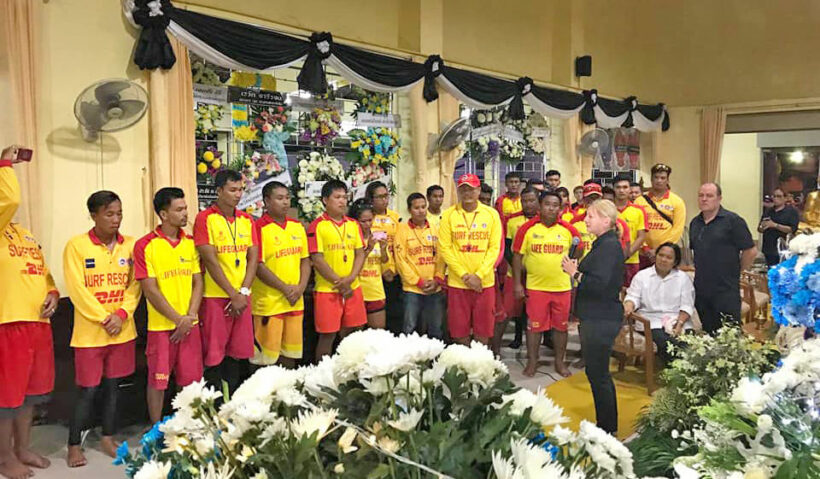 Phuket villager braves the surf to rescue tangled turtle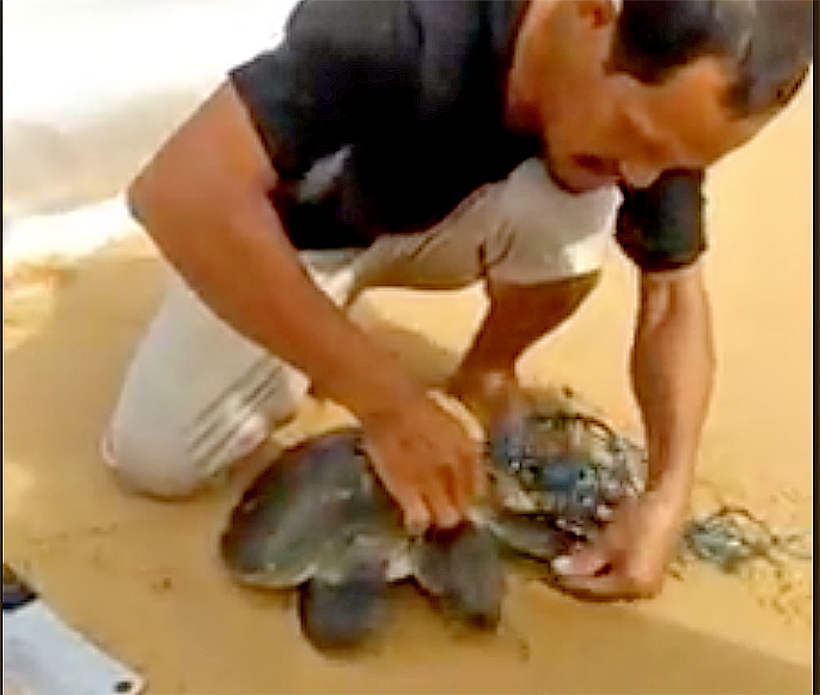 A local villager in Phuket's north has risked his own life to retrieve a young sea turtle caught up in fishermen's netting. The turtle was spotted, caught up in the branches of a fallen tree along the shores of Mai Khao beach. The monsoon was kicking up big waves and it's unlikely the locals knew how to swim, especially in the surf conditions.
The local villager makes a few attempts to retrieve the turtle, eventually separating the turtle and netting from the tree branches with a meat cleaver.
After clearing the netting from around the turtle's flippers and neck, it was taken by an officer from the local Phuket Department of Marine Resources for evaluation and treatment before it will be released back to the sea.
VIDEO: ห้องวีอาร์ ทะเลใต้ // @มานพ สิงห์ 8802
🔴 #ภูเก็ต #เต่าติดอวน วันนี้ 17 สิงหาคม 2562 ชาวบ้านได้ช่วยเหลือเต่าติดอวนพันตามคอลำตัว คลื่นได้ซัดเจ้าเต่าน้อย เข้าหาฝั่งหน้าหาดไม้ขาว ชาวบ้านได้แก้เชือกออกตามคลิป และได้เเจ้งเจ้าหน้าที่มารับไปอนุบาลเป็นที่เรียบร้อย #NewshawkPhuket Cr.ห้องวีอาร์ ทะเลใต้ // @มานพ สิงห์ 8802

Posted by เหยี่ยวข่าว ภูเก็ต Newshawk Phuket on Saturday, 17 August 2019