250,000 baht in a day. Patong's para-sailing business.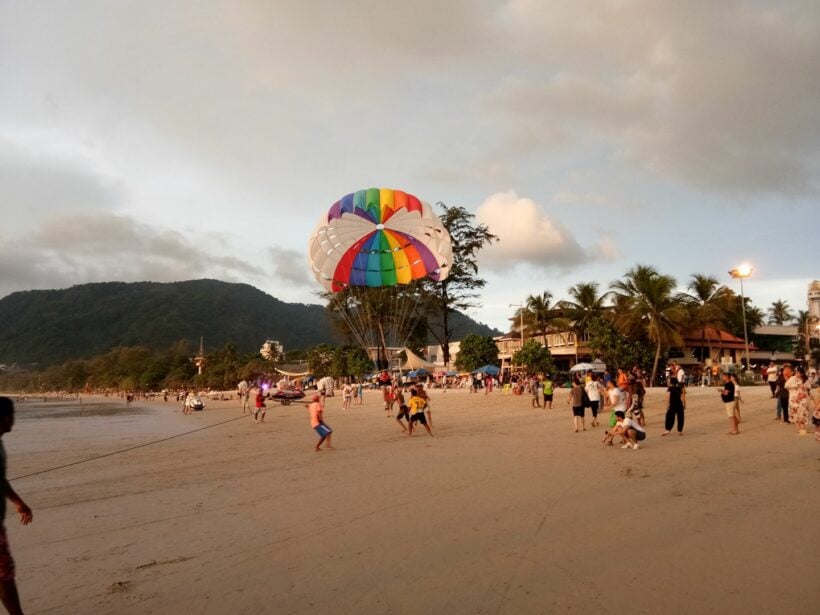 Following the death of Australian 70 year old businessman, Roger Hussey, in July 2017, and the subsequent investigation and promises for a 'crackdown' on the local parasailing industry, things appear to have settled back to 'normal'. Again.
Read about the tragic death of Mr. Hussey HERE.
We have nothing against good people doing business in their own country. Most of the people involved seemed quite pleasant. We're just reporting what we witnessed.
In a one hour period on a typical Saturday afternoon – not particularly busy on Patong Beach – we watched the parasail vendors ply their trade almost directly in front of Bangla Road.
Over the hour from 5.15 to 6.15pm 26 people went up on a ride, that's nearly one every two minutes. There was a 30 second turn around between one customer landing, being unclipped and the next 'passenger' being clipped in and being dragged off into the sky for their two minute journey.
The entire system, run by five assistants, a few salespeople drifting around the beach with a multi-language flash card to drum up business and two in the speed boat, pocketed approximately 31,200 (based on their rate of 1,200 baht for a 'QUICK' ride and 1,500 baht for a longer ride). We presumed the two minute ride was the 'quick' ride. If they did this for an entire day, say, starting at 10am, then they had the potential of making nearly 250,000 baht per day. PER DAY!!!! Of course they're unlikely to do this roaring trade all day, every day. But they appeared to have no end of willing customers queuing up to fly over Phuket's busiest and least-clean beach.
Very efficient, and lucrative we figure. An income of twice the average monthly Thai wage, in an hour! They would need to pay fuel costs for the boat, maintenance on the boats, storage fees, presumably some 'thankyous' for being able to operate on a public beach in the first-place and wages to the assistants.
A few things leapt out at me whilst watching.
Firstly the 'jockey' who takes to the skies with the paying passenger has absolutely no attachment to the parachute at all. They go along for the ride for seemingly no reason. They don't assist with the landing – the ground assistants are there to catch and recover. They may do some sort of steering in the latter moments of the landing process but, really, the speed of the boat and the wind are in almost total control of the parasail's flightpath.
Secondly, the ground assistants can be a bit aggressive with people that walk through their 'domain' – the area needed for the take-offs, landings and tow rope (which is about 50 metres long). They were shooing tourists away to keep them away from getting hit by landing parachutes and the tow rope. They didn't appear to have had a lot of customer service training in regard to their handling of the tourists, whose only crime was walking along a public beach.
Finally, and most controversially, how in earth do these businesses operate on Phuket's public beaches when ALL the other beach 'commerce' was swept off the beaches with great fanfare post the 2014 coup and the crackdown on the sunbed and umbrella vendors? It could be argued that they're providing a service but just one beach had eight operators taking up large sections of a public beach for the purpose of making money, lots of money.
If there was any paperwork, receipts, contracts or insurance, we didn't see it. Would be happy to be informed if the operators have all the required paperwork in place – for their sake and that of their customers.
The same could be said for the jetski operators but we'll save their story for another day.
A lot was said and promised at the time of the Australian's death (after falling out of his harness into the shallows of Karon Beach) – a code of conduct, stricter safety regulations, inspections, paperwork. We saw little evidence of any of this and would like to ask officials and Phuket's Governor "what are you doing to protect paying passengers from this happening again"? And "how can these unsupervised adventure activities get permission to operate on a public beach when all the other commercial activities have been banned?"
We have sent these questions off to the various officials and will report their answers when we receive a response.

Religious tolerance is OK until it starts interfering with community health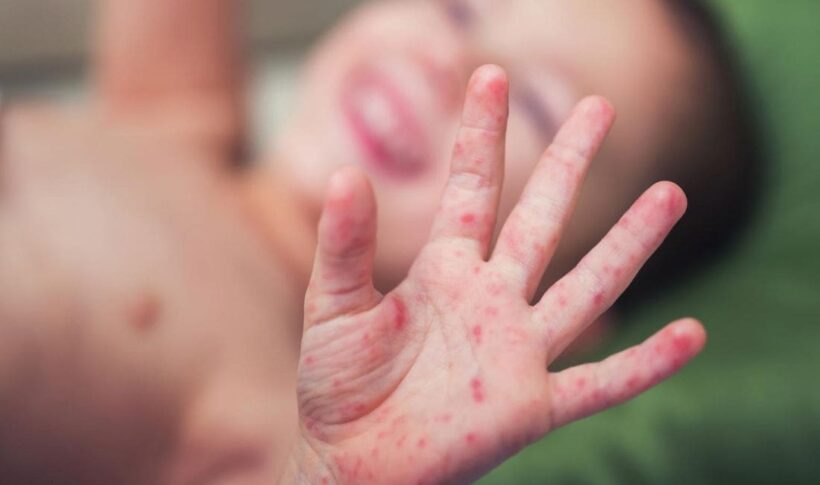 Last week it was revealed that six children have died in the southern provinces of Thailand since June this year. Sadly, children die all the time through misadventure and incurable disease.
But these six children died from Measles, one of the many diseases that have been brought under control in most communities over the past half century. Vaccination has also brought under control scores of other, in the past, deadly or disabling diseases. Here are just a few…
There is no mystery about all this. The untold misery that's been prevented by the science of vaccines has been one of the greatest inventions in medical history. So why are we reading this news?
Yala province alone has registered nearly 500 measles infections since the disease began spreading in June, according to the Yala Provincial Public Health Office. So far there have been six deaths in the province, and the infection rate has rapidly risen since September.
The recent completely baseless fear-mongering about vaccines and their connections with autism, has now been completely debunked and disproven. There is no peer-reviewed evidence that supports these claims, originally made by a now-discredited Dr. Andrew Wakefield in 1993, now struck off the UK medical register for unethical behaviour, misconduct and fraud.
When added to religious conviction, this mis-information can become life-threatening for the unvaccinated and uneducated.
"The main cause of the mass outbreak of measles in the far South is the large number of Muslims who are refusing to take the vaccine," said Vaccine Preventable Diseases Division director Dr Pornsak Yoocharoen.
For a Muslim mother, she is torn between a number of clashing influences – the Thai medical system which rolls out the World Health Organisation standard for vaccination of children, misinformation on the internet, some Dato (Islamic teachers) who advise against vaccines and their Islamic texts which, in a round-a-bout manner, says Muslims shouldn't be vaccinated (depending on your interpretation).
Dr Abdul Majid Katme, head of the Islamic Medical Association, is telling Muslims that almost all vaccines contain products derived from animal and human tissue, which make them "haram", or unlawful for Muslims to take. Islam permits only the consumption of halal products, where the animal has had its throat cut and bled to death while God's name is invoked.
But, put simply, the facts must win out if Thailand is to avoid a dangerous outbreak of measles, and potentially, other completely preventable diseases
Not vaccinating children is a form of child abuse. If not vaccinating your own child isn't bad enough, the situation can get completely out of control, quickly, as measles (in particular) is very infectious and can spread to unvaccinated populations quickly. So it's not just about you and your children, it's about the whole community.
"We have been trying to promote childhood immunisation in the three Southernmost provinces for many years, but these efforts are not very fruitful. This is because since the southern insurgency was ignited a decade ago, officers have found it harder to work with local communities due to the lack of trust among local Muslims and the insecure situation for the officers," said Dr Pornsak.
Whilst the battle against passionately-held beliefs, misinformation and non-sensical religious-based resistance to vaccines seems unsurmountable, it is one area where 'tolerance' is not an option when there are wider public health implications. Big implications.
Sheikhul Islam Office secretary Sutham Boonmalert directly addressed the issue last week, saying that though some vaccines contain ingredients derived from pigs, which are forbidden for Muslims, it was more important for a good Muslim to remain in good physical health at all times.
A book written some 1,400 years ago, long before anything was known about the causes of disease and famine, let alone vaccines, is not a reliable text for the modern control of public health. People are well entitled to their religious beliefs and should be able to conduct their lives in a way that brings them comfort, peace and happiness. But when those beliefs step into the realm of public health and community safety the push-back from authorities must be swift and firm.
Believe what you will but leave you faith at the front door of the hospital or medical clinic before you enter.
The three southern Thailand provinces are now facing a serious outbreak of measles – this is a major public health concern for anyone traveling to these communities or the possibilities of infected people travelling beyond their daily borders.
Having any children diagnosed with Measles in 2018 is a preventable scandal that deserves urgent attention from medical authorities before it spreads further. The virus cares not about borders, or your religion, and will spread to unvaccinated populations.
No amount of prayer will stop that nor will your prayer bring any comfort to your infected child.

PHOTO: Jakarta Post
Wai Khru – setting a bad example for the future. Thailand's demand for respect from its young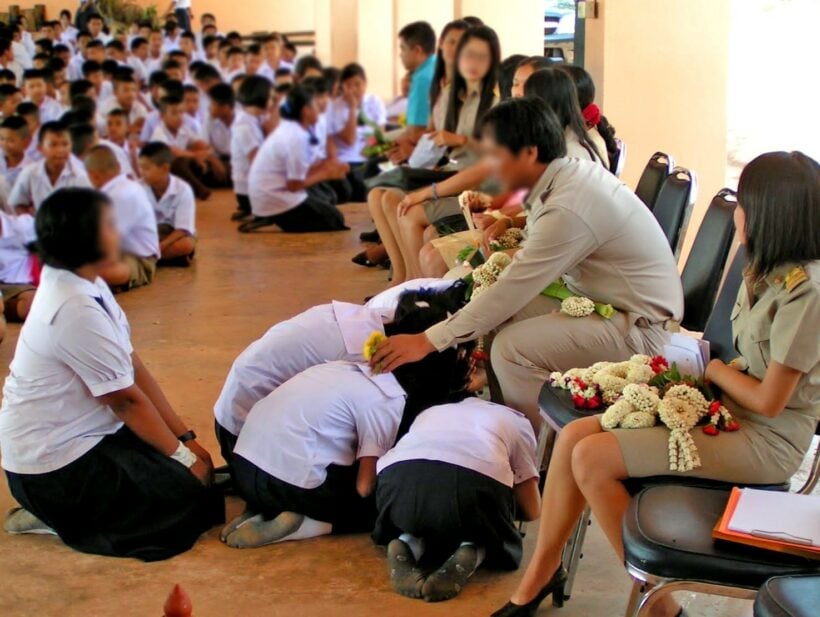 Hazing (US English), initiation ceremonies (British English), bastardisation (Australian English), ragging (South Asia), or deposition, refers to the practice of rituals, challenges, and other activities involving harassment, abuse or humiliation used as a way of initiating a person into a group including a new fraternity, sorority, team or club.
In Thailand, hazing is not only rife, it's seen as a rite of passage for young Thais as part of their cultural inculcation into the subservience they're expected to display elders or people with more money or higher positions than them. What's mistaken for 'respect' is actually a cultural party trick where children and young adults are 'trained' to be deferential from an early age.
In recent years there have a been a few high-profile deaths of army trainees, in the care of their Academy leaders, but allegedly subjected to initiations and bastardisation that is just 'par for the course' for the education of young Thais.
In a response to the recent death of Phakhapong Tanyakan at the Armed Forces Academies Preparatory School on October 17 last year, the Thai Deputy PM and Defence Minister Prawit Wongsuwan claimed that he "was not beaten to death, but just too weak to withstand tough training."
He went further saying "I was once beaten more than I could take and I fainted too. I didn't die. For this, before the school accepts kids for entry, they must give them a proper physical check-up."
When you get you get such official, public, responses from the top you can see how this hazing culture continues to thrive in the, otherwise, Land of Smiles.
We spoke to three foreign teachers in Thailand, all speaking on condition of anonymity, about the culture of hazing in their schools and the benign version of that in primary schools, 'wai khru'.
"Hazing is seen in many different types of social groups, including gangs, sports teams, schools, military units, fraternities and sororities. The initiation rites can range from relatively benign pranks and was khru, to protracted patterns of behavior that rise to the level of abuse or criminal misconduct."
For the families of hazing victims these ceremonies can be catastrophic, as in the tragic case of Phakhapong Tanyakan.
A 19-year-old armed forces cadet, previously subjected to harsh physical discipline, suddenly died a day after returning to school from a break. His parents were told he suffered from a sudden cardiac arrest but became suspicious of possible foul play after a detailed autopsy report never came. – Khaosod English
But he's not the only one. Hazing and cruel or unusual initiations are conducted every day around the Kingdom but with a growing concern about the practices, both from the young students themselves and concerned older Thais, who realise the dangers of 'persuading' youngsters to respect elders needs examination in a modern 21st century Thailand.
We spoke to a respected senior Thai businessperson, again on the condition of anonymity, who said he had seen too much hazing going on during his time at school and then whilst training in the military.
"I was a victim of this type of bullying. I was told to 'be a man' and that all Thai men have to go through this. I think it is degrading and breaks human spirits. It teaches fear of those we are meant to respect. It has to change."
It all starts when young Thais are subjected to the Wai Khru or 'Teacher Wai' where students are expected to prostrate themselves in front of their teachers in a show of respect. But a broad spectrum of foreign teachers not only feel uncomfortable with this faux-deference, some of them go out of their way to be away for that day or, sometimes, even speak out about their concern with this tradition.
"I made the mistake of speaking out about the Wai Khru in our school. I just found it demeaning for the poor students who had to rehearse all week for this totally meaningless show of respect. I didn't feel respected, I felt sick. I ended up being ostracised and had to leave that school."
Whilst many Thais continue to wonder why westerners might find all this kowtowing and prostrating could cause concern, you just need to examine the deaths in the Army preparatory schools as the end result of 'demanding' obedience and deference to elders. In western culture, I have learned, respect is something that is earned, not demanded.
"Hazing is undignified, humiliating and cruel… not my words, but the words of students who are made go through this horrible experience. It's meant to be a sign of showing respect to your seniors but it's nothing more than a shameful indulgence at the expense of the students," said a long-term foreign teacher.
"Making students crawl around on the ground acting like animals in front of their peers, does nothing for either senior or freshie students. I have stopped attending Wai Khru day as I find it terribly uncomfortable for myself and for the students. You can see the look in their eyes as they approach you and are ordered to bow before the teacher. Teachers, like everyone else, should learn how to earn the respect of their students."
A young female foreign teacher first thought that the Wai Khru was 'cute' but has changed her tune over the years.
"Wai khru was the highlight of my first year teaching in Thailand. I was, and still am, extremely humbled and deeply touched by this beautiful tradition intended to recognise a teachers' role in children's life and to give said children the opportunity to express their gratitude to their teachers.
"But throughout the years I have started to look at this event with a more critical eye and I wish it weren't as rehearsed and staged as it unfortunately is. At our school, rehearsals for Wai Kru start a week prior to the event. During this week, children are drilled incessantly until they have mastered the walk, the bow and the wai leading up to the offering of the flowers that they are eager to free their sweaty little palms of."
Wai Khru continues to be practiced in all Thai schools as a long standing tradition and show of respect for teachers.
"Although I understand and commend the wonderful intentions behind such practices, I feel that much like other sorts of drilling that these students endure, this sadly takes away from the true purpose of it all. For want of a picture perfect event, meaning is lost and a demonstration of gratitude is transformed into a dreaded labour," she said.
An investigation into the death of Army cadet Phakhapong Tanyakan, by military investigators, found no wrongdoing by the Preparatory School. The parents have consistently called for a probe into their son's death and are still pursuing legal action.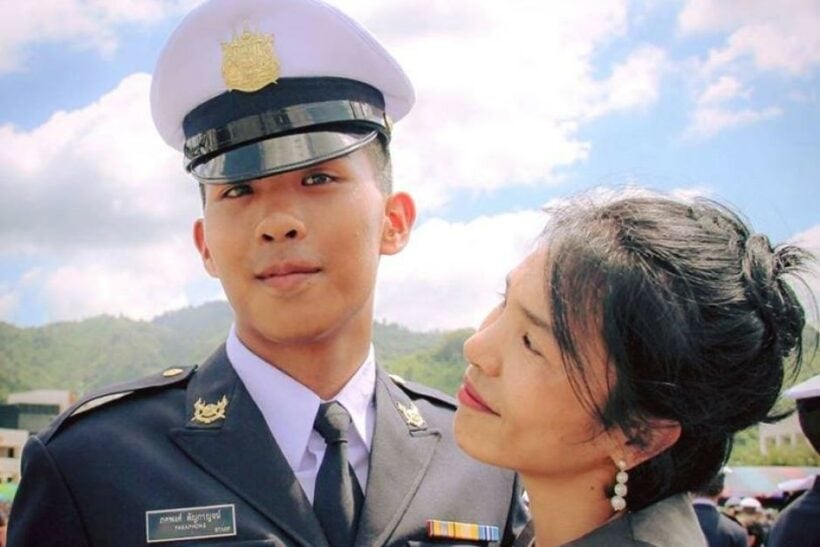 PHOTO: Army cadet Phakhapong Tanyakan, who died at the Armed Forces Academies Preparatory School on October 17 last year.
Chinese tourists heading elsewhere – what did you expect?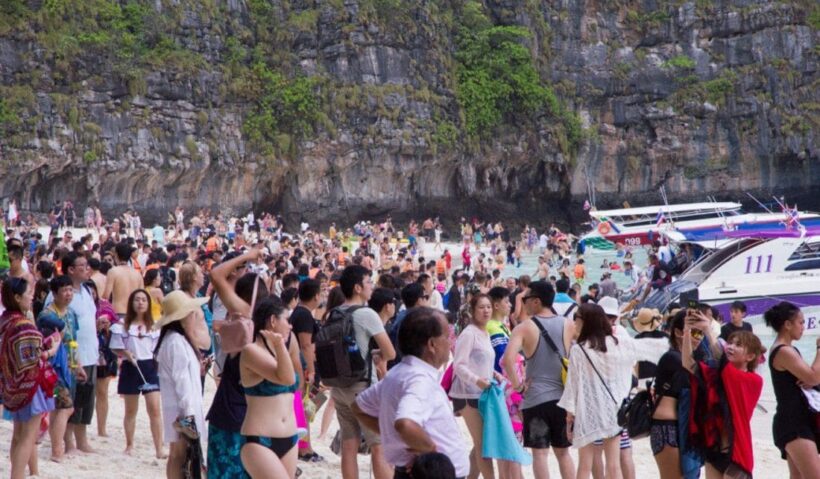 Don Ross of ttrweekly.com reflects on the self-imposed, but unplanned, reduction to Thailand's tourist numbers – principally Chinese tourist numbers.  If there were growing calls to limit or better control the problems of too many tourists, lax Thai safety laws have done part of the job already. Don writes…
Just a few months back, the debate in Thailand focused on the threat of overtourism, a word we coined to explain how our destinations are at risk from over crowding.
We looked at travel forecasts and based on the more than 9 million Chinese tourists, who visited Thailand in 2017, the arithmetic suggested 2018 would push the total beyond 10 million.
Experts called for capacity caps at resorts and a concerted effort to cool the tourism temperature to counter the threat of "overtourism," especially from China.
Tourism was accelerating almost out of control. Brakes should be applied experts warned,  but no one dared to slam on the brakes. In the end, Thailand's notorious security shortcomings stopped the Chinese travel boom in its tracks.
If we believe what tourism leaders and market snapshots tell us, Chinese tourists are going elsewhere and the exodus could cut travel by as much as 25% by year-end. It is probably more likely to downgrade to a conservative decline of 8 to 10%.  However, even that could represent a million Chinese tourists who for various reasons decide Thailand is not a welcoming paradise any more.
Read the rest of the article HERE.