89 leatherback turtle eggs moved to safe area on beach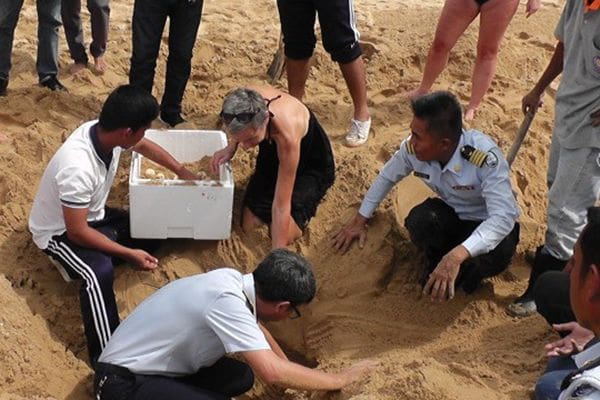 A mother leatherback sea turtle laid 93 eggs at a beach in Khao Lak, Phang Nga yesterday. The 89 eggs have been carefully moved to a safe area on the beach whilst four eggs had broken.
The enormous leatherback sea turtle laid its eggs on a beach at the Kuek Kak Beach in Khao Lak yesterday morning.
Read more about this important environmental milestone HERE.
Four eggs have been found broken when officials from the Department of Marine and Costal Resource went to inspect. 89 eggs have now been moved to a safe area 30 metres from the area where the mother turtle laid eggs on the beach and out of the way of any possible foot traffic.
Officials say it will take about 45-60 days for the eggs to hatch. DMCR officials believe that in the next 10 days, the mother sea turtle will return to the same area to lay more eggs.
Six years ago a leatherback sea turtle was found laying eggs in the same location. The DMCR is paying close attention of the local marine environment and beach cleaning. They say the sea turtles are always misunderstanding plastic bags for jellyfish. Leatherback turtles are an endangered species.
See how big the sea turtle was…
PHANG NGAA big leatherback sea turtle has laid eggs on a beach in Phang Nga this morning. https://thethaiger.com/news/phuket/big-leatherback-sea-turtle-lays-eggs-in-phang-nga-videoVIDEO: โชติ ครัวโชติรส / Newshawk Phuket

Posted by The Thaiger on Sunday, December 16, 2018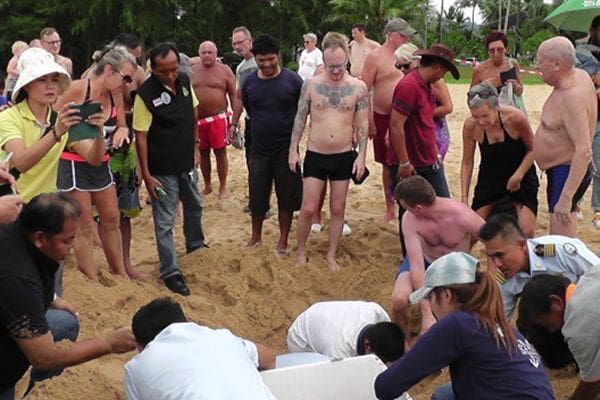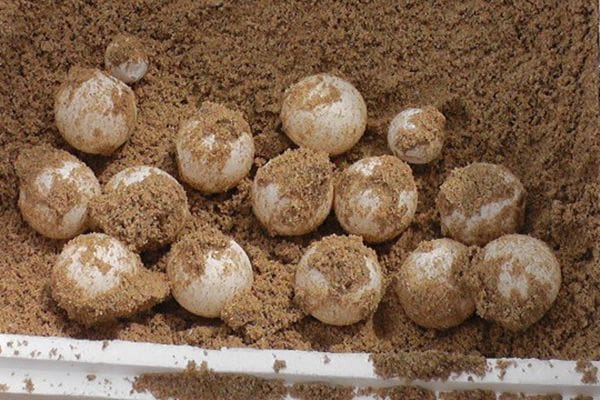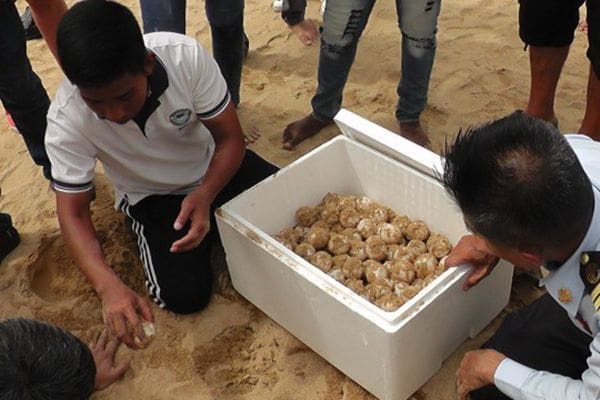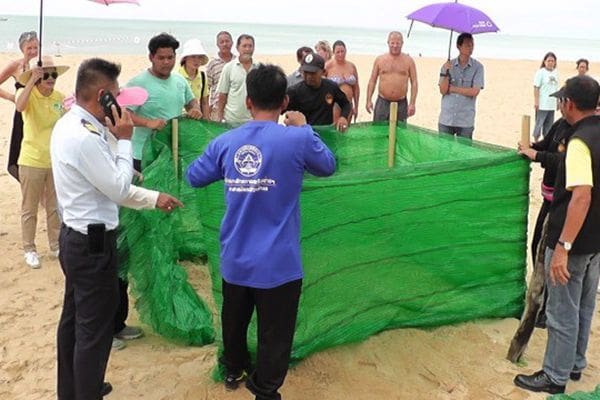 Read more headlines, reports & breaking news in Phang Nga. Or catch up on your Thailand news.
New tsunami warning buoy installed off Phuket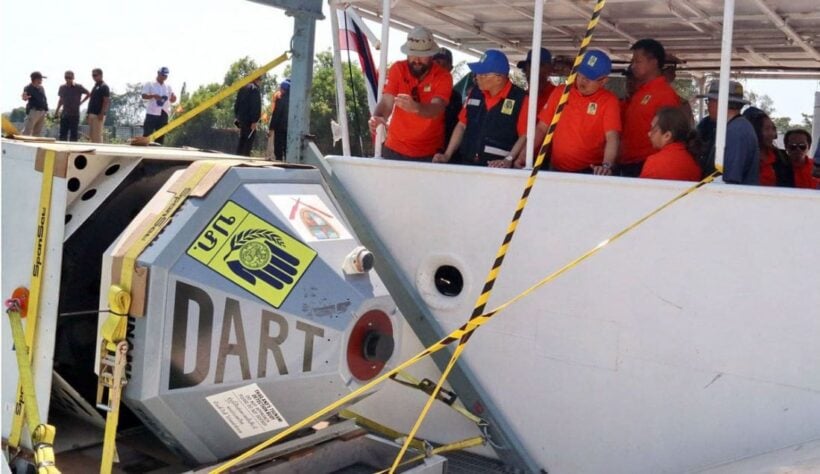 A tsunami-warning buoy, valued at 12 million baht, is to be installed off the coast of Phuket, to replace the one that had been broken two years ago. It replaces one that hasn't been working for 18 months. Two buoys were originally placed several hundred kilometres offshore in the original tsunami warning system following the 2004 Boxing Day tragedy.
The buoy, on board the MV SEAFDEC that departed Phuket yesterday afternoon, is being installed 290 kilometres off the Phuket coast.
This buoy will replace the one that stopped transmitting signals after a passing ship crashed into it, Disaster Prevention and Mitigation Department director-general Chayapol Thitisak said before the MV SEAFDEC was sent on its mission.
Watch Tim Newton's report about the tsunami warning bouys HERE.
Thailand has two tsunami-warning buoys, one located 290 kilometres northwest to Phuket/Phang Nga coast and another located 190 kilometres away, he said.
Once both buoys are operational, along with the international network of tsunami-warning systems in the Indian and Pacific oceans, Thailand will be able to get tsunami warnings well in time, he added.
Chayapol said this expensive buoy will be protected from accidents by bright signs and will be marked in all shipping route maps.
He emphasised that Thailand's tsunami-warning system was of international standards.
"We also have more than 2,000 disaster warning towers along the coast. These are sufficient," he said."
"In case Thailand is hit by another tsunami the public should follow warnings from government agencies and not panic."
The authorities learned that the previous buoy had stopped sending signals since October 2017, National Disaster Warning Centre director-general Suppapimit Paorik said.
"After the 2004 Boxing Day tsunami devastated many countries, including Thailand, and killed as many as 230,000 people, the Thai authorities have been working to improve the Kingdom's preparedness and relief measures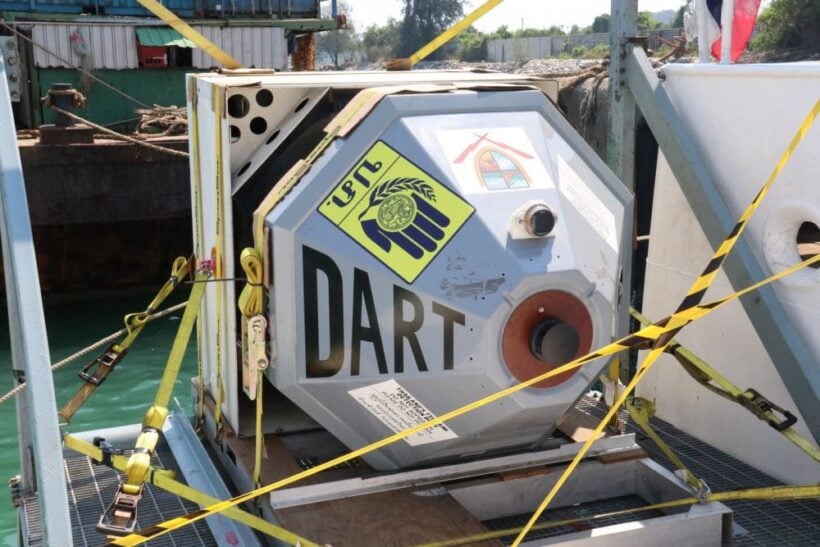 ."
SOURCE: The Nation
Big leatherback sea turtle rescued after getting stuck in fishing net – VIDEO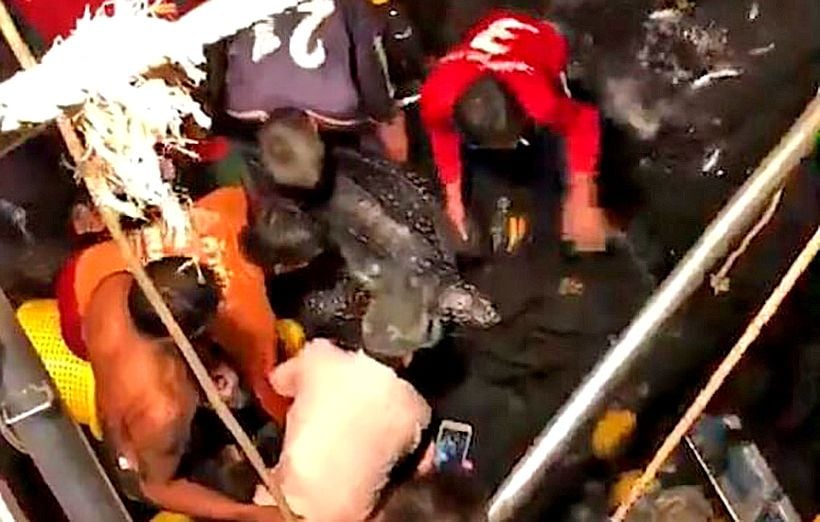 PHOTOS/VIDEO: ReReef / กรมอุทยานแห่งชาติ สัตว์ป่าและพันธุ์พืช / เฟสบุ๊คไต๋มิ ธนากร
A big leatherback sea turtle has been rescued by fishermen after getting stuck in fishing nets in Phang Nga last night.
A Phang Nga fishermen rescued the big leatherback sea turtle that was stuck in fishing netting off Phang Nga coast near Khao Na Yak in the Khao Lampi-Hat Thai Mueang Nation Park. The turtle was freed and then released back to the sea.
In another really positive sign for the future of the leatherback sea turtle population in the region, 112 sea turtle eggs were found at Kuek Kak Beach in Khao Lak, Phang Nga last week and also more in last month.
Thanks to the fishermen!
Read more about the latest batch of sea turtle eggs found along the coast HERE.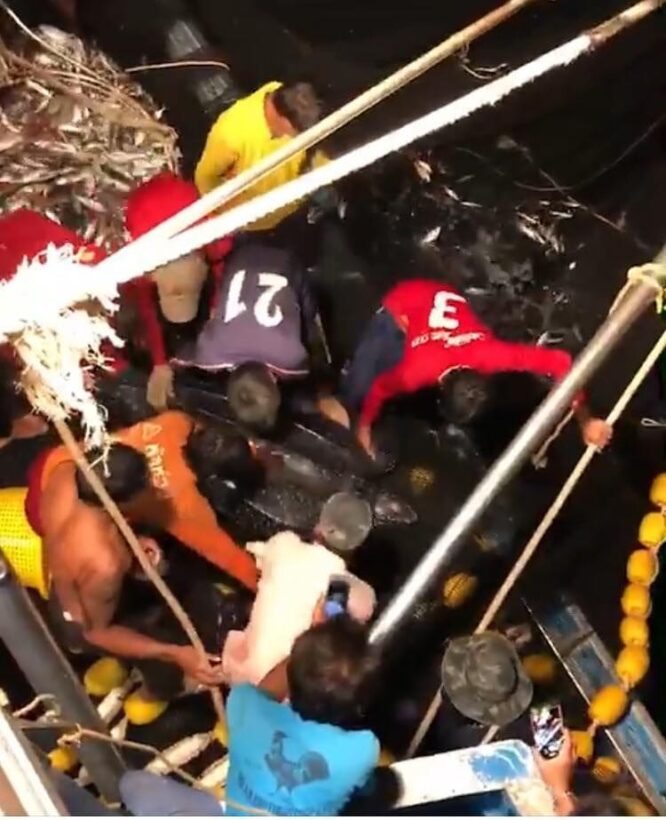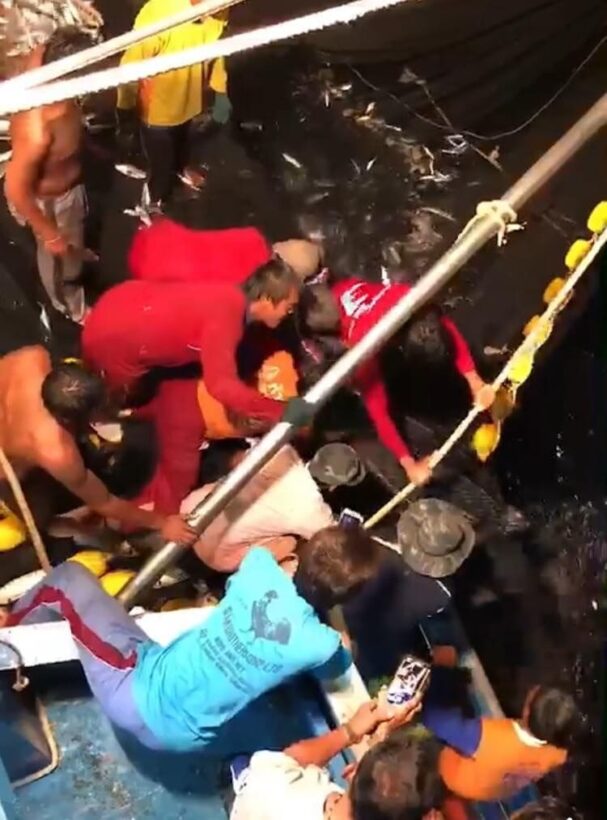 –
Pod of more than 10 dolphins spotted off Phuket – VIDEO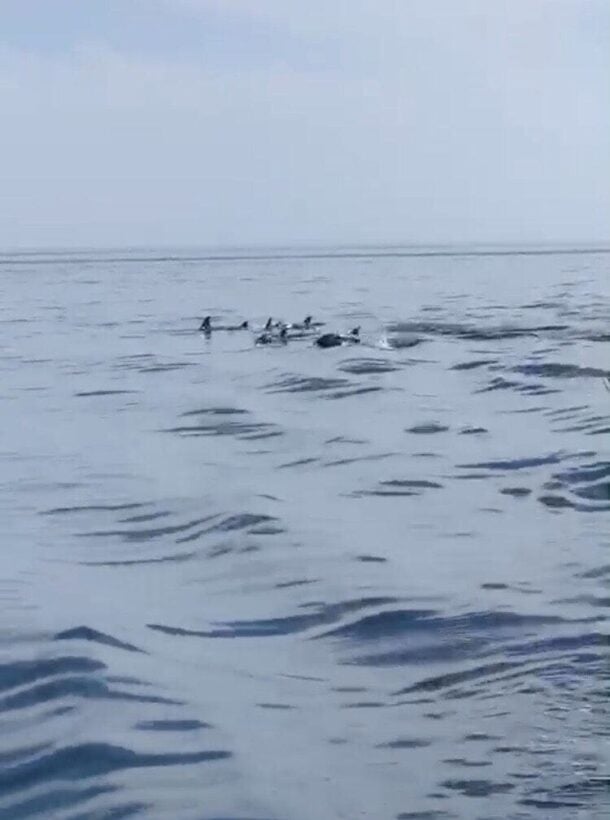 VIDEO:  ยศ กระจก – อลูมิเนียม
A pod of more than ten dolphins was spotted off Phuket yesterday.
Khun Nigorn Garari, who recorded the videos says, "My friends and I were heading from Tab Lamu Pier in Phang Nga at about 1pm yesterday. When we were near Laem Pakarang, which is at the north of Phuket, we saw lots of dolphins. I counted more than 10 of them in the pod."
"We were very happy to see them. Some of them have swum along with our long tail boat. They followed us for about an hour. The Andaman Sea is very beautiful."
PHUKETA pod of dolphins somewhere off the northern Phuket coast.VIDEO ยศ กระจก – อลูมิเนียม

Posted by The Thaiger on Wednesday, January 9, 2019