Pattaya Indoor Cricket League – Round 3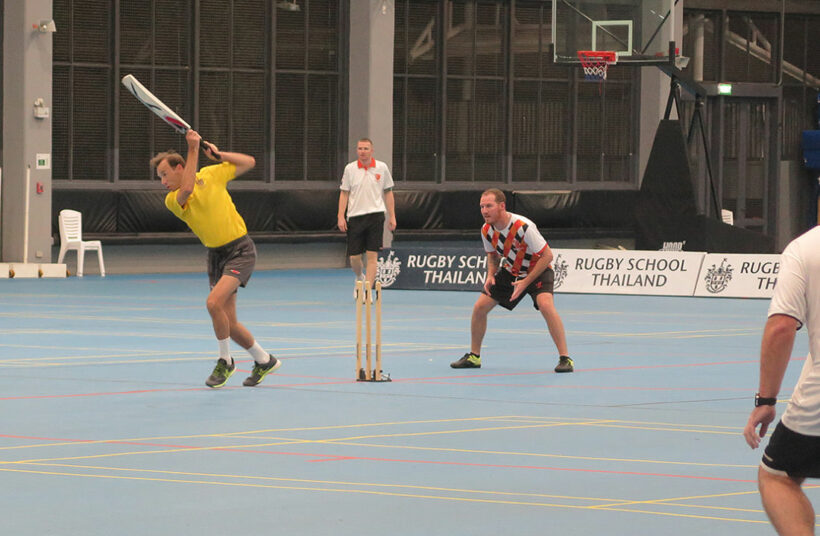 Round 3 was played at Rugby School in Bang Lamung between PCC (Pattaya Cricket Club) and RST (Rugby School Thailand). There were indoor cricket debutants for both teams: Carl Pohl for RST and Pravit Grover, Edwin Van Rensburg and Andy Holt for PCC.
This was yet another very close game where dropped catches, missed run out opportunities and extras were crucial to the end result which was a win for PCC by one run in a nail-biting finish.
RST opened the batting with Pete Reea and Chris Sizer who scored 27 whilst Chris was caught by Edwin Van Rensburg off the last ball of Bernie Lamprecht's over. RST's usual ability to protect their wicket deserted them and they steadily lost wickets through the game, losing 10 in all.
The next 3 overs from Carl Pohl and Nick Hitchmough were no exception – 24 for 3 wickets. Charlie Row and Guthrie Miller rallied the team with 31 for Charlie's wicket. Things went downhill again when Matt Mann was out 3 times in 2 overs, twice to Bernie Lamprecht and once to Matt Harkness. Matt's partner,
Chris Landorp, who, normally a prodigious scorer, was kept under raps and they were limited to 20 for 3. The final pair of Captain Ryan Driver and Lewis Madd recovered the situation by smashing 40 runs but lost 2 wickets to Trevor Moolman. In the end 143, including 9 extras, was reduced to 93 for 10.
PCC responded with 24 from Pravit Grover and Andy Emery with out loss. Bernie Lamprecht and Edwin Van Rensburg were contained but, uncharacteristically for PCC, kept their wickets until Charlie Row's slow loopers took both wickets in the 6th over. All square at 31.
Trevor Moolman and Andy Holt put on 24 for 2 with Andy being out caught and then bowled. At this point it all went wrong for PCC as pacey Chris Lindorp, slow Charlie R and Carl P set about Wez Masterton and Jainish Parikah. 26 for 5 meant a net gain of only 1 run. Matt Harkness and Luke stokes needed to pull a rabbit from a hat.
A run out was missed, Ryan Driver dropped a sitter at mid-off and they kept their wickets whilst they amassed 30 off 2 overs. Ryan Driver bowled that last over and managed a dot ball but a 3 off the last ball by Luke Stokes earned 10 runs for the over and a 1 run victory. 139, including 20 extras, meant 94 for 9.
This was a close game and PCC's first victory. A little bit of luck for either team and the result could have gone either way.
Best bowlers for PCC were Bernie L with 14 for 3 from 2 overs and Trevor Moolman with 19 for 3 from 2 overs. As usual RST best bowlers included Chris L with 14 for 3 from 3 overs and Charlie R with 15 for 3 from 2 overs. PCC's best batsman was Luke S with 21 and 0 whilst RST's was Ryan D with 23 and 1.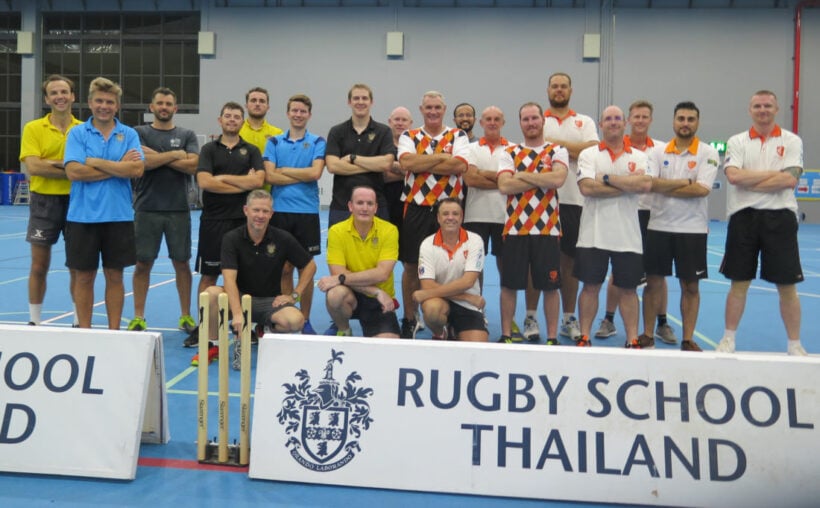 Keep in contact with The Thaiger by following our
Facebook page
.
Torrential rains again wash away parts of Pattaya Beach, more on the way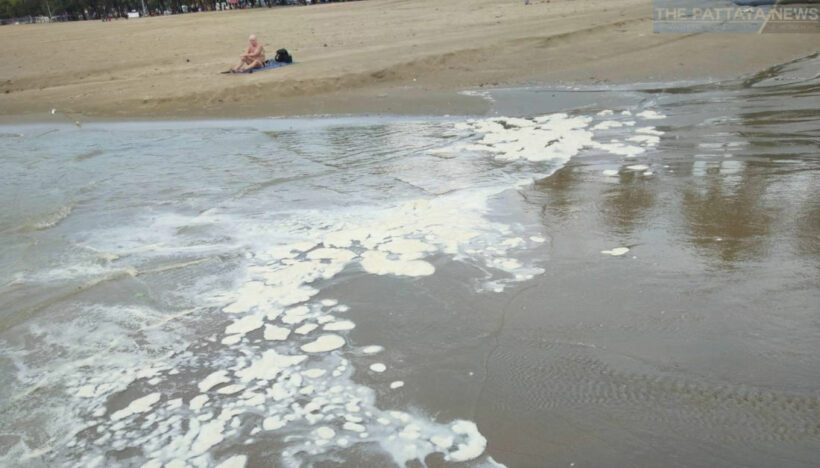 PHOTOS: The Pattaya News
Heavy rains have caused flooding and beach erosion on Pattaya's recently reclaimed beach yesterday afternoon. The torrential rain continued for many hours around Central Pattaya. Heavy rains are also expected again today (forecast below).
Many areas ended up flooded causing local traffic hazards and delays. Water flooded down storm drains and onto Pattaya's beaches and into the sea, literally washing the beach away in some locations.
Tourists and swimmers avoided the water as they saw "an unidentified white substance on the water's surface". The white scum appeared to look like some sort of detergent or foam which had washed down the city's drains.
Last year some 400 million baht was spent re-building some of Pattaya's beaches which end up damaged and washed out to sea any time there are heavy rains.
SOURCE: The Pattaya News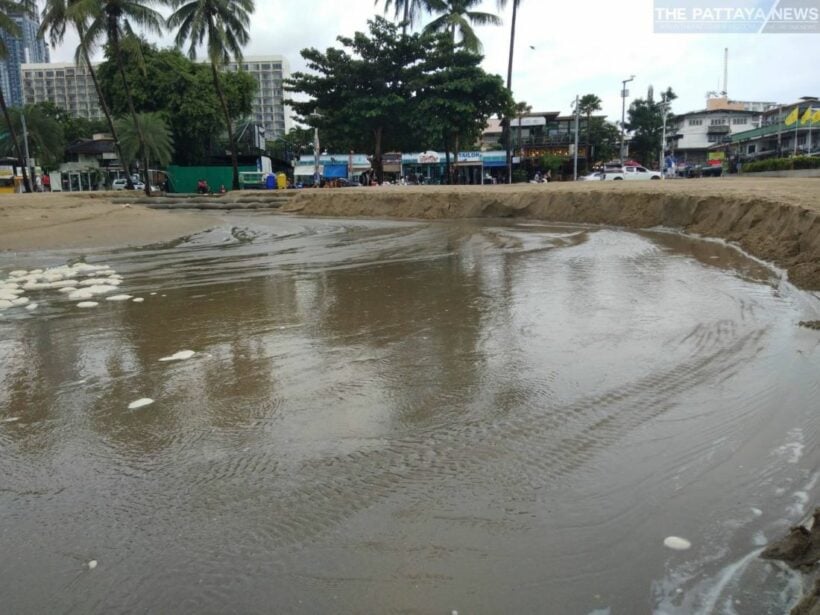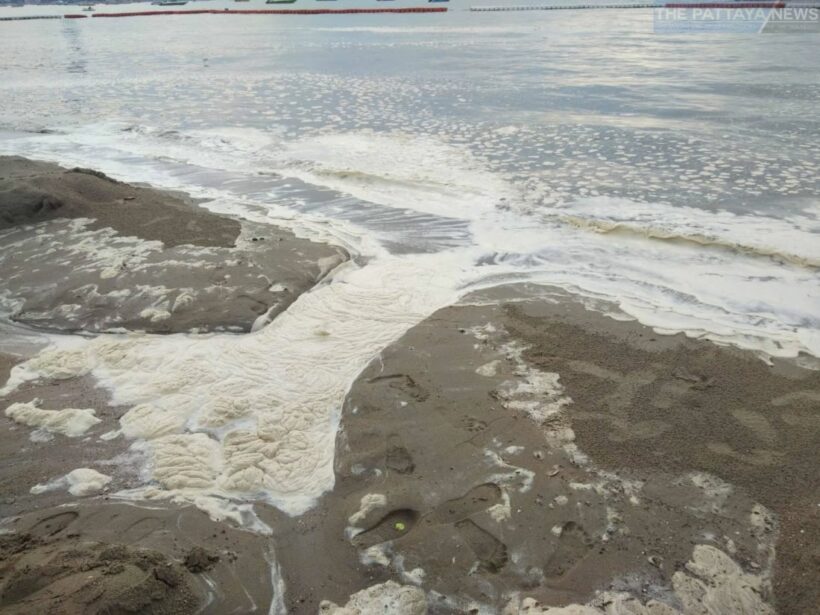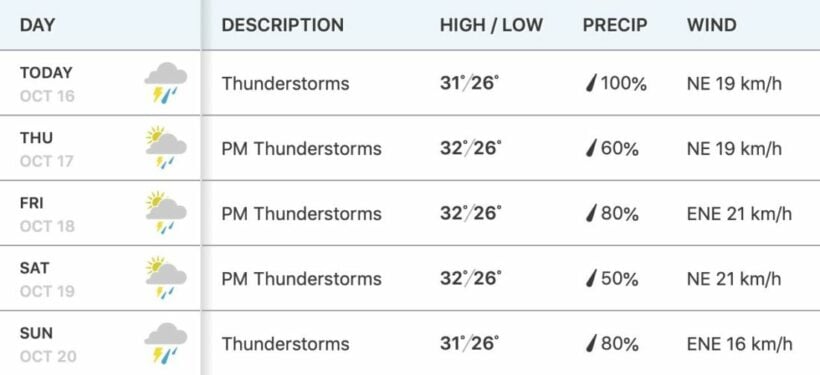 Keep in contact with The Thaiger by following our
Facebook page
.
Thai High Speed Railway linking airports now to be signed off on October 25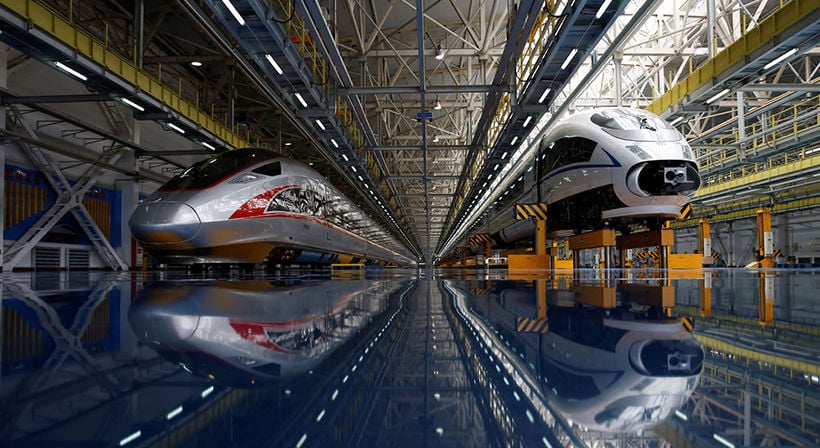 The State Railway of Thailand and the Charoen Pokphand Group-led consortium are putting pen to paper and signing the contract for the high-speed train project on October 25.
The much-discussed high speed railway will link Suvarnabhumi, Don Mueang and U-Tapao international airports. The new SRT board was approved by the Thai cabinet today.
Deputy PM Anutin Charnvirakul says he is confident the contract will now be signed, adding that he has already met with Supachai Chearavanont, CEO of the CP group, and assured him of the government's full cooperation and support.
The Charoen Pokphand-led consortium won the bid to develop the 224-billion baht high-speed train infrastructure as a signature project for the government's flagship Eastern Economic Corridor (EEC) high-tech investment hub. The train service is scheduled to be operational in 2024 (The Thaiger is taking bets now).
Recently, however, the CP-led consortium raised concerns over land expropriation and eviction problems and asked for the government to share the risk on this issue. The Transport Ministry has already rejected the request putting the onus on CP as part of the proposal.
Mr. Anutin explained that, in any large infrastructure project involving expropriation of land, it is usual for the government or state agency not to be able to hand over the land to the contractor all at once. In such cases, the contracted completion date can be moved back.
He said the CP-led consortium should proceed with the high-speed train project without further delay because 70% of the land is ready to be handed over.
Meanwhile, the deputy PM admits that he didn't know why the entire SRT board resigned en masse, delaying the signing of the contract, and denied that he had put pressure on the board to quit. He also denied that Transport Minister Saksayam Chidchob, also of the Bhumjaithai party, objected to the SRT board's mass resignation because the latter wanted the contract to be signed quickly.
SOURCE: Thai PBS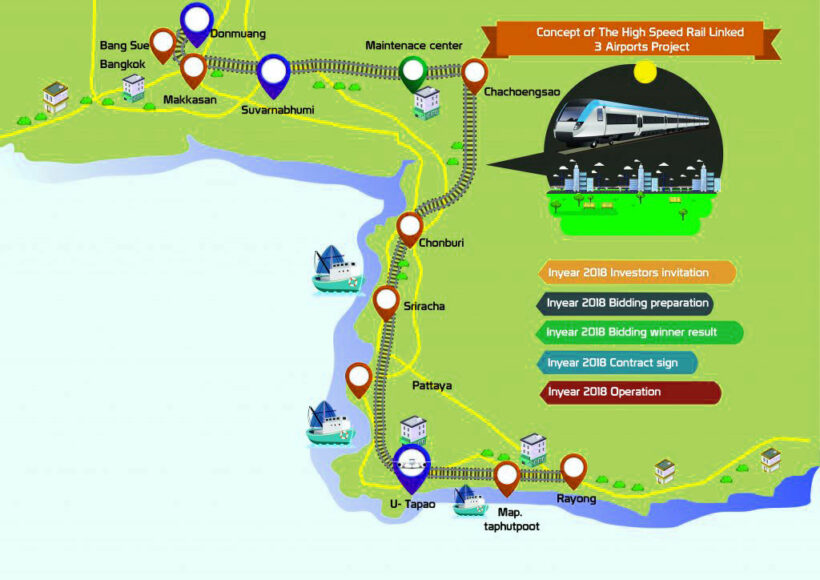 Keep in contact with The Thaiger by following our
Facebook page
.
Toilet break goes wrong when trucks collide in Pattaya, injuring two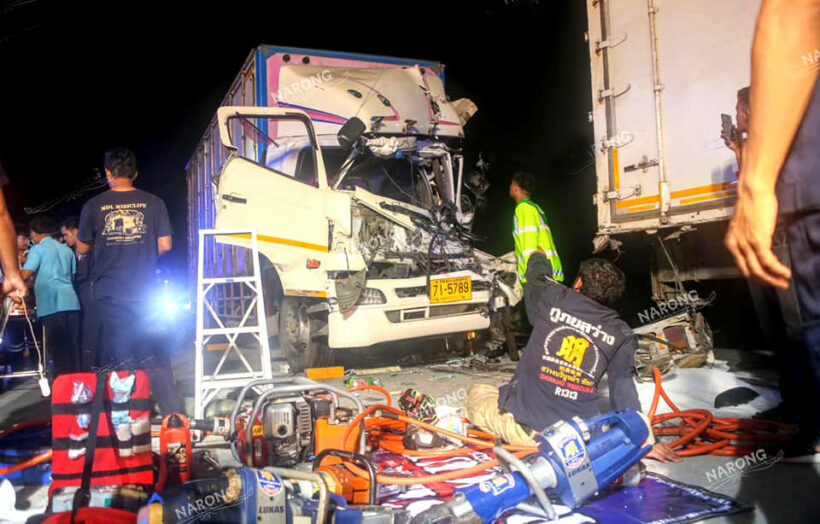 PHOTOS: Pattaya Update News
The driver of a ten-wheeler truck got more than he bargained for after stopping for a toilet break at the side of the road in Pattaya.
Pattaya Update News reports that 57 year old Jirawat parked his truck on the Krathing Rai-Rayong road at about 1.30am over the weekend. While he was away from his vehicle, attending to business, a six-wheeler truck ploughed into the back of his truck.
The driver of the six-wheeler, 42 year old Suthin, suffered head injuries, while his 45 year old wife passenger, Netchanok, sustained a leg injury. Both occupants of the truck had to be cut free by rescue workers before being rushed to hospital.
Meanwhile, Jirawat says the sound of the crash startled him, causing him to fall over and urinate on himself. Returning to his vehicle, he alerted the authorities. It's unclear what, if any, action will be taken by police against either of the drivers.
SOURCE: Pattaya Update News | ThaiVisa
Keep in contact with The Thaiger by following our
Facebook page
.