Pattaya business and tourism official calls for more government help during Covid crisis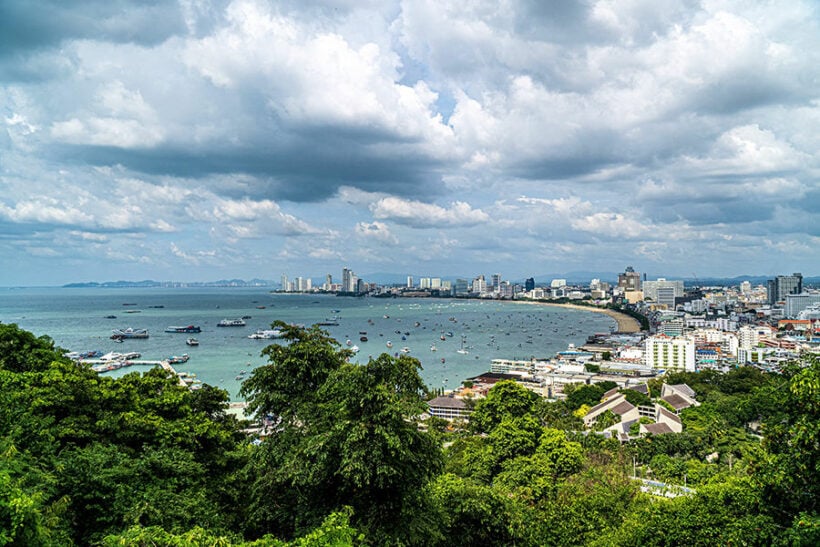 Pattaya is in desperate need of more government assistance, according to the president of the Pattaya Business and Tourism Association. Despite getting a spurt of additional visitors from Bangkok each weekend, the general visitor economy remains perilously low.
Speaking to reporters, Ekasit Ngampichet says Pattaya business owners face several challenges as a result of the fallout from Covid-19.
"I would like to ask for the government to come up with a measure to help entrepreneurs and many private companies and establishments in the city because they were financially affected by travel restrictions as part of the emergency decree."
Ekasit is calling on the government to further extend the duration of social security payments for employees that have been temporarily laid off. The scheme has already been extended from 90 days to 180, and was originally due to end in July. In addition, businesses such as hotels are now having to pay higher utility charges, such as electricity bills, than they are actually using.
"When hotels in Pattaya were operating during the pre-Covid-19 period, hoteliers had to pay a minimum of 70% of their 12 month average. For example, some hotels spent an average of 1,000,000 baht per month on electricity and had to pay at least 700,000 baht per month.
"Normally, it would take them 3 months to pay off the electricity debt. But now they still have to pay the same amount of 700,000 baht a month, even though their hotels are now closed, and the electricity is not used that much."
With Thailand's borders still closed to all but a handful of exceptions, and no clear sign yet as to when international tourists may be allowed to return, Pattaya has had to turns its eyes to the domestic market. The government has put a domestic travel stimulus scheme in place, offering rebates on hotel accommodation and flights. However, that scheme is due to end in October, meaning Pattaya could take another hit at that stage.
"What we could do right now is to depend on Thai people to travel to Pattaya. But we still had no idea what would happen to Pattaya tourism if the Travel Together program ends in two months."
Meanwhile, while the government is looking at the possibility of a strictly controlled re-opening of Phuket to international tourists from October, there are currently no such plans in place for Pattaya. It's understood officials are concerned about being able to prevent people leaving the area, a task that is considered more manageable on Phuket by virtue of it being an island.
For the Phuket experiment, tourists will need to book for a minimum of 30 days, have to remain in a 1 kilometre radius 'quarantine' for 14 days, have to submit to at least 2 tests for Covid-19, and only stay at government-approved hotels that have passed strict health guidelines. It has not been described where these tourists will be coming from or how they would be able to get to Phuket. The TAT said that most of the flights for the pilot program, starting in October, would probably be controlled charter flights.
SOURCE: The Pattaya News
Keep in contact with The Thaiger by following our
Facebook page
.
Never miss out on future posts by
following The Thaiger
.
Pattaya City council pushes for action against abandoned Waterfront condo project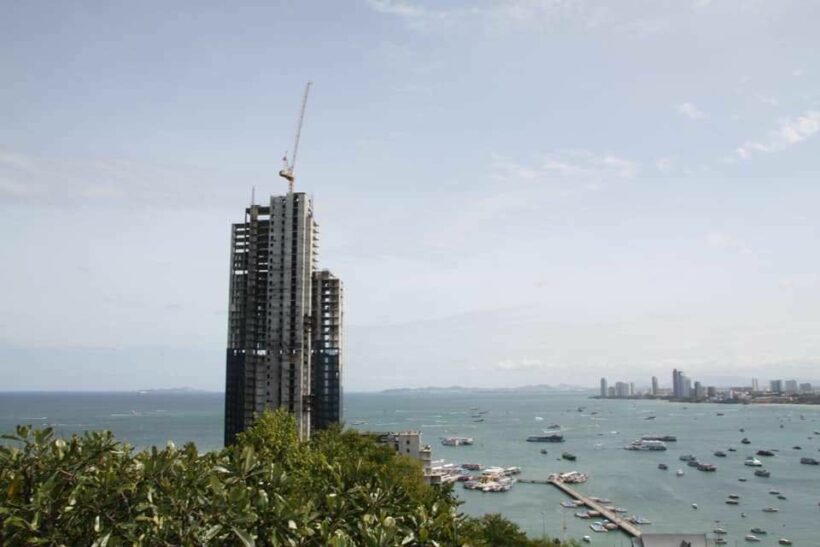 The Pattaya City Council is pushing for action against the abandoned 53 story Waterfront Suites and Residence luxury condo after it has been left as an eyesore for many years along the Bali Hai Pier. The Waterfront Suites and Residence is a half-finished condo project that was stalled in 2014 after safety inspectors discovered that the building's fire escapes and elevator systems designs varied from the already approved construction designs.
Thai Engineering, however, allegedly ignored the stop-work order and continued, but the company says it was not informed from the developers to stop. The project was originally launched and proposed back in 2004.
In July, 2014, Pattaya city officials halted construction of the condo and hotel project following an internet firestorm after photos showing the tower obstructing a "classic" Pattaya viewpoint. The majority of comments were negative, claiming the project ruined the viewpoint hill and the area around Bali Hai pier and was an "eyesore". The mayor at the time, Itthiphol Kuneplome spoke up for the project and said that it had continually followed correct and fully transparent legal processes.
Then the condo's Israeli-owned Bali Hai Company, due to complaints about the condo's obstruction of the natural landscape and land permit issues, filed a petition with the Central Bankruptcy Court in Bangkok for debt restructuring which subsequently failed as the company went bankrupt.
The Pattaya Court has ordered for the condo to be legitimately demolished but due to legal proceedings against the company dragging along, the condo continues to sit abandoned. Furthermore, Pattaya City authorities were rejected by the departments that would carry out the demolition citing that the authorities were not specialised in estimating the cost of such a demolition. Now the authorities are still trying to get estimates from 11 different companies to outsource the demolition which is contributing to the delay.
But the Pattaya City Council chairman says that law firms should take control and use photographs and other documents before collecting the evidence to speed up the process. Regardless, the demolition of the condo is in limbo as pending lawsuits are preventing it from moving forward.
SOURCE: The Pattaya News
Keep in contact with The Thaiger by following our
Facebook page
.
Never miss out on future posts by
following The Thaiger
.
Elderly Dutch man's body found floating near Pattaya Beach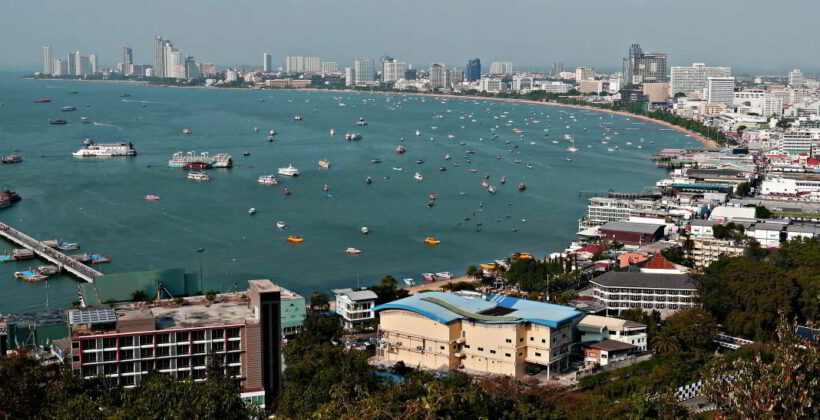 An elderly Dutch man's body has been found floating near a Pattaya beach in South Pattaya after telling his wife he was going to go swimming. The 74 year old man's wife Ms. Sukjai Bungutum, a 41 year old Thai woman, was found by rescue workers crying near his body.
"My husband told me he was going to go swimming. He had not returned after many hours. I was worried as he had personal health issues after a recent accident. I called Pattaya police for help until I was informed that his body was found."
Rescue workers say they found the man's body yesterday evening at 7pm. They say his body was face down in the water and there appeared to be no signs of a struggle or of being in distress, but was wearing only underwear.
The Dutch man's name is being withheld, according to The Pattaya News, pending the notification of his embassy. Police say an autopsy will be conducted to determine the man's exact cause of death.
SOURCE: The Pattaya News
Keep in contact with The Thaiger by following our
Facebook page
.
Never miss out on future posts by
following The Thaiger
.
Pattaya men allegedly posed as police officers, extorted 50,000 baht from a woman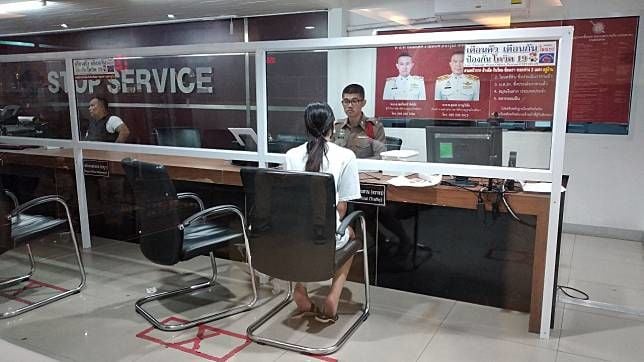 A group of 4 men in Pattaya allegedly posed as police officers and extorted 50,000 baht from a woman. The 20 year old woman says the men claiming to be police officers raided her condominium and a friend visiting had drugs in his possession.
In the report filed with Pattaya City Police, the woman says the men asked both her and her friend for a bribe of 25,000 baht each. If they didn't pay up, the men said they would arrest them on drug charges, according to the complaint. The woman says she gave the men 50,000 baht.
The men who allegedly posed as police officers were not in uniform and did not show any identification or badges, the woman says. After giving it some thought, the woman became suspicious and decided to file a complaint with police. Police are still investigating.
SOURCE: Pattaya News
Catch up with the latest daily "Thailand News Today" here on The Thaiger.
Keep in contact with The Thaiger by following our
Facebook page
.
Never miss out on future posts by
following The Thaiger
.