Jet ski explodes in Chon Buri – VIDEO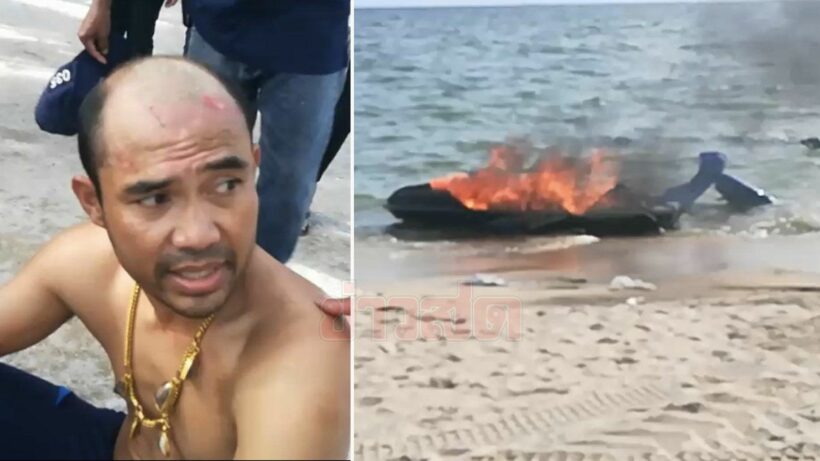 A jet ski exploded yesterday at Chon Buri's Bang Saen beach, near Bangkok. Rescue workers and firefighters arrived to find a blue/black jet ski on fire. They were able to put out the fire but vehicle was completely destroyed. Fortunately, 46 year owner Suthep Jarworrak suffered only minor injuries and some skin burns. The rescue team administered first aid before sending him to Burapha University Hospital.
42 year old Jakkrit Duangthip, the would-be rider, told reporters he normally used that specific jet ski. He came to the beach as usual but the jet ski wouldn't start. After trying at least 10 times, Jakkrit says he then told Suthep about the issue. Suthep went to help, and on his first try it wouldn't start, but on his second try, the jet ski exploded.
Jakkrit believes he was saved by a Buddhist amulet he keeps with him at all times. The amulet was created by a highly respected monk from Ayutthaya province. Many people who work on the water and rescue team members reportedly also believe in the power of the same monk.
สตาร์ทเจ็ตสกีไม่ติด เรียกเพื่อนมาทำ 2 ที ระเบิดตูม!

สตาร์ทเจ็ตสกีไม่ติด เรียกเพื่อนมาทำ 2 ที ระเบิดตูม! .(31.ก.ค.63) เกิดเหตุเจ็ตสกีระเบิด มีผู้ได้รับบาดเจ็บ ที่บริเวณริมหาดบางแสน ต.แสนสุข อ.เมือง จ.ชลบุรี ในที่เกิดเหตุพบเจ็ตสกี สีน้ำเงินดำ ถูกไฟโหมลุกไหม้ เจ้าหน้าที่ดับเพลิงต้องเร่งฉีดน้ำสกัด ตรวจสอบเกิดจากการระเบิดบริเวณห้องเครื่อง และยังพบผู้ได้รับบาดเจ็บชื่อนายสุเทพ จารุวรรักษ์ อายุ 46 ปี ได้รับบาดเจ็บ มีรอยถลอกและรอยถูกสะเก็ดไฟบาดเจ็บเพียงเล็กน้อย กู้ภัยเร่งปฐมพยาบาลก่อนจะนำตัวส่งไปรักษาที่โรงพยาบาล ม.บูรพา.สอบถาม นายจักรกฤษ ดวงทิพย์ อายุ 42 ปี คนขับเจ็ตสกี เล่าว่า ปกติตนจะขับเจ็ตสกีลำนี้ประจำ และวันนี้ขณะสตาร์ทเจ็ตสกีไปหลายครั้ง เจ็ตสกีกลับไม่ติด จึงได้เดินไปบอกกับ นายสุเทพ ผู้ได้รับบาดเจ็บซึ่งเป็นเจ้าของเจ็ตสกี ว่าตนสตาร์ทเจ็ตสกีไม่ติด นายสุเทพจึงได้เดินมาสตาร์ท ครั้งแรกไม่ติดแต่ครั้งที่ 2 เจ็ตสกีก็ได้ระเบิดตูมสนั่น ทำให้ร่างของ นายสุเทพ กระเด็นได้รับบาดเจ็บ ทำให้ตนเชื่อถึงปาฏิหารย์ของหลวงพ่อรวย ปาสาทิโก วัดตะโก ที่ได้แขวนติดตัวตลอด ทำให้ตนแคล้วคลาด แต่กลับเป็นนายสุเทพ ที่มารับเคราะห์แทน และยังเชื่ออีกว่าเจ้าพ่อแสนที่เป็นสิ่งศักดิ์สิทธิ์ที่ชาวกู้ภัยฯ ทางทะเลต่างนับถือ ช่วยคุ้มครองไม่ให้ นายสุเทพ ได้รับบาดเจ็บร้ายแรงข่าวเวิร์คพอยท์ 23

Posted by ข่าวเวิร์คพอยท์ 23 on Friday, July 31, 2020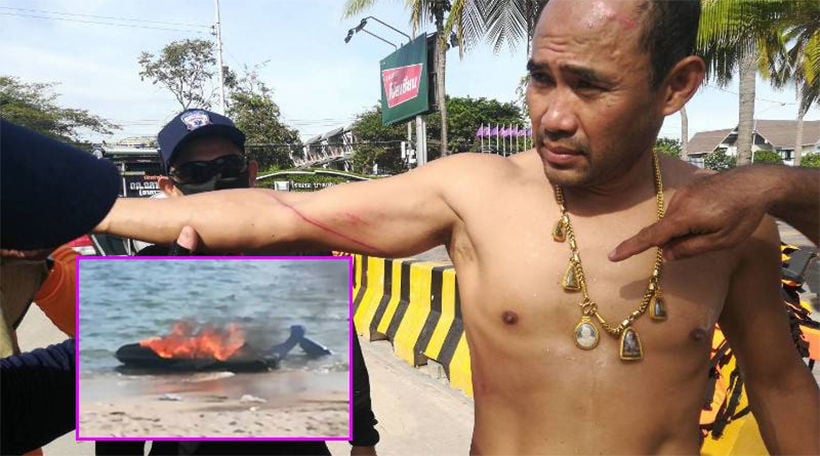 SOURCE: Thai Residents
Keep in contact with The Thaiger by following our
Facebook page
.
Never miss out on future posts by
following The Thaiger
.
Pattaya nightlife venues call for closing time to be extended to pre-Covid hours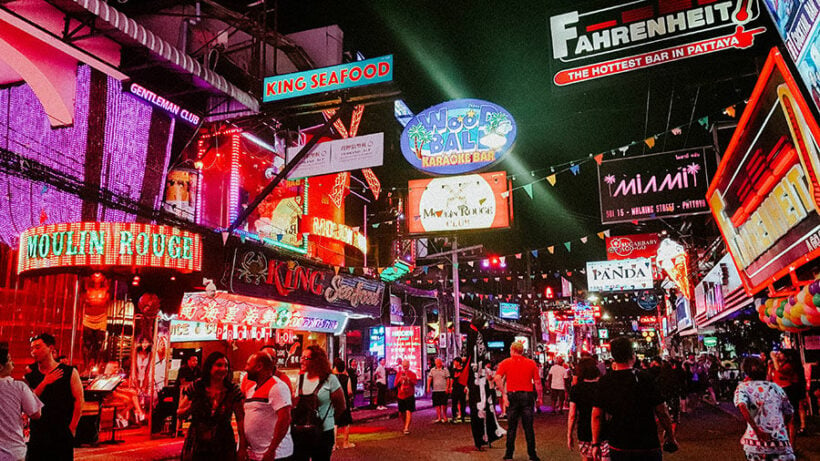 Nightlife operators in Pattaya are pleading to be allowed to revert to the later closing times that were in place prior to the Covid-19 pandemic. However, while the government's Covid-19 task force is further easing restrictions on transport, schools, and sporting events, the emergency decree still remains in place. This means that former tourist hotspots like Pattaya, whose special designation meant bars and clubs could stay open longer than many other parts of the country, must currently adhere to a mandatory closing time of midnight. However, some business owners accuse others of not observing the midnight closing requirement, putting those […]
3 Chinese men arrested in Chon Buri operating porn, gambling site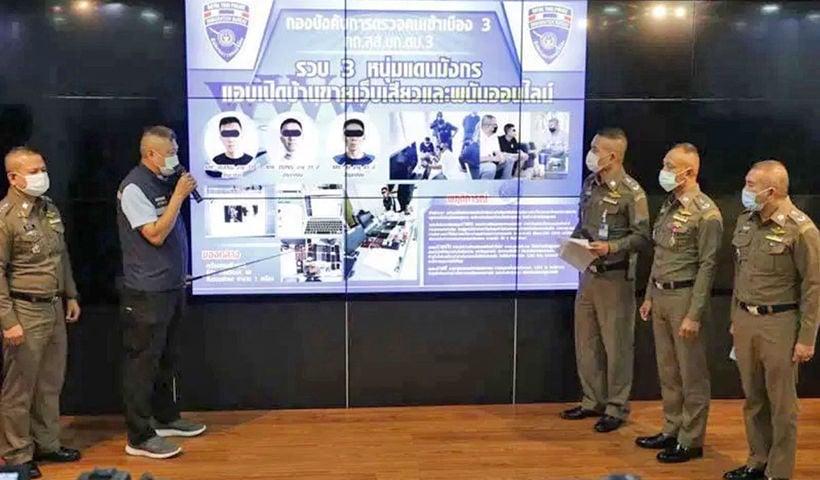 3 Chinese men have been arrested for illegal entry, living in Thailand without a visa and allegedly operating a pornography and gambling website. The Immigration Bureau began an investigation after a tip from locals that some Chinese men had illegally entered the country 8 months ago and were working illegally Chon Buri's Bang Lamung District. The arrest was at their house on Monday. 3 suspects, identified only as Wang, Dong, and Si, were caught along with a computer reportedly used for running a pornographic website. 31 year old Wang reportedly admitted to being an administrator of the site. He claimed […]
Pattaya's Walking Street. Will it return to high rents and high heels?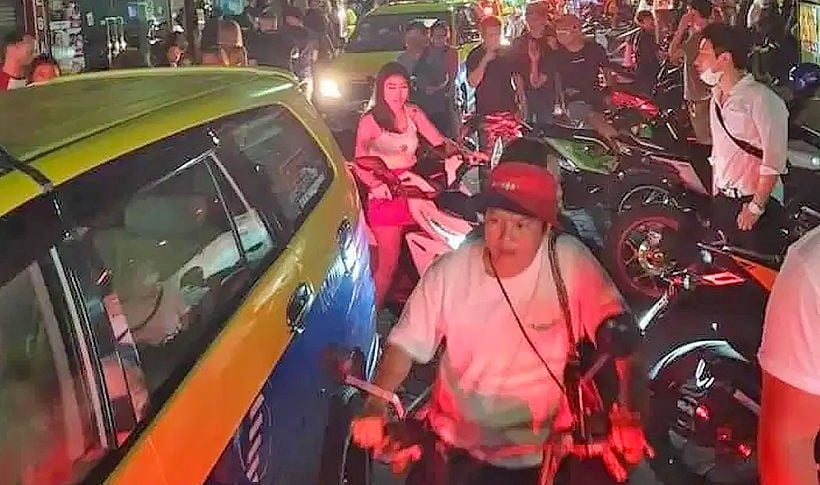 Now that Pattaya's infamous Walking Street is open to traffic along with parking for the first time in many, many years, what's next? Thai officials and the local constabulary have long had a love-hate relationship with the red light district. It has attracted tourists but perhaps to the tourists the bosses in Bangkok were hoping for. It was a hive of lawless rents, sub-leases, sub-sub-leases and graft. Whilst police turned a blind eye to much of the illegal activities along the strip, they were happy to profit from kick-backs, "security" and tea money. Now the Pattaya Mayor Sonthaya Khunplume says the […]