'World Day against Trafficking in Persons'. Thailand in the middle of the world's human trafficking hot spot.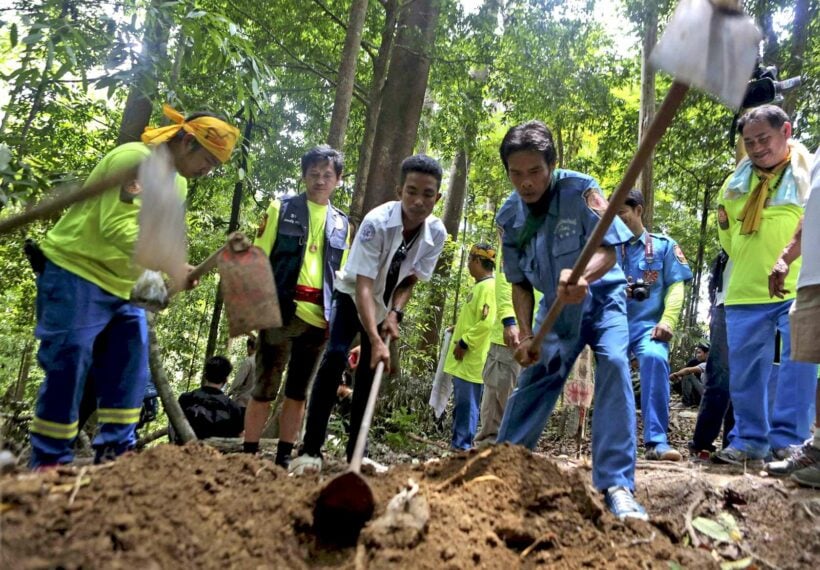 Today is 'World Day against Trafficking in Persons' – a day where we reflect on the many victims of trafficking who live among us, but have been forced into silence due to threats to their life, retaliation against their family, feelings of hopelessness, or being enslaved and physically unable to speak out. The day has special meaning in Thailand where up to 103 officials have just been tried for their part in the trafficking of Rohingas and Bangladeshis back in 2012 following the discovery of mass graves along the Thai Malaysian border.
In Southeast Asia, data from those assisted by the International Organization for Migration (IOM) show that the region is a hotbed of trafficking, accounting for a quarter of all cross-border cases identified worldwide. Most victims do not travel far as movements are largely intra-regional and domestic.
Human trafficking does not only occur on the fringes of society; it is a part of an everyday reality, and we may unknowingly be complicit in the trade. Numerous media exposés have linked the food we eat with slave labor on farms and fishing boats – a significant area of concern for Thailand. Victims of trafficking are also known to work at hotels, construction sites and bars. Many victims find themselves laboring for years receiving only a small fraction of the compensation they were promised, or without receiving any payment for their work at all.
One of the reasons for this trend is the demand for cheap goods and services, which in turn depend on cheap labor. Countries both rich and poor rely on migrant workers to fill jobs that are known as "3D" – dirty, dangerous and difficult. Men and women, typically from communities with large numbers of people ready to enter the workforce but finding limited opportunities, are often tricked or forced into these hard labor jobs under by a promise of good wages in sectors like agriculture, construction, domestic work and manufacturing.
Protecting these migrant workers remains an uphill task. Inadequate channels for migrants to secure work and the lack of systems by which skills accumulated through work experience are recognized and rewarded puts migrant workers at risk of exploitation through fraudulent recruitment agencies and brokers. Their vulnerability to traffickers is then compounded by their lack of awareness of their rights and recourse should they find themselves in a situation of exploitation.
Tackling the issue requires a holistic approach and efforts from all stakeholders. Thankfully in the case of Thailand, a plethora of organizations, each with their own unique approaches, exist to protect and assist victims.
NGOs are often the first organizations to establish contact with victims and provide essential support. IOM – the UN Migration Agency – places priority on protection and prevention, training front-line officials on victim identification, conducting safe migration outreach in migrant communities, preparing victims of trafficking for trials as witnesses, and providing them with reintegration assistance.
For the Royal Thai Government, combating human trafficking remains high on the national agenda. Significant progress has been made since Thailand was elevated from Tier 3 to the Tier 2 watch list of the US State Department's Trafficking in Persons Report in 2016 (where it remains today).
Notable improvements include amendments to the Anti-Trafficking Act, which now clearly spells out the definition of 'Forced Labor' and increases provisions for punishment; as well as the enactment of several key ministerial regulations that restrict unlicensed recruitment agencies and allow migrant trafficking victims to stay in Thailand for up to two years.
Thailand is also proactive in initiating cross-border cooperation. Since the world's first bilateral Memorandum of Understanding on trafficking was signed with Cambodia in 2003, Thailand has continued to set up similar collaborations with its other neighbors; the most active of which is the area-based Border Cooperation Mechanism on Anti-Trafficking in Persons (BCMATIP). Set in 2011, the IOM-facilitated mechanism focuses on information exchange and returns with Myanmar.
At every level, more can always be done on prevention and more assistance can always be provided to victims. In addition, emphasis should also be placed on engagement at the citizen level, something that has yet to become commonplace in Thailand despite the Royal Thai Government's strong promotion of its National Anti-Trafficking hotline – 1300.
Recently, the IOM received a tip-off from a member of the public who suspected a woman he was chatting with on a popular dating app had been forced into prostitution. Follow-up eventually found that she had indeed been trafficked, and was rescued by an NGO partner. She has since returned to her country of origin with the IOM's help and is being provided with reintegration assistance. This example perfectly illustrates the importance of educating the public on recognizing victims of trafficking and the available avenues of assistance.
So, continuing from tomorrow's 'World Day Against Trafficking in Persons' and every day of the year, let us not turn a blind eye to the severe violations of human rights that occur on a daily basis. Instead, we should speak against these atrocities and work to give a voice to those who need it most.
Dana Graber Ladek
Chief of Mission of the International Organization for Migration (IOM) in Thailand.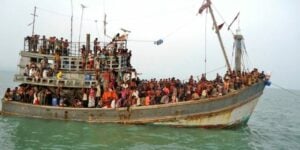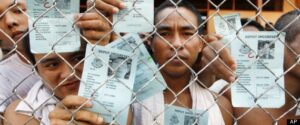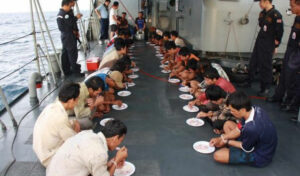 Police searching for the killer after shooting near Saphan Hin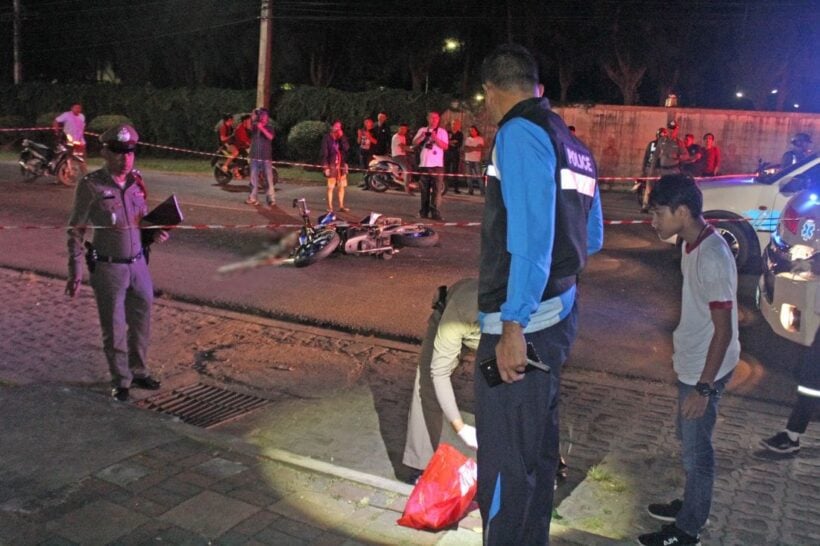 A Thai man has been shot dead near Saphan Hin in eastern Phuket earlier today. The arrest warrant has already been issued for the suspect.
The Wichit Police were notified of the incident on Rattanakosin 200 pi Road near Saphan Hin at 3.40am this morning.
Police and rescue workers arrived to find the body of 30 year old Teerasak Saeong from Phuket covered with blood and laying on the road. Two bullet wounds were found on his right and left temple.
Seven bullets were also found around Mr Teerasak's body. Nearby they found a motorbike. His body was taken to Vachira Phuket Hospital for full autopsy and identification.
Witnesses told police that Mr Teerasak was stopped on his motorbike and was talking with the suspect who was in a black car. The suspect shot at Mr Teerasak and sped away.
Mr Teerasak was the son of a member of Rassada's Municipal Council. At this stage police believe that the two had personal conflicts. Police are now searching for the driver of the vehicle who shot Mr Teerasak.



Danish tourist dies in Phuket road accident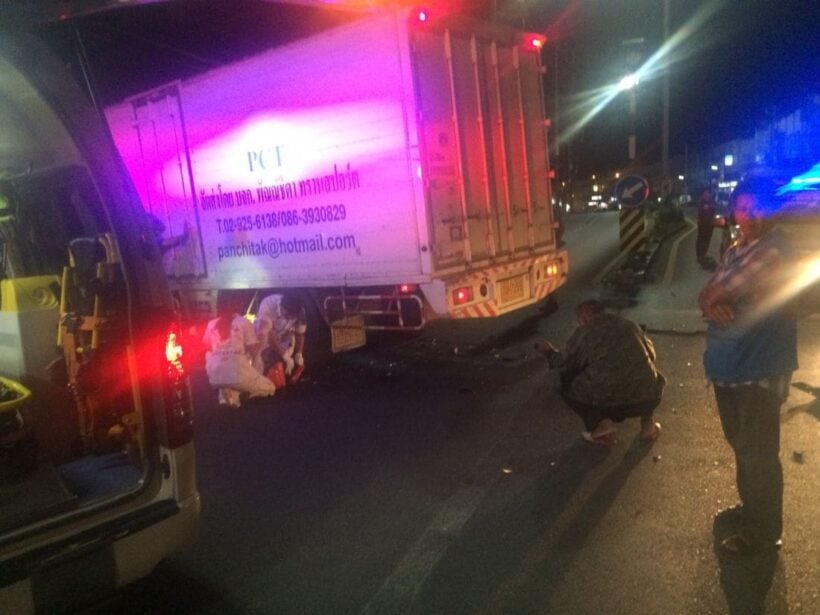 A male Danish tourist, driving a motorbike, has died after colliding with a truck in front of a market in Kathu.
The Kathu Police were notified of the incident on Phra Phuket Keaw Road in front of the new outdoor Vintage Market in Kathu at 3am yesterday morning.
Police and Kusoldharm rescue workers arrived at the U-turn to find the truck and driver waiting. The driver of the truck was 36 year old Sontaya Suchata waiting in the middle of the U-turn area.
Nearby they found a damaged Honda PCX and 51 year old Claus Pathuel Jensen, a Danish national from Glostrup. He was found unconscious under the truck. He was rushed to Vachira Phuket Hospital but was pronounced dead upon arrival.
Police report that the truck was going to take a U-turn outside the market area. The truck driver says he was unaware that Mr Jensen was coming from behind in the right lane. The motorbike was unable to avoid the collision with the truck and Mr Jensen PCX ploughed into the rear of the vehicle.




Malaysia mulls curfew for Under 18 year olds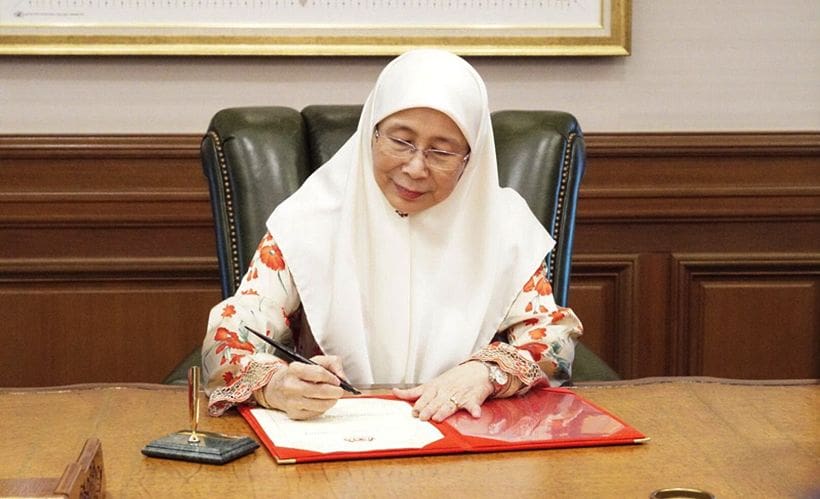 PHOTO: Malaysian Deputy PM Dr Wan Azizah Wan Ismail – Proplegacy
The Malaysian Government, in another backwards step as it caves in to conservative religious factions, is considering a new curfew on Under 18 year olds.
Authorities are mulling the possibility of setting a curfew for young Malaysians to be out of the house without adult supervision. They claim it is "to shield them from negative activities and influences", according to the article from Bernama News.
This was among matters raised and agreed upon at the Cabinet Committee on Eradicating Drugs meeting chaired by Malaysian Deputy PM Dr Wan Azizah Wan Ismail.
She says authorities are seriously considering a curfew for children under 18 as records show that glue sniffing is serious among the young.
Malaysia would not be the first country to introduce a curfew on teenagers and children, with Iceland having something similar. Under Iceland's Child Protection Act, children under 12 may not be outdoors after 8pm unless accompanied by an adult.
"It may not be easy to implement but we feel this is necessary and can definitely help prevent young people from being involved in negative activities," the Minister said.
Meanwhile, the Cabinet Committee on Eradicating Drugs also discussed drawing up a law to prevent, treat and monitor abusers of psychotropic substances, including inhalants such as glue.
"This is still at the proposal stage. We have yet to figure out the punitive actions as well as educational elements that we want to have as part of the law.
"But what is for sure is that we need to ensure that our future generation is not addicted to psychotropic products and glue sniffing," she said, adding that while the habit might not look as dangerous as injecting oneself with drugs, the effect of glue sniffing is equally, if not more, dangerous.
Dr Wan Azizah said to encourage drug addicts to seek treatment, the committee proposed those who "check-in" into rehabilitation centres voluntarily be left out from the offenders' registry.
Read more about this proposal in Malaysia HERE.